Pumpkin Mumpkin
Not Just a Halloween Decoration!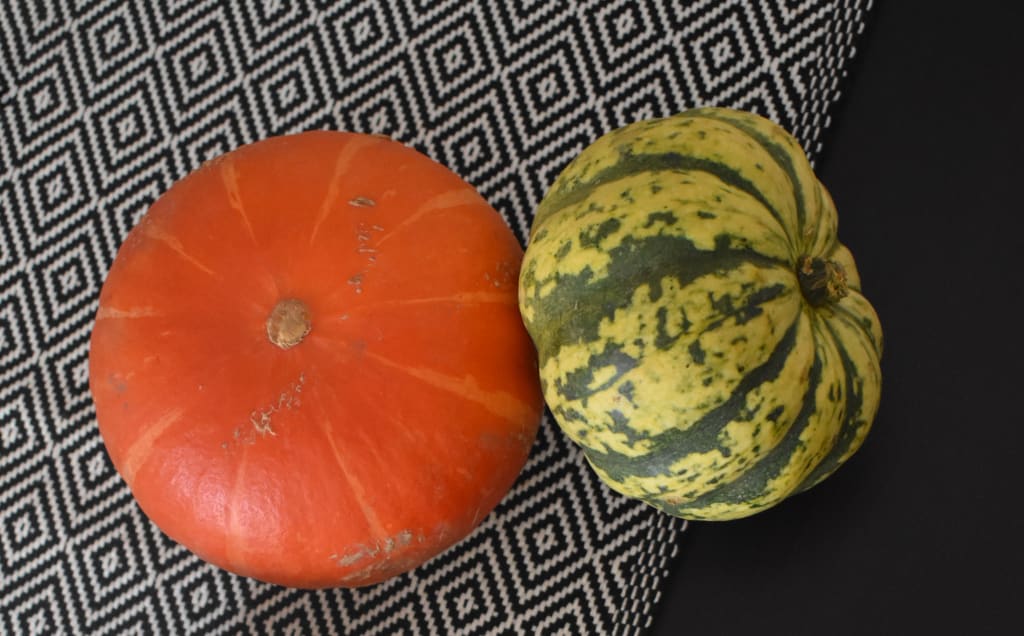 ⓒcopyright 2018 Charlie Fox
Pepon, the Greek name for Pumpkin meaning large melon, tends to be mistaken for just a carved candle holder for Halloween. From a chef's point of view however, it is a starter, main and a dessert fruit. (Yes, pumpkin is a fruit!). Pumpkin is a member of the Gourd family which means it is related to the cucumber, honey dew melon, cantaloupe, watermelon and even courgette family. The pumpkin is rich in fibre, potassium and vitamin c, which is a massive health benefit to the heart as well as your skin.
Jack 'o' Lantern/The Traditional Pumpkin
This very popular pumpkin is the one you see on every door on Halloween. They are well known as they are very big, as the biggest recorded was 2,300 pounds, that is the same weight as a average size human being. This pumpkin is not really for eating as it lacks flavour which why when cooked with, people usually add something to add flavour to the dishes such as chestnuts, herbs and spices. What these pumpkins are renowned for are jack o lanterns, which are lit on Halloween. It is a atmospheric ghost light seen by people at night and it resembles a flickering lamp and is said to recede if approached, drawing travelers from the safe paths home.
Butternut Squash
A very popular species of pumpkin as you see it in all the supermarkets across the UK at this time of year. This pear shaped pumpkin is quite versatile. You can cut the top off, scrape out the insides, and then stuff it with spiced beans and rice and place it in the oven for a winter warming dish. When you make it into a puree it gets sweet & silky, so there is no fibrous bits which makes it work so well in hearty soups and risottos. I love making soups with this pumpkin, so here is a little recipe for a starter that will provide you with warmth and comfort, especially on those cold winter nights ahead. This recipe is packed with nutrition, and also vegan.
Four-Spice Pumpkin Soup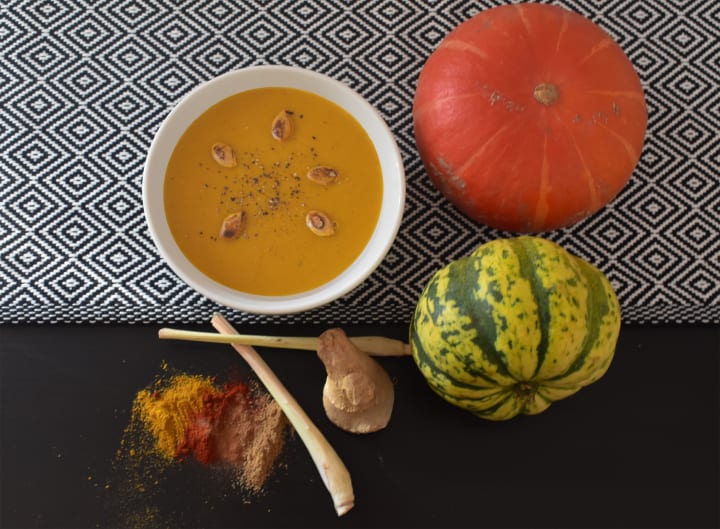 Makes Four Hearty Bowls
2 mini pumpkins diced/ 1 butternut squash (totally up to you)
1 medium sized Potato dice
1 white onion diced
400ml coconut milk
150ml water
1tbs curry powder
1tbs dry coriander
1tbs cinnamon
1tbs smoked paprika
thumb sized ginger, finely sliced
1 lemon grass
pumpkin seeds to garnish
1. Finley slice the white onion and add it to a large saucepan, sweat them down until they come translucent.
2. Chuck in the finely sliced ginger and the dry ingredients, then stir and leave for 2 minutes.
3. Add the main ingredient (the pumpkin of course) and give it a stir until all of the pumpkin gets covered in the spices.
4. Add Coconut milk, lemon grass and water to the saucepan, then cover and leave it to simmer until pumpkin is soft, roughly half an hour.
5. Remove the lemon grass, and blitz until smooth and then sieve to remove excess fibre.
6. Finally taste, season and taste again.
Acorn Squash
Very popular in the US and popularity is growing in the UK, this pumpkin is the the king of all pumpkins when it comes down to roasting. As a treat for my kids, I love to chop it up, sprinkle a little brown sugar and add a tad of butter, then place it in the oven for 20 minutes and oh my god it is heaven. Therefore, I love using this sort of pumpkin in Pumpkin Pie as it is naturally sweet. Pumpkin Pie is basically a spiced, pumpkin-based custard filling dessert. The pumpkin is a symbol of harvest time, and pumpkin pie is traditionally eaten at Thanksgiving dinner is the US. The pumpkin is in season is around the winter time. Here is my twist on pumpkin pie, I made two tarts instead, but it does make one pumpkin pie.
Pumpkin Pie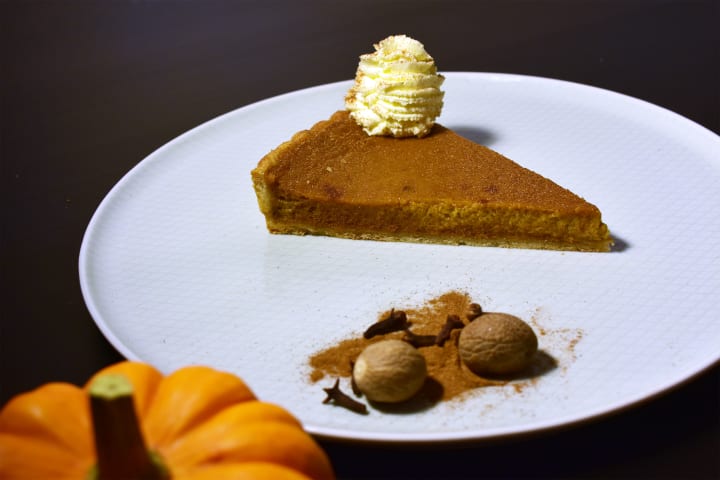 425g cooled acorn pumpkin (about 2 depending on the size)
1 can of sweetened condensed milk
2 eggs
1tbs cinnamon
A thumb of ginger
half nutmeg grated
1 short crust pastry
1. Pre-heat the oven to 220 degrees, in the meantime, using a hand whisk, mix the condensed milk with the eggs, dry spices and pumpkin until you get a smooth texture.
2. Line the dish with butter so the pastry doesn't stick, then roll out the pastry about a pound coin thickness.
3. Pour the mixture into the pastry and bake for 15 mins.
4. Reduce the oven temperature to 180 degrees and bake for a further 30 min but keep an eye on it to ensure the top does not burn.
5. As tempting as it is to eat straight away, leave to cool down by a window for half an hour, then move to the fridge until it is cold.
6. Time to plate, I choose to serve mine with whipped cream.
recipe
About the author
I am a chef, I love cooking all kinds off cuisines. I do have a nerdy side as i love to read and learn new and little things (little fact), which i love to share. I am also a Dad of two amazing kids
Reader insights
Be the first to share your insights about this piece.
Add your insights