Protein Packed Low Calorie French Toast
All the macro friendly goodness without sacrificing taste!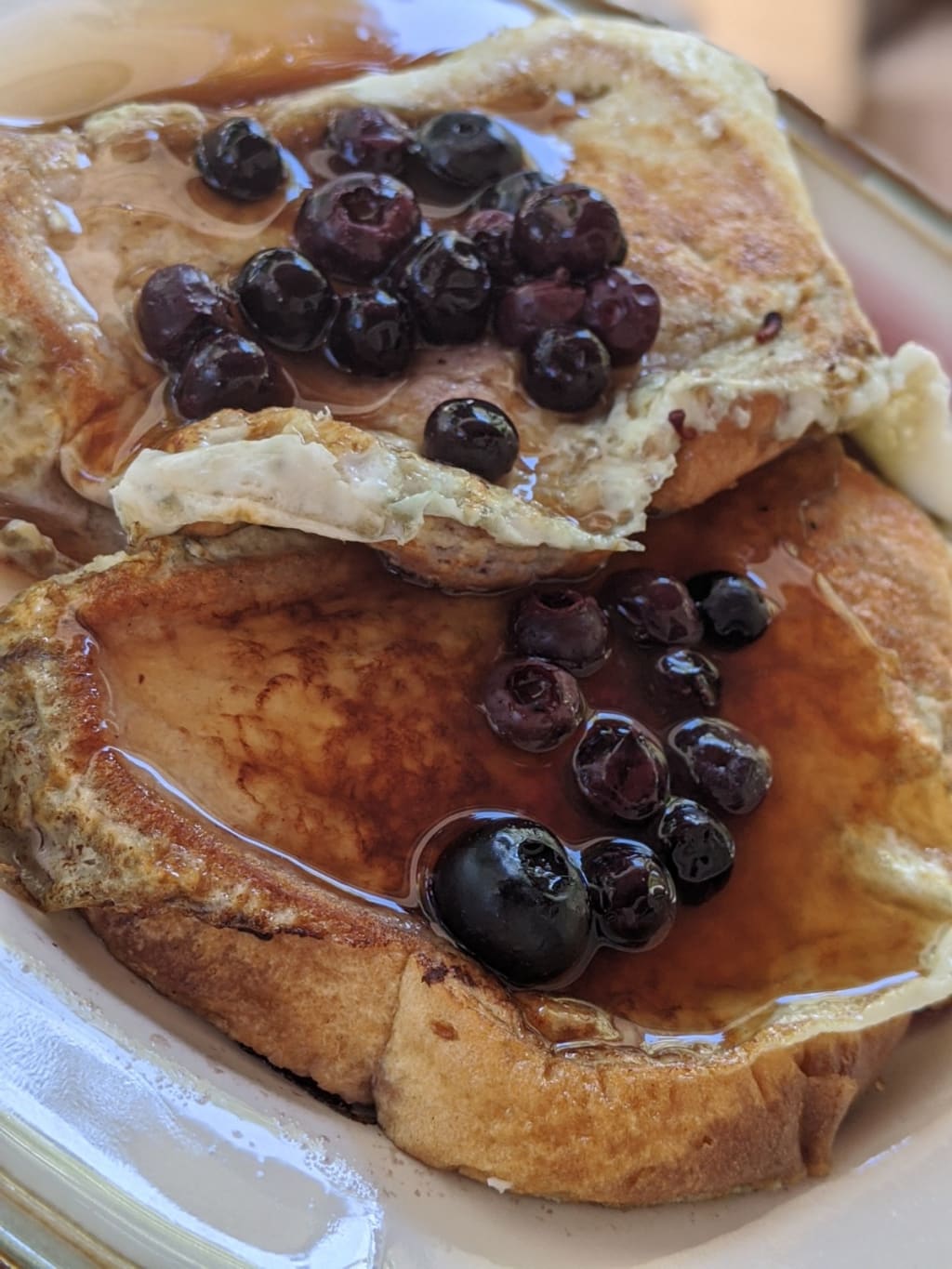 If this is your first visit to my recipes, welcome! If you are a returner, thank you!
I am a true believer that the world of food should be open to a person and moderation in all things is a great way to live life, that's why I specialize in creating macro-friendly recipes that are much easier to "fit" in moderation.
As you get to know me, you will find that all my recipes use a moderate to few amount of ingredients because I also believe that cooking should be stress free and not break the budget.
If there are any recipes you'd like me to make "macro friendly" please message me on my Instagram (@boho_nutrition), I'd be more than happy to come up with one!
Breakfast foods are one of my favorite types of food to eat! I seriously could eat breakfast for all three meals no problem! Give me good pancakes, french toast, eggs, sausage (vegetarian in my case) and coffee and I'm living my beast life. (But seriously who doesn't like breakfast foods?)
However, when we think of these foods we often think of the very calorie dense versions with high sugar toppings which can really impede progress toward our goals. That's why I have come up with protein packed, lower calorie versions of my favorite foods!
Quick tip Walden Farms makes great calorie free maple syrup that does not cause GI distress (in my case) and has good flavor, highly recommend it for your sweet breakfast dishes!
Other toppings that I really enjoy are greek cream cheese, banana or just confectioners style no calorie sweetener, such as Monks fruit or powdered stevia. Feel free to have fun and think outside the box with your french toast toppings, after all the macros on the toast it's self are so good you have room to play!
I would love to hear your personal spin on any of my recipes feel free to tag me in your recipe creation posts. I enjoy it!
This recipe is suitable for bariatric patients, lacto-ovo vegetarians, body builders, anyone who is practicing moderation or just someone looking for a fun healthy breakfast!
For more macro-friendly recipes, lifestyle posts and bodybuilding posts feel free to follow my instagram @boho_nutrition!
Servings
Makes Two Pieces of French Toast With Topping
Cookware required
Skillet or Griddle
Prep Time
Approx. 10 min
Cooking Time
Approx. 5 min
Total Time
Approx. 15 min
Difficulty Level
Easy
Ingredients
-(150g) liquid egg whites
-2 slices of bread of choice (I use 6-4-7 italian)
-Vanilla extract (optional)
-1 tsp (5g) cinnamon (optional)
-Olive oil spray
Easy Blueberry Compote
-1/8C (30g) Frozen blueberries
-No calorie sweetener to taste
Nutrition Facts
Whole dish with topping
Calories 195
Fat 3g
Carb 31g
Protein 20g
Nutrition Facts
Just the french toast
Calories 195
Fat 3g
Carb 27g
Protein 20g
Directions
Spray skillet with olive oil spray and warm on medium heat
Add egg whites and spices to a bowl
Dip the bread into the mix
Add bread to skillet any extra egg white just pour over bread
Cover and let bread pan fry until golden, flip to get both sides
Add compote ingredients to a bowl with a little extra water (~3Tbs) and microwave or warm in a small saucepan on stove top
Add more no calorie sweetener as needed
Feel free to top with Walden Farms calorie free syrup, light butter (I like light Earth Balance or Smart Balance), fat free whip or greek cream cheese!
Feel free to tell your friends all about my recipes, I'd appreciate it!
Tag me in any recipes you try!! @boho_nutrition
(I would love to hear your honest reviews positive or negative!)
Just a reminder: for more macro-friendly recipes, lifestyle posts and bodybuilding posts feel free to follow my Instagram @boho_nutrition!
Rhianon Condello RDN, BSN, RN