Portuguese Cuisine
Delicious dishes from Portugal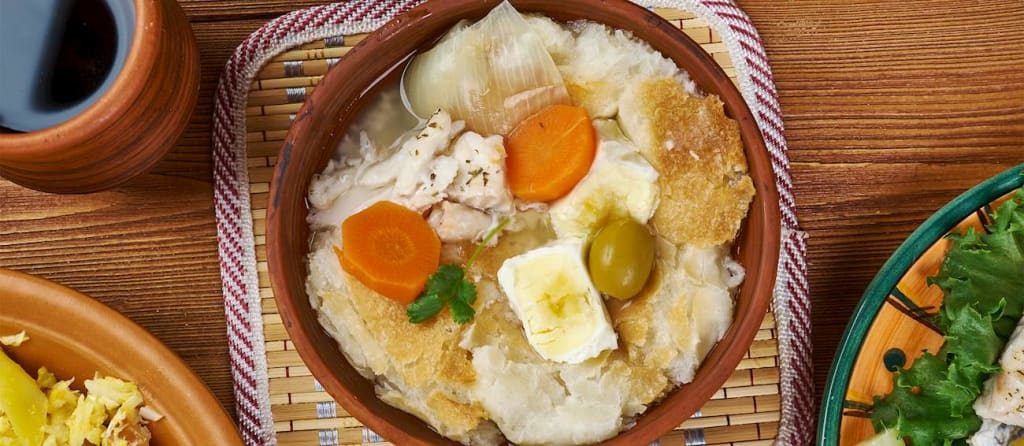 Soup
Acorda de bacalhau is a traditional bread soup. It is prepared with cod, rustic bread, and delicious broth. The broth is seasoned with garlic, olive oil, and fresh herbs. When done, the soup is topped with a poached egg. The cod is either left whole or mashed with bread to give the soup a creamy consistency.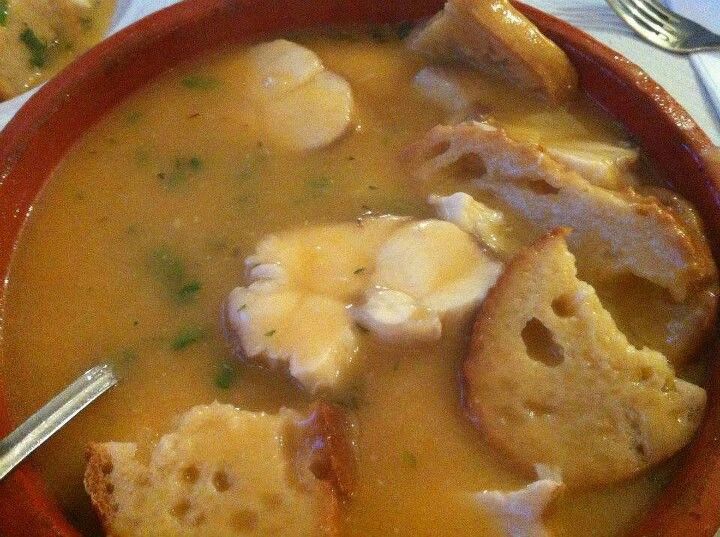 Sopa de cacao is a special soup that is made with slices of dogfish shark. The fish is prepared in a broth seasoned with garlic and coriander. It can be thickened with flour and flavored with bay leaves, ground paprika, and vinegar. The soup is served over sliced bread.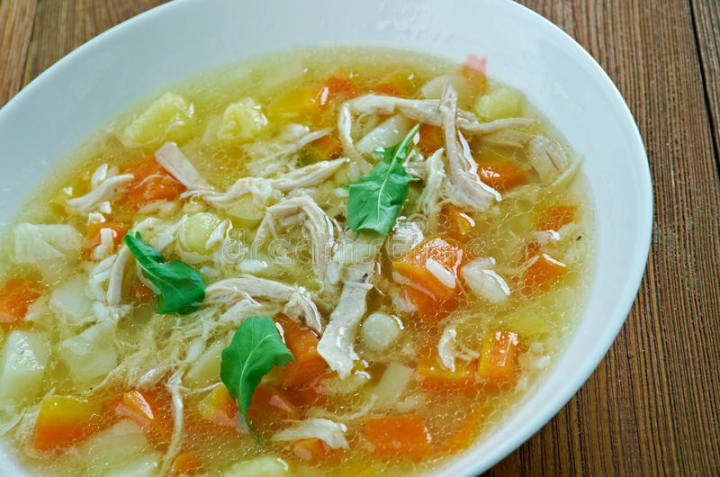 Canja de galinha is a Portuguese chicken soup. The hearty chicken broth is enhanced with sauteed onions and garlic, rice, or orzo pasta. Vegetables like celery and carrots can be added. Some versions of the soup are thickened with beaten egg yolks and seasoned with lemon juice, chopped parsley, or mint leaves.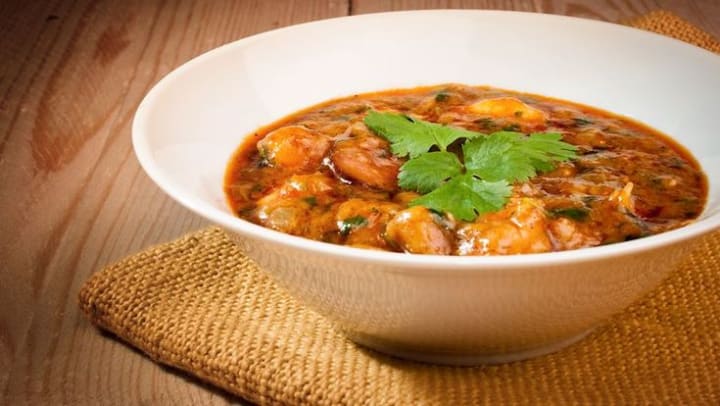 Acorda de camarao is a traditional shellfish bread soup prepared with shrimp. The seafood broth is a combination of bread, sauteed onions, cooked shrimp, and olive oil. It is all made into a creamy mash thickened with eggs and seasoned with cilantro. When served, the soup is garnished with shelled shrimp.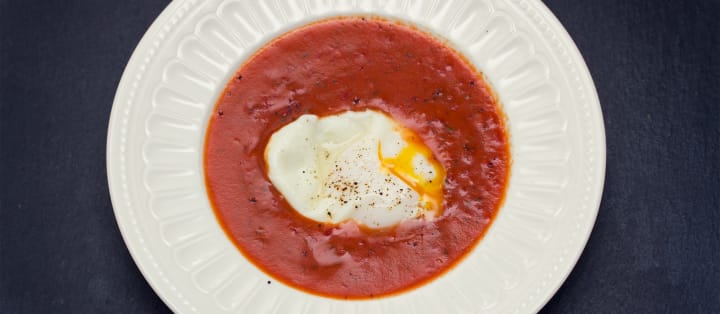 Sopa de tomate is a creamy tomato soup. It is made with tomatoes, onions, and garlic. All the ingredients are sauteed in olive oil, braised in water, and can be pureed and thickened with flour. This soup is usually served with poached eggs, toasted croutons, or crusty buttered bread.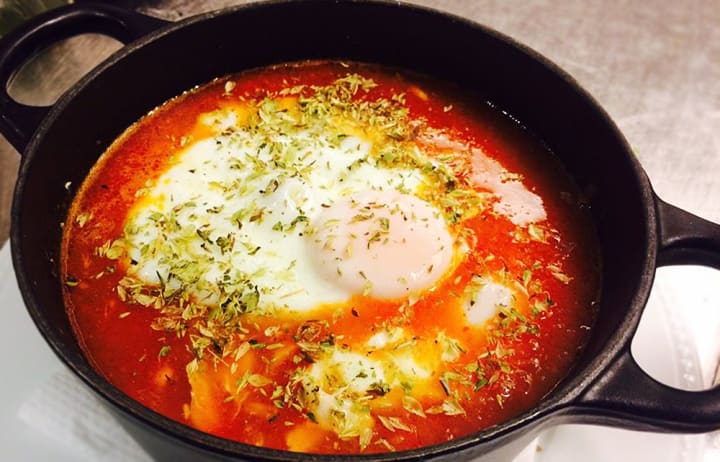 Another kind of tomato soup is sopa de tomate Alentejana. This dish is a combination of tomatoes, garlic, onions, and eggs, and can include potatoes and green peppers. Just before the soup is served a few eggs are cracked in the pot until they become poached.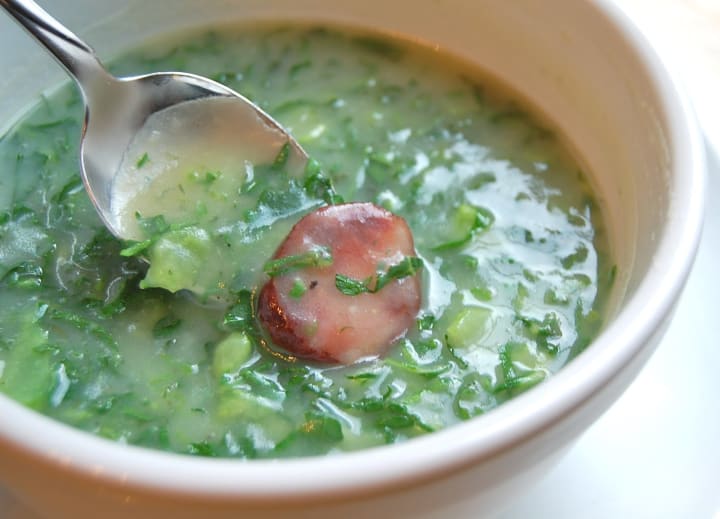 Caldo verde is a popular soup that is also served in some upscale restaurants. This soup is prepared with potatoes, collard greens, olive oil, and a dash of salt. It is usually served with boiled and sliced chorizo sausage.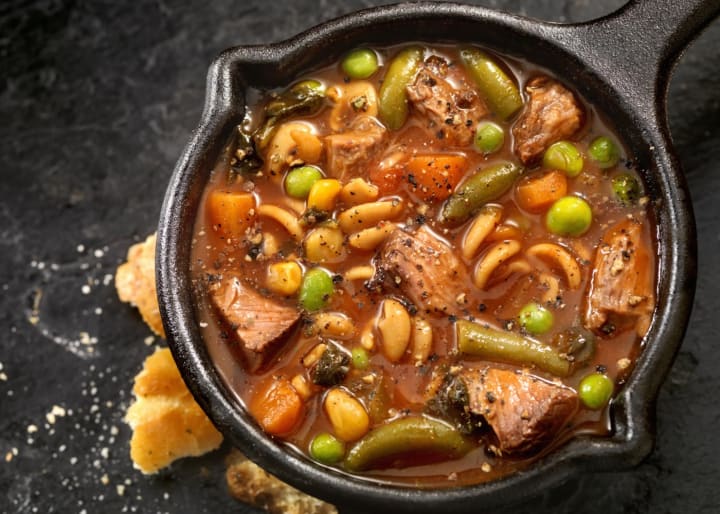 Sopa de pedra translated to stone soup. It is a hearty soup made with beans and sausages like chorizo and morcilla (blood sausage). The soup can also include pork belly, pig's ear, and potatoes. Other variations can include pasta, carrots, and cabbage.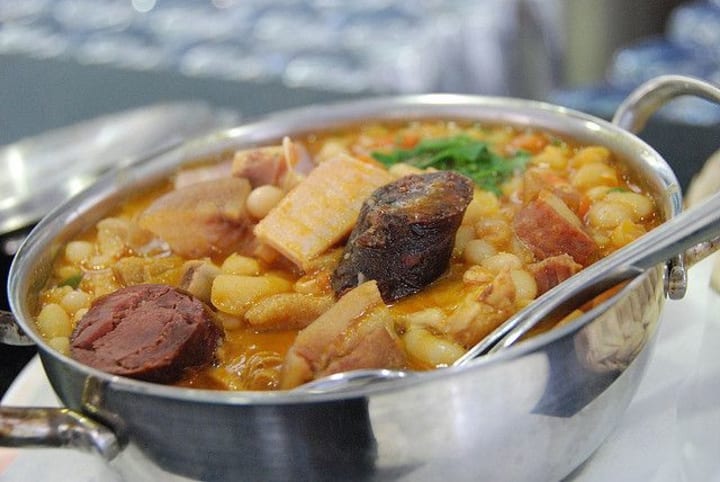 Meat
Tripas a Modo do Porto, nicknamed triperios, is a signature dish of the city of Porto. This tripe stew is a combination of veal tripe, white beans, smoked ham, pork sausage, calve knuckles, carrots, and onions. It is seasoned with paprika and cumin.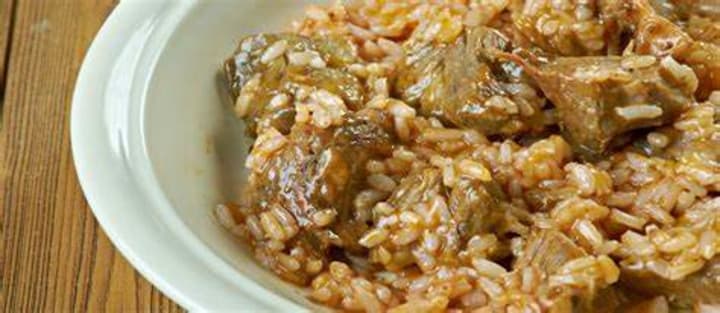 Cabidela is a dish that is made with poultry or game meat and rice, cooked with the blood of animals. The rice can be cooked along with the meat or served on the side. For added flavor, red wine or vinegar is added.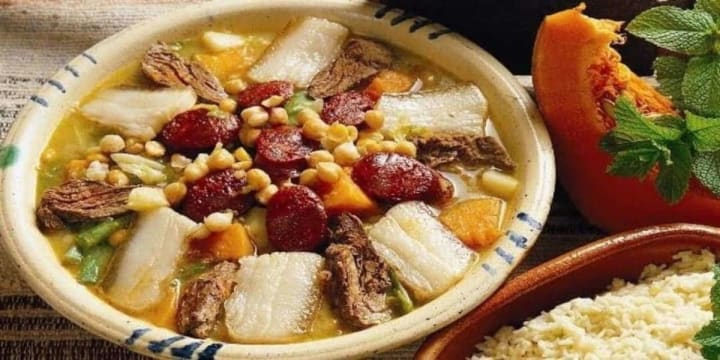 Cozida de grao or chickpea stew is a classic dish with regional favorites. The dish includes chickpeas, potatoes, carrots, green beans, or pumpkin, and can have sausages like chorizo, morcilla (blood sausage) or farinheira (smoked sausage). Some versions include lamb or pork or beef.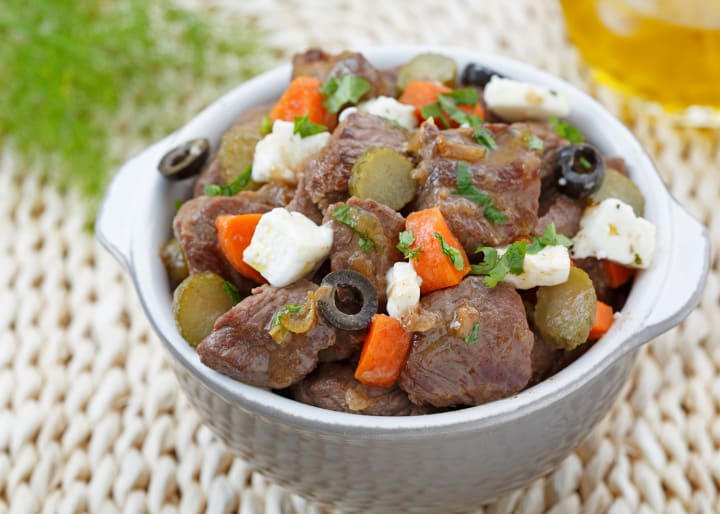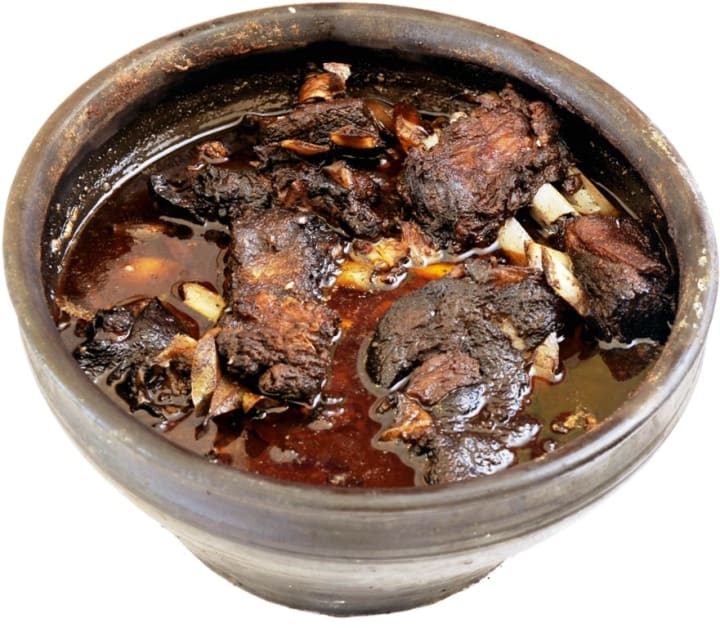 Chanfana is a goat or lamb stew baked in clay pots. The meat is seasoned with paprika, garlic, bay leaves, and piri-piri. The combination is doused with red wine and cooked until the meat is tender and the sauce thickens.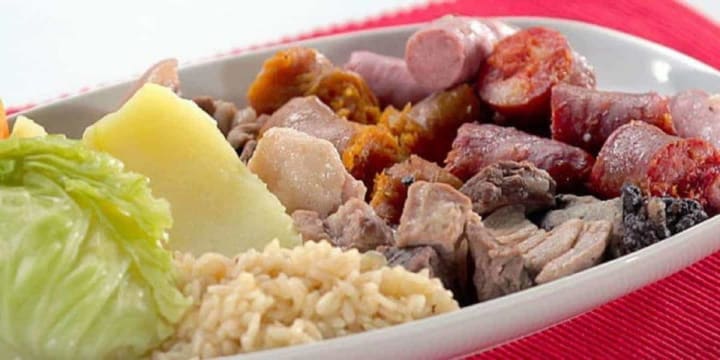 Cozido is a stew prepared with different cuts of meat and vegetables. It can also include smoked meat or blood sausages. Once cooked the stew is served with rice and beans.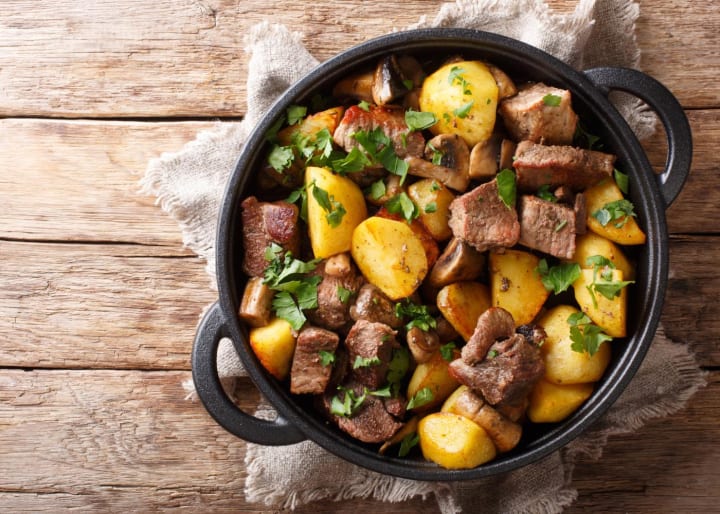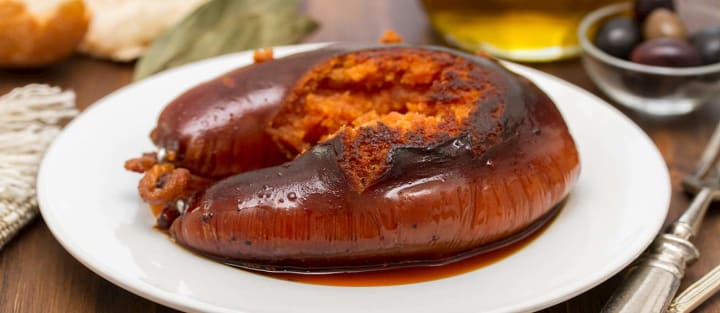 Farinheira is a smoked sausage that is made with seasonings like wine, garlic, bay leaf, and paprika. The meat used is pork. This sausage is used in many traditional dishes. It can be boiled, grilled, and fried. Farinheira can also be combined with scrambled eggs.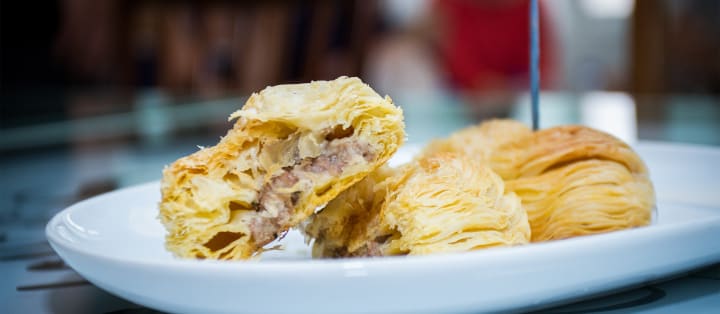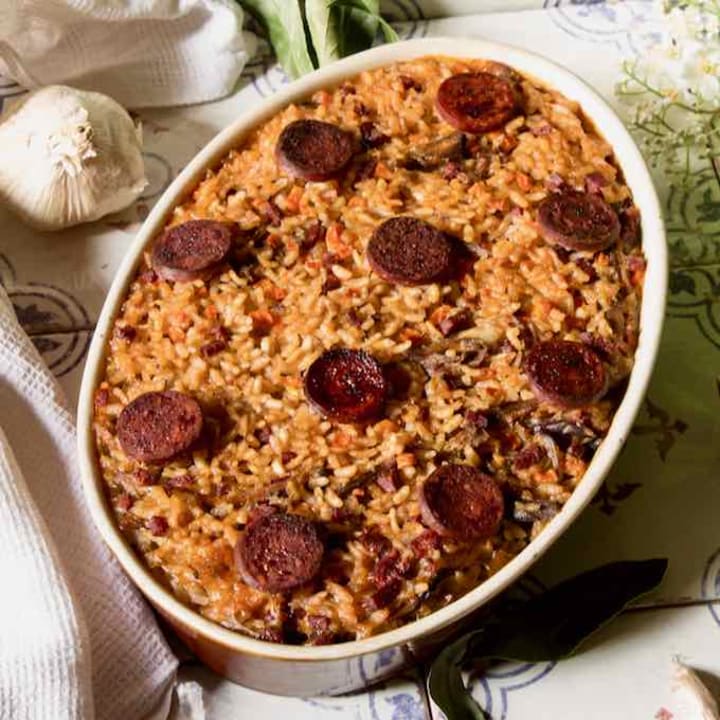 Arroz de pato is a traditional dish prepared with duck meat and rice. A whole duck is cooked in a seasoned broth along with smoked meat and sausages. Shredded meat is placed in a clay pot and topped with rice and cooked in the same broth. Before baking, the ingredients are topped with sliced sausages or pieces of smoked meat.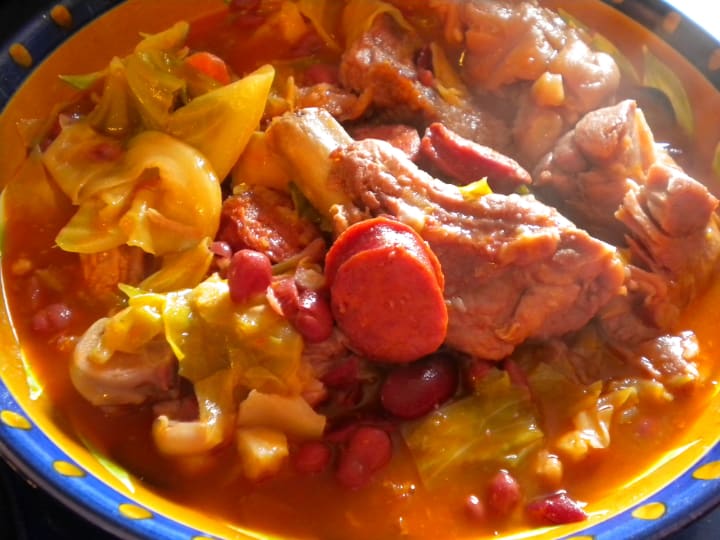 Feijoada is a bean stew that is made with red or white kidney beans. It includes pork, blood sausage, farinheira sausage, or chorizo.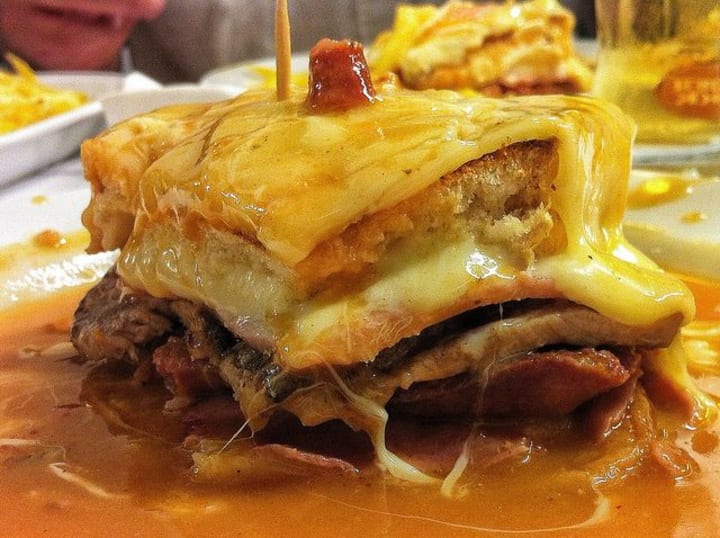 Francesinha is a sandwich that originated in Ports. It is made with toasted bread, beef or pork, sausages, ham, and cheese. Once combined the sandwich is doused with beer-infused tomato sauce. There are variations that can include mushrooms, chicken, or vegetables.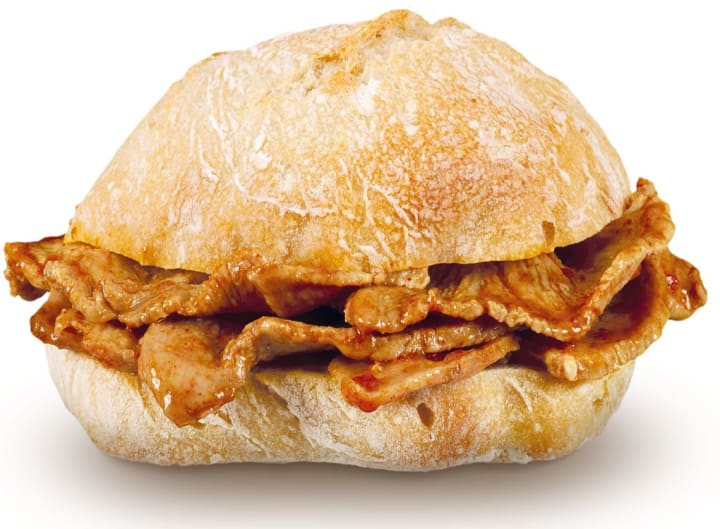 Bifana is a sandwich that includes seasoned, lightly pounded, sliced, or whole pork steaks. The pork steaks are simmered in a sauce with garlic and then place on a bread roll.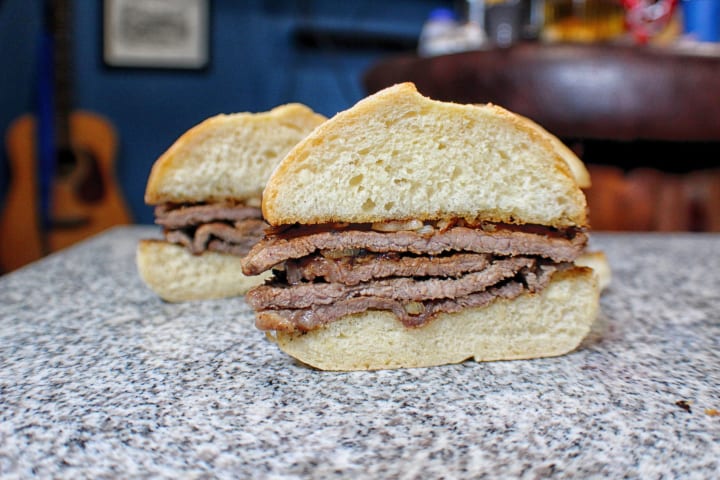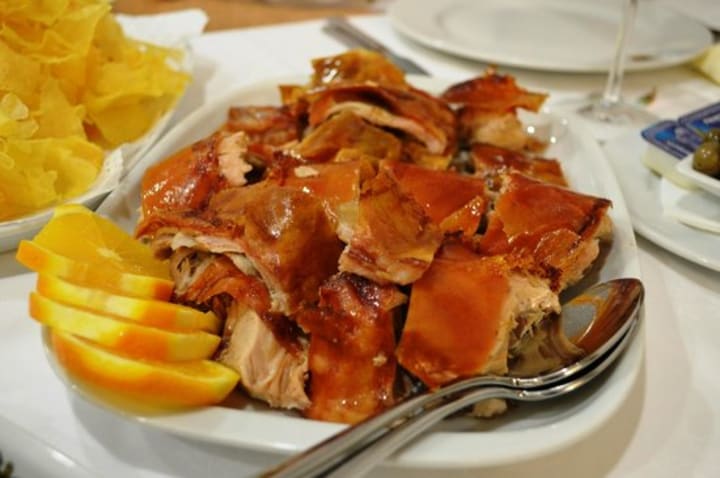 Leitao a Bairrada is a dish prepared with suckling pig. The meat is roasted and basted until it is tender and the skin is crunchy. The meat is rubbed with fat, coarse salt, pepper, and garlic. It is then skewered on a pole and cooked in eucalyptus-and-vine-fueled ovens. It is traditionally served with batatas frits, orange slices, and fresh salad on the side.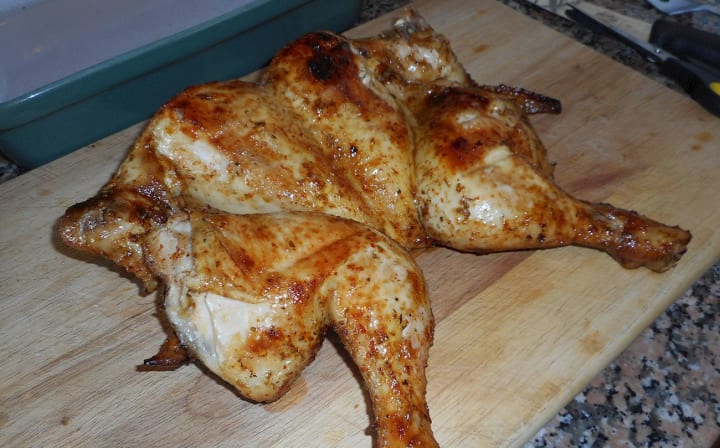 Frango assado com piri piri is a roasted chicken dish. A whole chicken is butterflied and marinated in olive oil, seasonings, and crushed piri-piri peppers. Once roasted the chicken is served with a piri-piri sauce of dry or fresh chili peppers and oil.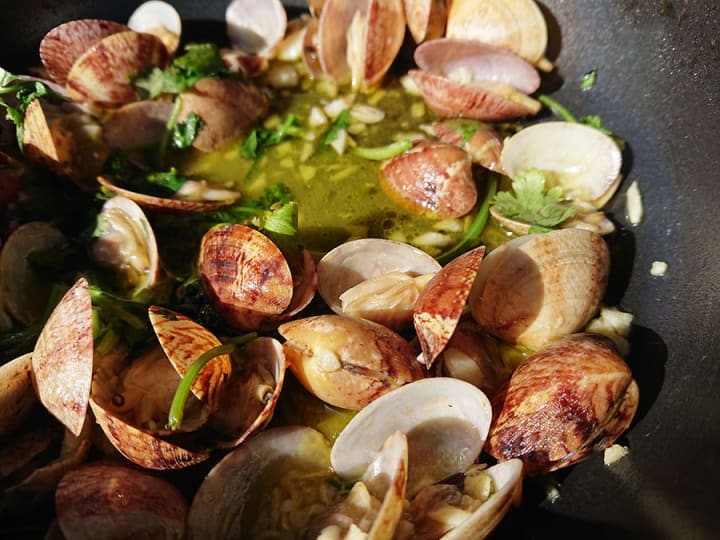 Seafood
Ameijoas a Bulhoa Pato is a clam dish with a delicious sauce made with olive oil, garlic, lemon juice, white wine, and fresh cilantro. It is enjoyed as an appetizer and served with bread on the side.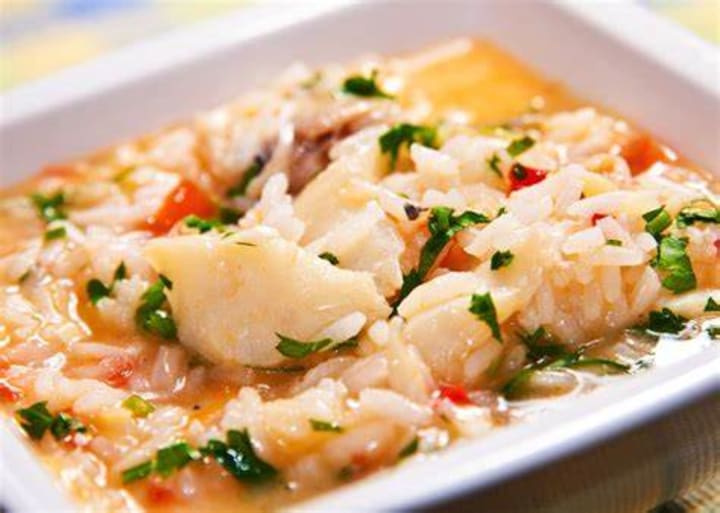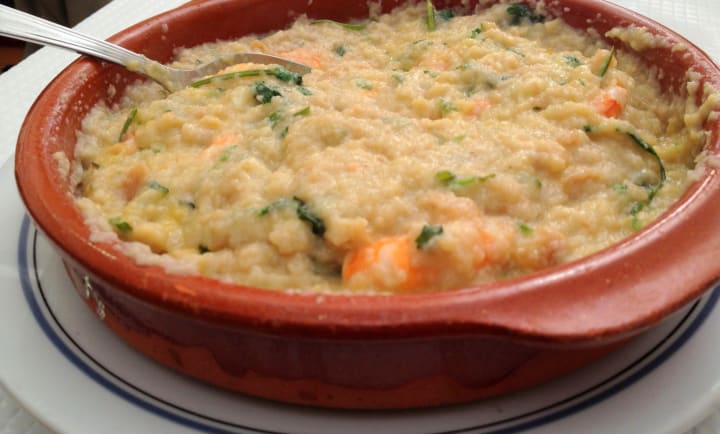 Acorda de marisco is like a dry bread soup. It combines seasoned bread mash infused with olive oil, sauteed onions, and cilantro and includes shellfish like shrimp, cockles, or clams. At the last eggs are added and mixed with the bread base, letting them cook and thicken the stew.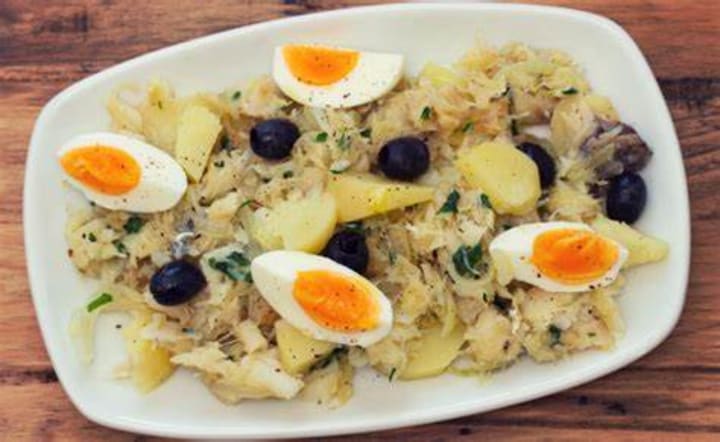 Bacalhau a Gomes is a dish usually prepared on Christmas Eve. It is made with salt cod, potatoes, and onions. The ingredients are layered in a pan, topped with hard-boiled egg slices, then baked and garnished with olives and chopped parsley.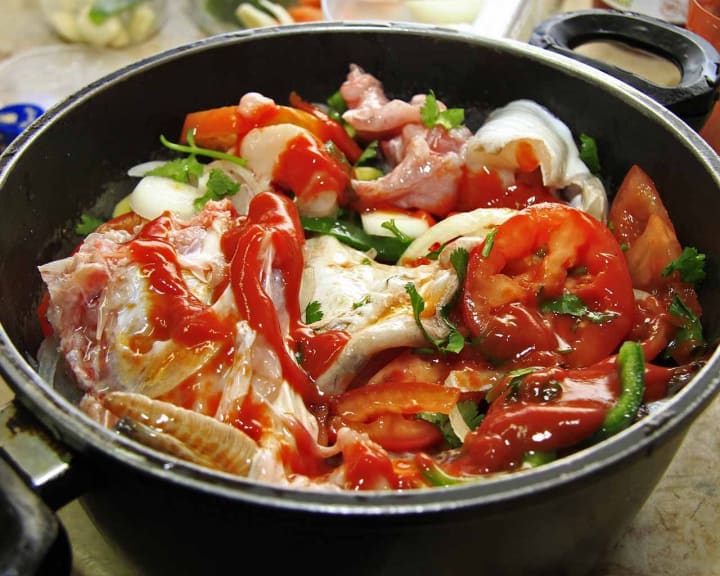 Caldeirada is a seafood stew that consists of different kinds of fish, among them squid and octopus. Other ingredients include onions, white wine, olive oil, and tomatoes. The stew is seasoned with spices such as saffron and nutmeg. It is served with slices of crispy toasted bread.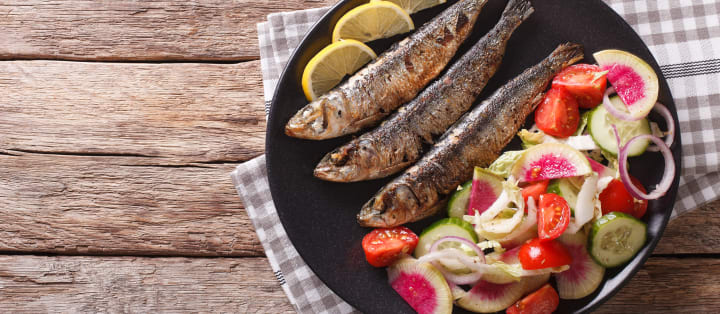 Sardinhas assadas is prepared with grilled whole sardines seasoned with salt and olive oil. They are served with boiled potatoes, sauteed vegetables, or salads.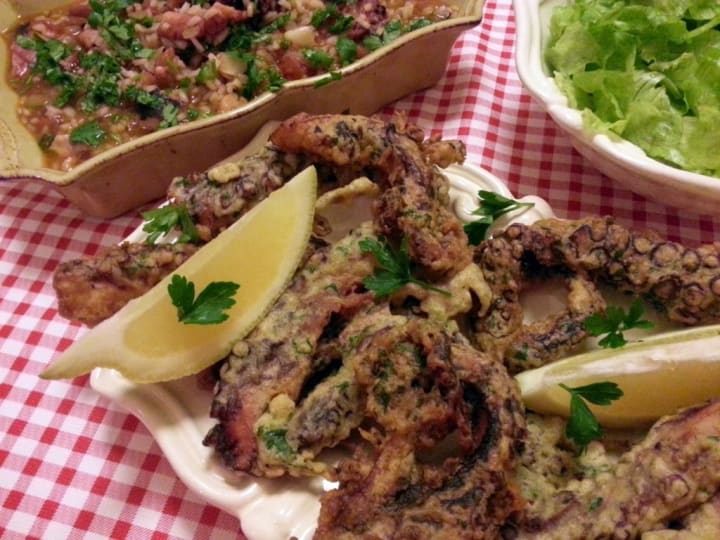 Filetes de polvo is a traditional dish that includes fried octopus tentacles. The octopus is boiled until tender and seasoned with lemon juice and pepper. The tentacles are dipped in eggwash and breadcrumbs and fried to a golden brown. Rice is served on the side.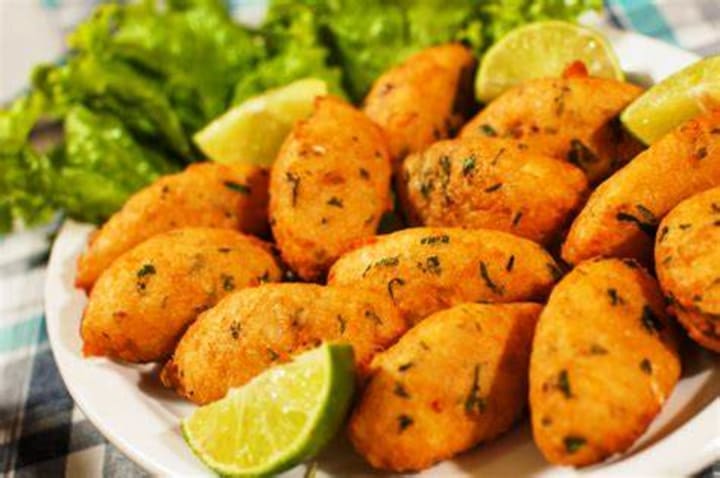 Bolinhos de bacalhau is a dish with crispy cod fritters and is one of the most popular Portuguese national dishes. It consists of dry salted cod, mashed potatoes, onions, parsley, eggs, and spices. The cod is soaked and deboned, then mixed with the other ingredients and formed into round balls. Then fried to a golden brown. Usually, these are enjoyed as an appetizer.
cuisine
About the author
My passions are writing and creating poetry. I write for several sites online and have four themed blogs.
Reader insights
Be the first to share your insights about this piece.
Add your insights