Onion Recipes
Their potential is endless.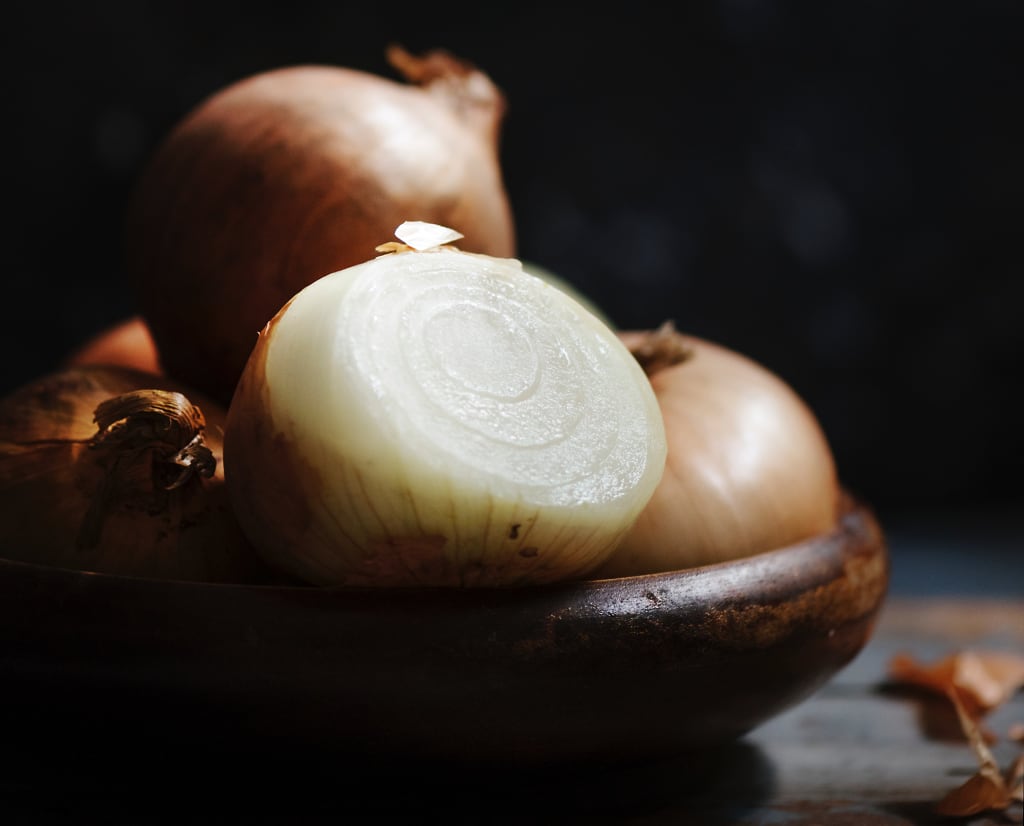 Onions are known to have many layers, and these layers are in the form of yummy recipes for us to try, and they are also very good for us. They don't just clean out your tear ducts. They help to keep your heart healthy and happy, they help to thin the blood, and they help to prevent plaque build up, reducing the risk of a heart attack.
Onions are often thought of as a way to garnish the main part of our meals, forever in the sidelines. Forever disregarded and unappreciated. Only known as the vegetable that makes us cry. But no more. Here are some recipes that I dug up on the web that will make your tummy love me.
Spring Onion and Brie Frittata
When I saw this my mouth immediately started watering. It looks like comfort food for really posh people. Like, normal comfort food is grilled cheese, or chicken soup etc. If you were having a really bad day and made this for yourself, not only would you feel better, you would have surpassed us common people, and are on the level of Beyonce.
Here is the recipe: Tesco: Real Food
It also takes a total of ten minutes to make. That is barely any time at all.
Fettuccine with Brussels Sprouts, Cranberries, and Caramelized Onion
Even the name sounds delicious, doesn't it? And it's pretty darn healthy. With the holidays being over, you can use your leftover Brussels sprouts and cranberries as well! It has bacon in it as well. I'm pretty sure you're convinced so I'll leave it there.
Onion Mashed Potatoes
I may lose a few friends here, but I hate mashed potato, hate it, loath it. I never have. And now I can tolerate it. Onions have made it better, and more flavorsome. It's not just mush anymore, it has some crunch. It doesn't taste how it looks, it has a kick. So a good way to spice up the worst dish ever is simple—add some onion.
Onion Ice Cream
If you're still here after the mashed potato revelation, then I applaud you. And now I reward you, with onion ice cream! It's got a beautiful color, and if you offer it to your guests, they will look at you with bewilderment at first, but then they'll taste it, and their uncertainty will wash away as their taste buds tingle and their horizons expand.
Honey Whiskey Caramelized Onions
I also don't like whiskey.
But put it in this recipe and it is pure joy. Honey and onion go beautifully together as well. As the site says, it is versatile and ready to be put with anything or on anything, burgers, burritos, anything you can think of. And I've heard that the mix of honey and onions is good for when you have a cold or flu.
"And I would always eat about half of them straight from the pan!"
Caramelised Onion & Barley Soup with Cheese Croutons

Soup isn't exactly known to be a food show-stopper, but it definitely is something that helps warm you up after a cold winter day, steaming up your glasses (if you have them), warming up your cold red nose. And then taking that delicious and loud slurp. This recipe of soup is delicious and a bit different from the usual tomato or chicken soup.
Now, go out there and buy yourself a big bundle of onions! I would hire someone to chop them for you though, because that is the only downside to them. It's like they are booby trapped. Mother Nature knew they were special and didn't want to make the treasure easy to attain. To be honest, I get it. Maybe protect yourself by wearing some goggles? Glasses don't help unfortunately. I believe in you.
Reader insights
Be the first to share your insights about this piece.
Add your insights