No Heart
I turned that soft into some hard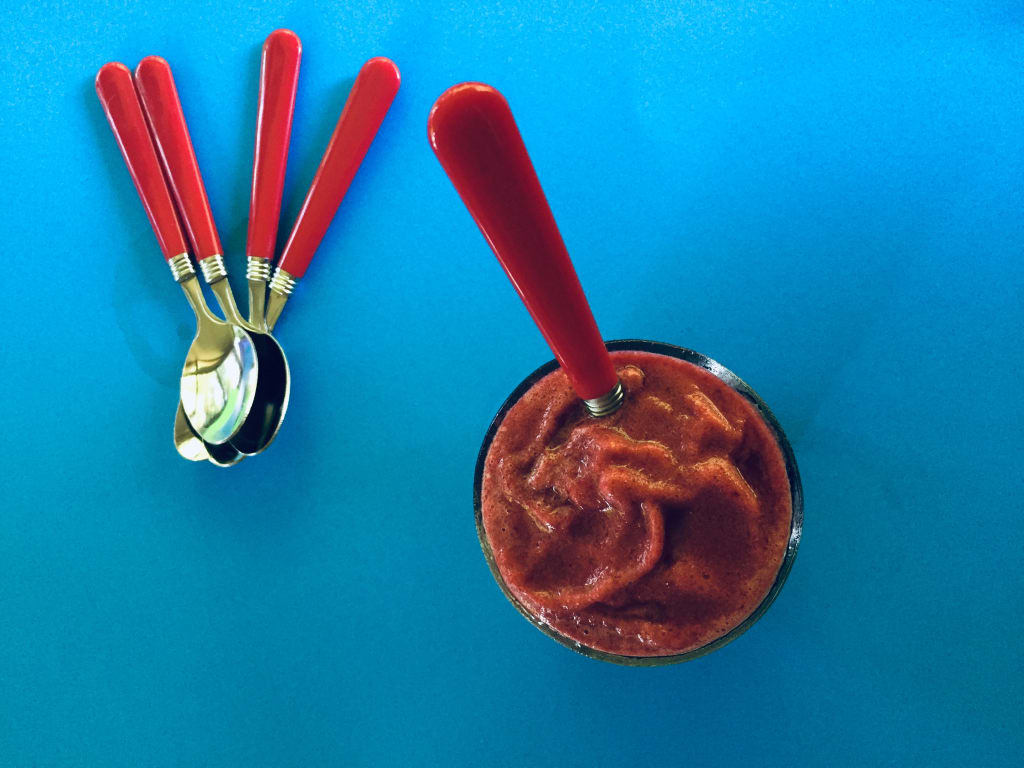 I had a different recipe scheduled to go up today, but I woke up sweating and have been sweating every moment since then, so this one felt more appropriate. I've been experimenting with a lot of different flavor and texture combinations lately, and I'm really pleased with how this treat came out. You read that right... this is a treat!! I know this is supposed to be a beverage blog, but I feel like no one will be upset that I slipped this in here.
You know how sometimes you just want to enjoy your own company? There are some summer days when it's sweltering and hot and the thought of putting on clothes to leave the house and spend time with other people feels like an insurmountable task. Absolutely unreasonable. I love being by myself. Spending time completely alone is always a surefire way for me to enjoy myself. I don't have to think about other people's moods or the outside world. I can close the curtains and sit in front of the fan mimicking 21 Savage's voice rapping along to "No Heart" through my box fan if I want to. Nobody can say anything about it. I wasn't really thinking about it when I was making it, but I think this is sorbet? And technically not a drink. I ate it with a spoon. (If you'd like to have it as a smoothie and drink it through a straw, just skip the step where you return the mixture to the freezer to harden a bit.) This is specifically catered to anyone who wants a special treat for themselves. Set aside some time to make this. It's worth it.
This recipe serves one.
You will need:
1 pomegranate
8 oz Celestial Seasonings black cherry berry tea (or any black cherry berry variation, but this is what I used)
½ cup frozen pineapple
½ cup frozen blackberries
Tray of ice
A blender
A jar or container with tight lid
Fine mesh strainer
1 glass
Brew the eight ounces of tea. While it cools, remove the jewels from the pomegranate. Before anyone corrects me, I don't know if they are called pomegranate seeds or not. But they look like beautiful, little bubbled jewels of fruit juice, and that's what I like to call them. Remove the jewels and place into the empty jar. This process is a little time consuming, but worth it. No, you cannot use pomegranate juice instead. You just can't. When the tea is cooled down, pour it over the pomegranate jewels, close the lid and shake it. Refrigerate for 10 hours. Yes, it's necessary.
After the 10 hours are up, put the glass you plan to use into the freezer to frost it a little. While the glass is frosting, pour the pomegranate-tea contents of this jar into a blender until the pomegranate and black cherry tea combine completely. Pour the liquid through a fine mesh strainer. Run it through a couple of times to make sure there's no grit. We want this to be smooth and thick. Once the liquid has no grit in it, pour it into a blender. Add the half cup of frozen pineapple and half cup of frozen blackberries. Blend completely.
Once completely blended, slowly add ice cubes and pulse until it's at a thick consistency. For me, it was about eight cubes. Remove the glass from the freezer and scoop the mixture into the glass. Use the back of a spoon to smooth a mound at the top of the glass. Put the glass back in the freezer for a few minutes. Don't forget about it!! It will get too hard.
Remove from freezer and enjoy.