New Gluten and Dairy-Free Breakfast Recipes and Ideas
Breakfast Recipes II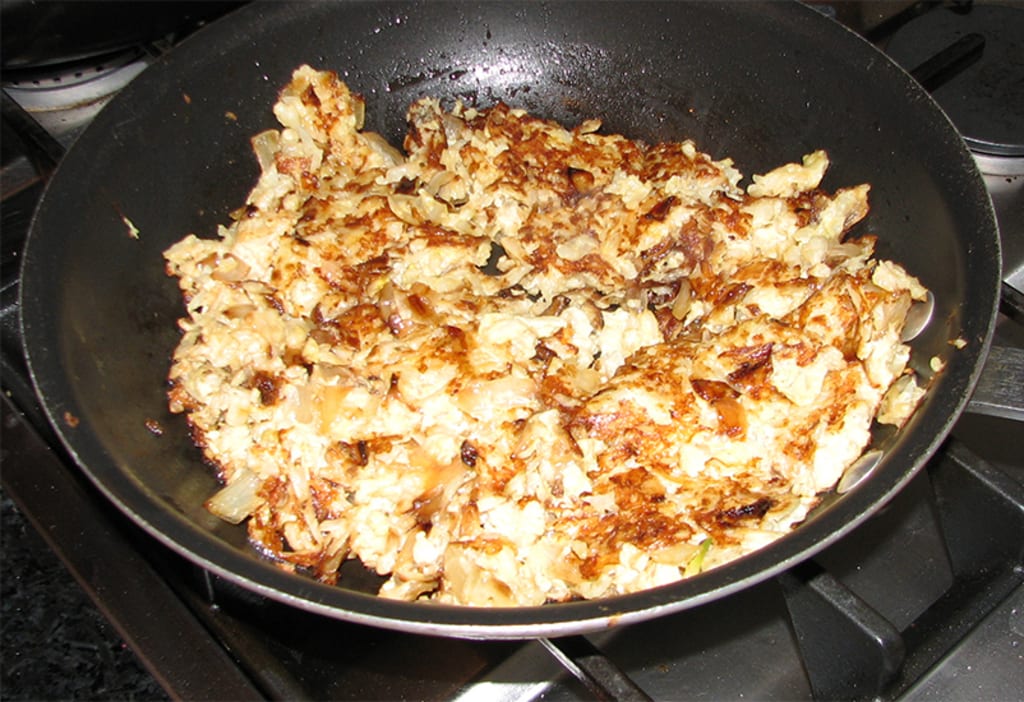 1. Baked Sweet Potato
Use your Smart Balance butter and sprinkle with cinnamon and sugar!
Put it in the crockpot before bed (wrapped in foil) and it will be ready in the morning. Or, if you have an InstaPot, you can bake a potato in about 20 minutes.
2. Cauliflower Hash Browns
Trust me, this tastes just like hash browns. Preferably, use bacon fat to add some flavor. Rice or dice your raw fresh cauliflower (about the size of rice). I generally put mine in the food chopper.
Toss the cauliflower in oil, salt, and pepper. Add to a hot skillet that you just fried bacon in or add some bacon fat to the skillet. Toss for a moment and then press the cauliflower into the skillet. A black iron skillet works best. Allow that to brown and then mix it around in the pan. Of course, you could add onions, mushrooms, sausage, or tomatoes.
3. Refried beans with an egg on top please!
Have you ever thought about warm refried beans for breakfast? This is a great source of protein and it's delicious. I like to add a fried egg to mine. Just heat the refried beans and you're ready to go.
4. Breakfast burritos are a great breakfast, can be made ahead, and you can switch up your filling.
refried beans
eggs
sweet potatoes
fried apples (drained!)
5. Breakfast salad is the latest thing trending right now so I had to give it a try.
There are several ways to make a salad more breakfast like. You can make my favorite:
Spinach Bacon Salad
fresh spinach
crispy fried bacon
boiled egg
oil, apple cider vinegar, salt and pepper
Whisk the dressing together before tossing the salad with it. Start with 2 tablespoons oil to 1 tablespoon apple cider vinegar, salt, and coarse black pepper. Taste it and adjust to your own taste.
Or try a breakfast salad a friend of mine has every morning:
Cranberry Walnut Salad
fresh spinach
dried cranberries
chopped walnuts
vinaigrette
I like the simple vinaigrette I use on the spinach bacon salad, but use your favorite.
6. Double Stuffed Baked Potatoes
Just make like you normally would a double stuffed baked potato but use foods that remind you of breakfast. Such as bacon and onion. I mean we have hash browns for breakfast, why not a baked potato or better yet a double stuffed potato with bacon!
7. Beans and Rice
If you need a lot of energy for the day this is a great breakfast to start your day. Just mix together leftover rice with pintos, black beans, or red beans. Toss with a little oil, salt and pepper, or add some spice if you prefer. Cumin is a nice subtle spice for this dish. Heat and eat!
8. Coconut Milk Smoothie
Smoothie with Fruit
In the blender:
1 can chilled coconut milk,
frozen fruit of your choice,
about 4 to 6 tablespoons of sugar or honey.
Try frozen peaches, pineapple, or one of your favorite berries.
Chocolate Smoothie
In the blender:
1 can chilled coconut milk,
1 tablespoon cocoa,
2 to 4 tablespoons sugar,
and 1 teaspoon vanilla.
Smoothie Without Fruit
In the blender:
1 can chilled coconut milk,
1 tablespoon vanilla,
1 teaspoon cinnamon,
and ¼ cup raw honey.
9. Baked Oatmeal
1 cup cooked apples (slice an apple and stew with just a small amount of water and a bit of brown sugar until the apples are tender.
2 cups oats
1 teaspoon vanilla
¼ cup sugar
2 eggs
1 tablespoon cinnamon
1 teaspoon nutmeg or ginger
¼ cup almond milk
Whisk the eggs, milk, and vanilla together. Add the spices and then the oats. Stir around to coat and allow that to sit for about 10 minutes.
While that sits, spread the apples and syrup it makes into a casserole dish. A nine-inch usually is just the right size. Pour the oats on top of the apples. Bake in a preheated 375 degree oven for 30 minutes. I generally will make this on Sunday or Monday and we just heat it up throughout the week for a quick breakfast.
Paula C. Henderson is a published author who lives in Las Vegas, NV. Her cookbooks can be found on Amazon on her author's page.
Her latest book Healthy Choices, Healthy You is available on Amazon and she has a new cookbook coming out this summer. Check out her other recipes here on Feast.
recipe