My Guide to the Best Coffee in Shoreditch
London's inner-city tech-hub offers plenty of choices for your caffeine fix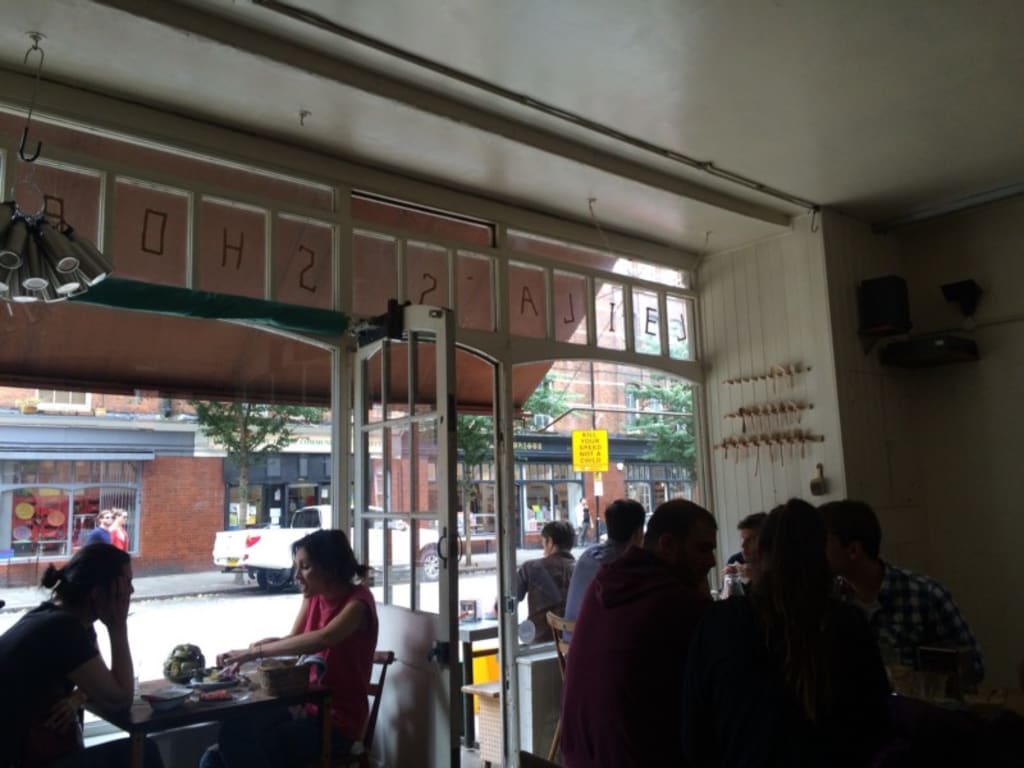 Leila's Shop – Arnold Circus, London. Photo: Gareth Johnson
Shoreditch is a neighbourhood just on the immediate eastern edge of the City of London.
It was one of the first areas where the power of inner-city gentrification was demonstrated in the London's current regeneration cycle.
This is where you'll find some seriously expensive apartments (the most sought-after are converted warehouse spaces), the bulk of London's tech community, and also an eclectic mix of independent boutiques – plus a wealth of restaurants and cafes.
Here's my guide, in alphabetical order, to some of the Shoreditch coffee options that I've tried recently:
Albion – Boundary Street
For what used to be quite an edgy area, Albion would feel quite at home in any white, middle-class suburb in Sydney, New York, or Cape Town. A big bright open space, large bustling kitchen and a produce store selling pastries, breads and over-priced groceries. A great breakfast option for middle-aged, middle-class homosexuals (like myself).
Fix Coffee – Curtain Road
Good coffee, free wifi, and plenty of power sockets for the laptop user. That's a good cafe.
Forge & Co. – Shoreditch High Street
Forge & Co holds a prominent place on London's Shoreditch High Street. A large, modern, stylish open space with an impressive bar and a combination of tables and couches. This is the kind of place that offers something for whatever time of day you're passing — from breakfast, through lunch, dinner, and into late night cocktails. There's even a long work-table which seemed to be filled with the local freelancing office-less community. Friendly, professional service, good coffee, excellent wifi, and top-drawer food.
Lantana – City Road
Having begun life in Fitzrovia, Antipodean cafe Lantana is slowly spreading like the noxious weed after which it is named. The Shoreditch branch is within spitting distance of the Old Street roundabout. You really can't ask for much more from a cafe than this. Friendly service, good food done well, and great coffee.
Leila's Shop – Arnold Circus
Leila's Shop is perhaps the perfect cafe to have in your neighbourhood. Tucked away in a quiet corner of Shoreditch, this small cafe offers simple food and great coffee. It doesn't get much better than ham and eggs for breakfast, but their lunch menu always features the best seasonal produce. Next door to the cafe they are also running a small deli and grocery store. Super busy on weekends, but worth making the effort for.
Look Mum, No Hands – Old Street
If you're a cycle geek, remotely into cycling, or fancy meeting someone who's into cycling, then Look Mum No Hands is for you. Not only is it a great cafe serving really good coffee and a nice range of food options, it's also a shrine to everything in the world of cycling, plus it has it's own in-house bicycle workshop. Genius. Pull on your lycra and get down there.
Ozone Coffee Roasters – Leonard Street
Up there among the best places for coffee in Shoreditch is Ozone Coffee Roasters. A New Zealand coffee outfit that, like a number of successful Antipodean operators, has decided to expand to London — they've been open in Shoreditch since March 2012 and seem to be going well. Of course the coffee is excellent, the food options are everything you could hope for, and the service is relaxed, friendly and efficient. Bonus – they have free wifi which is really solid.
Paper & Cup – Calvert Avenue
This is a cool cafe. The coffee was good, the croissant was fresh, and the service was exactly right. Paper & Cup is a project from the Spitalfields Crypt Trust — so it's a not-for-profit enterprise from a local charity. You can feel righteous while you sip your latte.
The Bike Shed Motorcycle Club – Old Street
This place occupies a fantastic space on Old Street, beneath the railway. This is a neighbourhood blessed with a huge range of really good cafes, bars, and restaurants, so in order to be successful you've got to be pretty good — locals can be fairly unforgiving. There is a real wow-factor as you walk in to The Bike Shed — the combination of the exposed brick arches, seductive lighting, and a mixture of wooden tables and leather booths fills you with expectation. The problem we had was with the service. If you were being kind you could describe the service as indifferent, but to be honest it was all fairly incompetent. In this neighbourhood you don't get a second chance to make a good first impression.
The Book Club – Leonard street
I really like this place. The breakfast and the coffee is good, the layout is cool, the staff are even cooler and the music is amazing. In the evenings they pack up all the tables and it turns into a bar. Service can be a bit hit and miss, but everything is relaxed.
The Diner – Curtain Road
For a classic, American-style breakfast you can't beat The Diner— a big fry-up and unlimited filter coffee. The Diner is a chain with locations across London. The Shoreditch branch is looking a bit tired around the edges, but the service is friendly and professional, and the food is good.
The Old Shoreditch Station – Kingsland Road
With a prominent position on the corner of Shoreditch High Street and Old Street, The Old Shoreditch Station helps define the hipster vibe that this area is renowned for. Whether you need coffee or a beer, whatever time of day, this is the kind of cafe that you dream of having in your neighbourhood.