My friends at Mr. Mike's Grill
The best of Westland, MI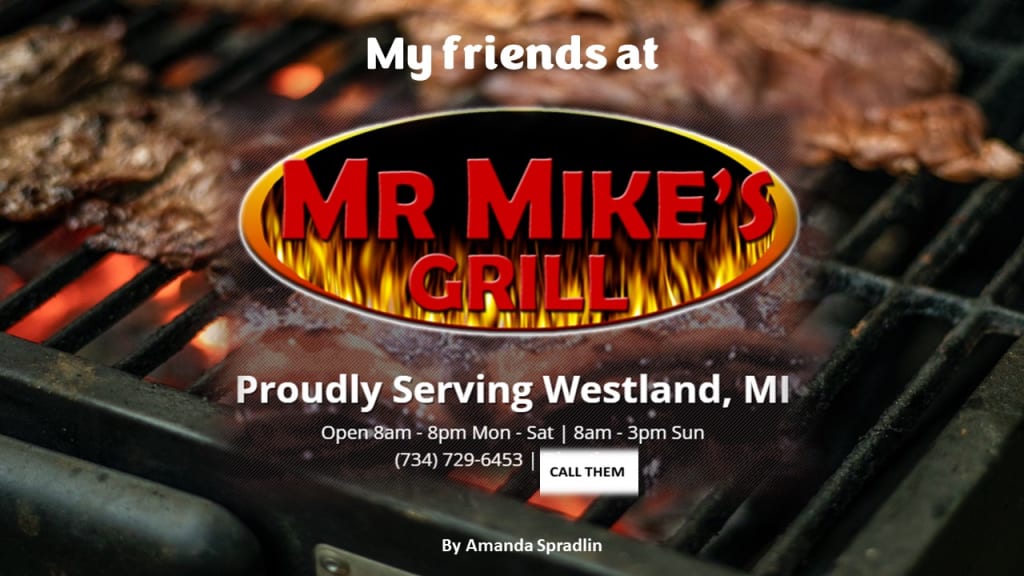 Mr. Mike's Grill is located in Westland, MI.
My friends at Mr. Mike's Grill are in Westland, MI, on Wayne Rd. When you walk into this family restaurant, you are truly treated like family. The owners, Sammy and Hiyam, have over 40 years of experience in the business, and they have owned and operated Mr. Mike's Grill since 2014. During this time, they have brought in their daughters, Tanya and Angie, to help run the restaurant alongside them, truly making the environment family owned and operated. You may not be able to tell right away which one of these lovely ladies you are going to get, as they equally share their mothers' good looks, but they will both welcome you with the warmest smile when walk in, alongside the other wonderful staff there!
The family part of this restaurant is not the only thing that has grown. With Mr. Mike's most recent menu update, they have expanded both their regular and gluten free menus, now offering the area's largest separate gluten free menu. This is super convenient, because you don't have to search for the fine print in an item description if you are watching your gluten intake or have Celiac disease, as you normally would with most other restaurant menus. They have two dedicated fryers, separate toaster, prep area, utensils, ingredients and space for gluten free food preparations and cooking. Hiyam has Celiac disease and was passionate about getting a quality, safe, and delicious menu out for the gluten free community. It's a menu that has been growing for over 7 years! Alongside the regular menu, the gluten free menu has many delicious options that are prepared with caution, love, and dedication.
Mr. Mike's Grill serves all three meals; breakfast, lunch, and dinner, and darlings, they do not discriminate against great food of all kinds. Their breakfast offerings include many different styles of food. For example, among the traditional choices of egg platters and breakfast sandwiches, they also offer a polish favorite with kielbasa and potato pancake. Or, maybe you're more of an Irish crepes kind of person who would like bacon, onion, and hashbrowns all rolled up with some sour cream. Pancakes and French toast are available with the All-American breakfast, as well as on their own, or you can even create your own platter with their ala carte choices. Don't forget the variety of omelets offered, served with homemade hashbrowns and choice of toast. If you are a breakfast fanatic, then Mr. Mike's Grill is the place you need to visit!
From quesadillas, to pierogies, to flaming cheese and everything in between, there is surely something for everyone to be found in their list of appetizers. They are great as starters but could even be a meal themselves. Not to mention, their soups and chili are homemade and are a taste you will not find anywhere else. The lunch menu consists of a complete spread of sandwiches, wraps, gyros & pitas, burgers, and hot dogs. I mean, you just can't go wrong. Whatever you could want for lunch, they have it!
When it's time for dinner, Mr. Mike's Grill once again goes above and beyond. They offer a full selection of dinner salads and pastas, and when I say they do it all, they really do! They offer a variety of polish dishes, traditional comforts like meatloaf and baked ham, and let's not forget their scrumptious regular or gluten free fish & chips. Of course, they also have the delicious classics like chicken tenders, tater tots, and fries too! (Again, offered gluten free as well!) And so much more!!!
Make sure you like and follow Mr. Mike's Grill on Facebook and Instagram to stay up to date on their current schedule and offerings. Both menus and contact information can be found at www.mrmikesgrill.com.
It is my honor to represent Mr. Mike's Grill on 2 sides of the fence. For one, they have really good food and exceptional service! Secondly, I have been working with them through AK Artwear to supply their work shirts, polo shirts, and hoodies for over 5 years now. It is always a pleasure working with Angie or her fiancée, Ric, on many different apparel projects. I highly recommend stopping in to see them if you are hungry and in the area. If you are reading this, make sure to mention that Amanda from Coincidental Chaos sent you!
Author's Note:
Chaotic Art Ware is a collaborative network made for creatives, by creatives. Coincidental Chaos and AK Artwear have partnered up to share all kinds of artistic stuff. Get connected! Find us online on your favorite platform for more info.
About the Creator
Amanda Spradlin is the founder of Coincidental Chaos. She writes with the passion of a questionable mind. Any donations are appreciated!
Reader insights
Be the first to share your insights about this piece.
Add your insights