My Favourite Japanese Restaurants In London
Not a definitive list, but this alphabetical summary is a pretty good starting point if you're in the UK capital and wondering where to for your ramen or sushi fix.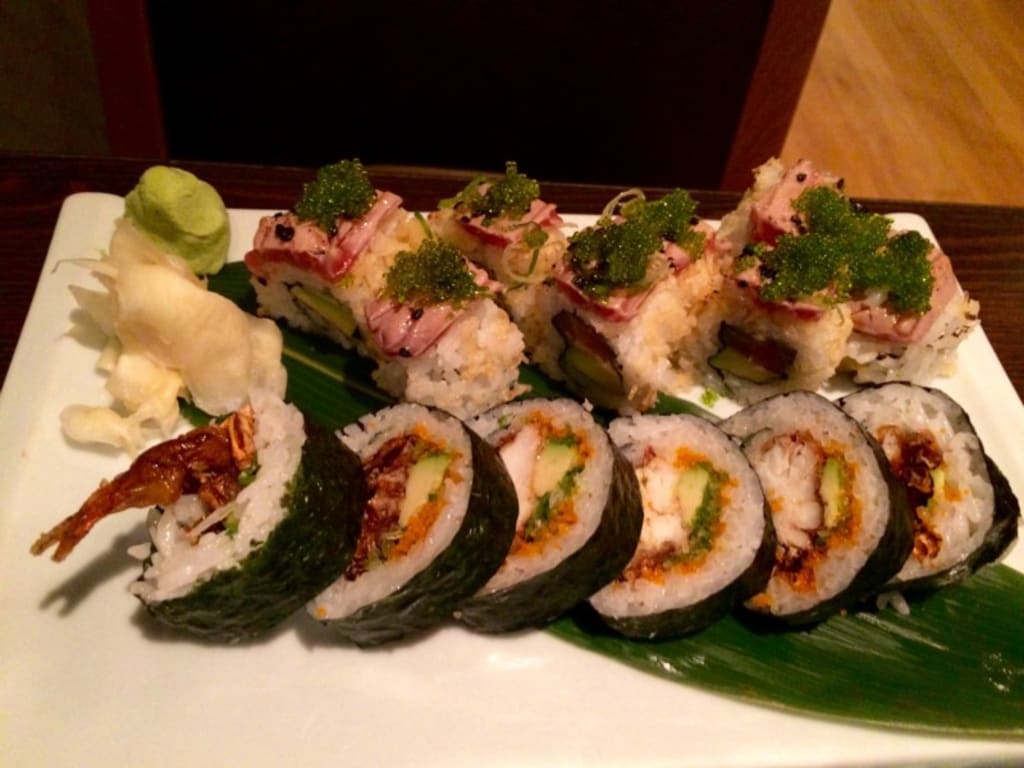 Soft Shell Crab Sushi Roll and Crunchy Tuna Sushi Roll from Sasa Sushi, London. Photo: Gareth Johnson
Bone Daddies
After their first outlet in Soho was such a huge success, there's now a couple more of these Japanese/Korean fusion ramen joints across town.
Cool, noisy, busy, and great ramen.
Their soft-shell crab is one of the best in town; their salmon sashimi irresistible; and I always order their "T22" ramen which comes with "cock scratchings" (true story).
Feng Sushi
This is a chain of Japanese restaurants, with a number of locations across London.
I've only ever been to their South Bank outlet — it's one of the few places in the South Bank precinct that will take a reservation on a Saturday night (fairly crucial if you've got tickets to see something and a limited window in which to meet friends and get food).
This isn't the best Japanese food experience you'll ever have, but it's also not the worst.
Flesh & Buns — Covent Garden
From the people who brought London the brilliant Bone Daddies ramen joint, Flesh & Buns is their take on the Japanese izakaya bar.
However, Flesh & Buns is a long way from most of the traditional izakaya — informal bars where Japanese people go after work for drinks and snacks (such as grilled meat skewers known as yakitori). The restaurant is a big, underground space — a stylish fit-out with perfect lighting and cool manga cartoons adorning the walls of the toilets.
In terms of food, I love their Korean Fried Wings — one of the most popular dishes. Crispy chicken wings smothered in a sweet and spicy sauce. Then it's always on to the buns that they're famous for. My favourite is the crispy piglet belly — incredibly tasty pork with which you build your own sandwiches using their light as a feather steamed buns.
If you're working in London but dreaming of Tokyo then a visit to Flesh & Buns is a decent compromise.
Hibagon — Sydenham
Sydenham is a part of south London that's not really known for its restaurant scene, but Hibagon seems to have found a home there and is popular with the locals.
It's a comprehensive menu that offers a bit of everything.
The staff are friendly and efficient, and the food is good — especially if you stick to the basics.
This isn't the best Japanese restaurant in London, but it could very well be the best Japanese restaurant in Sydenham.
Kanada-ya — St Giles
My Japanese friends tell me that the best way to judge a ramen restaurant is to see how many people are lining up outside waiting to eat there.
Using that rule, Kanada-ya is clearly one of the best in London – always a queue of patient people, happy to wait their turn for the ultimate comfort food — a big bowl of noodles in a meaty broth.
This is a small space, with shared tables. Service is friendly and efficient.
If I'm being objective, then I'd have to say that I have had better bowls of ramen, but if you're looking for a quick lunch or a comforting bowl of soupy noodles then Kanada-ya fits the bill.
Kikuchi — Fitzrovia
Tucked away in Hanbury Street, between Tottenham Court Road and Oxford Street, Kikuchi is not the easiest place to find.
I've only been here once, I had a craving for ramen and I thought Kikuchi could be the answer.
The friendly waitress that met me at the door of Kikuchi politely informed me that there was a minimum spend of £25 (excluding drinks). I gulped but was too proud to back out. This is not some back-alley ramen place, but a serious Japanese restaurant.
There is an extensive menu, but I pretty much was guided by the specials on offer — some "very fatty grilled tuna" sushi, prawn tempura, and grilled squid legs. All washed down with some chilled sake.
Sitting at the counter and watching the chefs at work was worth the money itself — what these men can do with raw fish is genius.
It may not have been quite what I set out looking for, but Kikuchi is very very good.
Nanban — Brixton
Nanban is a newish ramen joint in Brixton.
I've only been there once – we'd arranged to meet some Brixton-based friends for lunch, they'd suggested Nanban as a good option.
Turns out that they had already been there so often that the staff knew them by name. It's easy to see why this has quickly become a local favourite — modern decor, and a modern take on some Japanese staples.
This is a long way removed from the simple, traditional ramen joints that you find across Japan, but there's no denying that this is a hearty and warming way to satisfy your hunger.
Pham Sushi — Whitecross Street
Pham Sushi has been a favourite for many years. I'm generally meeting my cousin Nick here for a quick bite to eat before seeing a show at the Barbican.
This is a straightforward Japanese restaurant with great food.
We're generally sharing plates of sashimi and sushi, sometimes a selection of tempura, always with too much sake or beer.
A great pre-theatre option. A great post-work option. A great option any time.
Sasa Sushi — Angel
It would be easy to walk past Sasa Sushi and write it off as just another Japanese restaurant in London. However, despite its underwhelming appearance from the street, and it's relatively unprepossessing interior, Sasa is serving up some of the best Japanese food that you'll find in the city.
I've been eating here for a number of years, and very little changes — the decor, the music, the service, but most importantly the menu and the quality of the food.
Sometimes the small restaurant can feel a bit quiet, but there is always a steady stream of locals calling in to collect take-away on their way home from work.
I have so many favourite dishes at Sasa Sushi that it's hard to choose, but I'll always order a soft-shell crab roll, and a crunchy tuna roll. Spectacular.
Shoryu Ramen — Regent Street
Ramen is one of those iconic dishes that helps to define a nation's identity — in this case, Japan. While the modern and stylish Shoryu Ramen on Regent Street may feel a world away from the bustling ramen joints that you might have experienced in Tokyo or Osaka, much of the traditions and trappings of a traditional ramen restaurant have been successfully transferred to London's West End.
I generally opt for the Shoryu Ganso Tonkotsu — a generous serving of ramen noodles swimming in rich pork broth and topped with char siu barbecue pork belly, a boiled egg, mushrooms, spring onion, sesame, ginger, and some pieces of nori seaweed. This is very good ramen.
Ramen sometimes seems to be a state of mind — the best can really feed your soul, change your perspective, or set your spirits soaring.
There are now a number of Shoryu Ramen restaurants popping up across London which is no bad thing — it's always handy to have a decent ramen joint within easy walking distance.
Sushi Hiroba — Holborn
This is a busy sushi-train restaurant in a central location, right next to Holborn tube station.
To be honest, it's solid without being exciting. If you need a quick lunch, and you feel like some easy sushi, then Sushi Hiroba ticks that box.
Sushi Samba – City
The SushiSamba chain has added London to its growing network of global locations.
The first thing that hits you about this restaurant is the view.
Located on the 38th and 39th floors of the Heron Tower on Bishopsgate in the centre of the City, the restaurant enjoys almost 360 degree views as far as the eye can see — surreal to be looking down on to the top of nearby Gherkin building which almost feels within touching distance. There's also a fantastic outdoor terrace with a great bar.
A little oddly perhaps, SushiSamba blends Japanese, Brazilian and Peruvian cuisine — I've only been here once and our helpful waiter suggested that when ordering it's best to try and stick with one or the other otherwise it gets a bit confusing.
We opted for a general seafood/Japanese theme — grilled prawns, california rolls, sashimi, maki — all really very good.
Desserts were surprising too — my friend and I shared (and I'm copying this straight from the menu): "Organic red chocolate chilli peppers, Peruvian chilli mousse, red pepper tuile, raspberry-red pepper sorbet, chocolate crumble." Unusual flavour combinations but successfully realised and interesting to eat.
Save this one for out-of-town visitors, or when you've got an excuse to charge it to someone else's expense account.
Taro – Soho
There's a couple of these restaurants across London, I go to the one in Brewer Street.
A bit basic, but solid.
Tonkotsu — Haggerston
Gentrification of Kingsland Road in London's East End slowly continues. While developments may be pushing up the price of local housing, it's hard to complain about additions such as Tonkotsu — a modern ramen joint.
It doesn't look much from the outside — tucked beneath one of the arches beneath the overground line, adjacent to Haggerston station, but you couldn't ask for anything more than this.
I can't get enough of this place, and the smallish space always seems to be packed with locals. My favourite is the Tonkotsu Ramen — noodles, pork, and egg in a rich pork broth. Perfection. The beer that they're serving is really good too, plus they mix a mean Manhattan if that's what you're in the mood for.
It's not often that you can see a ramen noodle maker at work, but you can at Tonkotsu — it's reassuring to know that your noodles don't have far to travel from source to pot before they are served up to you in a big bowl. Quality.
Wagamama – multiple locations
Wagamama was really the first chain to bring affordable and accessible Japanese food to London. It's been hugely successful.
While there are now plenty of rivals doing similar things, and possibly doing them a bit better, Wagamama is still a reliable option if you're looking for a bit of pan-Asian action.
Perfect if you've got kids.