Make Your Own Mini Cheesecakes
Satisfy your taste for something sweet and delicious with these mini cheesecakes.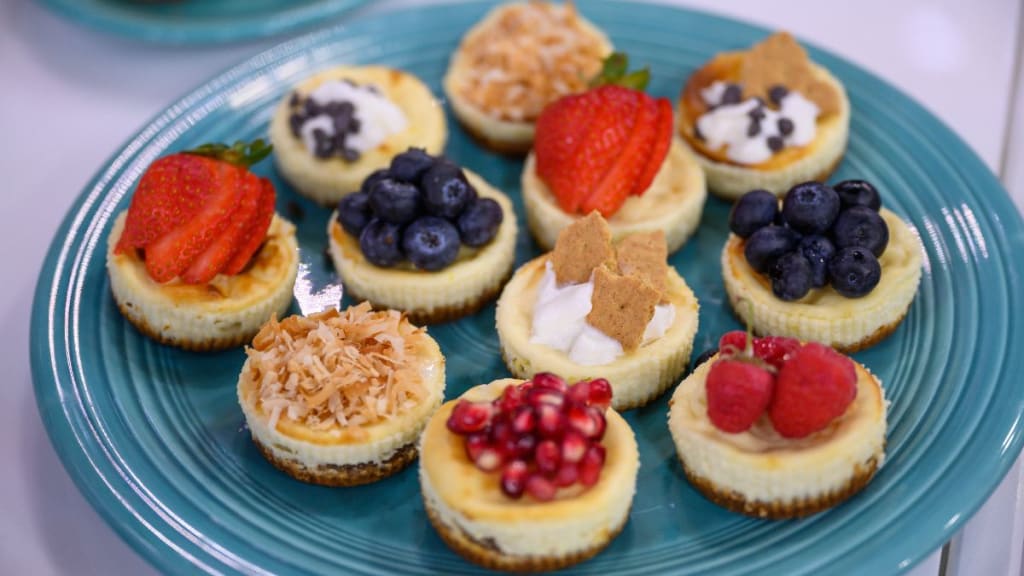 A cheesecake is still a cheesecake whether it is a mini one or an oversized one. Cheesecakes are tasty and delicious no matter what size they are. If you have a taste for cheesecake, take a few minutes and make your own in a variety of flavors.
Even though some cheesecakes come in one or more layers, these mini cheesecakes are just one layer. That's why they are called mini cheesecakes.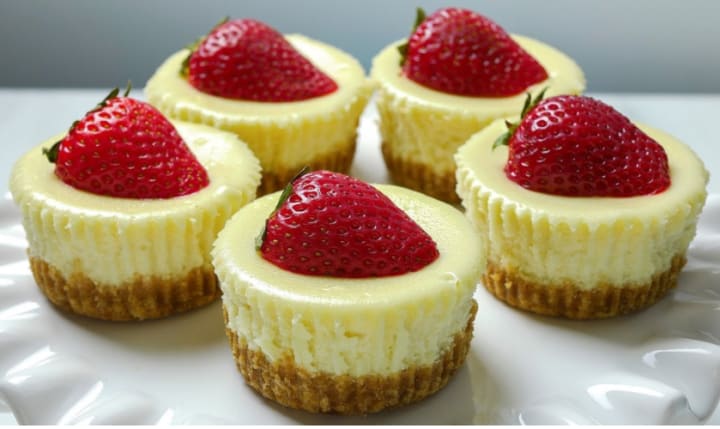 These mini cheesecakes consist of a mixture of ingredients that you might already have on hand. The main ingredient is a soft, fresh cheese that could be either cottage cheese, cream cheese, or ricotta. The other ingredients include an egg, sugar, and salt. The mini cheesecakes can also be flavored with vanilla or lemon extract, lemon zest, or other flavors of your choice.
The crust can be made from crushed graham crackers, biscuits, pastry, or a piece of sponge cake. The mini cheesecakes can be baked or refrigerated.
Mini Cheesecakes Ingredients
1 cup light cream cheese, softened
1 cup part-skim ricotta cheese
⅓ cup sugar
1 teaspoon vanilla extract
1 teaspoon lemon juice
½ teaspoon lemon zest
1 egg
¼ teaspoon kosher salt
Crust Ingredients
4 sheets graham crackers, crushed
2 tablespoons butter, melted
Preparation (10 minutes)
Preheat oven to 325°F. Ues 10 to 12 liners in a muffin tin. Set aside for the time being.​
To make the crust: Combine the crushed graham cracker and melted butter until they are thoroughly mixed. Put the graham cracker mixture in the muffin liners. Press down on each with a small measuring cup, a shot glass, or the bottom of a spoon. Bake the crust ingredients in the hot oven for about 5 minutes or until they are slightly golden brown. Set aside until they are fully cool.
To make the filling: Place in a large bowl softened cream cheese and ricotta cheese. Beat with an electric mixer for about one minute. If you don't have an electric mixer, stir the two types of cheese by hand until they are thoroughly mixed. Add sugar, vanilla, lemon juice, lemon zest, egg, and salt. Mix until all ingredients are combined and have a smooth consistency.
Carefully put the cheese mixture evenly on top of the cooked graham cracker crusts with a spoon or an ice cream scoop. Fill the liners about 3/4 the way up. Bake for 18 to 20 minutes, or until centers are almost set. Remove cheesecakes from the oven. You might want to dive in and eat them right away, but refrigerate them in the muffin tin for at least 2 hours before removing the cakes from the liners. Even though you can eat the mini cheesecakes plain, it is a lot of fun to decorate them with beautiful toppings.
Toppings
After the cheesecakes have been refrigerated, feel free to get creative with tasty toppings. No two cakes have to be just alike. In fact, it is better for your family if you make each one different.
There are so many delicious and appealing toppings to choose from. The toppings enhance the flavor and give the mini cheesecakes a nice appeal. Good choices include fresh strawberries, blueberries, raspberries, orange slices, peach slices, raisins, chocolate chips, pieces of graham crackers, nuts, and whipped cream. Some people use a combination of toppings as seen in the video below.
Nutrition Information
Nutrition information depends on the toppings you use. The information provided below is for each mini cheesecake without toppings.
Calories: 130
Protein: 5 g
Total Fat: 8 g
Unsaturated Fat: 4 g
Saturated Fat: 4 g
Cholesterol: 40 mg
Total Carbohydrate: 10 g
Dietary Fiber: 0 g
Total Sugar: 6 g
Natural Sugar: 2 g
Added Sugar: 4 g
Sodium: 200 mg
recipe
Margaret Minnicks shares articles with readers all over the world. Topics include celebrities, royal family, movies, television, foods, drinks, health issues, and other interesting things. Thanks in advance for TIPS that are sent my way.
Receive stories by Margaret Minnicks in

your feed