Macro Friendly Alpine Chicken
Comfort food at it's finest!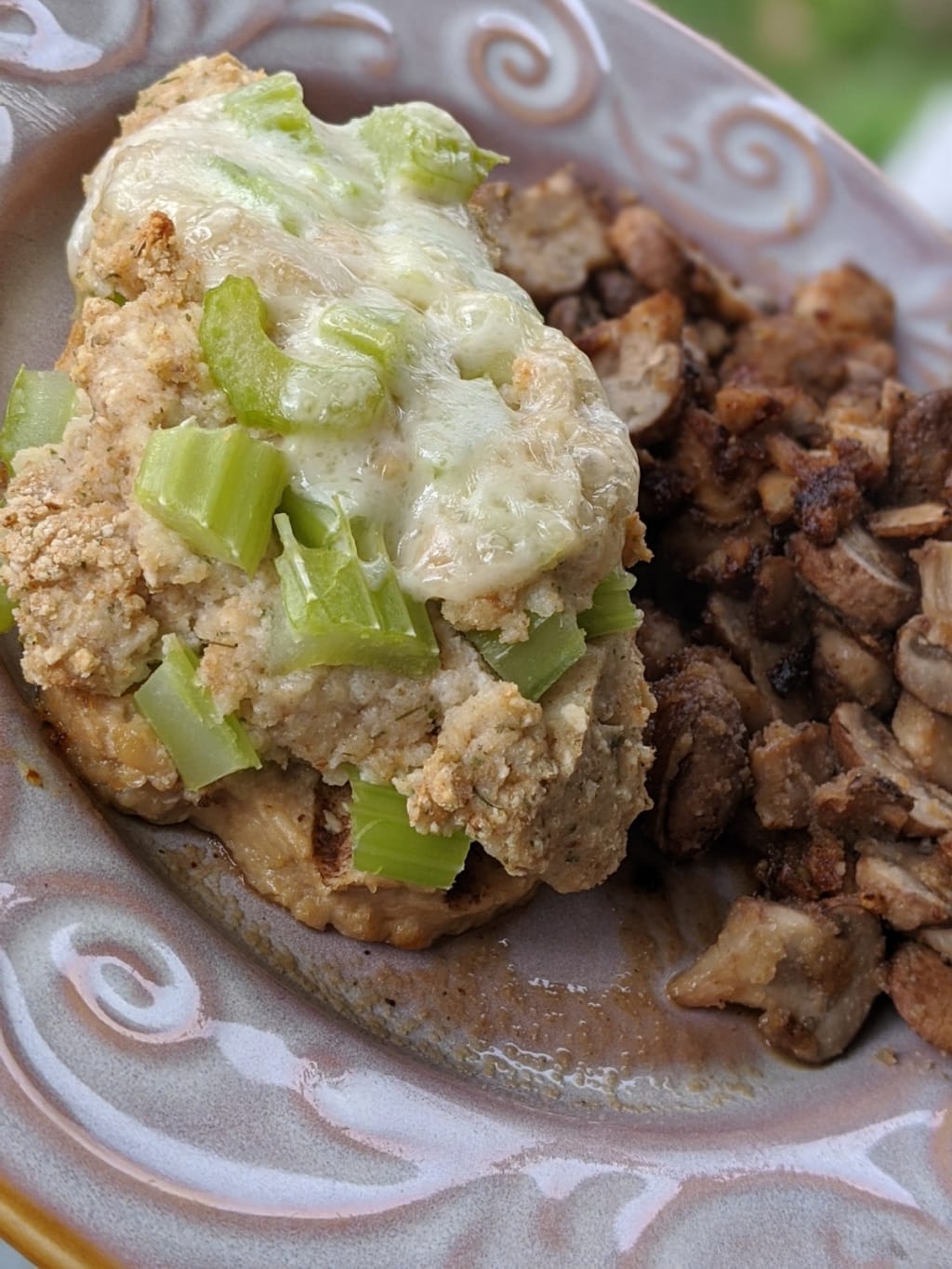 Macro Friendly Alpine Chicken
If this is your first visit to my recipes, welcome! If you are a returner, thank you!
I am a true believer that the world of food should be open to a person and moderation in all things is a great way to live life, that's why I specialize in creating macro-friendly recipes that are much easier to "fit" in moderation.
As you get to know me, you will find that all my recipes use a moderate to few amount of ingredients because I also believe that cooking should be stress free and not break the budget. I encourage that for all of my recipes you look into buying frozen rather than fresh to promote longevity of each food item if you do not use it again right away.
I would also love to hear your personal spin on any of my recipes! As always, have fun and please enjoy!
This recipe was created at the request of my mom! We always ate this dish growing up without realizing how incredibly dense it was! (In all ways possible, carbohydrates, fat and protein making it ridiculously high in calories!) It was her request that I figure out a way to make a macro friendly version for mothers day, so away my imagination went and the macro friendly alpine chicken was born!
In this recipe you will find a very genuine tasting version of Alpine chicken (vegetarian version also found below), baked to perfection with all the bready, creamy delight of the traditional recipe. This recipe is great to make for the family and makes for a protein packed healthy choice! Highly recommend serving with a side of vegetables! (sauteed mushrooms are delightful with it!)
This recipe is suitable for bariatric patients, vegetarians, body builders, anyone who is practicing moderation or just someone looking for a delicious and comfort food inspired classic!
For more macro-friendly recipes, lifestyle posts and bodybuilding posts feel free to follow my Instagram @boho_nutrition!
Servings
Makes 1 Serving
Cookware required
8x8 baking dish
Prep Time
Approx. 15 min
Cooking Time
Approx. 50 min
Total Time
Approx. 75 min
Difficulty Level
Easy
Ingredients
1 (3oz) boneless, skinless chicken breasts or (1) meatless chicken cutlet (I use Wegman's "Don't Be A Chicken" chickn' cutlets)
1/2 slice (12g) Swiss cheese
1/4C (50g) plain fat free yogurt
2 Laughing cow swiss cheese wedges
1/8C (15g) Bread crumbs
1/2C (50g) Celery Chopped
Directions
Preheat oven to 350 degrees Fahrenheit
Spray 8x8 baking pan with olive oil spray
Place chicken breast in the pan
Chop celery and place as much as you can on the chicken breast
Combine yogurt, laughing cow cheese and bread crumbs in a bowl, break up cheese and work into bread crumbs with a fork until mixed
Using clean hands take the sticky breading mixture and place it on top of the chicken breast as shown, stick additional celery to the mixture
Place ½ piece of swiss cheese over the topping on the chicken breast
Cover and bake for 50 minutes, or until chicken is no longer pink and juices are clear. If using meat alternative 30min is enough to melt the cheese and warm threw
Serve and enjoy!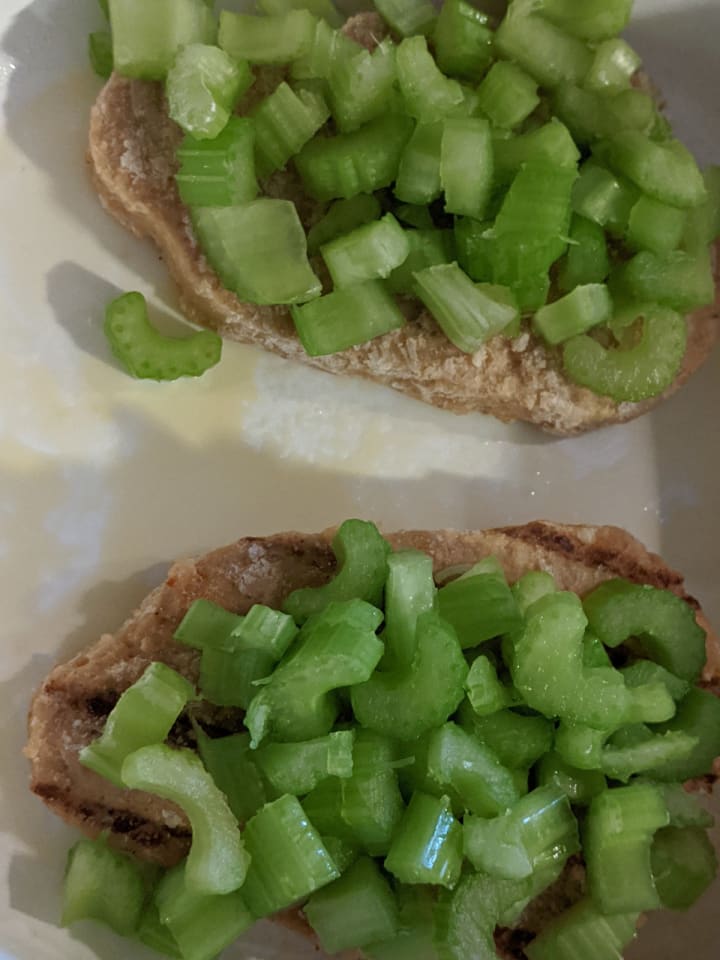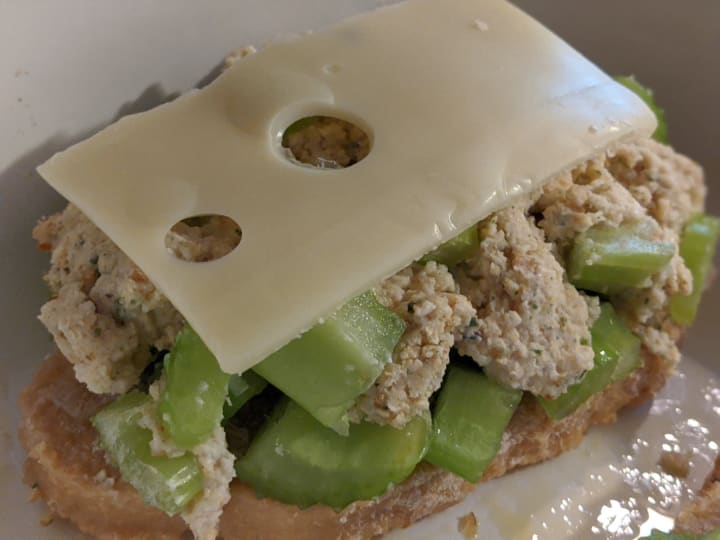 This is great for the cold seasons when you are craving a taste for comfort food !
(everyone has different tastes and I respect that, please let me know how you feel if you try this recipe!)
Nutrition Facts
Entire Dish (Real Chicken)
Calories 335 kcal
Fat 10g
Carbs 26g
Protein 34g
Nutrition Facts
Entire Dish (Vegetarian)
Calories 305kcal
Fat 10g
Carbs 29g
Protein 25g
Nutrition Facts Original Recipe
One serving
Calories 570kcal
Fat 29g
Carbs 34g
Protein 40g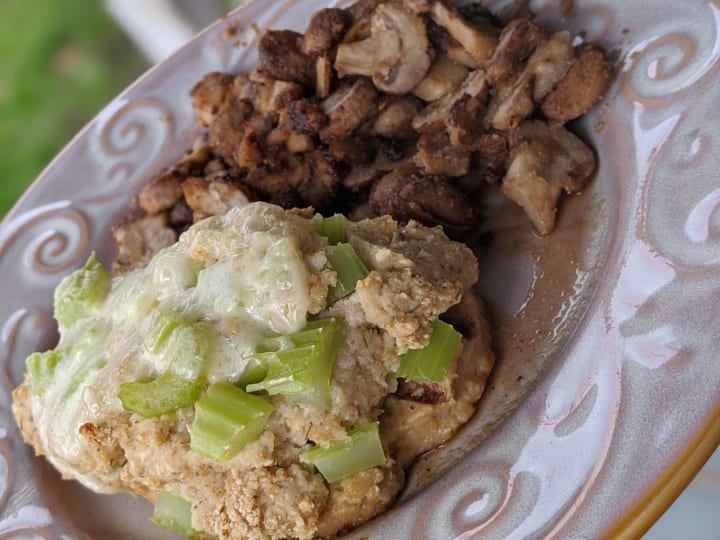 Feel free to tell your friends all about my recipes, I'd appreciate it!
Tag me in any recipes you try!! @boho_nutrition
(I would love to hear your honest reviews positive or negative!)
Just a reminder: for more macro-friendly recipes, lifestyle posts and bodybuilding posts feel free to follow my Instagram @boho_nutrition!
Rhianon Condello RDN, BSN, RN