Lobster Fondue
Perfect for Entertaining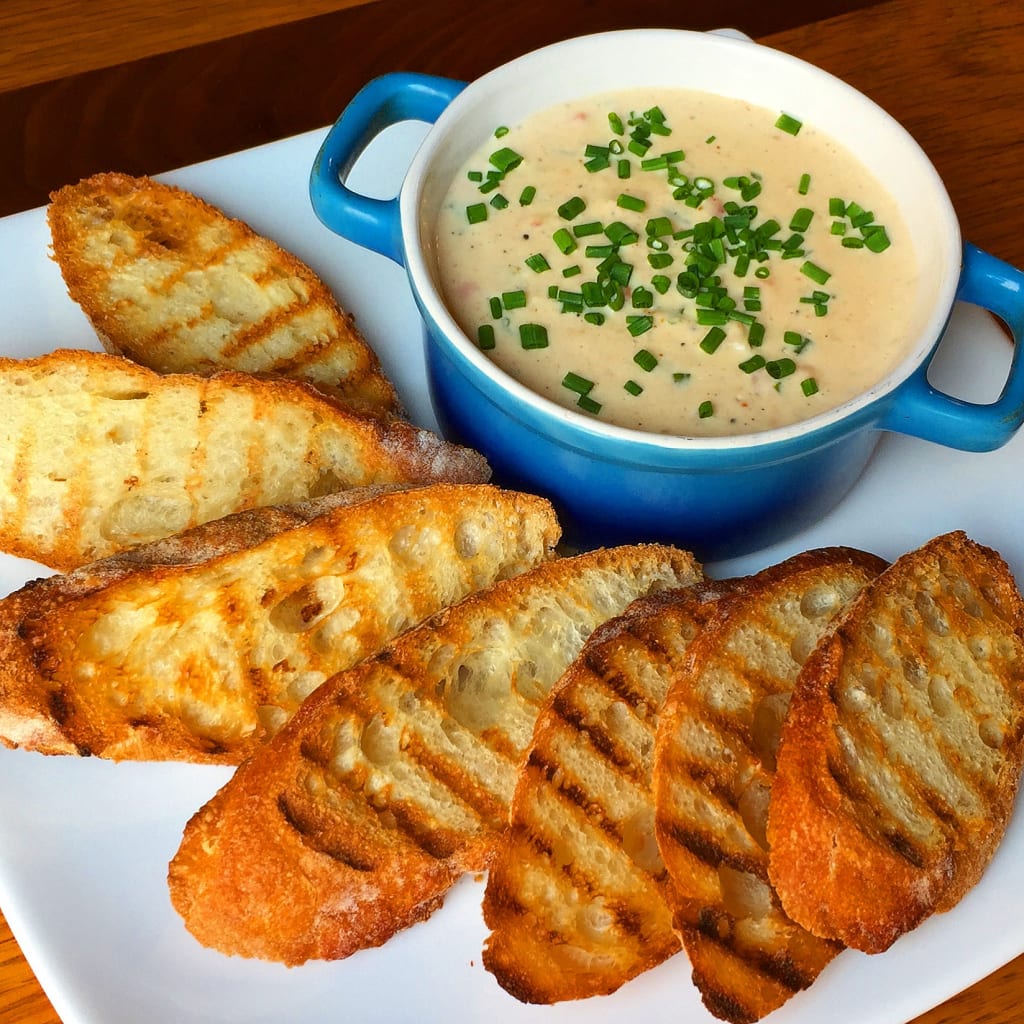 Lobster Fondue with Grilled Baguette
I love this recipe for a party. It is elegant, delicious, and can be served on a buffet family style or served in individual portion sizes for a more formal dinner party. Aside from the lobster it is pretty cost effective and I have always found it to be a crowd pleaser. I recently made it as a special for my restaurant and the guests LOVED it. I hope you enjoy it!
I prefer to buy a whole live lobster and boil it myself which is quite easy. If you're not up to the task most fish counters will carry already cooked lobster meat out of the shell. If you're buying a whole live lobster you will need to get one that is between 1 1/2 - 2 pounds for the right amount of meat.
Fondue:
1-1 1/2 pounds lobster
2 medium shallots
4 plum tomatoes
2 jalapeños (optional)
6 cloves garlic
2 tbsp olive oil
8oz cream cheese, room temperature
8oz goat cheese, room temperature
8oz pepper jack, grated
1 cup white wine
2-3 tbsp heavy cream
3 tbsp chopped chives plus more for garnish
Salt & Pepper to taste
Assorted Bread/toast/crackers for dipping
Lobster:
1/2 cup lemon juice
1 tsp pepper corns
2 bay leaves
3 tbsp white wine
For the lobster
If you're cooking the lobster yourself place the lemon juice, wine, bay leaves, and pepper corns large pot and fill about 3/4 with water and bring it to a boil. Using the tip of a sharp chef's knife pierce the head of the lobster through to the cutting board to kill it humanely. Place the lobster in the pot and put the lid on tightly. Cook for about 15 minutes until the shell is bright red. Remove and immediately submerge it ice water to stop the cooking. Once cooled allow it to drain well and remove all the meat from the claws, legs, and tail and chop it up. While it is cooling make the fondue.
For the fondue
Filet the tomatoes - quarter them and remove the seeds and flesh and discard. Cut the tomatoes into a fine dice. Remove the seeds and ribs from the jalapeños if using and dice them the same size as the tomatoes. Mince the shallots and garlic and chop the chives - I use a pair of kitchen scissors to cut chives it works quickly and perfectly.
Heat the olive oil in a medium sauce pan and sauté the shallot and garlic with a little salt and pepper for 2-3 minutes until softened slightly. Add the jalapeños and tomatoes and sauté another 2 minutes. Add the white wine and reduce to about 1/3 cup. Stir in the cream cheese and goat cheese and allow them to melt completely. Stir in the pepper jack and allow it to melt. Add the chopped lobster meat and chives stirring to combine. Add the heavy cream one tablespoon at a time to loosen if needed. Taste and adjust seasoning to your liking.
Pour the fondue into a slow cooker set on low or into a fondue pot and keep it warm. Garnish with more chopped chives and serve with assorted toast and bread - I even like it with hard Bavarian type pretzels. Or place it in individual ramekins with toast on the side.
The fondue can be made a day or two in advance and refrigerated until you plan to serve it. Allow it to cool completely before covering and refrigerating. Reheat it on the stove top and portion - or put it into a casserole dish and bake for 20 minutes at 350 - to serve family style if you don't have a fondue pot or slow cooker.
how to
recipe
Self taught chef with a over 25 years experience in the restaurant business.
Grew up in rural Ohio & moved to NYC in 1998.
Executive Chef Third & Vine in Jersey City 2014-2017.
Moved to Florida in 2017 and opened Duck Truck Gourmet in 2019.