Let's Talk Ayurvedic Spices
Get To Know The Indian System of Medicine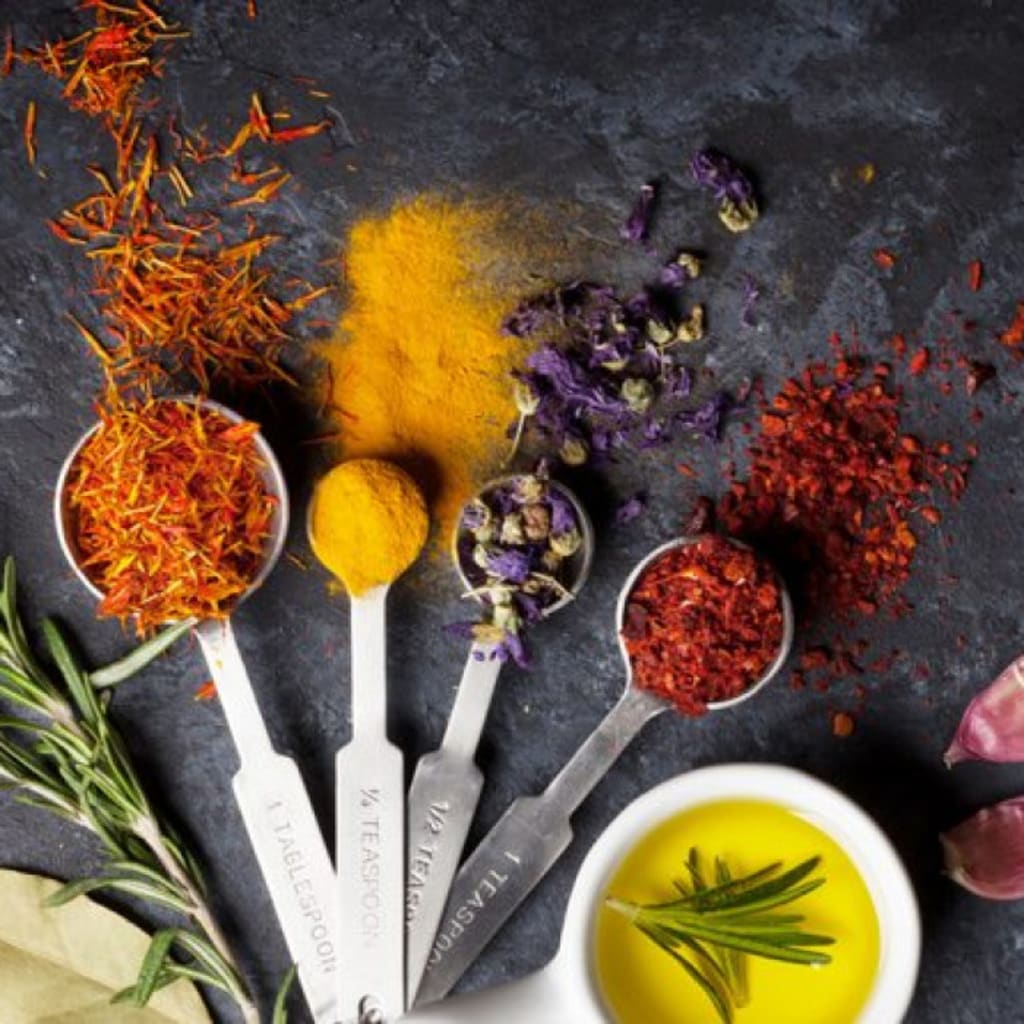 Photo Credit: MINDFOOD
When I first discovered ayurvedic spices, I didn't know what I was in for. Though I'm knowledgeable regarding various spices, Ayurvedic spices were another ball game.
As I researched Ayurvedic spices in-depth, I discovered many facets of why Ayurvedic spices are beneficial.
Did you know Ayurvedic spices are a traditional Indian system of medicine? Me neither.
I wanted to learn more about Ayurvedic spices because my interest in spices is beginning to expand. As a taste specialist with a culinary skilled background, I love to captivate the taste of appreciating life's herbs and spices.
Discovering Ayurvedic spices and their varieties allows me to explore more during my recipe development process.
Let's take a closer look at Ayurvedic spices.
Ashwagandha
Also known as Withania somnifera, ashwagandha is a small woody plant native to India and North Africa.
This Ayurvedic spice is known as an adaptogen which helps the body with managing stress and lowers the level of anxiety. It also helps with insomnia and anxiety disorders.
Ashwagandha is known to help with muscle growth, memory, and lower blood sugar.
Need help reducing inflammation? Try Ashwagandha to reduce inflammation and improve your immunity.
Brahmi
This is a staple herb is also known as Bacopa monieu.
According to Healthline, studies show Brahmi improves attention, memory, and reduces inattention and impulsivity.
Studies also show Brahmi has adaptogenic properties and helps the body deal with stress and anxiety.
Cumin
I love using cumin in my food dishes and recipe development. I enjoy the earthy, nutty, and spicy flavor marinaded in my grilled proteins, deepen the flavor of my soups and stews. However, I had no idea it was an Ayurvedic spice.
I've previously researched and written an article regarding cumin entitled, Behold the Power of Cumin.
This spice originated from the Mediterranean and southwest Asia.
Cumin comes from the seeds of the Cuminum cynminum plant. Cumin has antimicrobial properties that help with combatting foodborne illnesses.
Studies show cumin can improve the digestive system by easing the digestion of fats.
Other studies show cumin can ease irritable bowel syndrome. Add a few sprinkles of cumin to your favorite dishes to protect against Type 2 diabetes. According to Healthline, cumin can decrease blood sugar and improve insulin sensitivity.
Cumin can combat against heart disease by decreasing triglycerides and bad cholesterol.
Considering I use cumin heavily in my test kitchen at Stella Bistro Foods, I have an ongoing love for learning ways to use it as an individual spice, marinade, and accent flavor.
I enjoy marinading my proteins with Stella Bistro Foods Marinade Rub Sultry Spice. I love the attention of how the cumin works in unison with red pepper flakes and garlic [to name a few spices in this creative blend!]
Turmeric
In recent years, I had an opportunity to live with an authentic Jamaican family. Every meal was an exciting adventure to get to know their culture and how influential their cuisine and culture was to my recipe development process.
I developed a strong desire to add Curry Chicken to my rotating Stella Bistro Foods Meal Planner. As I learned the basics of turmeric with the Caribbean family, I discovered turmeric had many facets. No wonder it's Ayurvedic spice! Just as cumin, I didn't know turmeric was an Ayurvedic spice too!
I published an article regarding turmeric, The Power of Turmeric, focusing on the benefits of turmeric.
Related to curcumin, turmeric contains antioxidants and anti-inflammatory properties.
Be sure to read my article, The Power of Turmeric, to know how the bright yellow Ayuverdic spice can help protect against heart disease and ease depression.
In the meantime, add the tasty excitement of turmeric to your kitchen! Whether it be added to your beverages or food dishes, remember a little goes a long way! Be careful when measuring and using it as it can also stain your countertops [thank its pigment color for this!]
When I first began cooking with turmeric, I started with Stella Bistro Foods Tasty Turmeric Sultry Spice. It's finely powdered, so it works great with my Curry Chicken and the Caribbean inspired dishes.
From there, I'm now using Stella Bistro Foods Sazon Sultry Spice. I love the Puerto Rican inspiration behind how the flexible spice - I can use Stella Bistro Foods Sazon Sultry Spice on chicken, pork, tofu - even fish! Blended with smoky spices and turmeric, this creatively blended spice is great for any cook who wants to expand into cooking with international spices.
Check out other Ayuverdic spices such as...
Cinnamon
As a baker, I love everything cinnamon brings to the table! It's one of my favorite spices to infuse in my recipes and food dishes.
Discovering cinnamon to be an Ayurvedic spice was very surprising to me.
I enjoy using Stella Bistro Foods Autumn Flair Sultry Spice because it's creatively blended with cinnamon as well as other harvest spices. Whether you use Stella Bistro Foods Autumn Flair Sultry Spice in your Moroccan themed dinner night or for topping your iced latte with whipped cream, this spice allows you to appreciate the Ayurvedic spice and its flexibility in your diet for many reasons.
How do you add Ayurvedic spices to your food dishes and beverages on the go? Do you add them as dietary supplements?
Let's get the conversation started below!