Lemon, Lime and Ginger Curd Pie
A Baking Story (Pt.11)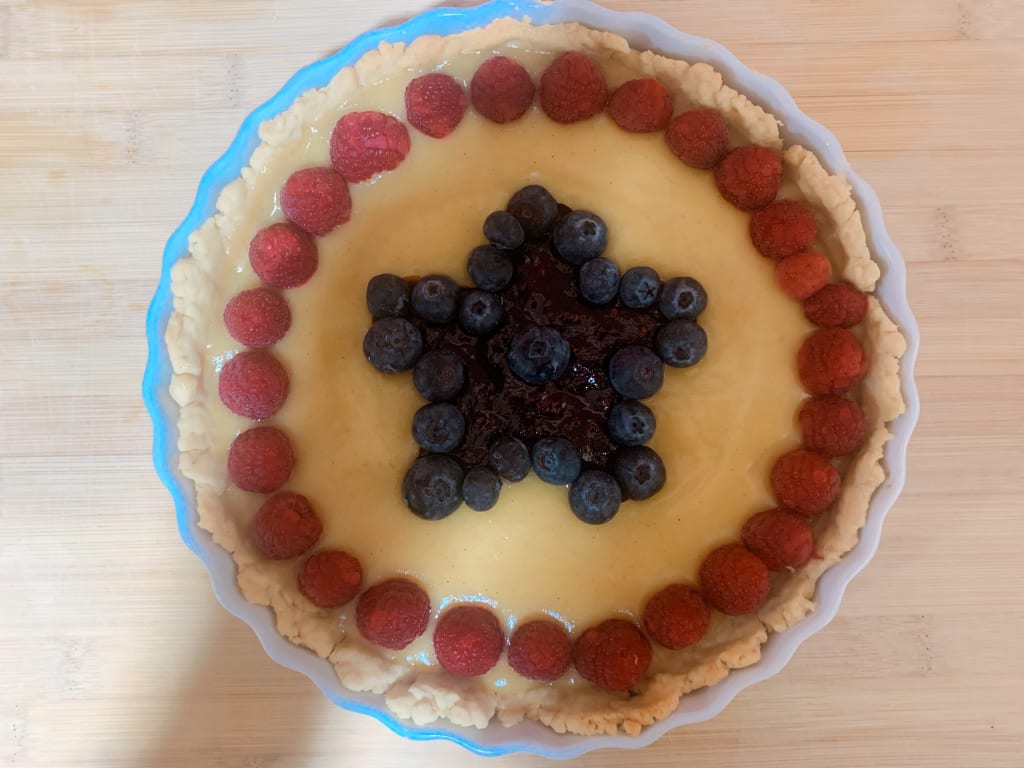 Of course, you probably know me very well for invading Vocal with my film studies stuff and articles entitled 'a filmmaker's guide'. I have often explained that I love to bake as well. Since I was young, I have loved the idea, the creativity and the relaxation of baking different things. I love to make macarons, layer cakes and gingerbread in particular and the activity of it really gets me away from my laptop (where I'm sure you know that I spend most of my life). So, I hope you enjoy me talking about what I bake and why I bake it complete with pictures (if not very good) of me actually baking, my baked goods in the process of being created and when they're finished. I'm really happy to share this with you. And if you like, you can show me your baking (yes, I spend a lot of time writing, but I also spend a lot of time reading other people's articles!), I would love to see it. Since I was in school, I was always interested in creating things, whether that be pieces of writing, welding things to make small statues or baking foods and making sweets (candy, if you're American). I hope you enjoy looking at some of the stuff that has honestly kept me sane, because I seem to be going slightly mad.
Lemon, Lime and Ginger Curd Pie
I love the flavours of lemon and ginger together. In food, in tea and even in coffee, lemon and ginger can taste great (that last one, try it before you say 'that sounds gross' because it really is not gross at all). Lemon and ginger make a really nice wintery flavour if added in the correct amounts and a really nice summery flavour when added in other ratios - so it's a winner every season.
I always make my pastry from scratch because I love to flavour my pastry to compliment the pie. For example: if I'm making my signature Sweet Potato Pie, I like to put a hint of cinnamon into the pastry and if I'm making apple pie, then I add some cocoa powder, honey or coconut to the pastry to cut through the sweetness a little and give a bold new flavour. Previously, you probably viewed my pear pie and if you haven't, then please do - you will be pleasantly surprised.
Here's the recipe complete with pictures
For the pastry
225g plain flour
100g butter
1/2 lime juice
1 tsp water
Preheat the oven to 200C
Mix together the flour and butter until it is breadcrumbs
Add the lime juice and water and mix again
Make a dough ball
Leave to rest for 15 minutes
Roll out the dough and place into your pie casing
Use baking beads or alternatively, rice, to hold down the pastry and bake in the oven for 20-25 minutes until hardened but not completely browned
Cool the pastry whilst you make the curd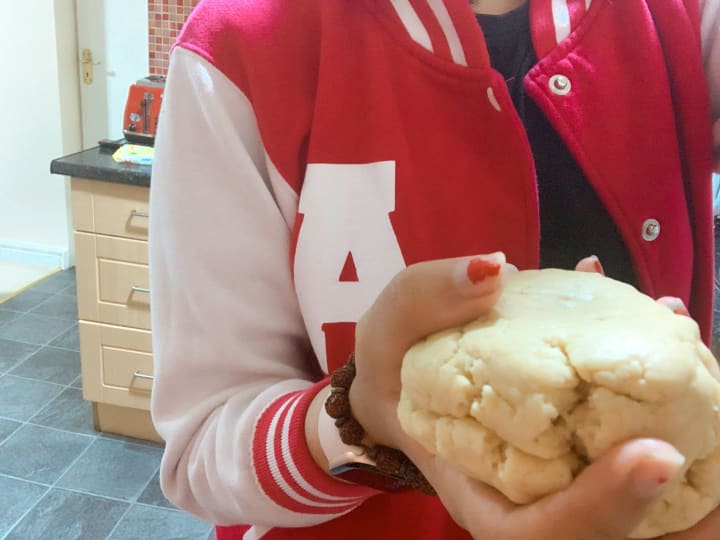 For the curd
2 Lemons - juice and zest
200g Caster Sugar
100g Butter
4 Eggs
2 tbsp Ground Ginger
On the hob at medium heat, melt together the butter and sugar, adding the lemon as you whisk the mixture together
Beat the eggs in a separate bowl and add them whilst whisking the mixture
Add the ginger and whisk once more
Once it has combined and thickened, take it off the heat
Sieve the mixture of the zest bits
Pour it into your pastry mixture, creating the shape you feel like out of a pancake shaper (I have a star!)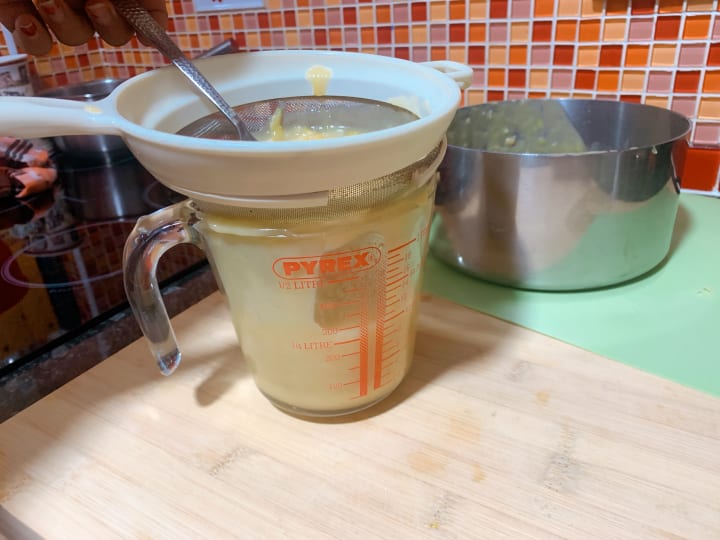 Now, let's add it to the pastry with my star shaper.
And then, fill the star with raspberry jam (make sure the raspberry jam is level with your curd or it will spill!)
Do not take the shaper out!
Instead, take some raspberries (or any berries you have) and place them around the pie edge...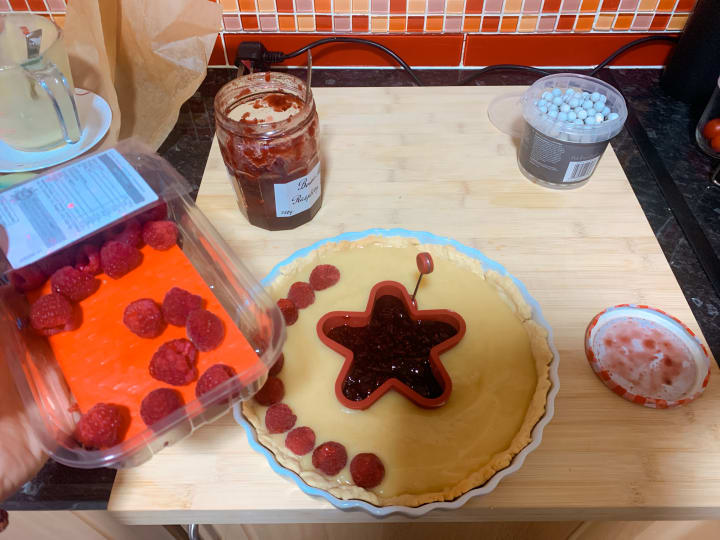 Again, do not take out the shaper!
Place your pie in the fridge to set for about an hour or two.
When the lemon curd has completely set, take your shaper out by pulling it straight up (do not wiggle the shaper!)
Turn the shaper upside down straight after you have gotten it out of the mix so the jam on the shaper does not go everywhere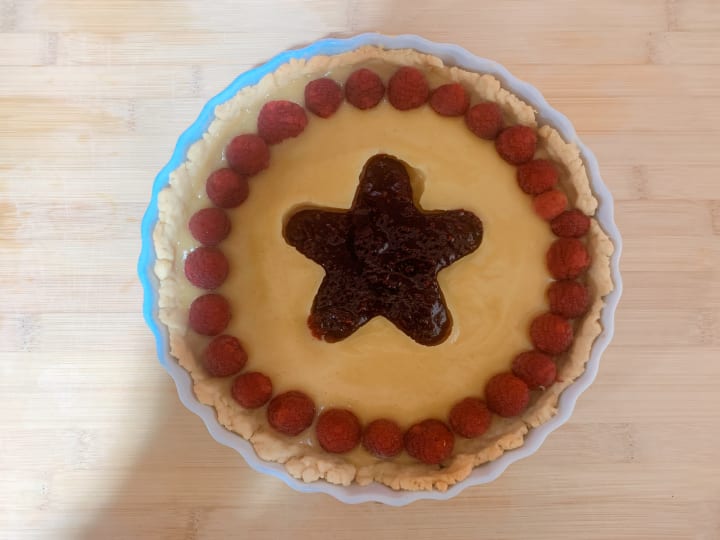 Line your shape if you want - I lined mine with blueberries because I love them and they taste great.
And enjoy!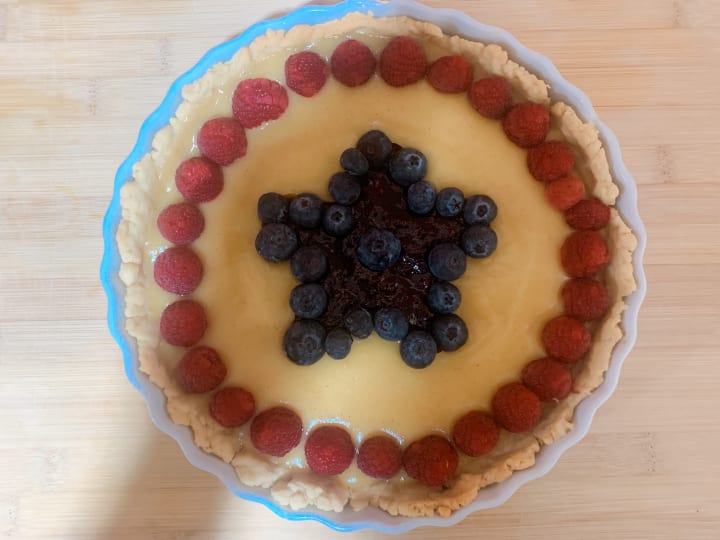 recipe
Film and Writing (M.A)
116K+ Reads on Vocal
Focus in Film: Adaptation from Literature, Horror Filmmaking Styles and Auteur Cinema
IG: @AnnieApproximately
Pronouns: (she/her/hers)