Kung Pao Chicken Recipe
Healthy and delicious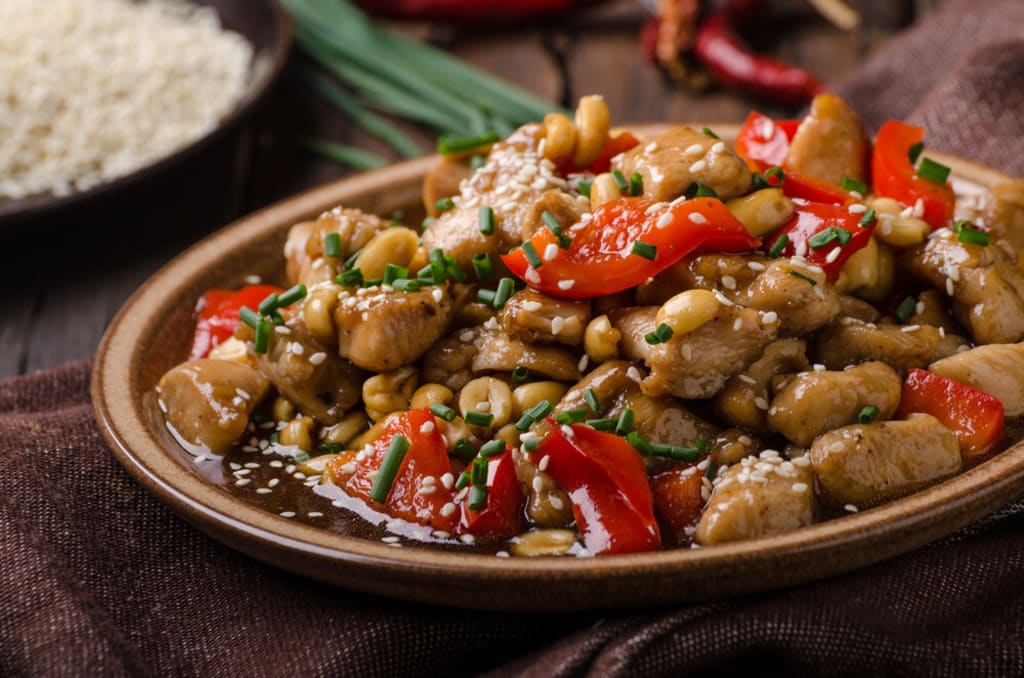 This is the Kung Pao Chicken recipe that most Chinese food take out restaurants are unable to reproduce. Easy to make, this Kung Pao Chicken is awesome.
Depending upon who is asked or where one looks, Kung Pao is considered a Sichuan (Szechuan) dish, or a Shanghai dish or a Guizhou dish. However, placing the origin debate aside, all the stories agree the dish was named after a prince who had either been placed in charge of protecting a local Province an was known for his good deeds, or had discovered the dish while traveling and brought the recipe back to the Imperial Court.
Regardless of the story behind Kung Pao Chicken, one thing remains certain, this dish is a favorite the world over. Kung Pao can be made using beef, shrimp or tofu. Most people agree however that this dish was made for chicken.
Kung Pao Chicken: What to Expect
Kung Pao Chicken, for those who've never had it before, should have a deep rich full bodied earthy flavor. The chili flavor should be bold and noticeable but not overwhelming as the tanginess of the rice vinegar provides balance.
The garlic and ginger should be present but subtle while the green onions provide a slight crispness. Some people (with allergies or who simply dislike them) will leave out the peanuts from this dish or substitute them with cashews; including the nuts simply brings all of the flavors together, wrapping them like a warm blanket.
The sugar is to counter the acidity of the vinegar and if someone is looking to substitute it for an alternative like Equal, it is suggested that a small amount be prepared as a test first.
King Pao Ckicken: Take Out Fails
Many people are familiar with this dish as a result of ordering it from their favorite Take Out restaurant. If this is the case, know that this Kung Pao recipe will completely shatter any impressions of Take Out.
The Kung Pao ordered from many Take Out places will typically be a lighter version of the below recipe. Often still spicy, take out Kung Pao if usually mixed with large diced vegetables and a very pale looking sauce. This is not what Kung Pao was meant to be, Kung Pao was meant to make a statement long remembered after the dish was completed.
Kung Pao Chicken: The Recipe
1lb (454g) boneless skinless chicken breast, cut into bite sized pieces
2 tablespoons cornstarch
Sesame Oil
2-3 green onions, diced
3-4 garlic cloves, fresh chopped (do not use pre-chopped jarred garlic)
1 teaspoon crushed red chili pepper flakes (adjust according to personal desire)
1 teaspoon powdered ginger or 2 teaspoons fresh chopped ginger
6 tablespoons rice wine vinegar
6 tablespoons soya sauce
6 tablespoons sugar
½ cup of dry roasted peanuts (un-salted)
Kung Pao Chicken: Cooking Method
In a bowl, toss chicken pieces with cornstarch to evenly coat, then fry (in sesame oil) until just crispy on the outside. Set aside on napkins or paper towel to cool.
In a second bowl, combine rice wine vinegar, soya sauce and sugar. Mix well.
In a wok or large non-stick pan/skillet, heat 1 tablespoon sesame oil and add the onions, garlic, red chili peppers and ginger. Stir fry for about 15-20 seconds.
Add rice wine vinegar mix to the pan, stirring well and cooking for about 1-2 minutes. Sauce should appear dark in colour and have a bold tangy scent.
Add chicken pieces, mixing well until chicken is coated in sauce. Cook for 3-5 minutes.
Add peanuts and cook for another 2-3 minutes.
This dish pairs well with steamed broccoli and rice (plain, vegetable fried rice, chicken fried rice or beef fried rice). Kung Pao should be served immediately as the sauce has a tendency to thicken a little and soak into the chicken after about 30 minutes.
Separating the sauce and chicken into different containers allows for next day consumption with very little difference in quality or taste. Without a doubt this is a Kung Pao recipe causes people to stop ordering take out.