"In a Pickle" Etymology, plus the BEST Dill Pickle Recipe Ever!
Has Your Cucumber Crop Got You "In a Pickle"?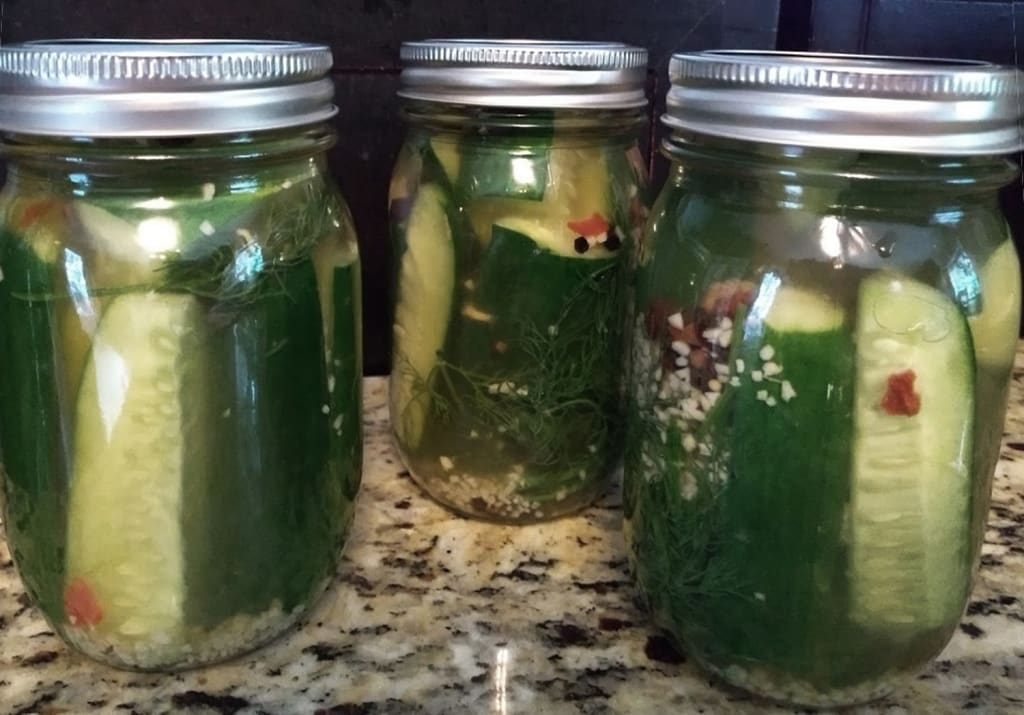 my homemade refrigerator dill pickles - photo by author
Here in the mountains of western North Carolina, by early July my garden is in full swing
Spinach season just ended, sugar snap peas and kale are winding down, tomatoes are ripening on the vine…but green beans, summer squash and cucumbers are coming in quicker than we can eat them!
I'm finding a lot of innovative uses for squash, freezing bunches of green beans and dehydrating extra tomatoes, but what to do with all the cucumbers?
Why, pickles, of course!
You may have thought you need pickling cucumbers to make good pickles, but that is absolutely not true!
This recipe uses regular slicing cucumbers, harvested between 8" and 9" long. They're cut in half before being cut into spears, so they fit nicely into wide mouth pint jars.
But first… where did that saying, "in a pickle" come from, anyway?
Shakespeare?
At first, this seemed to be the easy answer.
Shakespeare's play, The Tempest, written circa 1610, does use the phrase "in a pickle"…
Alonso: And Trinculo is reeling ripe; where should they

Find this grand liquor that hath gilded 'em?

How camest thou in this pickle?

Trinculo: I have been in such a pickle, since I saw you last, that, I fear me, will never out of my bones: I shall not fear fly-blowing.

— The Tempest, William Shakespeare
But as you can see, the meaning here is not the same as what we intend today when we say "in a pickle" (meaning "in a difficult situation").
Clearly, Shakespeare's use of "in a pickle" refers to a state of drunkenness.
Trinculo feels himself to be so drunk, in fact, that should he presently die, the maggots would leave him alone ("I shall not fear fly-blowing"); his flesh preserved in alcohol ("will never out my bones").
OK, that makes sense. Most of us have probably heard someone drunk referred to as being "pickled".
So, if not Shakespeare, then where did our contemporary meaning of "in a pickle" come from?
John Heywood?
The Oxford English Dictionary provides this interesting example, using the word "pickle" in a poem by John Heywood.
"Proverbs and Epigrams" written in 1562.
Time is tickell

Chaunce is fickell

Man is brickell

Freilties pickell

Poudreth mickell

Seasonyng lickell

-John Heywood, Proverbs and Epigrams
This poem is so dour, you have to love it! It's like Eeyore wrote it! But it doesn't exactly apply to our quest. Here's why.
Loosely translated:
Time is ticklish (as in uncertain, don't count on it being there)
Chance is fickle
Man is brittle (breakable)
Frailties pickle (they stay with you, never go away)
Crap piles up (poudreth is a fancy French word for "poop", "mickell" is Old English for "much" or "accumulating more")
Sex (or sex drive) wanes (seasonyng was a 16th century euphemism for "having sex", lickell means "diminishing")
Obviously, the meaning here of "pickle" is "preserve", not a reference to "a bad situation".
The quest continues…
The Morte Arthure?
Aha! This text holds a very early reference to "pickle", while also relaying a harrowing circumstance.
In my opinion, this may well be the root of the phrase "in a pickle" that we know today.
The Alliterative Morte Arthure is a 4346-line Middle English alliterative poem, retelling the latter part of the legend of King Arthur. The original author is unknown. Dating from about 1400, it is preserved in a single copy, referred to as the Lincoln Thornton Manuscript, which was written sometime in the mid-15th century by Robert Thornton, who copied an older text, now lost. - Wikipedia
The section I refer to is relating the imaginary gory ingredients comprising King Arthur's meals.
"He soupes all this sesoun with seuen knaue childre,

Choppid in a chargour of chalke-whytt syluer,

With pekill & powdyre of precious spycez"- The Morte Arthure
He dines all season on seven naughty children
Chopped in a bowl of white silver
With pickle and precious spices
So, in effect, these naughty children have found themselves literally being pickled…hence "in a pickle"!
All that detective work has made me hungry!
Lucky for me, I just put up a few jars of these delicious dill pickles! They're so easy to make… the hardest part is letting them marinate in your refrigerator for a full day before sampling them!
Refrigerator Dill Pickles
Ingredients:
3 medium slicing cucumbers, about 8" - 9" long (or six 4" cucumbers)
1 cup white vinegar
1/2 cup apple cider vinegar
1 1/2 cups water
6 cloves of garlic, crushed
.75 oz. fresh dill
3/4 tsp. sugar
4 1/2 tsp. sea salt
1/2 tsp. whole black peppercorns
1 1/2 tsp. pickling spice
three 16 oz. (pint)mason jars
Procedure:
Combine water, vinegars, garlic, salt, sugar, and spices in a non-reactive saucepan over low-medium heat.
Stir to dissolve sugar and salt. Bring to a simmer, then shut off and cool to room temperature.
Don't use this brine while it's hot or your pickles won't be as crisp.
Trim the ends off the cucumbers, halve them crosswise (unless they're minis) and slice into spears.
I cut mine into 12 spears per cucumber. Make sure your spears are going to fit in your jars!
Place your spears standing in the clean jars; you may have to cut one or two spears into chunks to fit. Don't overcrowd them, you need room for the brine.
Divide your fresh dill into 3 piles, and trim if leggy, but leave a little stem. Tuck the dill between the spears, jiggling them around a bit for space will help.
Measure your brine so you can divide it properly. Pour the cooled brine over the spears and ladle out the spices so they're evenly distributed.
I leave about 1/2" headroom.
Screw the caps on and store in the fridge.
These need to sit for a day to marinate. Shake them a few times before the 24 hours is up.
These will last up to 4 months in your fridge.
Enjoy!
recipe
About the author
Shell St. James is a New England author living in an 1895 farmhouse with her musician soulmate, feline muse, and a benevolent ghost. Her novel, "The Mermaid of Agawam Bay", is available on Amazon. Find out more at www.shellstjames.com
Reader insights
Be the first to share your insights about this piece.
Add your insights