How Pound Cake Got Its Name
There is a good reason the dessert is called a "pound cake."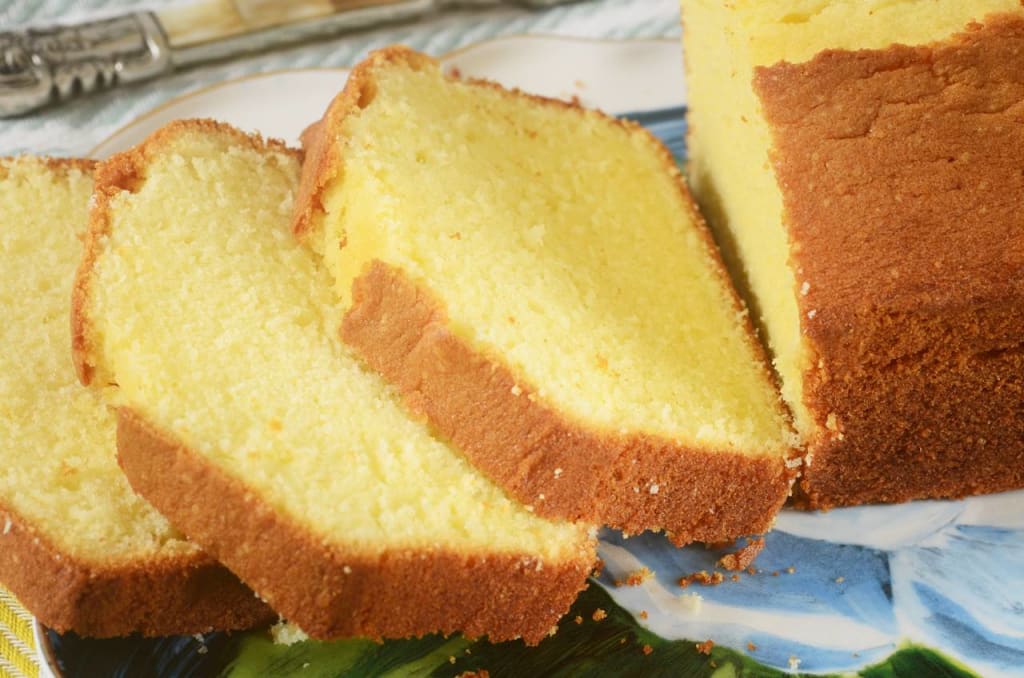 Some people believe pound cake got its name because it was originally sold by the pound. Some people think the inventor's last name was Pound. Other believe it cost a British pound to buy the delicious dessert. All of those are good guesses. However, none of them are correct. So, how did the pound cake get its name?
Pound Cake: The Name
The pound cake is usually made with a pound of four ingredients: a pound of flour, a pound of sugar, a pound of eggs, and a pound of butter. Therefore, it make sense to call the delicious dessert a pound cake.
Good cooks know the recipe calls for a pound of the four ingredients. However, a smaller cake or a larger cake can be made as long as the measurement of each ingredient is the same. If you add two pounds of each ingredients for a larger cake, or half the amount for a smaller cake, it is still referred to as a pound cake.
The Pound Cake
A pound cake is a very sweet, heavy, and rich cake with a recipe that has been handed down through generations starting way back in the 1700s. It is one of the quickest and easiest cakes to make because there are not many ingredients with different measurement to remember. Anyone can make a pound cake in an hour or less. It is a popular and a favorite cake for cooks, especially in the southern states.
The simple dessert can be baked in either a loaf pan or a Bundt mold. It can be topped with powdered sugar, glaze, or a coat of icing. However, there are plenty of variations.
Pound Cake Variations
There is no need to add anything else to the four ingredients in order to produce a very moist and delicious cake. However, some cooks like to put their own spin on any recipe to make it their own. The pound cake is no exception. The pound cake recipe calls for equal weights of only four ingredients. However, some cooks add milk, extra butter, and a little baking powder. It really isn't necessary, but they add flavoring to their batter. Those flavorings are usually vanilla extract, lemon extract, or almond extract. Dried fruit, such as raisins or cranberries are often added.
Baking soda or baking powder may be used to cause leavening during baking. Many cooks find it unnecessary, but those who want a less dense pound cake will use either baking soda or baking power. Also, a cooking oil might be substituted for the pound of butter. One or the other is needed to produce a moist cake.
In the United States, some cooks decrease the butter and use sour cream for a different version of the pound cake. That also produces a moist cake with a tangy flavor. Even though technically it is no longer a pound cake, but the name still exists.
How to Serve Pound Cake
The cake is so delicious that most people eat it plain or along with a scoop of ice cream or a dollop of whipped cream. It can be served with any fresh fruit, such as strawberries, raspberries or slices of peaches.
Something to Remember
Pound cake is good to eat any time of the year. During the Christmas holiday season, some cooks make at least one pound cake to keep for at home for their own families. Others bake more than one to give away as gifts.
National Pound Cake Day is celebrated on March 4th every year. However, you don't have to wait until that date to enjoy the delicious dessert. Either bake one yourself or pick up one from you local grocery store or bakery anytime you have a taste for some sweet, rich, and delicious.