How One Life-Altering Encounter With Mexican Food Forced Me to Confront My Fear of Failure
A decades-long journey of self-discovery through kitchen experiments
What's the best thing you've ever eaten? The food or meal that made the most impact on your life?
For me, it was a tamale in a corn husk, made with love by a Mexican church lady, who handed one to each member of our singing group before we got up on stage at a weeknight marriage conference worship service.
I still dream about that tamale sometimes, and the memory of it is forever embedded in my taste buds.
I've never had anything like it since. Twenty years later.
The tamales you get at your local Mexican restaurant may be good, sure. I've had some of those. But I've never had a tamale as good as that homemade one in Mexico City.
Usually, when I really like something I've eaten, I try to get the recipe so I can make it on my own at home. The tamale was kind of a hand off and run experience. There wasn't much time for conversation. I don't even think I'd taken the first bite before the petite woman with the kind dark brown eyes ran off to share her amazing gifts with someone else.
No opportunity to ask for a recipe or do anything other than offer a quick, "Gracias."
"Muchas gracias" would have been more appropriate and applicable. That woman changed my life with her tamale, and I don't even think she realized it.
That tamale was a religious experience for me. Something sacred.
You know how, when you've had a really spectacular spiritual experience, you're never quite sure if you'll experience it again? Or something like it again. And you're fairly certain you'll never be able to manufacture it on your own?
The tamale was like that for me. Fear of failure to replicate that food, especially without a recipe to follow, paralyzed me.
But it didn't stop me from attempting to replicate other delicious foods.
The second best meal I had in Mexico City
One night, after the worship service, we went to Tony Roma's for dinner. That's where I was introduced to chicken tortilla soup.
Not as good as the tamale, by any means. But it was yummy enough to make me want to try to replicate it back at home. And it wasn't sacred enough to keep me from trying.
I searched for a long time to try to find an easy recipe that would taste at least somewhat like the tortilla soup I had at the Mexico City Tony Roma's that night. After about ten years, I finally stumbled across one that seemed like it was worth a try.
A recipe has to be easy, or at least look easy to me, before I'm willing to try it. Like I said, my fear of failure is real. And strong. If I don't think I'm going to be successful, I don't even try.
By the time I found a recipe that didn't trigger my perfectionistic anxiety, I was on a major healthy eating kick. So, I tried to substitute ingredients where I could to make it as nutritious and delicious as possible.
It's always a hit at church potluck dinners. My husband even loves it, and he's just about the world's pickiest eater.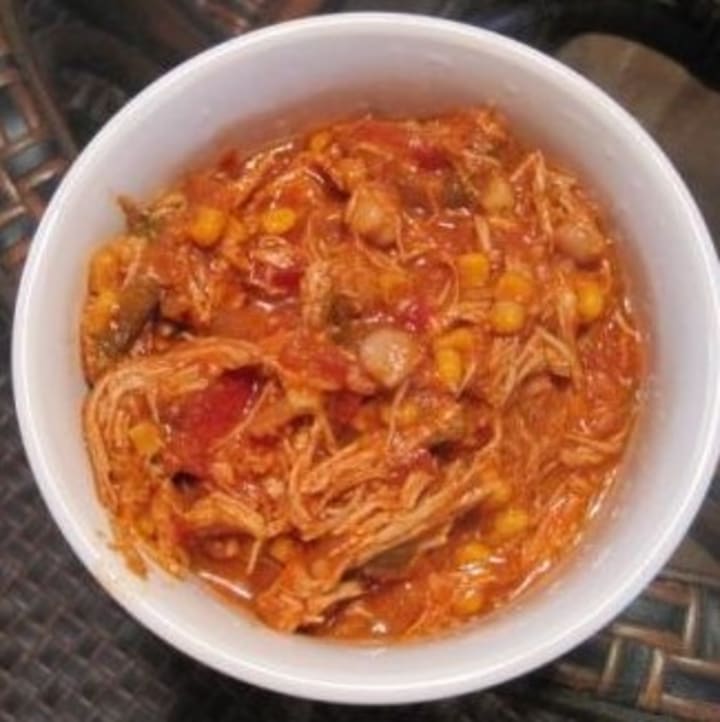 Chicken Tortilla Soup
Ingredients
Three or four chicken breasts (about 1.5 pounds)
One 32-ounce box Swanson Organic, Free-Range Chicken Broth
One 10-ounce can of Campbell's Tomato Soup
Three soup cans of water
1 Tbsp olive oil
2 tsp onion powder
One cap full (about 1 tsp) of Bragg's Organic Apple Cider Vinegar (with the "mother")
1 tsp local organic honey
1 pinch of salt
1 tsp black pepper
1 Tbsp cilantro leaves
2 tsp red pepper flakes
2 tsp garlic powder
1 tsp chili powder
Put all the ingredients in a large crock-pot and stir together. Cook on low for 6-8 hours, until the chicken is "fall apart" tender.
When there is only about thirty minutes of cooking time left, add ½ cup of canned golden corn kernels. If you prefer to use frozen corn, add at the beginning of the cooking time. Sometimes I'll add a can of mixed vegetables to the soup. This makes it less like Tony Roma's, but you get more veggies that way.
I always serve this soup with one to two cups (prepared) of brown rice. You can use white rice if you want, but it has a higher glycemic index. Since both my parents are diabetics (Type 1 and Type 2), I do what I can to watch the glycemic index of the foods I eat.
And, of course, you want to crush about a cup or two of tortilla chips to sprinkle on top of the soup just before eating.
You can add the rice and crushed chips to the soup. It tastes fine this way. But the rice and chips absorb more of the liquid the longer they're in the soup, and you end up with a mushy mess after a few hours. More of a casserole than a soup.
Trust me. I've learned from experience.
Another successful Mexican-inspired kitchen experiment
Right before COVID we had a Mexican-themed potluck dinner at church. I wanted to go really Mexican. Like, authentically Mexican.
I figured everybody had tried my chicken tortilla soup before, so I wanted to offer something new.
That tamale crossed my mind, of course. But I just couldn't bring myself to try it. What if I failed? What if my tamales turned into an inedible mess that I didn't dare serve to other people? What would I do then - order tacos from Taco Bell?
Nope. Couldn't risk it.
But I did take a chance on something else I'd never tried to make before. Taquitos.
In a way, these reminded me of my beloved tamale because of the corn tortillas they were rolled in. But they were more foolproof and didn't take nearly as long to cook.
Spicy Chorizo Taquitos
Ingredients
One tube (1 lb) Purnell's "Old Folks" Chorizo Sausage
One ripe medium tomato, chopped
Twelve to eighteen 6-inch corn tortillas
Two to three Tablespoons of olive oil
Cook the chorizo thoroughly. Stir in the chopped tomatoes. Set aside.
Heat some olive oil in a large skillet. Brown each tortilla for about 30 seconds per side. Drain on a paper towel-lined plate.
Put a small amount of the chorizo-tomato mixture along one edge of a tortilla. Fold the end of the tortilla around the mixture and roll up the rest of the way. Secure with a toothpick.
Add a bit more oil to the pan. Place the taquito, toothpick side down, in the hot oil for 30 to 60 seconds. Turn the taquito (with a fork or tongs) and heat for an additional 30 to 60 seconds, until slightly browned.
Repeat Steps 3 and 4 as many times as necessary until all the filling is used up.
Serve taquitos on a bed of lettuce.
You certainly can add cheese to the meat and tomato mixture if you want. I did not because my husband won't eat cheese. As I said, he's picky.
But he loved these taquitos, and he's requested them for dinner more than once since the first time I made them.
Honestly, when I first tried making these, I was scared to death. Not as afraid as I was of making tamales because I felt more confident I could do these successfully. Still, at least some part of me was terrified that the taquitos would all fall apart.
Some did, but nearly as many as I anticipated. Enough held together, and everything tasted sufficiently yummy, that I was able to call this experiment a win.
And that boost of confidence did something to help me conquer my fear of failure when it comes to making tamales.
Closer to free
Even though I'm still on the hunt for the perfect tamale recipe, I've come across a few that look promising. I'm hopeful the right one is just around the corner.
And now I'm confident that, when I find it, I will no longer let my fear of failure stop me from trying. My taste buds may be disappointed, but my emotional resilience won't.
Even if my first tamale try is a fail, I can learn from it. I can figure out what went wrong and try to do better the next time, just like I learned how to keep the taquitos from falling apart.
I can't wait to make my own tamales, and I can't help but think there might be something sacred in the making as I break free from my fear of failure.
Perfectionism can be a hard nut to crack, but I can't let it control my life. Or my cooking.