How a tech-enabled food delivery software or app excites modern day restaurateurs and users?
Food delivery software and apps- Ruling over the kingdom of food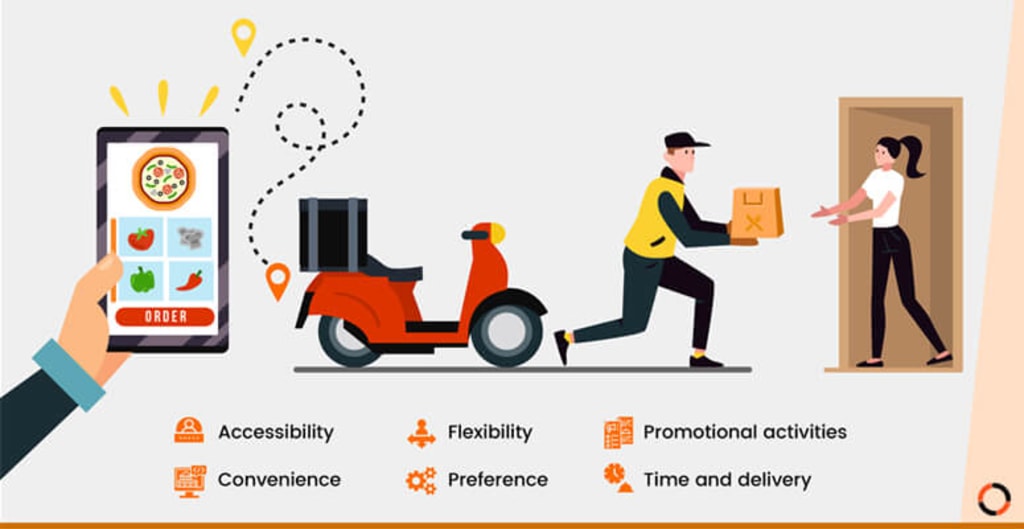 Food delivery software and apps- Not just food, but they deliver ease
"Of all the blessings that technology has bestowed the world with, food delivery software and apps are one of the uniquely regarded ones and are truly worth relishing."
One thing that has pervaded our personal lives with an astonishing silence and has influenced our buying choices to the core is technology. Technology, as it stands today amidst all the speedy growth and development, has played a pivotal role in shaping up the restaurant industry as customers can now order their favourite foods from any number of establishments without ever leaving their homes.
In the midst of all the restaurateurs making merry of their accelerated sales and profits and an overwhelming culinary growth happening around, lie the food delivery software and apps- the one whose role has been worth a discourse and who have been technically influential in making several restaurants and food businesses the prominent ones in the industry. Yes! You read that right. Numerous businesses have been riding high on the success of food delivery apps.
The food delivery space- Current scenario
The food businesses are enjoying a period of prosperity, courtesy to all the innovation and digitalization of things that is taking place- improved technology, upgraded technological gadgets and gizmos, modernization through adoption of incumbent technology and the revolution in the food delivery space.
Yes! There has been a massive improvement in the way food was delivered and associated services were rendered, which is now helping restaurants to take the lead by enabling food delivery software and apps to take the centre stage. Owing to the efficiency and robustness of such food delivery apps, the food delivery industry is getting profitable by exemplifying a steady rise in sales figures and is becoming beneficial and one of the most after destination because of its expansive potential.
Considering this crazily increasing demand for food all over the world, it is evident that modern day consumers are getting extremely ravenous- for luscious food and for food delivery software and apps that help it reach them. Joining hands with a food delivery service provider has thus become quite common place. A recent Statista survey showed that the majority of diners use mobile restaurant apps to view menus and pricing (55%), check out for new offers and deals (38.2%), order food online (30%) and make reservations (23.8%).
As mentioned in a report, roughly around three billion individuals were required to utilize their smartphones worldwide till the year 2020. By this huge market demand, one can get an idea of the rising importance of food delivery software and apps that are just getting increasingly dearer to customers and restaurateurs alike.
What makes a food delivery software and app so popular among the customers?
Convenient- Food delivery apps are a relief for many customers. The convenience these apps bring is just unparalleled. Customers using food delivery apps can conveniently browse through and order the food of their choice as and when they want.
Hassle-free- Food delivery software and apps are super easy to use. Customers are saved from the hassles of moving out, driving, parking and queuing up to place orders, etc. which makes food delivery software and apps worth drooling upon.
Real time order tracking- Customers can check driver location in real-time through the tracking link sent by the food delivery software. They can also contact riders to enquire about the order. Providing such a facility to the customer increases customer satisfaction.
Better offers and deals- Customers using food delivery software and apps are relatively in a better position to avail the best deals and discounts available on food items- let's say, Mexican cheese sandwich, lasagne or a farm house pizza. Several restaurants, as it has been observed, run frequent deals and offers if the customer orders through apps.
What makes a food delivery software and app so popular among the restaurant owners?
Better customer retention- Restaurants of today have been enjoying the overwhelming success of food delivery software and apps. Increasing number of restaurants and food start-ups are owning an app for themselves because it not just increases the visibility of their business but brings with itself improved customer retention. More customer visits on a website simply mean possibility of increased retention of customers.
Improved order and inventory management- By having an online presence through an efficient food delivery software or app, restaurants have little to worry about managing the inventory. It is all efficient, streamlined and beautifully managed. Often a food delivery software or app has an in-built smart order allocation system, which automatically allocates the order to the available rider. While allocating the order, it takes into account factors like proximity, turnaround time, rider history, and more. This improves management in the business.
Improved customer relationship management- Managing customer relations is in fact one of the greatest tasks for businesses. As they say, it is easier to acquire customers than to retain the existing or acquired ones. Getting an online presence for yourself through food delivery software or apps helps maintain cordial relations with them and retain them too, as a majority of customers are online. And there is no denying the fact that contemporary restaurants are finding great solace in food delivery apps just to build upon those customer relations.
Improved sales, business and marketing reports- Efficient food delivery software and apps provide the feature of detailed reports, statistics and their analysis to their onboard businesses. If a restaurant joins hand with any such food delivery partner, the chances are high that it is giving itself a solid chance to stay ahead of its competitors in terms of building understanding regarding generated and expected sales, detailed business and marketing reports.
Subway and Starbucks: Making gains through the use of ordering and delivery apps
Subway is one quick, easy-going restaurant which is taking benefit from a marked versatile mobile application for online food ordering. Clients can pick and pay for their meal early, empowering them to lift it with no hold up at the eatery.
Starbucks is another example that has taken great advantage of its mobile application. When they launched their mobile app for coffee orders, they saw a big difference by seeing their shorter lines, quick service and payments, and more natural store operations.
Final words-
Given the increasing fascination of restaurants towards food delivery software and apps and the subsequent growth of food delivery and restaurant industry, the way ahead appears to be a lucrative one and worth taking efforts for.
It is not just a feature or two of food delivery apps that is exciting modern-day customers and restaurateurs, but a food delivery software or app is a bundle of features that is just doing the trick for several food businesses and is working wonders for them. Such apps have the potential to improve business efficiency and lure and retain more customers day by day.
As the furore for ordering food through these apps grows, no prudent restaurateur or culinary entrepreneur must shy away from the truth these food delivery apps are bringing to the table, which is- they are becoming an integral part of everybody's lives, and an inevitable part of aspiring food businesses and ravenous consumers of today.
About the Creator
Finding comfort and learning in expression, I have been a pedagogue, a guest columnist, soft skills trainer, freelancer and a tech blog writer. I have devoted years on delivering discourses on corporate strategy and digital marketing.
Reader insights
Be the first to share your insights about this piece.
Add your insights