Herb and Vegetable Baked Chicken
Herb and Vegetable Baked Chicken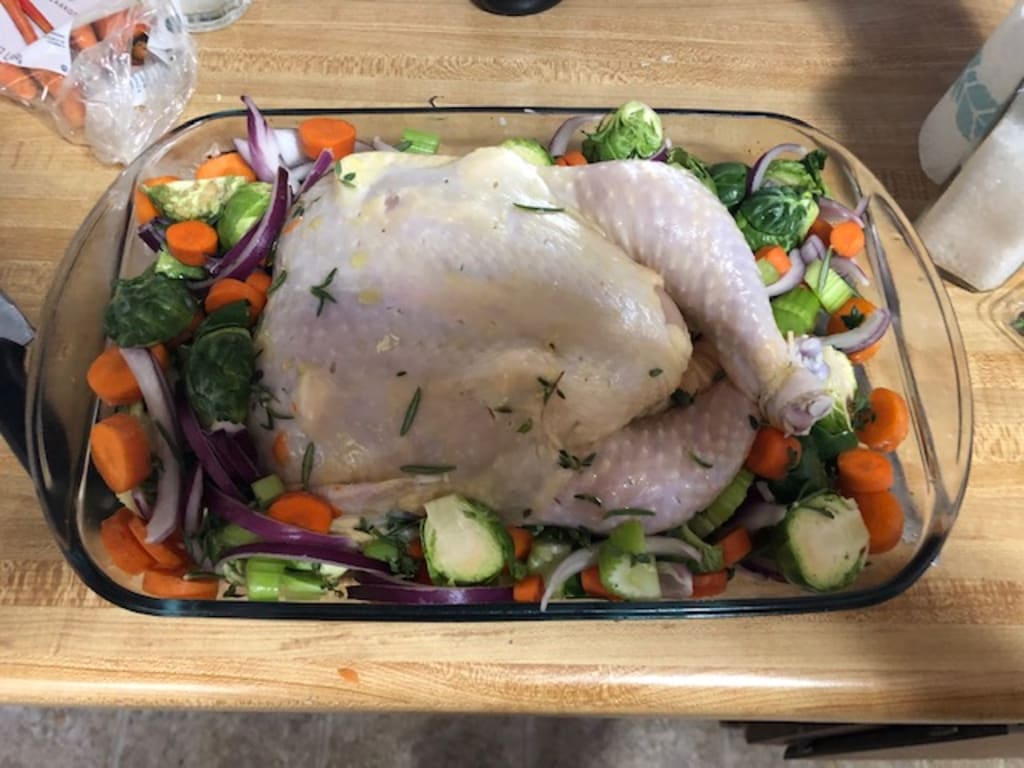 Dress that baby good!
What you'll need:
A roasting pan
A chicken (I like around 6-8 lb ones)
1 red onion (or the sweet Vidalia kind are delish also) sliced
2 carrots, cut into 1-inch pieces
2 stalks celery, cut into 1-inch pieces
2 cups raw brussel sprouts, cut in half lengthwise
2 sprigs fresh rosemary
2 sprigs fresh thyme
1/2 lemon, sliced into wedges
2-3 cloves (unpeeled garlic)
1 clove garlic, peeled and sliced thin
olive oil (3 tbsp + a drizzle)
salt and pepper
Steps:
Preheat the oven to 350 degrees.
Put the 3 tbsp of olive oil in the bottom of the roasting pan, making sure the entire bottom of the pan is coated with the oil.
Remove any gizzards or contents that were packaged inside the chicken. Save them, if you wish, to make a nice gravy or broth out of, or discard if you prefer.
Clean the inside of the chicken.
Pat dry the chicken with paper towels (inside cavity and outside, against the skin).
Set the chicken, breast side up, in the roasting pan.
Inside the cavity of the chicken, place 2-3 lemon wedges, 1 sprig rosemary, 1 sprig thyme, and several whole, unpeeled garlic gloves. As the chicken cooks, the lemon evaporates inside the bird, making it moist and flavorful. The herbs add to the flavor as well, so stuff it good!
Using your fingers, separate the chicken skin from the meat covering the breast. I like to slip some bits of the peeled, sliced garlic under the skin. You may also wish to rub a bit of olive oil in there as well.
Rub the outside of the chicken skin with the drizzle of olive oil, using just enough to just coat the skin: this will make it crisp up nice in the oven.
Place the vegetables in the pan around the chicken (onion, carrots, celery, brussel sprouts).
Use the remainder of the fresh herbs (rosemary and thyme) and season the vegetables and chicken. Give the vegetables a nice stir so they become coated with the olive oil and vegetables.
Season with salt and pepper, if you choose.
Place chicken in the oven and cook for about an hour - an hour and a half, making sure to stir the vegetables every 30 minutes during cooking.
When the meat thermometer, inserted into the largest part of the chicken thigh, reads 160, remove the roasting pan from the oven and allow the chicken to "rest" for about 10 minutes. Do not cut into the chicken until the end of its resting period. What "resting" does, is allows the juices to settle, and the chicken continues to cook during this time, so be sure not to skip this step so you can end up with the most flavorful bird possible!
* Feel free to substitute other vegetables of your choosing: potatoes work well also.