Getting the most(y) out of rösti
A potato lover's fried dream come true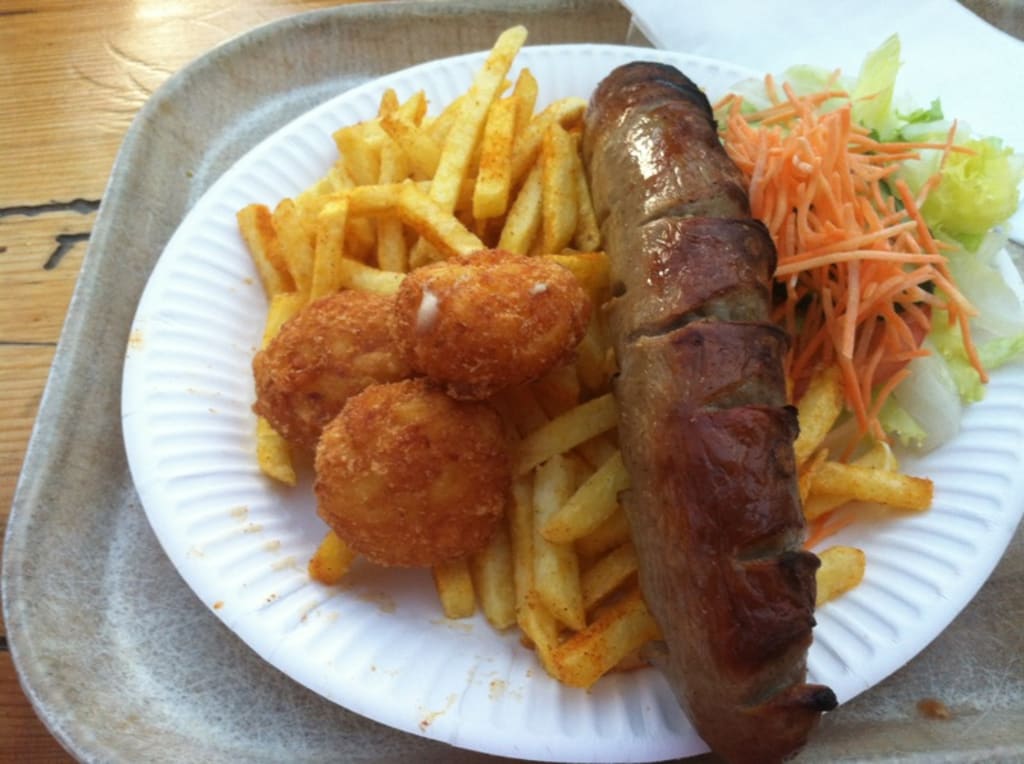 My rosti at Balmer's in Interlaken
Is it a hashbrown? A hushpuppy? Risotto? Is it a side dish? Breakfast? Late-night snack?
Whatever this strange Swiss dish was sitting on my plate, it was begging to be consumed. It was crispy golden brown, fried to perfection and oozing with grease and cheese. "Rösti," said the smiling Swiss waitress, observing me indulgently, "eat it. It's good."
And so began my love affair with this strange nugget of delectability--rösti.
I live to eat and travel; I've had fish and chips in London, crépes and baguettes in Paris, tapas and sangria in Barcelona, pasta and gelato in Milan, and wienerschnitzel and streudels in Innsbruck. But they were just the hors d'oeuvre leading up to the main course, rösti.
Rösti is very similar to hashbrown--it's usually made with grated potato, cooked, boiled or raw. It's typically fried in butter, oil or another fat, and then shaped into nuggets, patties or pancakes. Traditionally, the rösti potato is the preferred root veggie of choice, and the added ingredients as well as shape of the dish come with regional variations.
The separation between German and French-speaking Switzerland is sometimes referred to as the "Rösti Divide," although the dish is a national one, and is favored on either side of the divide. Every region has its own way of cooking the dish: Bern prefers lots of butter and extra crisp, while Zurich opts for raw, rather than boiled potatoes.
The first time I had it, I was in a backpacker's town called Interlaken, where adventurers from around the world flock to bungee jump, skydive, parasail, canyon, raft and more. Needless to say, the cuisine is cheap and tourist friendly. Balmer's Biergarten and Grill served up four rösti nuggets with my bratwurst. With one tiny bite there were crumbs in my lap, cheese on my chin and grease on my fingers.
Balmer's rösti was much more akin to a hushpuppy than a hashbrown. The next day we traveled to Bern, the capital of Switzerland and where supposedly the dish originated. We walked down the main street of the city to the Bärengraben, a park that famously houses more than ten grizzly bears. We chose to eat at the Brasserie Bärengraben where we could munch and bear watch. To my delight, rösti was listed under "Specialty Menu" and I readily forked over the 19 CHF for my Swiss delicacy.
Bern serves their rösti pan-fried, and pours it out on a huge platter, steaming hot, still in the shape of the frying pan--think the shape of a risotto or pilaf. Within each oily grated chunk of potato was creamy emmental (or what the non-Swiss call Swiss Cheese), crispy fried onion strings, tiny chips of bacon, and topped off with a sunnyside up egg. My platter was so rich; I could picture the calories oozing together forming a giant wall of fried Switzerland in my belly.
The key to the ultimate rösti is the potato. Using a waxy-yet starchy potato like red or gold is ideal; they have just enough starch inside that the interior of the rösti is super creamy, which is how they tend to differ from American hashbrowns. Traditional rösti also uses butter, rather than oil.
It could definitely be served at many American settings (tailgates! Thanksgiving side! BBQs!) , but only if it was made just right. Rösti could be served as side dish, main course or hangover reliever--all of which might appeal to the American palate. One thing for sure is I returned the the States with an extra fifteen pounds in my suitcase and around my waist!
For those of us yearning for a lighter-than-air, creamy, fluffy dish like rösti back in the States, you can usually find them in the international aisle, but I prefer to make my own, using recipes like this one from The Spruce Eats.