Get To Know All About The Challenges Of Rice Sustainability
Rice - An important staple food, requires sustainability also. Know about the challenges and hurdles that can come across.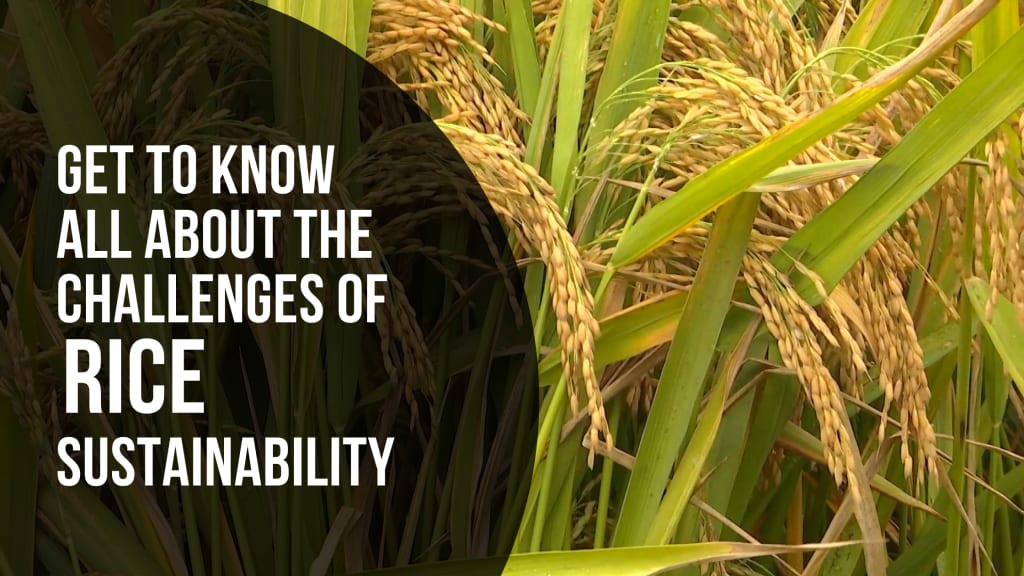 Rice is an important food item that is the essential human body to complete the nutrients. Other than that more than half of the world's population eats rice. In many places, it is the staple food. The maximum population consuming rice resulted in many farmers growing rice to fulfill the world's demand. The yield has been increasing year by year in both subtropical and tropical areas. Yearly around 500 tons of rice is produced across the world. But with so much cultivation of rice also, there is a shortage of rice due to the ever-growing population. Mainly there is a shortage in continents like Africa and Asia.
India is a great help as it aids in generating resources for rice improvement. It helps in mitigating the loss which is caused by the pathogens and the stress. With already so much production, the world still requires to increase the production of rice by 50% otherwise it will be challenging to meet the demand. Basmati rice is the best rice that every individual wants to consume.
Another significant factor is that rice is easily affected by the climate. When the climate is unstable then it affects the rice crop significantly.
When the developing countries are taken into consideration then it has been noticed that rice is the major source of nutrition for them. Although major diseases like diabetes and cancer are still very much prevalent there. Moreover, for the vegans and vegetarian population, who need to consume healthily and quality protein, having the best quality rice is a good option to meet their body needs. In response to a rapidly expanding global population, rice breeding programs and biofortification strategies could play an important role in meeting nutritional needs.
The world is challenged to feed nine billion people by 2050 despite all the environmental challenges caused by climate change, making a further increase in yield necessary. Researchers examine how rice root resistance to salt stress is affected by genome duplication in the study.
All these problems need to be addressed and a quick solution is required. The rice scientist is doing their best to overcome the situation by making a continuous effort. They are trying their best to comprehend rice biology from every viewpoint from molecular to ecological. The research will help know the solution that rice cultivation is facing.
The venture profile of sustainable rice has so far been eclipsed by other high-profile wares that are huge scope drivers of deforestation. Rice is rather key to food security, and food security is critical to social steadiness in the violent times that lie ahead. The test of putting rice on a feasible balance is without a doubt enormous, yet the cost of inaction is essentially bigger.
In case you were approached to list the farming wares where economical plans of action and money are a vital need in the environment plan, you will likely consider soy, steers, and palm oil - all critical drivers of deforestation and outflows. It isn't possible you would consider rice.
Rice is a significant way. Rice utilizes 40% of the world's water system water and is intensely touchy to changes in the environment. Jashnfoods is the leading brand that is satisfying customers' rice needs for healthy living.
Rice cultivation is a gigantic supporter of environmental change, radiating 10% of worldwide methane emanations, and strong ozone harming substance (GHG). In Southeast Asia, rice development represents up to 25-33% of the district's methane discharges and 10-20% of its generally speaking GHGs.
Sending money to increase supportable rice creation practices won't be simple. With few exceptions, the rice esteem chain is uncommonly divided. This powers us to reexamine public-private coordinated efforts and money organizations.
Another serious concern is that the groundwater is getting populated. Groundwater is a source of irrigation for rice and being polluted affects the grain quality which consequently affects human and animal health. There should not be any untimely or excess use of N-fertilizer as it pollutes the groundwater.
According to the study it is found that where there is rice-wheat cultivation, the nitrate content in the groundwater is high. The groundwater pollution is extremely serious and high in rice cultivating regions as there is heavy irrigation with coarse-textured soils.
It is critical to relook the act of concentrated rice development under harmful soils and poisonous water system water as it could prompt grain harmfulness, influencing the human wellbeing. The act of developing rice in arsenic-tainted soils like in center IGP raises the chance of soil and grains defilement with arsenic past as far as possible.
Rice development utilizing traditional strategy requires concentrated wet culturing basically to decrease the permeation misfortunes and to smother the weed development. The serious culturing, puddling activity, and unreasonably development of rice-wheat trimming framework crumbled wellbeing, design, and supplement equilibrium of the dirt in north-western India.
When the crop responds less to the applied fertilizers then farmers have to increase the dose which is harmful to both humans and the environment. There are fertilizers like fertilizer K and P whose impact can be seen after 5 to 10 years. Along with N fertilizer, fertilizers K and P should be applied as alone N fertilizer can decline the rice cropping system.
The low compost use effectiveness because of manure misfortunes as surface overflow, draining, volatilization and ominous soil dampness is one of the significant explanations behind declining crop reaction to applied composts. Besides, long haul practice of the same trimming arrangement like rice-wheat in IGP throughout the long term, unwise and lopsided utilization of composts, unseemly timing of manure application, and low soil natural matter are different elements answerable for declining crop reaction to applied composts.
Diminished water efficiency alongside falling apart water table can hamper the goal of adequate grains creation in the future. It requires earnest consideration regarding increment the water efficiency of yields particularly C3 crops like rice, which are less water proficient. This can be accomplished by snatching the open doors at natural, climate, and the board levels.