Fruit Carving
The Edible Artistic Canvas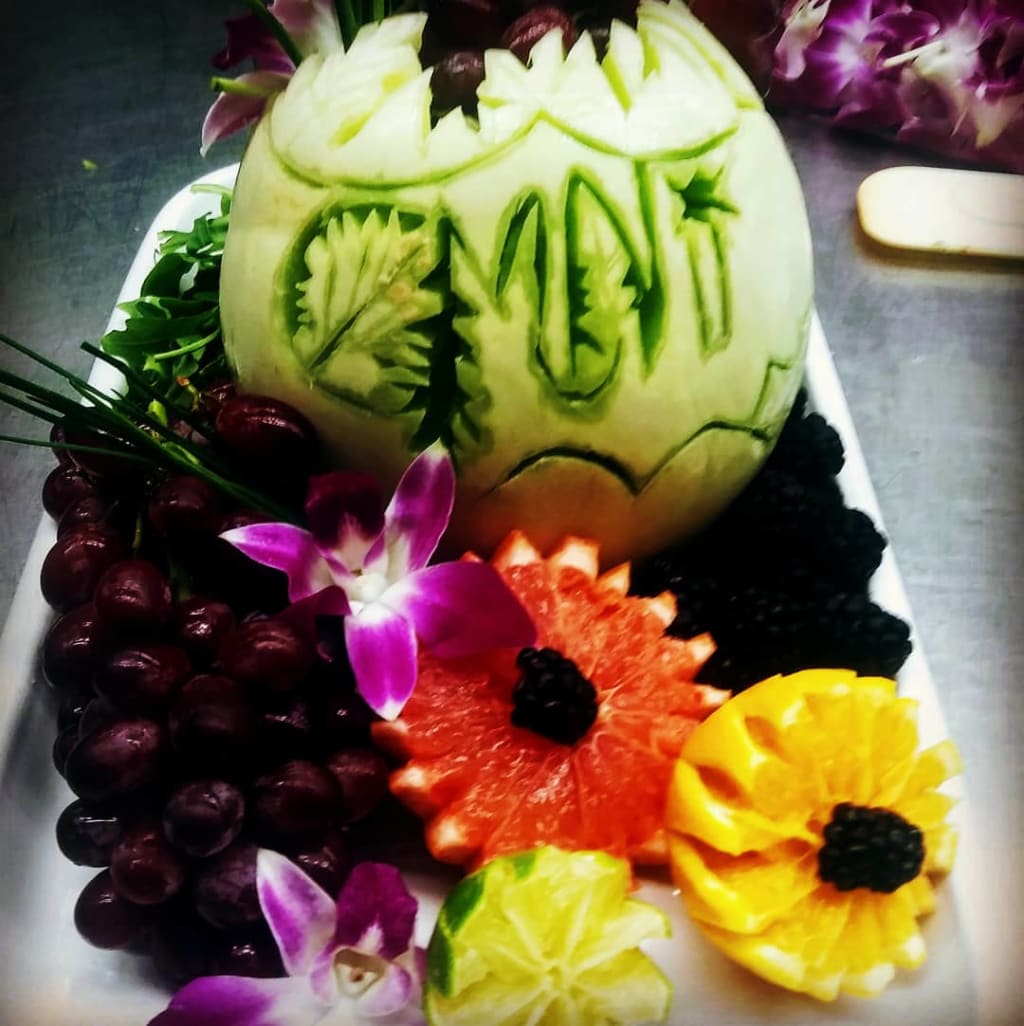 Cantaloupe , grapes , citrus , edible orchids
INTRODUCTION
Fruit carving was originally done by professional chefs . Commonly used as a display or a center piece. For large gatherings like banquets , royal functions , festivals . In order to showcase skills and amaze guest . Guest would view and photograph the masterpieces . Also used in magazines , newspapers , and culinary competitions . There have been many competitions for professional chef 's. Culinary awards were given to chef's who showed the best displays and skills . here competitions attracted people from all over the world . To compete for cash prizes , certificates of completion , Bragging rights . Advertisement of the persons who placed in the top three . Which would be displayed in the winners restaurants or places of business.
Lets Get Started
For starters you must be creative . Practice drawing and tracing onto the fruit . There is a large variety of tools which vary in price range . My recommendation is to start with a pumpkin carving kit. A lot of pumpkin carving kits include traceable patterns . Which is why I think its a great way to practice. Additionally a paring knife is a great versatile tool . Which can be used in for small fruits , finer detailing and smaller incision's into bigger fruit. When shopping for tools you go online or in person to a store of your choice . Some of my favorite brands for knives are listed below
Miyabi ( Japanese ) light weight and extremely sharp ; stays sharp for long periods of time .
Mercer ( German) heavy weight requires more often sharping, however it is great for commercial kitchen use. affordably priced for small knife sets
Shun(Japanese) similar to Miyabi difference in price and you have to take it to a professional if damaged . unless you have experience sharpening it the correct angle otherwise it will cause permanent damage to the blade and ultimately you will have to purchase another one.
Both Japanese brand's listed must be cared for by a professional . it is far more costly to replace if damaged . then to have a professional sharpen it for you . For general use I recommend mercer for it's affordability and long life span . Which is way less likely to have to replaced this saves a lot of money
Small Fruits
Start small using soft fruits i.e ( strawberries , oranges , tomatoes etc.) refer to the listed example below for ideas
1. strawberry roses
2. orange flowers
3. tomato peel roses
Other soft fruit like mangoes , peaches , nectarines, etc. Using fine motor skills will not be easy. It helps to develop finer details and intricate designs. the ability to add extra frills on a bigger display . there is no limit to the amount of skills or tools you can use. the more skill you used will definitely yield a beautiful results . Smaller fruits can be exceptionally beautiful when completed . whether alone or accompanying a larger display .Time , patience , and attention to detail is key . Don't rush the progress it will take time . Enjoy the experience in creating a masterpiece you have designed. Take pictures of the finished product every time. So you have a visual representation of the progress ; seeing is definitely believing.
Larger Fruits and Big Displays
Once you feel comfortable using the tools and skills developed . use bigger and harder fruits. Watermelon , honeydew , papaya , cantaloupe etc. Smaller hard fruits like apples are great too. Larger fruit means a bigger edible canvas . you can make a variety of things within your skill range. Fruit baskets range from beginner to expert using creativity . allow your mind to be creative. Big displays offer the wow factor that amaze all guest at any event. Show off your skills for all to see and admire your beautiful creation
Garnishes
Garnishing adds a beautiful finishing touch . Garnishes add more color and detail to the finished product . garnishing is a tool of chef's and culinary enthusiasts love to use. whether to add another level of flavor or a unique contrast . mostly used to showcase skills and bragging rights . garnishes are a beautiful compliment to any dish or display. consider using some of these items listed below
Edible Flowers : orchids , snapdragons , lavender etc. there are a large variety of edible flowers . you can learn a lot more about by purchasing books ,food magazines which are great to refer or learn from. Also you can use the internet or vlogs if you prefer to save money.
Fresh herbs like rosemary, chives , basil etc. I find micro basil to be very pretty . herbs come in several varieties including micro herbs . which can be purchased or grown in a personal garden. Some herbs are considered seasonal while others are regional or locally grown. decide what your preferred method is . You can also purchase a book about herbs, look up online , or food magazine or vlogs .
you can use any combination of edible garnishment you like . The options are limitless when it come to add additional finesse .
Food For though
From beginners to professional chef's fruit carving is a fantastic skill to learn. Practice is the key to mastering this skill and various technique's . infinite options in size, design and time to execute. patience is very important with fruit carving. "don't be disappointed on your first try" . chances are it will not look picture perfect . It's perfectly normally to experience frustration. You will definitely improve with time and commitment . watch videos and rewind if needed online on platforms like Youtube .Try not to put a time restriction when just starting. That will add more stress and much harder to learn . Time your self if you like a challenge it will develop speed and efficiency .one day at a time use shorter tie for the simple designs. "there is never success without failure" . Skill and Techniques develop like a flower which bloom when the time is right.
The Chef Journey
As a professional chef with 12 yrs in the industry . I've cooked for every type of establishment . Restaurant's , convention centers , college campuses , locally owned franchises and hotels. I must admit I was a skeptic living pay check to pay check. Fruit carving was briefly covered in culinary school . Yet it never really attracted my interest. I thought there wasn't much to fruit carving. "Oh boy was I so terribly wrong". On my first try I quickly realized it was much harder task . Skills I thought I already had as a chef . I had much to learn in order to get better . I was disappointed that it didn't come right at all. Naturally I felt maybe it wasn't for me I had many other skills . I practiced at work for Omni hotels and Resorts Austin downtown location. at home after getting off from working at least 8 - 12 hours a day. many weeks past before seeing the result I desired. but once I got comfortable I became extremely interested and making new creative designs. I have grown to love the edible art of fruit carving . The edible art with infinite possibilities. Now when I go to create . I say this "food is more than edible". Food is artistic , scientific , vibrant and beautiful.
the most beautiful masterpieces can be made . when two hands and creative mind intertwine . So when facing something you've never tried . Never give up it is well worth it . The end result is sure to be astonishing to you and others
best wishes in your exploration of fruit carving
Chef Areon T

Chef Areon Turner
Professional chef inspired by the science and history of cooking. Developing into a food historian and CMC. "Food is the universal language of the world"(Areon T) . showcasing a variety of cuisine's, history, science by making it enjoyable
See all posts by Chef Areon Turner →