Fried Rice Hut
Yelp Recommended, Consumer Approved!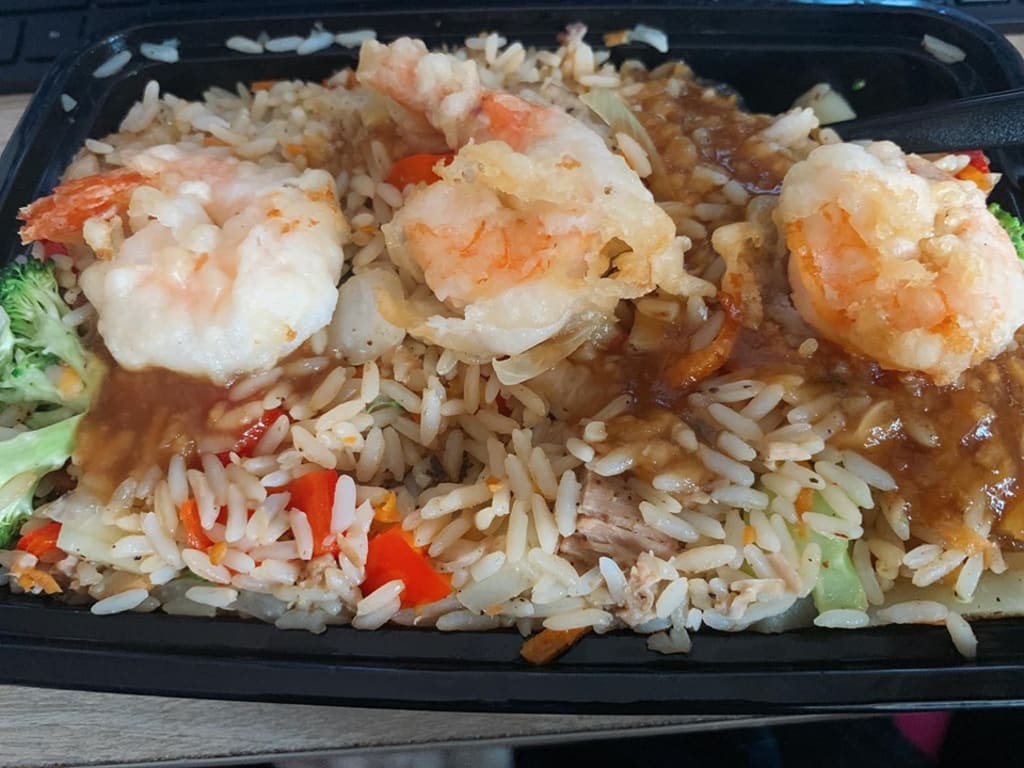 So this place was thrown to me in my Yelp recommended yesterday actually. I went over its reviews, looked through all the photos, dug around online, and despite even some of what seem negative or just okay reviews—this place had my eye. Here we are into the day after my looking into it; I guess right place right time, I've got to go there. It wasn't planned for today, but boy am I glad it found its place in my agenda.
For the record, this location is in Tucson, AZ where I had tried mine, in case anybody is from here or maybe finds themselves over here traveling through or visiting and wanting to try this place out. It is fairly new and we don't have any other locations for it here.
I was pretty excited to try this place. I mean, I do love me some fried rice.
Pulling up to the front, the building is definitely small. Mind you, that does not deter me. They did have a little area outside with some seating next to a fountain. There was a bit of a line inside when we went to go open the door, and I let a couple people pass me as well on account of it being way too warm outside, plus this was a new place for me. The line seemed to move on pretty quickly after orders were taken, which is pretty nice. I won't lie, part of me was feeling surprised. Everyone's orders came out cooked up and hot, and they went on their way. I would like to mention I always appreciate when restaurants have the standard fountain dispensers over these new ones that spit out the soda in one hole. I do not like the fancy ones because it all comes out of the same spot. Also, drink prices here really good next to the menu prices.
While sitting there waiting, I noticed that even after the crowd has moved out, the indoors is pretty warm. I get it; small building, cooking area might be building up all the heat around. The air conditioning seemed rather ineffective, so I cannot say that I would have stayed to eat indoors. No biggie, I understand it is a bit of a new place and will probably be something later on figured out. Another reason to not mind eating in, wel,l the containers are tight, nicely shaped and perfect for on the go, no leakage kind of take out lunch, snack or dinner whatever you want this for. Maybe you want fried rice just because you do.
There was no real food kind of aromas inside the building either, though maybe other times they do have some. Also not a deal breaker. Sometimes when I walk into a food place I like to smell the air for aromas.
My order was out promptly in an air tight container, very hot, very freshly cooked. It stayed that way my ride home. I tell you, it was very hard not to bust into this because I was pretty excited and happy to have been able to get there and grab this. I really wanted to eat it.
I got a pork fried rice, teriyaki sauce, shrimp tempura and a cold drink.
I took a bite before dumping my sauce in. I really enjoyed how light the taste was, but the flavor was there. The small bits of vegetables were really good too. I happen to like turnips. Soon after, I wasted no time pouring the sauce in (Of course I stuck my finger in the sauce cup first). I have never had a teriyaki sauce taste bad or anything like that, but I always have to check. The shrimp tempura was three pieces of OK sized shrimp. Now, I am not gonna sit and complain about the small amount of tempura I got. We went in there, we all looked at the menu and prices. Those are good prices for what we get. I lined my shrimp tempura along the rice and it hits me like heck this is like a good three servings worth, even four depending on who you are. I mean someone will be missing a shrimp, but that's okay. I do not eat much at home even when I do cook, so this still comes out to about what I'd be stretching out during the day even with some small meals. This was perfect! Went on to continue eating what I deemed one good serving and they gave me like the perfect amount of sauce for this, they really did. Like I didn't even need to stir this all up or anything. I had poured it all across when I did, and this was the perfect sizing amount for this. Whatever rice you guys are using, your seasonings and vegetables, the rice, it is working for me. This all tasted amazing. I for sure will be making a return trip, and well, I'll most likely try something else off the menu. It tasted good, nothing overpowered the other in flavor, so I could taste literally everything. The spices and the sauce, just everything went great together. It was not hard on my stomach. I did not feel gross after eating it nor did I feel guilty (Some fired rice makes me feel guilty like I am fatting on some when it tastes good and just all that stuff some of them have in it... yea). This was pretty light on the stomach overall. The tempura batter also was really well made I think, and I really liked that it was not just a ball of bread on my shrimp. Don't get me wrong, I love how that stuff tastes in general, but I can appreciate that that was not all it was. It was a perfectly batter dipped piece of shrimp.
Random add-in: The containers are really well made! I appreciate that like it was not anything they had to supply us with, but they did. Like these are really good meal prep containers.
Thank you Yelp for recommending me this place and thank you Rice Hut for giving me good food with great service.
This is a must return to place.
Also going to throw it in, I kept wanting to go on with this review with a couple more things but didn't realize Yelp had a limit on how much you could write. Vocal you are my savior here as I was able to add in those little tidbits here.