Food Culture in Norway Steps It Up
A Closer Look at the New Food Culture of Norway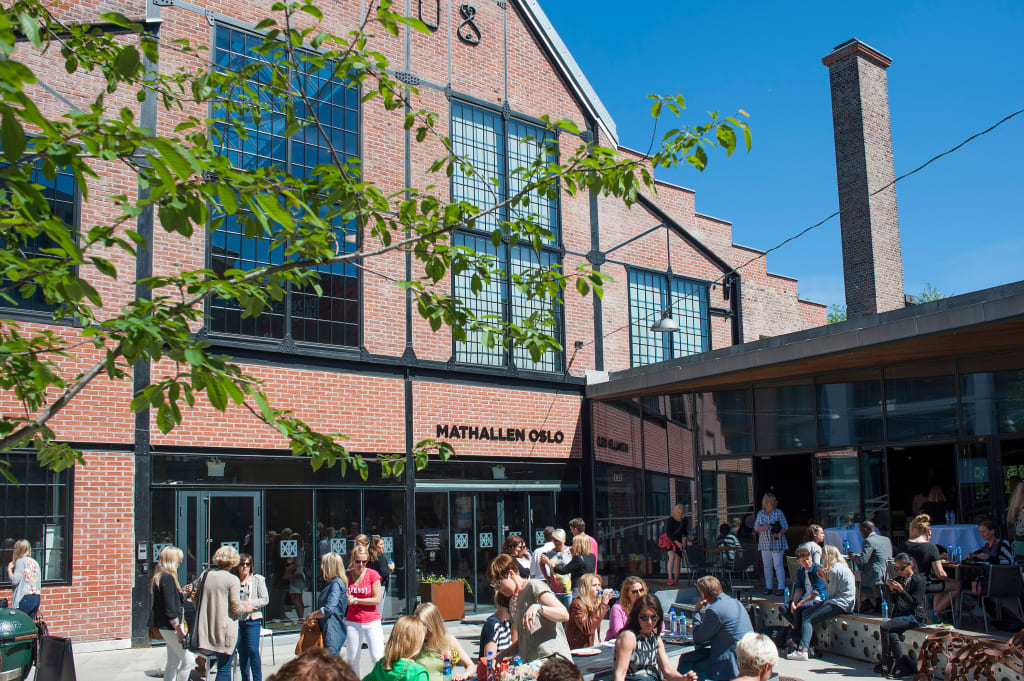 Mathallen is a huge food court in Oslo.
I love the salmon but it was the porridge that really caught my eye. It was the day-old porridge, made with oatmeal cooked overnight with tons of crunchy seeds that captivated my attention. The staff has just prepared it at the sour dough bakery within the multi-story food complex of Mathallen in Oslo. They were going to serve it in go-cups the next morning and I really wished I worked in Oslo at that moment (or that it had been ready to taste then and there).
While Denmark launched the Scandinavian food revolution several years ago with locally foraged food at iconic restaurant Noma and Sweden soon followed with Fäviken—whose phone line a pregnant girlfriend of mine rang every morning at 3 AM New York time trying to get a reservation while she could still fly—Norway was the last to pop. But now has it exploded. A lot of the current, popular Norwegian food trends are about making use of what was always available to you. However, they are also about exploring and expanding new culinary frontiers that go way beyond salmon and traditional cheeses.
The Basics and Then What Happened

This slender country, surround by the Norwegian sea, has long been home to great seafood. That includes some of the best lox—ideally with copious amounts of mustard—that I have ever eaten. It also encompasses the most delicious herring imaginable. Don't forget that luscious brown cheese, eaten on its own and used in stews, called the Ski Queen or Brunost.
While those big slabs of salmon I had at Mathallen, and again on the fjord, for a picnic were delicious, I was more excited about the ramen. The top floor of this food court is home to a sliver of a Japanese restaurant serving a serious lineup of some of my favorite Japanese soups, with a Japanese chef from the Northern island of Hokkaido to back it up.
Did I tell you about the popular Mexican pop up? That happens to segue on the country's current obsession with Mexican food. Apparently, locals in the approximately 600,000-resident city of Oslo are so into the dish that they do "Taco Fridays," adds Frode Rønne Malmø, Mathallen's manager. While the tacos may not resemble anything in Mexico City, they still have a solid following. He added that he planned to add a Lebanese restaurant to the vibrant Norwegian food scene as it was one of the few world cuisines missing.
Himkok has an unmarked door.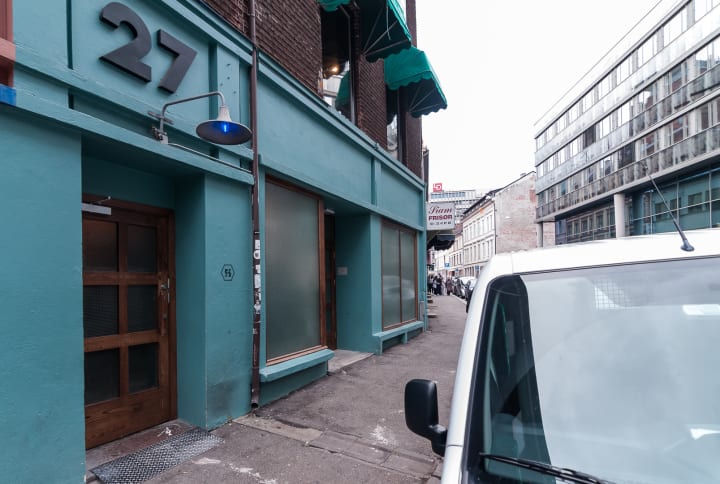 I also went to a new restaurant called Brugata Landhandleri, on what used to be a tawdry street, owned by the Himkok bar group which is trying to reposition food and drink culture in Norway. The Himkok bar was voted one of the 50 best in the world, according to Drinks International, and does feature Ski Queen cheese-based cocktails, as well as amazing cocktails on tap, a pop-up kebab shop and a barbershop all of which are popular with the locals.
So we had a delicious Portuguese steak sandwich, I am not sure what was so Portuguese about it, however it was delicious. And yes we also had the porridge. It wasn't the one I had dreamed of at the sour dough bakery, nor was I about to hit the desk in Oslo, but it was the best oatmeal that I have ever had. It was topped with crunchy seeds and sprinkled with cinnamon and every bite was as delicious as the next. It is a taste memory that I will have for sometime and a very surprising take on today's Norwegian food culture.
There's lot of cheese to go around (including abundant amounts of the Ski Queen).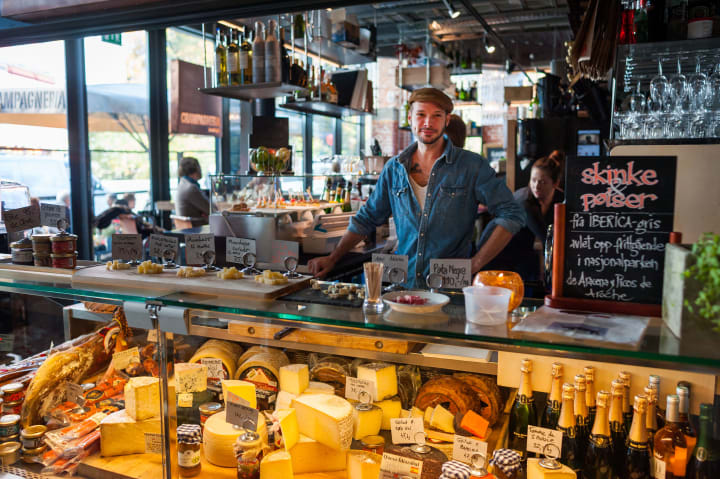 There are so many traditional and new foods to discover in Norway.