Fleur de Lis Tearooms
A Go-to Venue in Christchurch, Dorset

In an ocean filled with the tepid waters of mediocrity, the cold, the tired, and the hungry can sometimes by pure chance find themselves washed up on the shores of paradisiacal island of warmth and welcome. We found just such a place without getting our feet wet.
The morning of Saturday the 2nd of February 2019 saw most of Britain waking up after one of the coldest nights of the winter so far. But this morning was good. The sun was shining. There wasn't any wind and even better, the forecast said things were going to get warmer.
Normally on Saturdays we go into our local town, Ringwood, but this one morning we decided to go a bit further afield to Christchurch just a few miles from where we live to meet our retail objectives and contribute to the consumer spending figures.
Having achieved the retail objectives of our visit it was time to look for a place to sit down in the warm, have a coffee break and something to eat. Christchurch's streets are dotted with coffee shops and eateries. There are the usual names that would appear in any other High Street in the country and then there are the independents with names like "Kellys," "Splinters," "Inside Out," "Baggies," and "Alfie's and Cheese."
Our first random selection took us into an independent. The welcome was warm from behind the counter. There were already a few punters seated in surroundings I would liked to have described as "retro" but that really only applies to up-cycled items from a bygone decade. These furnishings and fittings looked like they had been unchanged from the 1970's. Condensation sweated down the windows and when we did sit down there was a chill in the room that would have only taken a few minutes to become a core chill.
We left.
Just along the High Street is an alleyway with a sign directing the cold, the tired and the hungry to "Fleur de Lis."
Once inside it was warm, welcoming, and bustling. A quick look around showed that the furniture was random in a planned sort of way. Wooden tables, metal tables, round or square and the same with the chairs as well. The walls are adorned with wicker screens, paintings, and a plaster frieze. All of which combine to make the place chunky and clunky rather than uniform and austere.
We found a metal table for two and went through the menu. A good selection of light bites to have at any time of the day from nine until five. Plus, the usual range of hot and cold drinks and a selection of cakes from the counter. We settled for two hot drinks and a portion of "French Rarebit." (Will we still be able to have this in Britain after 29 March 2019—BREXIT Day?)
In other places where we have ordered other Rarebits, it has been served on dull processed bread but not here. It was served on generous slices of sourdough bread. The topping had a few good blemishes of light brown where the cheese mix had been slightly overcooked under the grill. There was also a generous peppering of mustard seeds from the Dijon mustard used in the mix. This came on a wooden platter with a small green salad and a portion of caramelized red onion marmalade. It all looked good and when tasted fulfilled its declared promise of cheddar cheese, Dijon mustard, and white wine.
The place was alive with conversation and the bustle of a busy place. No background music either. We also noticed that the two of us were probably the youngest customers which doesn't happen often; at least with me nowadays.
We paid our bill of £11.25 for the French Rarebit, one chamomile tea, and an Americano coffee. The drinks, by the way, were served in huge cups.
When we stepped back into the cold air we realized what the cause of the customer demographic was. Fleur De Lis is on the ground floor of a modest size block of apartments purpose built for senior citizens. What a brilliant idea from the creative minds of the developers to have something on site that brings life and activity into an area that could so easily have been sterile and uninteresting.
Yes, we will definitely visit the Fleur de Lis again and "Yes" we would have no hesitation in recommending it to anyone looking for a decent place to retreat from the turmoils of retail activity any day of the week.
Fleur de Lis Tearoom's Website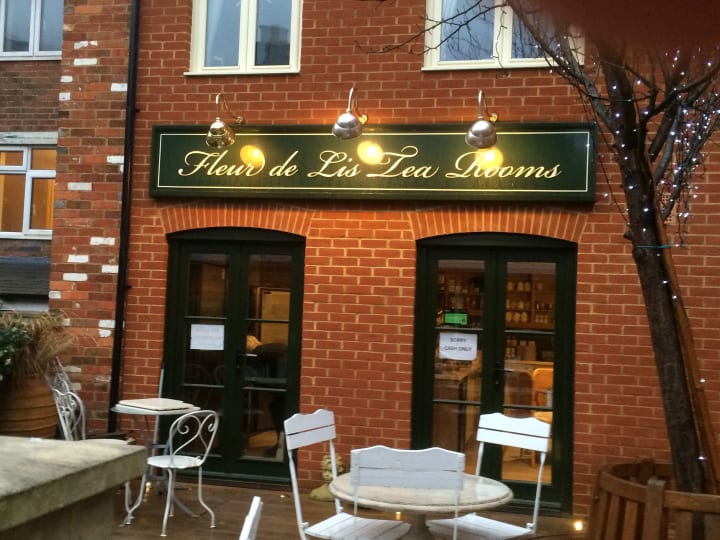 restaurants
I am a very lucky person. I live in a beautiful area,the New Forest,have a happy home that I share with my wife and two felines. More,much more than this I travel many highways,to interesting places and meeting interesting people.Carp diem.