Flavors to Broaden Your Spice Pantry
Because The Back of Your Tongue Has Taste Buds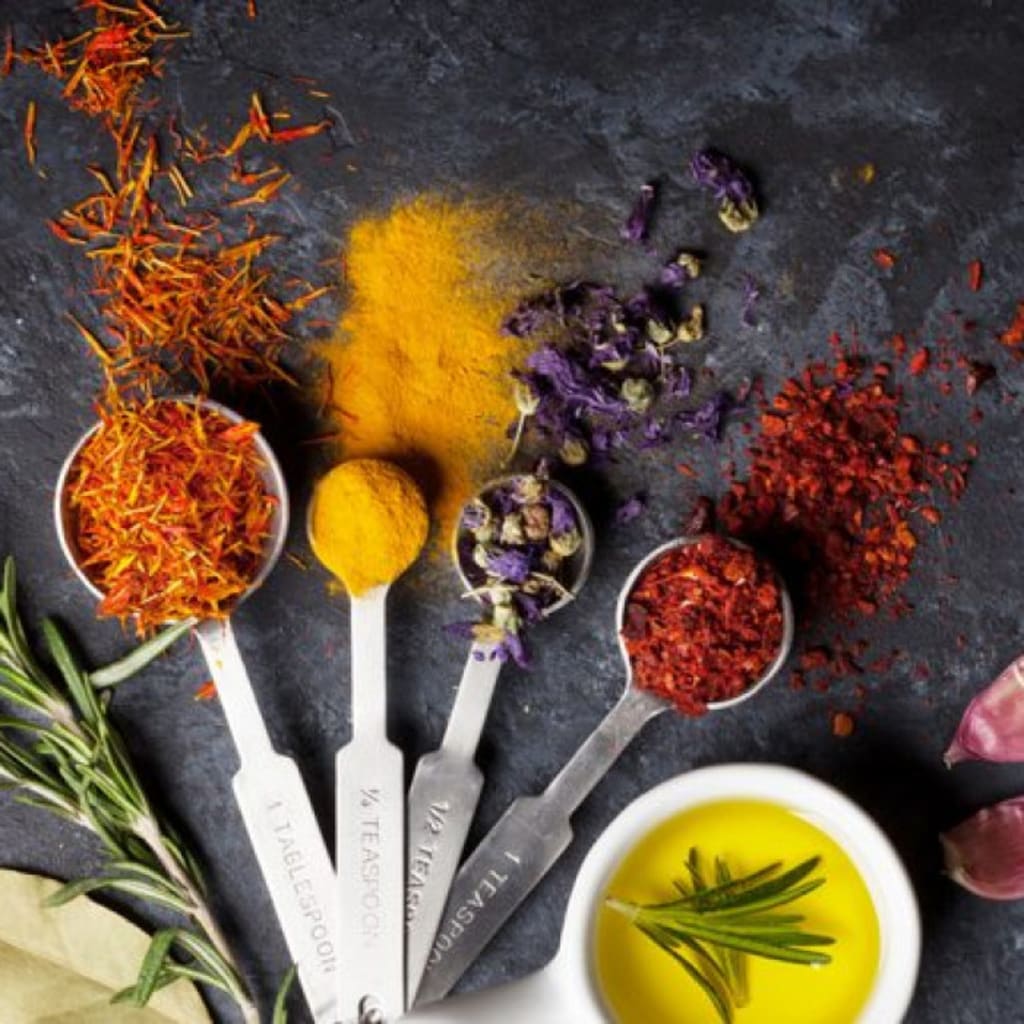 Stella Bistro Foods Sultry Spices available here.
As the seasons are changing, rotating the pantry is a must for your kitchen. Summer tasty must-haves are being replaced with holiday staples like stuffing, baked ham, string bean casserole, and macaroni and cheese.
As the holidays approach taste "loved filled" dishes, spices, herbs, and seasonings are the main show stoppers that receive a standing ovation each and every time.
As rotating pantry items are a must, broadening your spice pantry is essential too! Variations of foods can offer vivid color and contrast to a dish. The flavor is what elevates the dish to new heights.
As I enjoy my food voyage, I discovered food exploration to be liberating. I enjoy visiting specialty markets and grocery stores that offer diverse and various toned spices and herbs. Learning about different spices have lifted my fear of making bad dishes to creative tasty dishes loaded with bursts of flavor.
Here are a few spices that you should add to your spice pantry for the fall and winter seasons. Each listed spice has an added benefit when added to your sultry meal—yes, besides flavor.
1. Turmeric
Turmeric, also known as Golden Spice, is grown on the tall plants in Asia and Central America. This bright color grounded powder is also a major ingredient in curry powder. Curcumin, an active ingredient in turmeric, has beneficial biological properties.
Turmeric has helped reduce inflammation and menstrual cramps.
One tablespoon of turmeric is about twenty-nine calories packing iron, manganese, potassium, and Vitamin C. I find Stella Bistro Foods' Tasty Turmeric Sultry Spice to be a great blend that's great on my eggs with cayenne in the morning. It's also great in my Blood Orange Tea.
Turmeric pairs well with proteins such as chicken, steak, and lamb. The Golden Spice elevates when paired with charred asparagus or fresh strong beans.
Top your morning styled eggs with a sprinkle of Stella Bistro Foods Tasty Turmeric Sultry Spice and Stella Bistro Foods Chiptole Complex Sultry Spice and avocado toast for a great start. Boil russet potatoes and sear diced chicken breast to make turmeric-styled Curry Chicken. Serve with rice and enjoy!
2. Garlic
Garlic is a popular herb in many homes, but there's so much about garlic we didn't know!
Garlic is closely related to shallots, leeks, and onions. The ten to twenty bulb herb doesn't have many calories. Approximately one ounce of minced garlic has powerful nutrients like fiber, selenium, Vitamin C and B6, and Manganese. Garlic also has decent amounts of calcium, copper, potassium, iron, and B1.
Garlic can elevate the flavor of your favorite dishes. Containing about forty-two calories, almost two grams of carbs, and 9 grams of carbohydrates.
Garlic is great paired with white or red sauces, fresh or frozen vegetables, proteins of your choice, and starches. This flavorful herb marries well with crisp white or red wine.
Replace your traditional table salt with Stella Bistro Foods Universalt Sultry Spice.
It's a tasty blend of earthy herbs, kosher salt, and simplistic spices that elevate flavor levels of dishes like coleslaw (with Granny Smith apples, of course), batters and gravies, and proteins like lamb, chicken, and salmon. Infused garlic cloves in your favorite oil with peppers for two to three weeks for flavored cooking oil.
I enjoy preparing my Herbal Roasted Chicken with Stella Bistro Foods Rustic Italian Sultry Spice. I love the balance of Mediterranean herbs with roasted garlic and onion.
3. Cinnamon
Cinnamon is ESSENTIAL to my pantry. Cinnamon has many benefits, like reducing blood sugar, repair tissue and heart damage.
Cinnamon oil has been effectively shown to fight bacterial and fungal infections.
Cinnamaldehyde has antimicrobial effects within cinnamon that help reduce bad breath and tooth decay.
Cinnamon is multi-faceted as a baking or cooking element.
The popular spice is packed with powerful antioxidants, such as polyphenols. Cinnamon can act as a natural preservative.
One tablespoon of cinnamon contains nineteen calories filled with thirty-four milligrams of potassium, calcium, and iron.
Add Stella Bistro Foods Autumn Flair Sultry Spice to your pantry this season. This spice is great in chai lattes, Moroccan and Caribbean themed sauces and dishes, and baking.
Sprinkle Stella Bistro Foods Autumn Flair Sultry Spice on buttered and toasted bread, yogurt, beverage, bagel with cream cheese, french toast, or pancakes for quick spruce to your morning starter.
4. Everything Bagel Spice
Everything bagel seasoning has been the latest craze. I can definitely understand why.
The first time I came across Everything Bagel seasoning, I was a bar attendant working for a Fortune 500 hotel. One of our guests suggested it I try it considering it wasn't valued as the next craze.
I tried it. I liked it. I began exploring different brands of the flavor.
I LOVE Stella Bistro Foods Everything Bagel Sultry Spice because they have a SPICY Everything Bagel Sultry Spice too! I enjoy both on my avocado toast, boiled eggs, and salads to name a few.
Which are your favorite pantry-friendly spices?
Comment to start the conversation below!