Feel Better With Elderberry!!
The Best Berry Of All Time...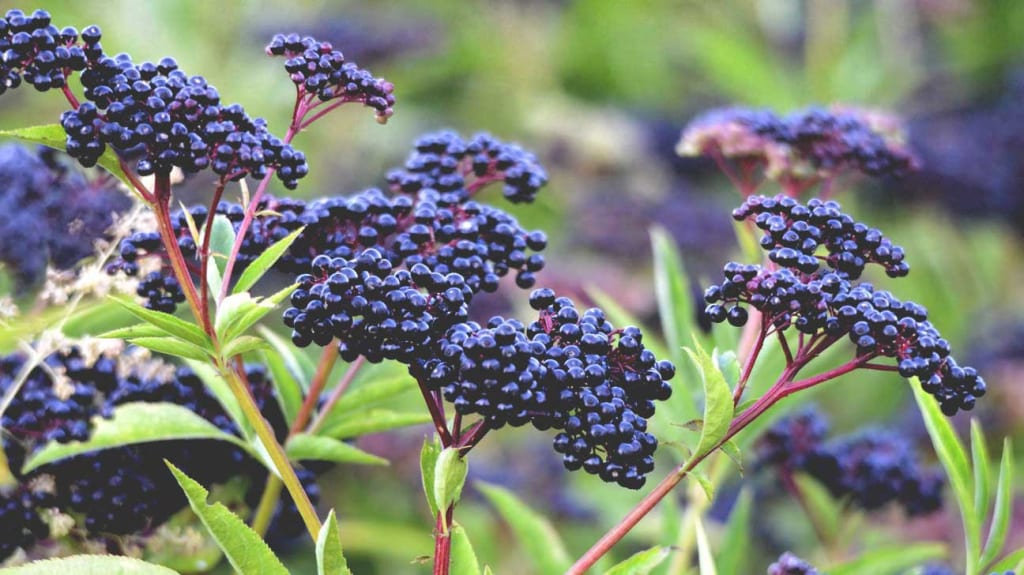 Photo credit: Healthline
I didn't know anything about elderberries. It wasn't until a friend mentioned she used elderberry syrup daily to avoid catching a common cold and flu.
"What's an elderberry?" I asked, curiously.
As she began telling me about her grandmother's regimen of consuming daily tablespoons of the newly discovered syrup to strengthen her immune system, I couldn't help to be curious about all the other health benefits elderberries possess - especially with the latest pandemic of Co-VID 19 subtracting lives each day.
Elderberries were the most commonly used medicinal plant in the world.
In history, the elderberry was used for relief from swelling and urine issues.
Native Americans used elderberries to treat infections. The beneficial berry was also used in folk medicine in Europe.
During the era of folk medicine, elderberry was used to remedy influenza, headaches, dental pain, and pain relief.
Ancient Egyptians used elderberries for skin burns and to improve skin complexions.
Elderberry is related to the Sambucus tree. The flowering plant is a part of the Adoxaceae family that grows European white, black, or bluish blackberries.
The low-calorie fruit is in the family of the American elder dwarf. The popular flowering plant produces blue elderberry, danewort, red-fruited elder, and antelope bush.
Elderberries can grow up to 30 feet tall with small white and cream-colored flowers and dark-colored cluster berries. The tasty fruit grows in warm areas of Europe, North America, Asia, and Northern Africa.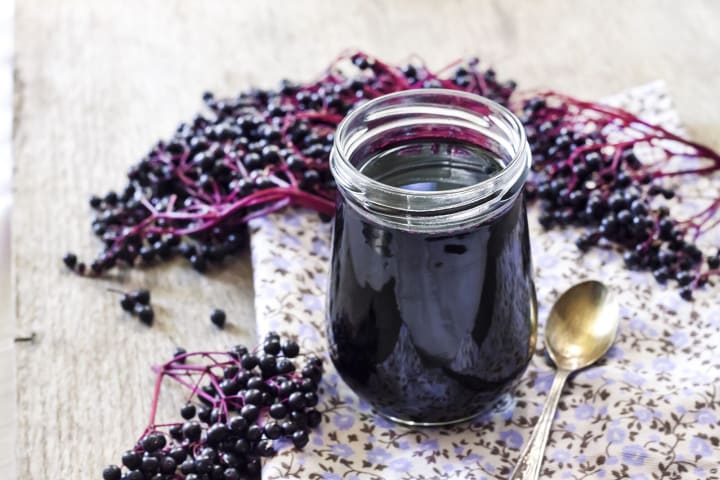 Elderberries are PACKED with antioxidants.
Accordingly to Healthline, elderberries have almost four times the antioxidants than vitamin E!
Elderberries are packed with vitamin C, fiber, phenolic acids, flavonols, and anythocyanins.
According to Very Well Health, anthocyanins can minimize inflammation and inhibits the development of nitric oxide in the body's immunity cells.
Diets with anthocyanins can reduce the risk of heart disease.
Studies show consuming elderberries can improve the antioxidant status within the human body drastically in about an hour.
A study with 60 participants with influenza took elderberry syrup seen improvement with ailments within two to four days.
Another study with 64 participants used elderberry extract lozenges for two days. Participants discover an improvement with flu symptoms, fever symptoms, headache, muscle aches, and nasal congestion upon 24 hours.
Elderberries fight bodily bacteria and improve cardiovascular health.
The low-calorie fruit can combat the growth of bacteria, like Helicobacter pylori. Elderberries can improve ailments of upper respiratory issues like bronchitis.
According to Healthline, studies proved elderberry juice can minimize fat levels in the blood which can decrease cholesterol.
Elderberries can possibly reduce uric acid within the bloodstream. High uric acid can result in increased blood pressure and cardiovascular health.
Did you also know elderberry acts as a laxative?
Sure does!
Elderberries contain a laxative property known as anthraquinone. The laxative property inhibits the absorption of water in the intestines.
According to Very Well Health, you can use elderberry syrup for up to five days as a laxative alternative.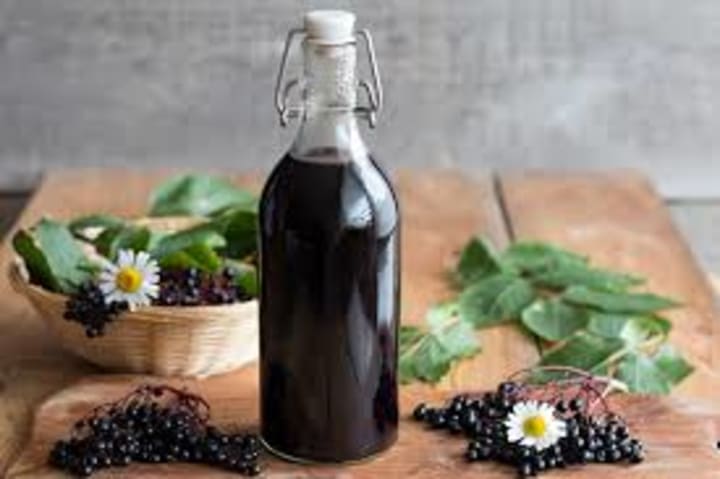 Add elderberries to your diet easily!
Raw elderberries, bark, and leaves are poisonous. Elderberries are enjoyed simmered and cooked. Recently, I began to bake and test recipes with elderberries. I like to mini tarts and breakfast pastries with elderberries. I like to use Stella Bistro Foods Autumn Flair Sultry Spice to add a hint of harvest sugars and spices to my elderberry sorbets and ice creams.
Don't have time to bake and eat the beneficial berry?
No worries!
Elderberry syrup is an easy way to add elderberries to your diet. I've discovered elderberry syrup to be easier and can increase my antioxidant status quicker.
How do you add elderberry to your diet regimen?
Tip, comment, and let's discuss below!!