Eating Meatballs All Over Europe
Delicious Ideas for Meals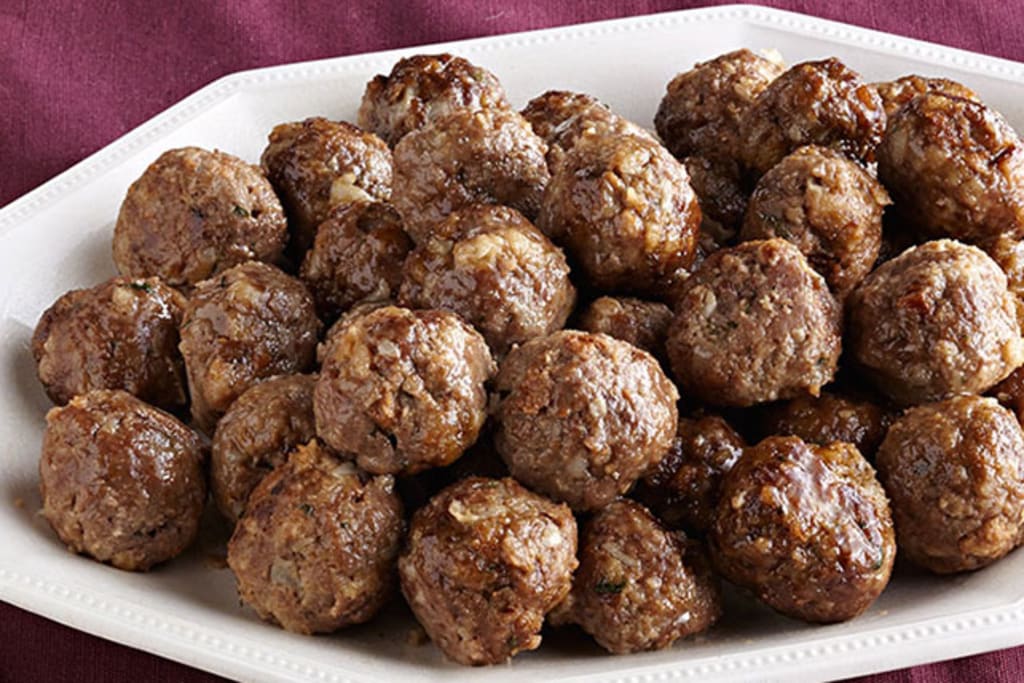 Basically, a meatball consists of meat, salt, and pepper or different spices and then the ground meat is rolled into a ball and can be baked, fried, sautéed or boiled. It is interesting how versatile a meatball dish actually is and how different nationalities prepare it. This is about how meatballs are prepared in European countries and you'll see that there is so much more to them than just ground meat and spices.
The dish is called Qofte te ferguara and the Albanians love frying their meatballs with feta cheese. Take ground lamb or beef, chopped onions, plain breadcrumbs, chopped feta cheese and chopped mint. To this, add cinnamon, oregano, salt, and pepper and mix all the ingredients together. Let stand for an hour so the flavours can blend, then shape into small cylinders, patties or balls, dust with flour and fry.
Austrian meatballs aren't formed round but are oval. The dish is known as Fleischlaibchen or Fleischlaberl. You take day-old bread (usually a roll) and soak it in warm water or milk. Take an onion chop and fry until golden but not burned. Ground beef is mixed with egg, chopped garlic, pepper, marjoram, rosemary, chopped parsley and salt. Once the mixture is ready the soaked bread is squeezed until most of the liquid is gone, then added to the meat mixture and thoroughly mixed in. Then oval-shaped patties are formed and fried until ready and golden brown.
In Belgium, you'll find that meatballs are called ballekes or boulette (in Flanders). The ground beef is mixed with egg, breadcrumbs, pepper and salt. Then meatballs are formed into small, round balls. Two litres of water is brought to a boil and the meatballs are boiled for 5 minutes. Drain and reserve water. Fry chopped onion and add peeled and chopped tomatoes. To this add about 5 tablespoons of reserved water and bring to a boil. Simmer 30 minutes. Afterwards, the sauce is thickened with flour and seasoned with salt and pepper. Add meatballs and heat through. They're served hot with slices of boiled egg and baguette (loaf of French bread).
Ballekes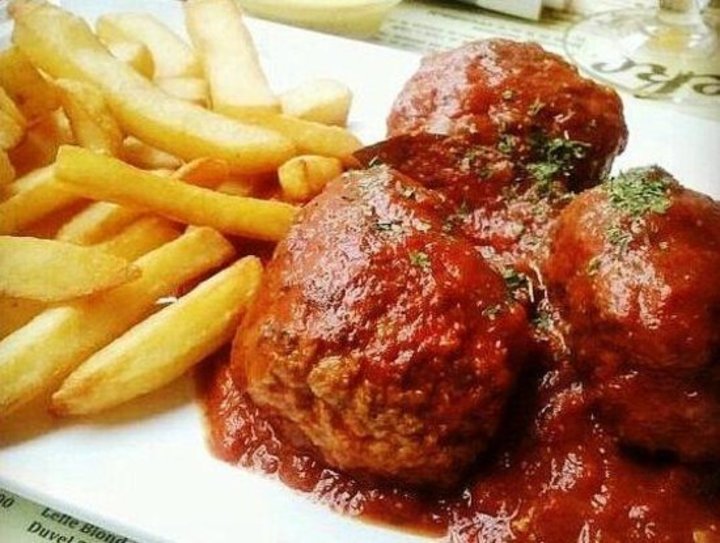 In the Czech Republic meatballs are made by combining beef and pork, but you can also use just one type of meat. In this recipe, ground pork is mixed with onions, sugar, salt, soy sauce, green onions, shredded mozzarella cheese and water. Form the meatballs and roll them in cornstarch and fry until browned. Put them into a baking dish, cover and bake for 25 minutes.
Danes in Denmark eat Frikadeller. Traditionally they are made of minced pork, veal or beef with chopped onions, eggs, milk, bread crumbs (or oatmeal or flour), salt and pepper then formed into balls and flattened a little. Fried in pork fat (can also use butter, margarine or vegetable oil). Another popular version is Friskefrikadeller where the meat is replaced by fish.
Frikadeller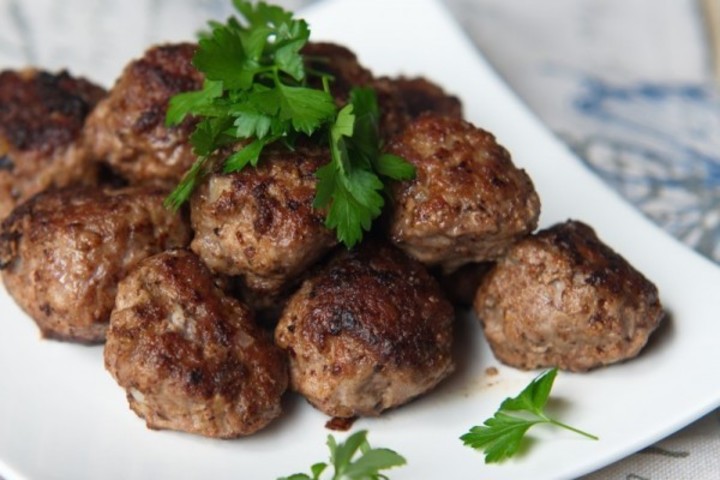 Meatballs in Finland are Lihapullat. They may be made with ground beef, pork or perhaps reindeer meat. The meat is mixed with breadcrumbs or white bread slices that have been soaked in milk and chopped onions (which may be fried golden before adding to the meat). Once the meatballs are ready ,they may be served with gravy, boiled or mashed potatoes, lingonberry jam and at times pickles.
In southern France meatballs are made with a combination of garlic and cinnamon. Put diced garlic, chopped parsley, chopped basil or tarragon and some ground cinnamon into a mixing bowl. Mix in ground beef, veal, sausage or pork or a combination then add egg, salt and pepper. Make small round meatballs. Dredge them in flour and brown until golden. Set them aside and heat fresh chopped tomatoes or canned, diced shallot and a pinch of cayenne pepper. When the tomatoes are reduced to a sauce put back the meatballs. Add a cup of green olives and if you want some chopped fresh ham. Add a cup of beef or chicken broth and simmer meatballs for 20 minutes. Serve with rice or fried potatoes and a salad.
Konigsberger Klopse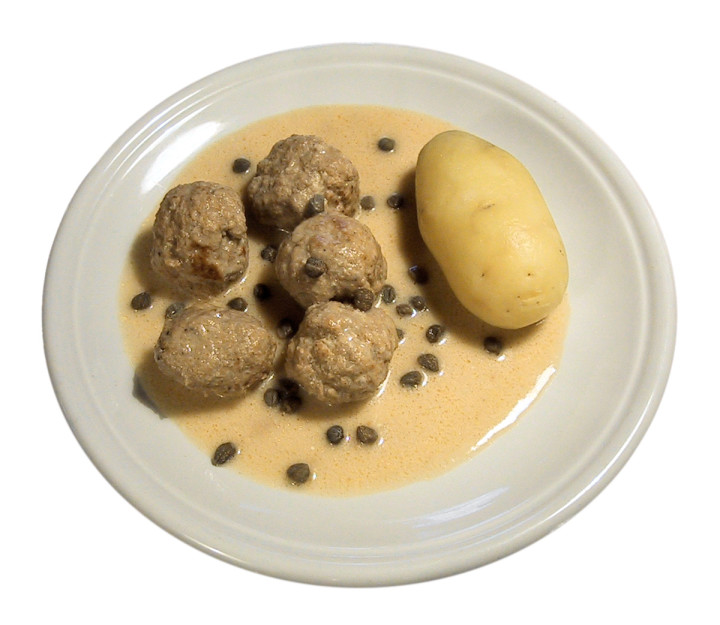 The Germans love to eat Konigsberger Klopse. This dish is a Prussian speciality where the meatballs are served with a white sauce to which capers have been added. If the meatballs are mixed with herring the dish becomes Rostocker Klopse. The original Konigsberger Klopse was mixed with anchovy. The meatballs are simmered in salt water and then the broth is mixed with a roux, cream and egg yolk to which capers have been added. It's served with boiled potatoes or sometimes rice.
Keftedes are fried meatballs in Greece and are usually mixed with bread, onions and mint leaf. Stewed meatballs are called yuvarlakia which comes from a Turkish yuvarlak meaning round. The meatballs include small quantities of rice.
In Hungary, meatballs are known as fasirt or fasirozott. It is actually more of a hamburger than a meatball. Ground beef is mixed with onions, spices, slices of bread soaked in water then squeezed out and eggs. Once mixed patties are formed and dipped into breadcrumbs then fried.
Polpette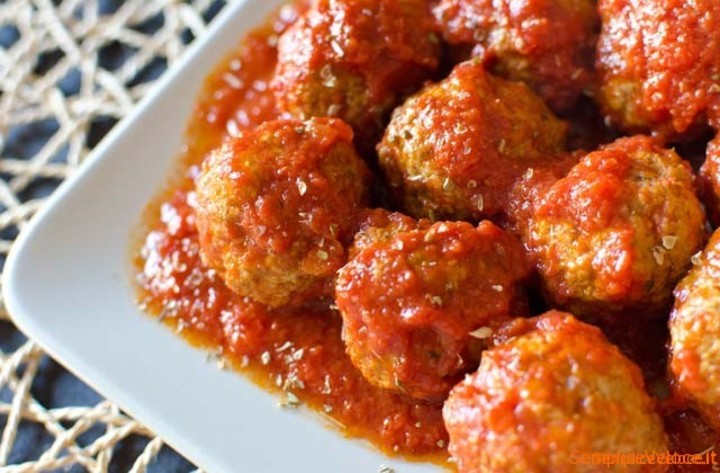 Meatballs or polpette may be put into soup or eaten as the main meal in Italy. The meatballs are made with beef or pork and at times with turkey. The meat is mixed with chopped garlic, Romano cheese, eggs, breadcrumbs, salt, pepper, chopped parsley and olive oil then rolled to golf ball size and fried or put in soup. Marble-sized meatballs are made in the Abruzzo region of Italy and called polpettine.
A tasty dish is kjottkaker or meat cakes. This dish is made in Norway usually from ground beef or a combination of beef and pork. To make the meatballs slices of white bread are soaked in hot milk then squeezed. The bread is then mixed with ground beef (in this case) and some ground pork, eggs, nutmeg, pepper, allspice, chopped onion, and salt. They are rolled up and then browned in a skillet and put into a baking dish. Gravy is made from melted butter mixed with flour. To this mixture add beef bouillon base dissolved in hot water. When the gravy is done it's poured over the meatballs and baked for half an hour. Serve over noodles or rice. Traditionally this meal is served with boiled potatoes, lingonberry jam and/or stewed green peas.
Gehaktbal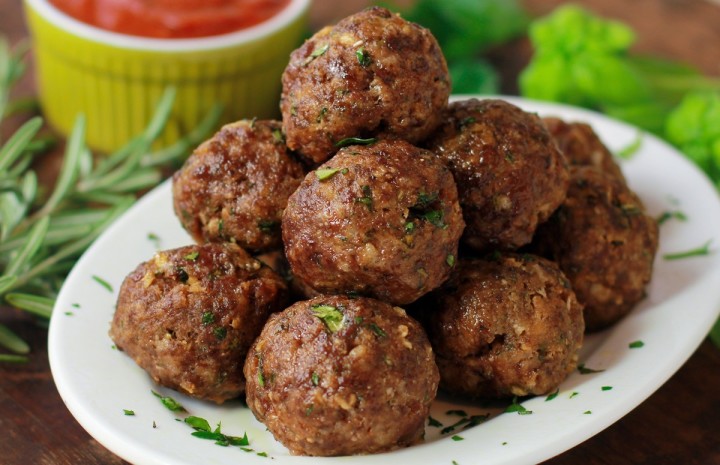 The Dutch in the Netherlands call meatballs gehaktbal. The meatballs are made with ground beef and pork, milk, egg, gehakt spices (a ready-mixed combination of coriander, pepper, ginger, nutmeg, cardamom, chilli and marjoram) if not available one can use sweet paprika, nutmeg, salt and pepper. To this, they also add rucks toast which if unavailable can be replaced with breadcrumbs then the mixture is rolled into nice size balls and fried in butter until browned. Water is added and brought to a boil. Then the pan is covered and simmered for half an hour. When the meatballs are removed gravy can be prepared with the broth.
When you're in Poland its plupety or klopsy. They are served with various sauces like tomato or mushroom. The meatballs can be made round or flat. The meat is a combination of ground pork, beef and veal or just two or even one if you prefer. The meatballs are browned in a skillet and then baked in the oven until done.
Portuguese meatballs are called almondegas. Onions, chopped parsley and canned tomatoes are sautéed in butter. Then beef stock is added and simmered then seasoned with salt and pepper. Ground beef is mixed with egg and some of the sauce and flour is added. Egg-sized balls are formed, rolled in bread crumbs and sautéed in oil until well browned then drained on paper towels and dropped into the sauce and simmered for 20 minutes. Serve over pasta or rice.
Chiftele
Chiftele and parjoale come from Romania where they are usually deep fried and are made with pork or poultry. Chiftele are smaller. To make Chiftele, carrots and potatoes are grated finely and set aside. In a bowl ground beef is mixed with eggs, the grated carrots and potatoes, parsley, flour, salt and pepper. The mixture is then formed into balls. Rolled into flour and fried until brown and cooked through. Traditionally they are served with tomato sauce, mustard, sour cream or other dips. They can be served as an appetizer with cheese, tomato slices, peppers and/or cabbage.
Parjoale are basically meat patties. Ground beef and ground pork are mixed with onions, garlic, grated potato, salt, pepper, and hot pepper. The bread that has been soaked in milk and squeezed out is added with parsley and dill and mixed well. Shaped into patties which are then dredged in flour, eggs and breadcrumbs then fried.
Meatballs in Spain are called albondigas which comes from an Arabic word al-bunduq and means hazelnut or a small round object. Ground beef or pork or a combination is mixed with chilli powder, grated onion, bread crumbs, egg, rice or pine nuts. The meatballs are rolled up and placed in boiling consommé and simmered 30 minutes. When the soup is ready sherry may be stirred in and served with warm tortillas. The recipe can be varied by adding sliced carrots, green beans, peas and/or cilantro to the broth before adding the meatballs.
Kottbullar are made in Sweden. Diced onions are sautéed in butter and breadcrumbs are soaked in milk, A combination of ground beef and pork are mixed with onions, eggs, milk/breadcrumb mixture and spices. Shaped into small balls and fried. Serve with mashed or boiled potatoes.
Fagotts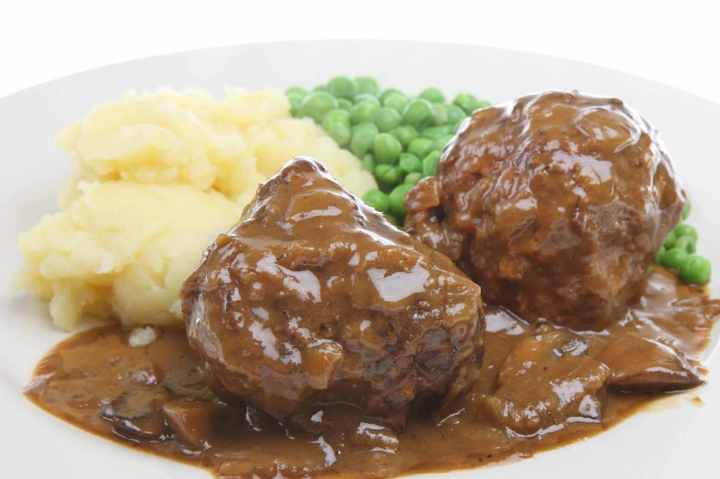 Spicy pork meatballs called faggots are eaten in the United Kingdom. Traditionally they are made from pig's heart, liver, and fatty belly meat or bacon minced together with herbs added for flavour and sometimes breadcrumbs. They are served with mashed potatoes, mushy peas, and gravy. This is rather an acquired taste.
Soup with Frikadeles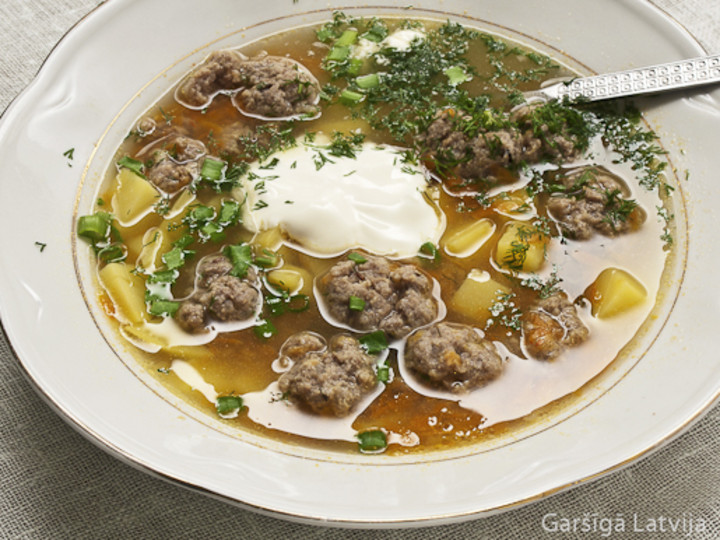 I kept the country I live in last. Latvian meatballs are called frikadeles. You can use a combination of ground beef and ground pork or just one or the other. Slices of stale bread are soaked in milk and then squeezed dry. They are added to the ground meat, along with one or two eggs, a tablespoon of sour cream, salt and pepper. The meat is mixed together well. Then the meat is rolled into small or medium sized balls and dropped into hot boiling broth or soup. They're done when they float to the top. If just boiled in chicken or beef bouillon then the meatballs can be added to a brown sauce and served over macaroni. They are very delicious in soups made from beef bones, with potatoes, carrots, onion, dills and other spices.