Eat your pumpkins!
Let's stop food waste on Halloween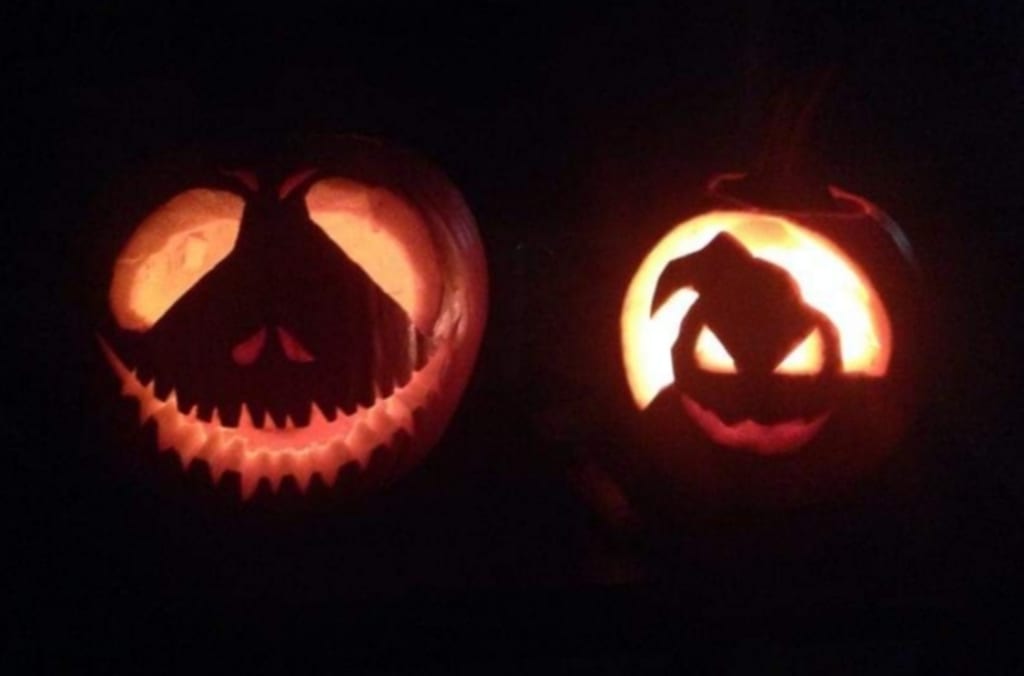 Eat your pumpkins!
Halloween has always been my favourite time of year. One of the best parts of Halloween, for me, is the night where we put on our favourite Halloween films and carve the pumpkins. For the next few days, we use all of our pumpkin innards to make yummy food.
Over 1.5 Billion pounds of pumpkins are produced each year in the united states alone.
Did you know it is estimated that only 33% of people actually use the contents of their pumpkins? It's like we have forgotten that pumpkins are actually a tasty food and not just a fun D.I.Y decoration.
Some more fun facts about the scrumptious orange fruit, or arguably vegetable are;
-Back in 1584 pumpkins were known as "Gros Melons" and were not always the 'go too' Halloween decoration but rather turnips and potatoes were used instead.
-Antarctica is the only place in the world where you cannot find pumpkins growing.
-95% of all pumpkins harvested in the U.S.A are grown in Illinois which is where it gets its name "Pumpkin capital of the world."
-Pumpkins are high in fibre , potassium, magnesium, iron and are 90% water.
-Every pumpkins holds around 500 edible seeds.
-The world record pumpkin was grown in Germany in 2016 and weighed over 2,600 pounds.
-There are more than 45 different varieties of pumpkins and every last bit of everyone is edible, yes even the stalk!
So what's our excuse for not eating our pumpkins? Do we need a bit of inspiration on what to make? I'm not suggesting we take bites out of raw pumpkins. There are so many wonderful recipes to make use of the tasty treat and stop the food waste.
I have put together a few recipes that I love and I know you will too!
1. Pumpkin Hummus.
Ingredients;
-500g of pumpkin
-2 Peeled garlic cloves
-Half a juiced lemon
-1 yellow pepper
-1 red pepper
-400g of chick peas
-2 TBSP tahini paste
Method
1.Cut of the top of the pumpkin, remove the seeds and scoop out the flesh.
2.Preheat the oven to 200 degrees. Roast cut pieces of the flesh in a tin with the garlic and a generous amount of oil. Season the pieces and bake for about 40 minutes or until tender and leave to cool down.
3.Place the cooled down pumpkin into a food blender with the juices and garlic from the roasting tin. Add the tahini paste, chickpeas and lemon juice to the blender. Season and blend adding oil if the mixture is too thick.
4.Scoop the hummus back into the pumpkin and serve alongside the peppers. Also goes well with pita bread and breadsticks.
Pumpkin muffins
Ingredients;
-200g Pumpkin puree
-225g Plain flour
-1 TBSP Cinnamon
-2 TSP Baking powder
-100g Caster sugar
-50g Light brown sugar
-2 Large eggs
-125g Slightly salted melted butter
Method
1.Preheat the oven to 200 degrees. Grease and lie a 12 muffin tin with muffin cases. Mix together the flour, baking powder, cinnamon and sugar together in a large bowl.
2.Whisk together the puree and eggs, then add the dry ingredients with the melted butter.
3.Bake for 15mins until golden brown. Another way to check if they are done is to pierce them with a skewer and if it comes out clean they are ready. Cool down on a cool rack before keeping them in an air tight container for up to 3 days.
Pumpkin cheesecake
Ingredients;
-300g Pumpkin puree
-350ml Maple syrup
-350g Full fat cream cheese
-300ml Double cream
-300g Gingernut biscuits
Method
1.Place the biscuits into a blender with 125ml of the syrup until it resembles fine crumbs. Grease and line a 20cm tin with baking paper and firmly push the crumbs into the tin to form the cheesecake base. Place the tin into the fridge for 30 minutes.
2.Beat 100ml of the syrup with the pumpkin and cheese until smooth. Whip 200ml of the cream with 100ml of the syrup to soft peaks. Fold into the cream cheese mixture, spoon over the base and level the top. Cover the tin and freeze overnight.
3.Lightly whip the remaining cream with the remaining syrup and dollop over the remaining biscuits and drizzle over some extra syrup. Leave to stand for 5 minutes before serving.
Each year in England alone, around 18,000 tonnes of edible pumpkins are being tossed in the bin. So this year why not try out a new recipe after carving your scary pumpkin and make it a new tradition. Why not try and plant your own pumpkin for next year by using the seeds.
Lets try and reduce the food waste created around Halloween time and have fun doing it !