Easy Vegan Fruit Cobbler
A quintessential summer dessert bakes beautifully with all-vegan ingredients.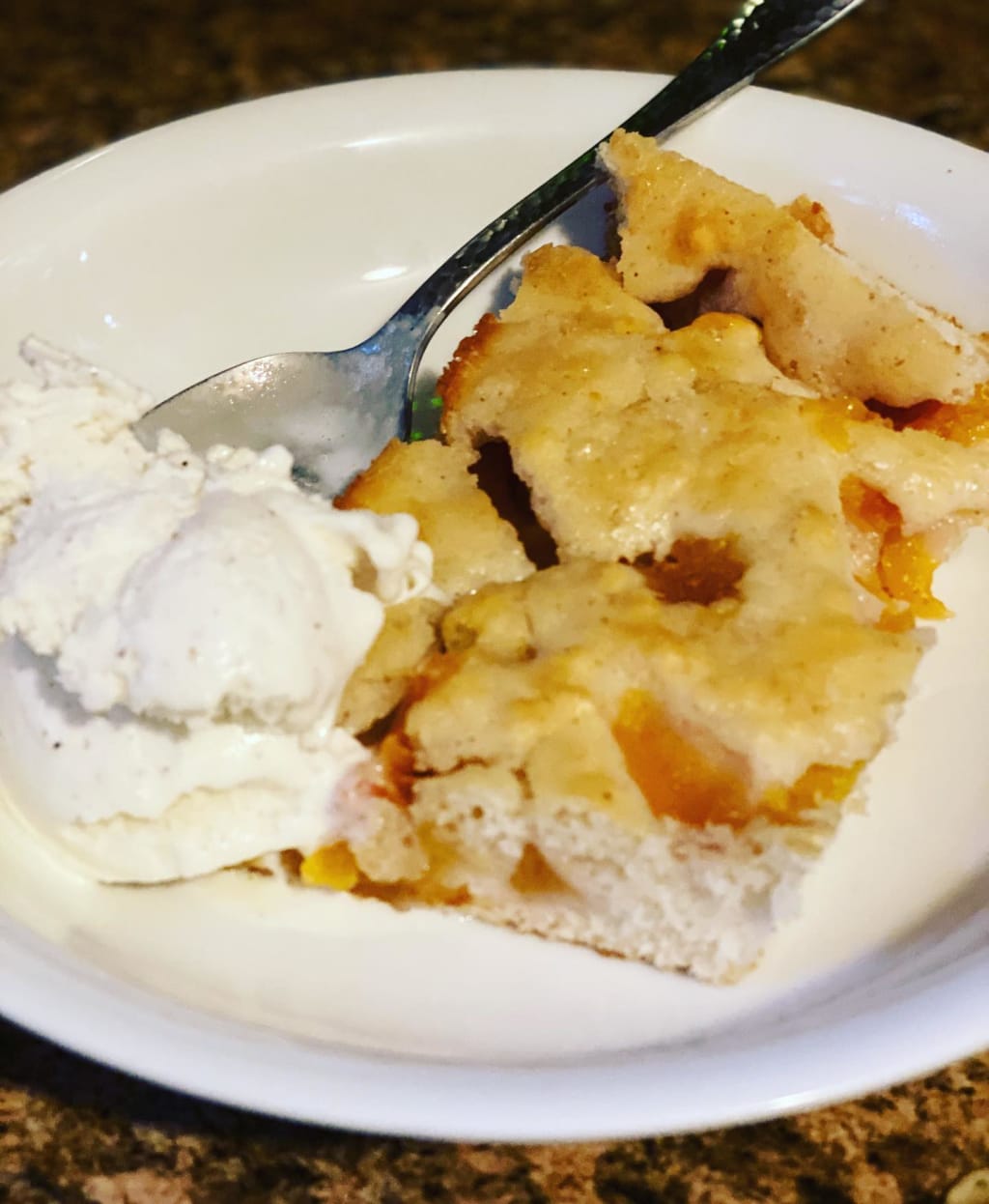 Peach cobbler with a scoop of Nick's Vanilij Bean vegan ice cream.
Summertime. The sun is out, the weather is warm, things are growing, and if you live in the South like me, you're baking fruit cobbler. It might sound odd to want to bake during the summer months in the hottest, most humid region of the United States, but as all good Southern cooks know, it would be borderline sinful not to take all of the fresh fruit produce being sold at farmer's markets and roadside stands that dot our countryside this time of year, chop it up, and throw it in a delicious, sweet crust. This vegan fruit cobbler recipe is simple and will have you out of the kitchen and enjoying a delicious dessert in no time!
I grew up eating the non-vegan version of this cobbler at my granny's house all summer long. Unlike the dessert known as cobbler that's common in the Northeast and abroad in the UK, where fruit filling is covered with biscuit or dumpling dough and baked, our Southern version surrounds the fruit with pillowy crust on the top, bottom, and sides using a super easy method that anyone can master.
My favorite thing about this recipe is that it's extremely forgiving and very challenging to mess up. I like to check on my cobbler as it's baking and remove it from the oven as soon as it begins to turn golden brown and bubbly. Another plus - this cobbler makes your house smell amazing as it bakes, and it's a great way to welcome people over for a party or barbecue.
It comes together quickly with just five ingredients, which is why it's also a favorite for a quick weekend dessert when I want to surprise my family with something special. There are three of us and sometimes I even use three different fruits in three sections of my casserole dish so that everyone can enjoy their favorites – blackberries for me, strawberries for my son, and peaches for my husband. This is a difficult recipe to get wrong, and I hope your family loves it as much as mine!
The Recipe
Cooking with grams or different systems of measurements? Use this recipe converter!
Ingredients:
1/2 c. vegan butter, melted
1 c. white sugar
1 c. self-rising flour
3/4 c. soymilk
2 c. fruit, either fresh or frozen*
Directions:
Pre-heat oven to 350°F (165°C) and pour melted vegan butter into the bottom of an 8x8 inch baking dish.**
In a separate bowl, mix the sugar, self-rising flour, and soymilk together until just moistened and pour the mixture over the butter. Do not stir.
Spoon fruit over the batter evenly without stirring. Bake in the preheated oven about 40 minutes, until the top is browned.
*Larger fresh fruit like peaches, pears, apples and strawberries should be sliced and peeled before using. Small berries like blackberries and blueberries do not have to be sliced or chopped. You can mix fruit for this cobbler to your taste. A strawberry-blueberry cobbler is festive for patriotic holidays in the U.S., and a blackberry-peach cobbler is also delicious!
**The recipe can be doubled for larger baking dishes, as pictured below.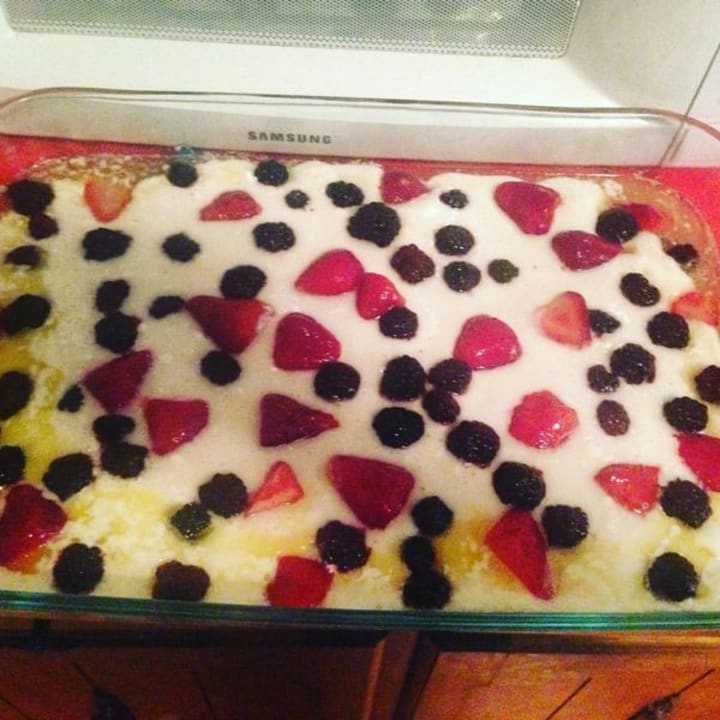 Kick back and enjoy this sweet and simple taste of a Southern summer! Happy baking!
Check out my other recipes:
Appreciate my thoughts? Leave me a heart or a tip, or follow me on Twitter @arkansas_scrawl. I write about all sorts of things that interest me!
About the Creator
I'm a wife and mom, and this is my creative outlet. I am experimenting with lots of different writing styles and topics, so some of it is garbage, and I'm totally fine with that - writing is cheaper than therapy. Thanks for stopping by!
Reader insights
Be the first to share your insights about this piece.
Add your insights