Mama Eze's Jam Cake: A 19th Century Recipe Gets a Vegan Makeover
This 140 year old recipe creates a delicious cake for the holiday season...or anytime, really!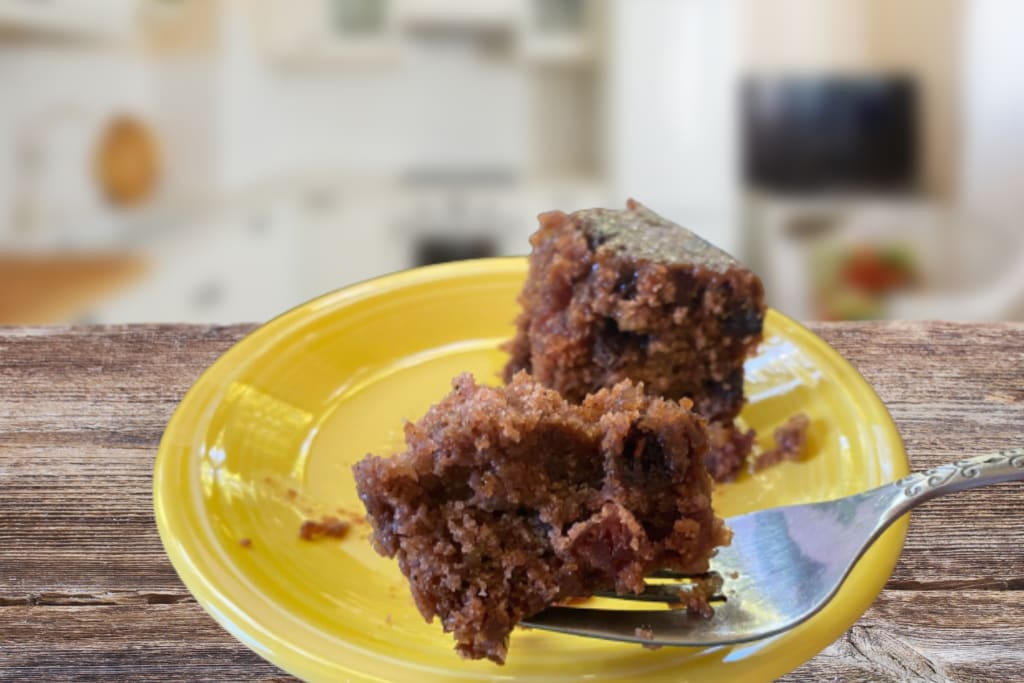 History and food. You may not think the two go hand in hand, but as a longtime teacher and student of history and an enthusiastic foodie, I believe that one of the best ways to study the past is through...you guessed it, cooking and eating.
That's why for this Vegan Bake-Off Challenge, I knew I wanted to take an old recipe and adapt it for a vegan diet. I have been a vegetarian for eight years, but I am very interested in eliminating dairy products from my diet and I try to incorporate vegan dinners into my family's meal rotation several times a week. I call myself a "struggling vegan," because going entirely vegan is still a work in process...but after some updates to this fruity and delicately spiced jam cake recipe, I am beginning to think it might not be so challenging after all!
A Family Tradition
So how, you may ask, did I settle on a fairly obscure type of holiday cake to veganize for this kitchen taste test? Enter a gaggle of women, aunts, cousins, and extended relatives who all learned to bake at the knees of a matriarch my entire family still worshipfully admires to this day: the great-grandmother I never had a chance to meet, Rindy Louise Francis, our Mama Eze.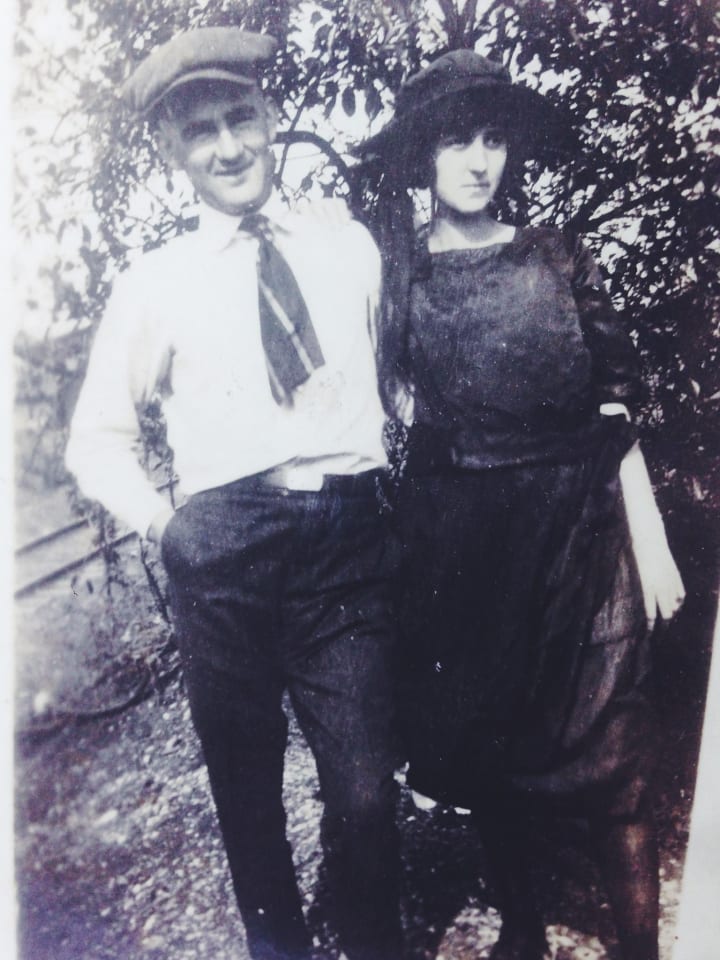 The instructions for this jam cake was a recipe passed down to Mama Eze from her mother, Katherine White who was born in 1879. Their family settled in Tennessee prior to its statehood by way of colonial Virginia. There is not a lot of information about the origins of jam cake online, but most food writers agree that it was highly popularized in the middle regions of Kentucky and Tennessee, and that it likely emerged from ingredients that were widely available in the area for anyone willing to forage for them, such as blackberries, walnuts, and fruit that could be easily preserved.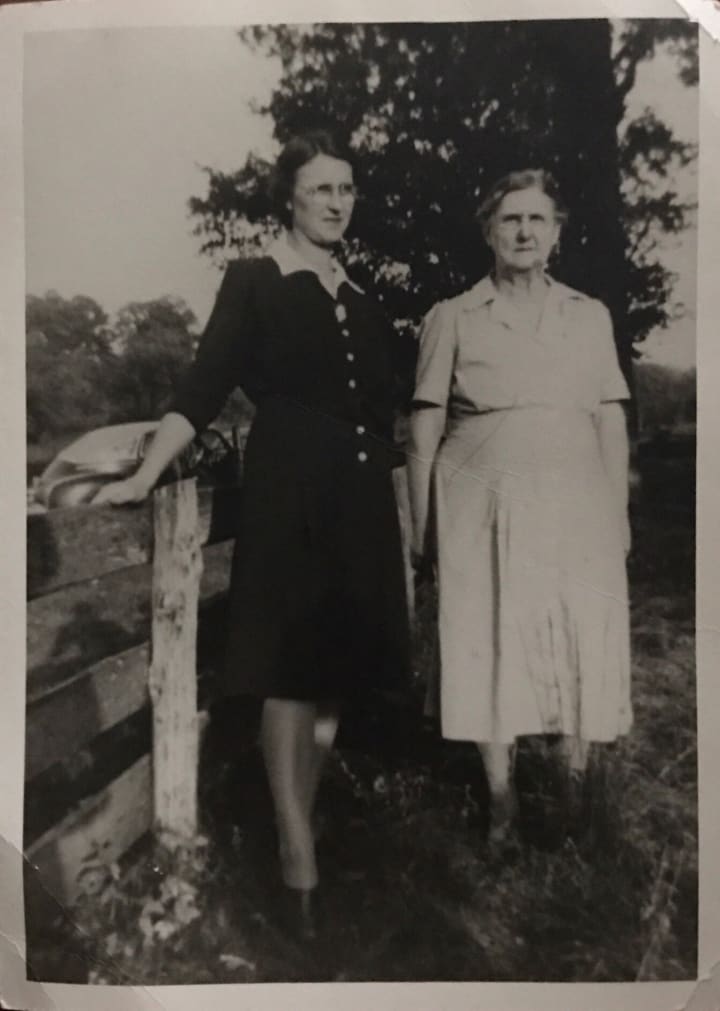 The recipe came to me through my Great-Aunt Linda, Mama Eze's daughter, who wrote it down for my grandmother in 1991. My grandmother saved hundreds of family recipes, now treasured family heirlooms, that I love to flip through as I read about the kinds of dishes my family nurtured each other with in the past.
I have always wanted to bake the famous family jam cake, but with its long list of ingredients, multiple steps, and whopping two hour bake time, I have never attempted it...much less attempted it as a vegan iteration. But don't be intimidated! I've done all the hard work for you, and the delicious end product is well worth it.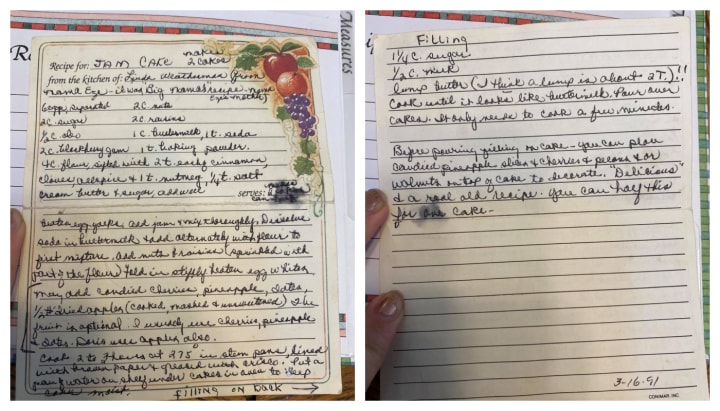 Reading Aunt Linda's beautiful script, you can see that this recipe makes two cakes, calls for a whopping six eggs, and buttermilk used two ways. Before commencing to the actual recipe, I had to research and learn how to make vegan buttermilk, what to replace egg yolks with, and how to make aquafaba to replace the egg whites (an easy process using chickpea brine that you can whip up with a hand mixer).
The recipe also calls for a half cup of "oleo," which I had to Google to learn is an old term for margarine, or what most of us know as vegan butter these days. It calls for baking powder, but never tells where to use it in the recipe. It says to bake the batter in what I initially read as "steam pans lined with brown paper + greased with Crisco." I had to call my mother for her to explain that I needed a stem pan, which is like a smooth sided Bundt pan. I found mine at Target, where it's labelled as an angel food cake pan. That is the only special equipment you will need! So with no further ado...
Let's Bake!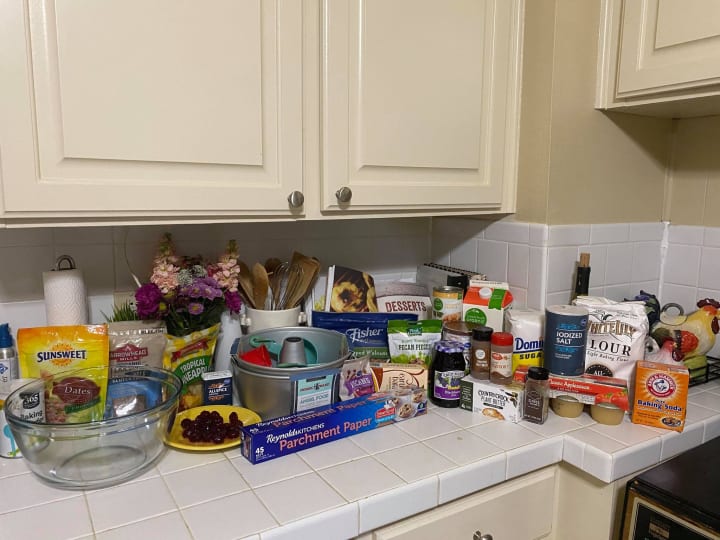 In this recipe, the main components are flour, sugar, blackberry jam, vegan buttermilk, margarine or vegan butter, egg substitutes, aromatic spices such as cinnamon, nutmeg, clove, and allspice, and a host of chopped nuts and dried fruit such as raisins, candied cherries, candied pineapple, and dates. It may seem like it contains everything but the kitchen sink, but somehow it all marries beautifully together in the end for an unforgettable cake.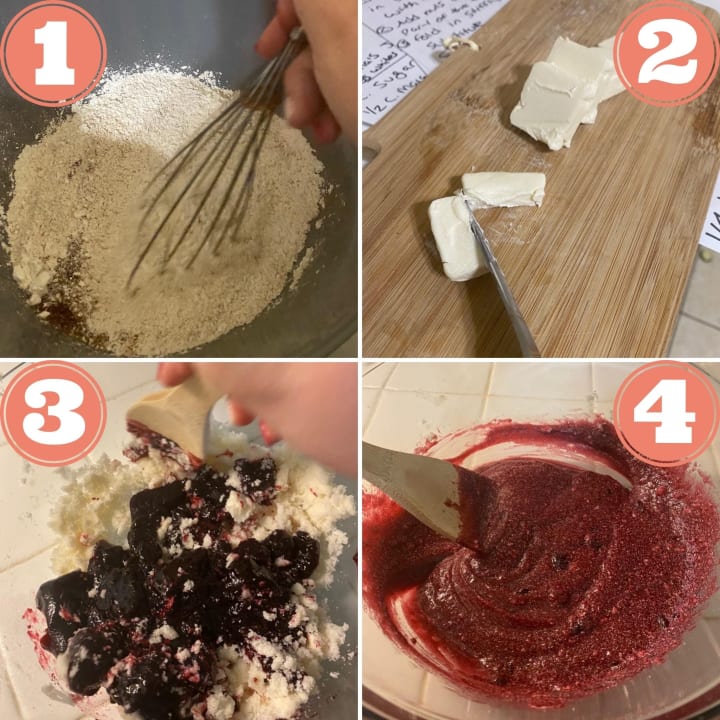 First, we use a wire whisk to sift together two cups of all-purpose flour with our spices and baking powder (I decided it made the most sense to incorporate the powder here). In a separate bowl, we'll need to cream together our margarine and sugar before adding the blackberry jam. I soften my margarine to room temperature, cut it into smaller pieces, and then combine it with my sugar using a potato masher. Just mash away with a potato masher or a fork, and you will see the butter and sugar quickly start to combine. Then you stir in a cup of delicious blackberry jam until it turns wine red, like the color of the fourth photo. Now is a great time to sample the recipe so far!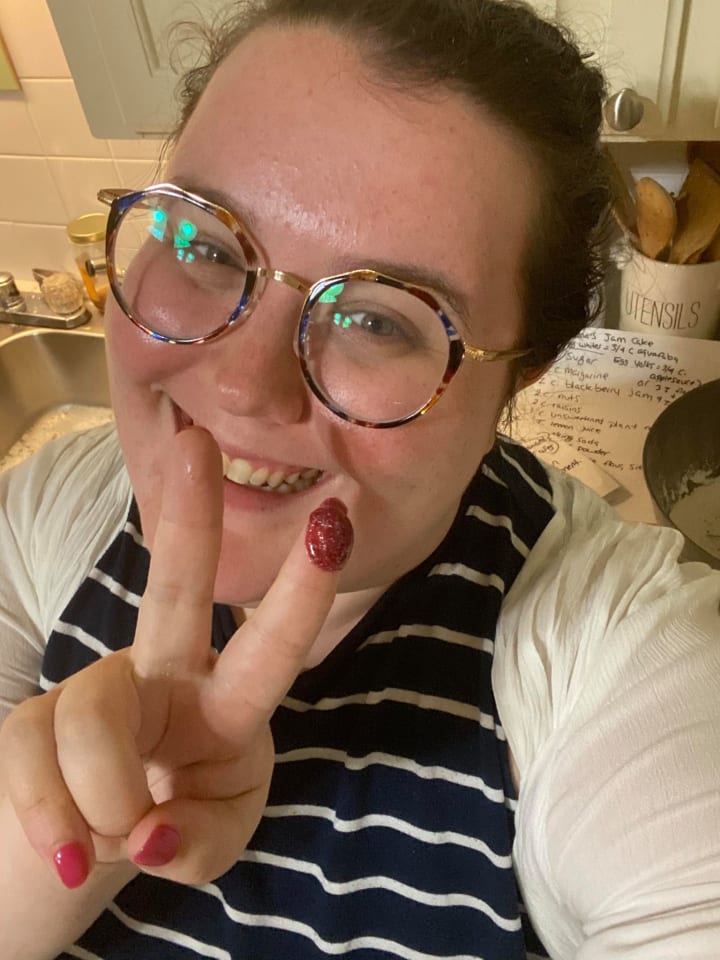 Next, we stir in our egg substitute. I tried the recipe two ways, using 1/4 + 1/8 cup applesauce for the first try and 1 1/2 mashed, ripe bananas for the second try. The bananas make a much denser cake that did not bake properly or hold up well once out of the oven, so I recommend sticking with the applesauce! Next, we whip up our vegan buttermilk in a large measuring cup or a small bowl. It's super easy, combining a cup of soymilk with a tablespoon of lemon juice. Let it sit about ten minutes, until it starts to curdle, bubbling around the top, and then stir in the baking soda as called for in the recipe.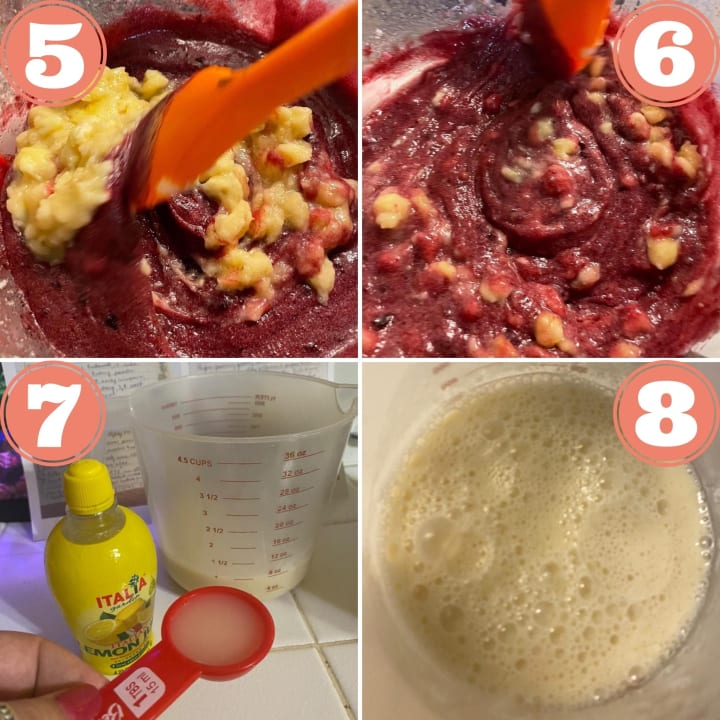 Then, we stir our vegan buttermilk into our creamed butter and blackberry mixture, alternating with the flour and dry ingredients...that's right, all three of our containers and ingredients finally get combined at this point! It's all coming together beautifully. On this step, you will also want to leave just a little bit of your dry ingredients in the bottom of the flour bowl, because we will need them later on for the dried fruit.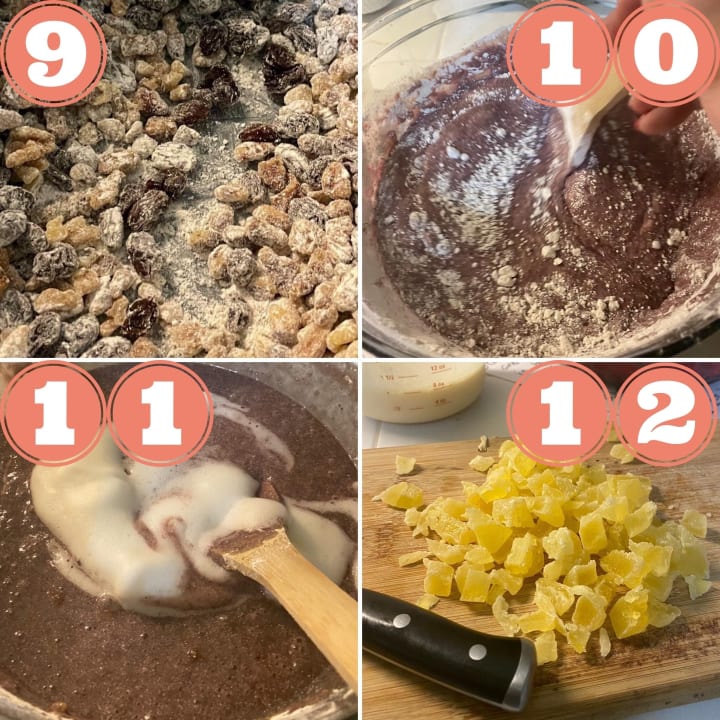 Finally, we will toss our raisins and nuts in the remaining flour mixture, and fold it into the main mixing bowl, followed by our aquafaba to replace the stiffly beaten egg whites, and then finished by our choice of dried and candied fruit. My Great-Aunt Linda noted in her recipe that she used candied cherries, pineapple, and dates, but my Great-Aunt Doris preferred half a pound of dried apples, cooked, mashed, and unsweetened.
For my recipe, I made candied cherries (which are tough to find in stores outside of the holiday season), and used dried, candied pineapple available at my local grocery. I threw in the amounts I wanted, a small handful of each. My favorite thing about this recipe is that it seems like the sort of thing that you can easily adapt based on what you have on hand. I doubt my ancestors were working much with candied pineapple back in 1870's rural Tennessee, so I imagine that was a later addition.
Mama Eze says she lined her stem pans with brown paper and greased them with Crisco, a vegetable shortening common in older recipes. I thought parchment paper would work just fine in my recipe, and...well...
I tried asking my husband to step in to see if he could get the parchment paper positioned correctly in the bottom of my stem pan, but neither of us could! So I opted instead to spray the bottom of the pan with cooking spray and sprinkle flour extremely well across the bottom and sides.
Finally, it is time to pour the batter into the pan. This cake bakes low and slow at 275°F. It is very important to place a casserole dish full of water underneath the jam cake on the next oven rack below it. This keeps the cake deliciously moist. My recipe says the cake should bake anywhere from 2-3 hours. That's a wide range, but I think it depends a lot on your oven, as well as how much dried and candied fruit you opt to use in the steps above.
My version with applesauce baked for 1 hour 50 minutes. Check your jam cake frequently around the two hour mark and remove it from the oven when it springs back to the touch, and when an inserted skewer or toothpick can be removed cleanly.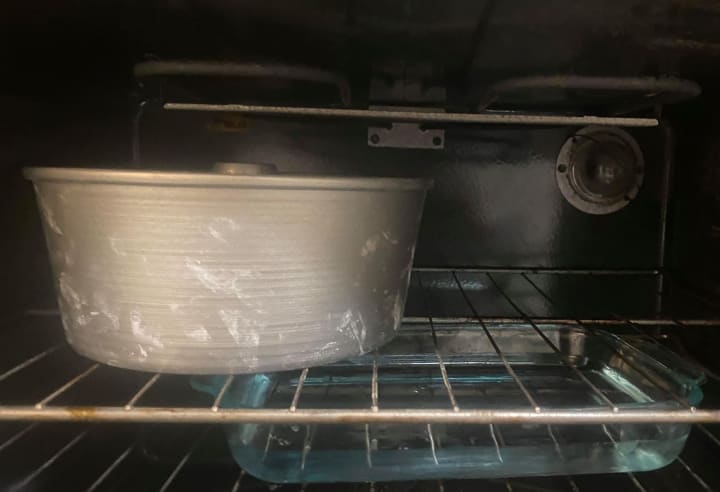 Allow the jam cake to cool completely, before making the topping as directed and pouring it over the top. Now slice yourself a piece of old-school heaven and bask in the glow of mastering what my Great-Aunt called "a real old recipe!"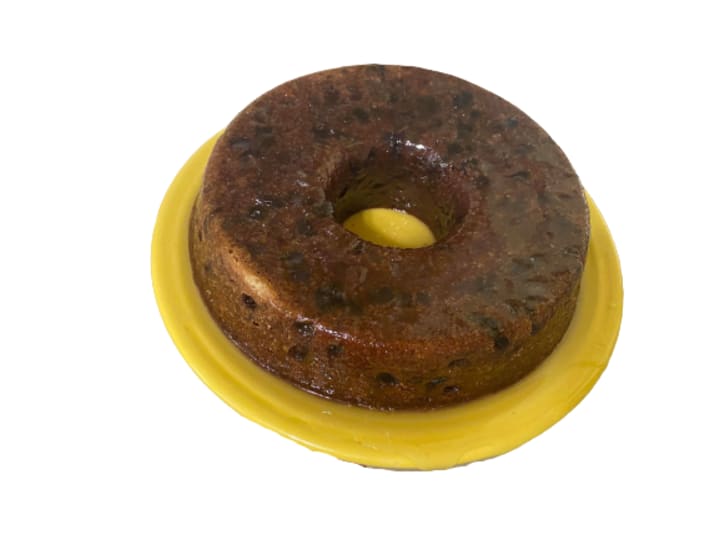 Step-By-Step
Need grams instead of cups? Use this recipe converter!
Mama Eze's Jam Cake
Ingredients:
1 c. sugar
1/4 c. margarine or vegan butter
1/4 + 1/8 c. prepared aquafaba, whipped into stiff peaks
1 c. blackberry jam
1/4 + 1/8 c. applesauce
1 c. nuts
1 c. raisins
1 c. vegan buttermilk (1 c. soymilk + 1 T. lemon juice)
1 tsp. baking soda
1 tsp. baking powder
2 c. all-purpose flour sifted with
1 tsp. cinnamon
1 tsp. cloves
1 tsp. allspice
1 tsp. nutmeg
pinch of salt
candied cherries, dried pineapple, and/or dried dates to taste
Directions:
Prepare aquafaba as necessary, following the recipe provided. Use a hand or stand mixer on medium-high for five minutes until stiff peaks form. Sift flour with spices and baking powder in a separate bowl, and set aside. In another separate bowl, cream margarine and sugar together. Add jam and mix thoroughly.
Prepare vegan buttermilk if not yet pre-prepped. Dissolve baking soda in vegan buttermilk. Combine with the creamed margarine, sugar, and jam, alternating with the dry ingredient mixture. Reserve some dry ingredients to toss nuts and raisins with.
Toss nuts and raisins in the remaining flour, pour into the wet ingredients, and combine. Gently fold in 1/4 c. + 1/8 c. (roughly) of the prepared aquafaba. Fold in any additional fruit as desired, including candied cherries and pineapples, dates, or apples.
Use cooking spray, margarine, or Crisco to lightly grease the bottom of a stem pan. Sprinkle flour and spread evenly. Pour in cake batter and bake 2-3 hours on the top rack in a 275° F oven with a pan of water on the rack underneath. Check frequently around the two hour mark for signs of doneness. Remove when the surface springs back when prodded and a skewer or toothpick can be inserted and removed cleanly.
Allow to cool completely before preparing the topping. Once cool, flip it carefully out of the stem pan onto a platter or cake plate. It should slide out of the stem pan smoothly.
Mama Eze's Sugar Glaze
Ingredients:
1 1/4 c. sugar (I used granulated white, but plan to experiment with brown next time)
1/2 c. vegan milk
A "lump" of vegan butter - Aunt Linda thought it was about 2 T.
Directions:
Combine in a saucepan and cook over medium-high just a few minutes, until it begins to look like buttermilk. My mom says people in the past sometimes included bourbon or other liquor at this step "to preserve it," so feel free to experiment!
Pour over the top of the cooled cake in quantity desired. About half was plenty for my cake.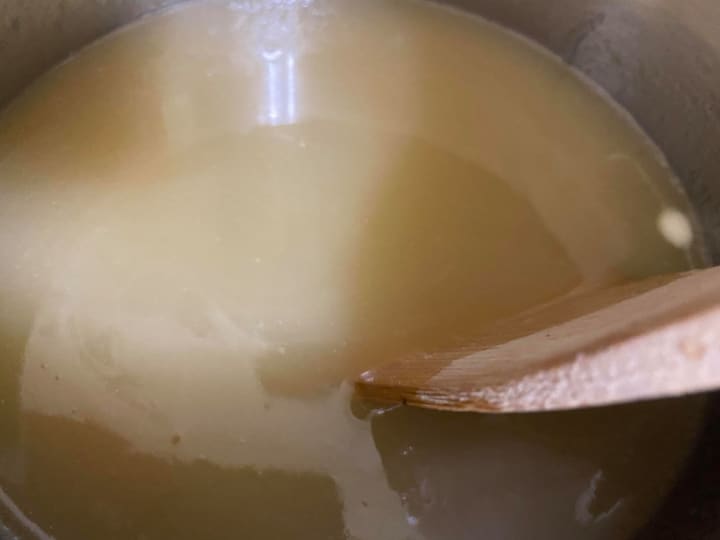 Final Notes
Making this jam cake the first time was a true labor of love, but knowing which vegan substitutes to use for the egg yolks, egg whites, and buttermilk will make this bake go easier and faster in the future. I also learned two new skills while making this cake: creating vegan buttermilk and making aquafaba out of the chickpea brine for my egg whites. Those are two skills that I can use in many other vegan recipes, so I am pleased knowing that I can make even more family favorites vegan in the future.
Being from a small town in the South, not everyone understands why I choose to limit animal and dairy products from my family's diet. Sometimes people even poke fun at the way we choose to eat. But when I think of this jam cake and my grandmother, great-aunts, great-grandmother, and great-great grandmother, there are a few things I know.
Number one, I know they were adaptable and creative. They created a recipe that used whatever was available on hand, and they would be proud to see their daughter many generations down the line using new ingredients in their cake. Number two, I know they lived sustainably and with a very healthy respect for the natural environment. The land around them sustained them, so they took only what they needed to eat, wear, and use. I believe that if my foremothers could try my cake today, they would commend me for my concern with the harms of factory farming and its impact on the environment, and eat a slice gladly. And finally, I know that they carefully considered and made the healthiest and best choices for their families, and they stood by those choices as they raised strong and healthy children, which is the same thing I'm doing today.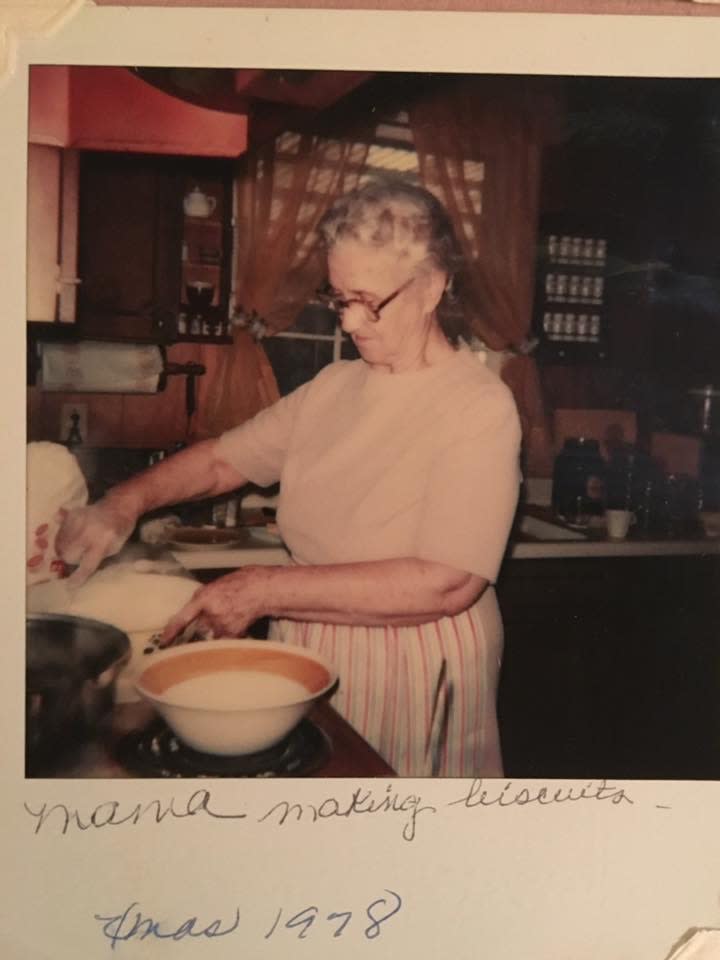 So I happily present my vegan jam cake, a new take on an old classic. It is delicious, packed full of fruit and nuts, and not a single animal was harmed in its making. I can't wait to bring this recipe to my family's table this holiday season, and I hope you can't either! Happy baking!
Appreciate my thoughts? Leave me a heart or a tip, or follow me on Twitter @arkansas_scrawl. I write about all sorts of things that interest me!
About the Creator
I'm a wife and mom, and this is my creative outlet. I am experimenting with lots of different writing styles and topics, so some of it is garbage, and I'm totally fine with that - writing is cheaper than therapy. Thanks for stopping by!
Reader insights
Be the first to share your insights about this piece.
Add your insights