Easiest Cheesecake Ever Made
Quick and Easy Even if You Can't Bake!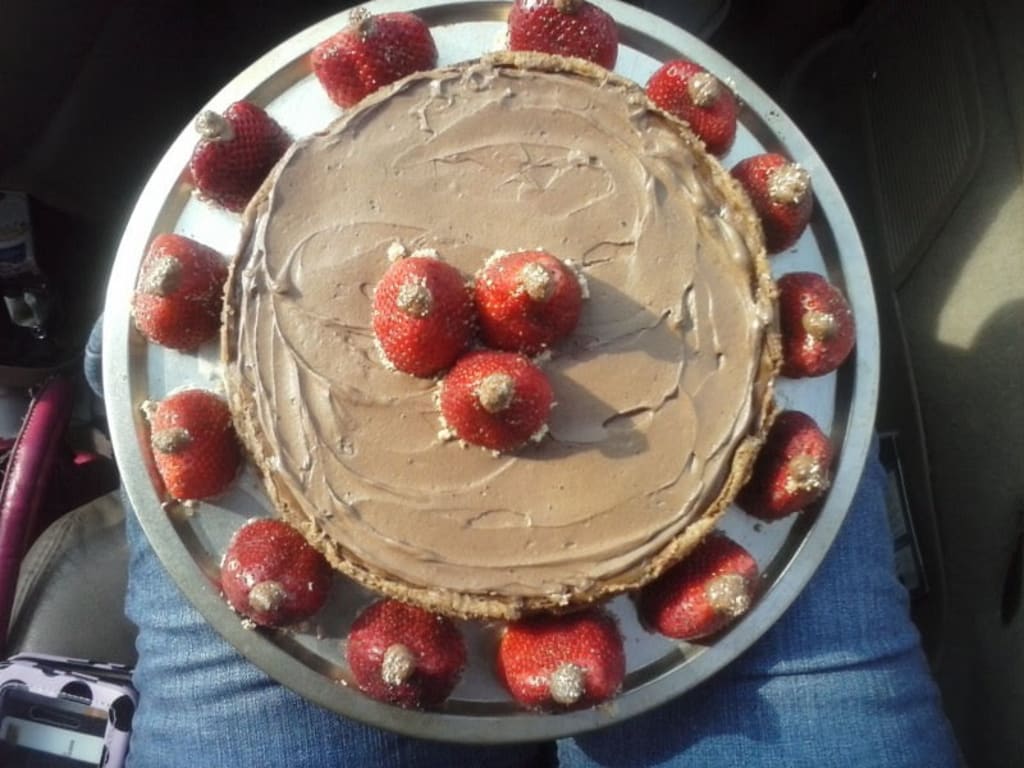 Cheesecake is second only to my husband in things that I adore (and the kids... of course)! There are about a million different things that I can do with a cheesecake, but I didn't always love making it as much as I do now. I believe that food is one of the few things that has the ability to connect people of all different walks of life. The porn star and the preacher both love a good piece of cheesecake!
Most people that I have come across think that cheesecake is something divine and complicated to make, but really it doesn't have to be. I have came up with a no fail cheesecake that can be altered to make at least 100 different flavors! You may be thinking that there is no way you with your maybe limited cooking skills will be able to pull off one cheesecake much less 100, but I am here to tell you that you are wrong. I mean that in the nicest way possible!
I am an okay cook. I can make enough decent food to not starve, I am thankful everyday that I had the good sense to marry a chef! I do love something about making a dessert that just makes your soul feel better, but I never thought I'd be able to pull this thing off though! It took years of trial and error to finally develop a simple, easy, fast and delicious cheesecake that will be the hit of any dinner !
You'll need three 8-ounce packages of cream cheese; 1/2 teaspoon vanilla; two large eggs; 3/4 cup white sugar for the cheesecake filling and also about 12 or 13 graham crackers and three tablespoons of melted butter (you can also add a little sugar—one or two tablespoons will sweeten the crust just a little). I have found that it is best to plan ahead a little bit when it comes to the cream cheese. You want to let it sit out on the counter for a couple hours so it can get closer to room temp. It really mixes smoother that way. You can do it right out of the fridge but be prepared for a lumpy cheesecake.
First thing to do when you've decided that your cream cheese is warm enough is make the crust. You can microwave it in a pinch, but I prefer to do it the old fashioned way. The crust is easy to throw together in just a few minutes. Take the graham crackers and crush them. You can use pretty much anything. A rolling pin is probably my favorite thing to use for this but I have used everything from a glass to a can of green beans. Just make sure you use something heavy enough to mash them up good. Mix the graham crackers with the melted butter. Press that mixture into the bottom of a springform pan (you can use other pans but a nine-inch round springform is by far the best). If you want you can press the crust up the sides of the pan, but this really is a personal preference.
After you get the crust ready preheat the oven to 325. Take the cream cheese and put it into a bowl. Add in the sugar, eggs, and vanilla. Use an electric mixer (or a stand mixer if you have one handy) and mix on medium for a few solid minutes until everything is creamy and smooth. If you want a chocolate cheesecake just add in about a 1/4 cup of cocoa powder to the mix. It will be fine! Now, you just pour that on top of the prepared crust and smooth it out with either a rubber spatula or a spoon—even a butter knife will do the trick. Once it is all smooth, put it in the hot oven for about 45 minutes. Since every oven cooks a little different, check it at the 30 minute mark. If the middle jiggles a little, it's done.
Don't worry if you overcook your first few cheesecakes. It is really easy to do. In fact, I think that the baking time is the hardest thing to get down. If it is overcooked, you can add some whipped cream to the top or melt down some chocolate chips that pour easily into the little cracks making it look intentional. Even if you don't put anything on the top, it is delicious cracked or not.
If your feeling extra fancy you can take the batter that always sticks to the side of the bowl and fill up some strawberries! Hulling a strawberry is far easier than it sounds. Just take a small knife and place in the top make a small circle in the top and pull out the center. Then you can put some of the filling (for those concerned about the raw egg of it all just do some before you add the egg in) inside the little opening. This makes for a nice decorative touch and people think you worked all day long! I'll be adding some fun variations to this most basic recipe over time so keep looking! Happy baking!