Drop Biscuits
Homemade Drop Biscuits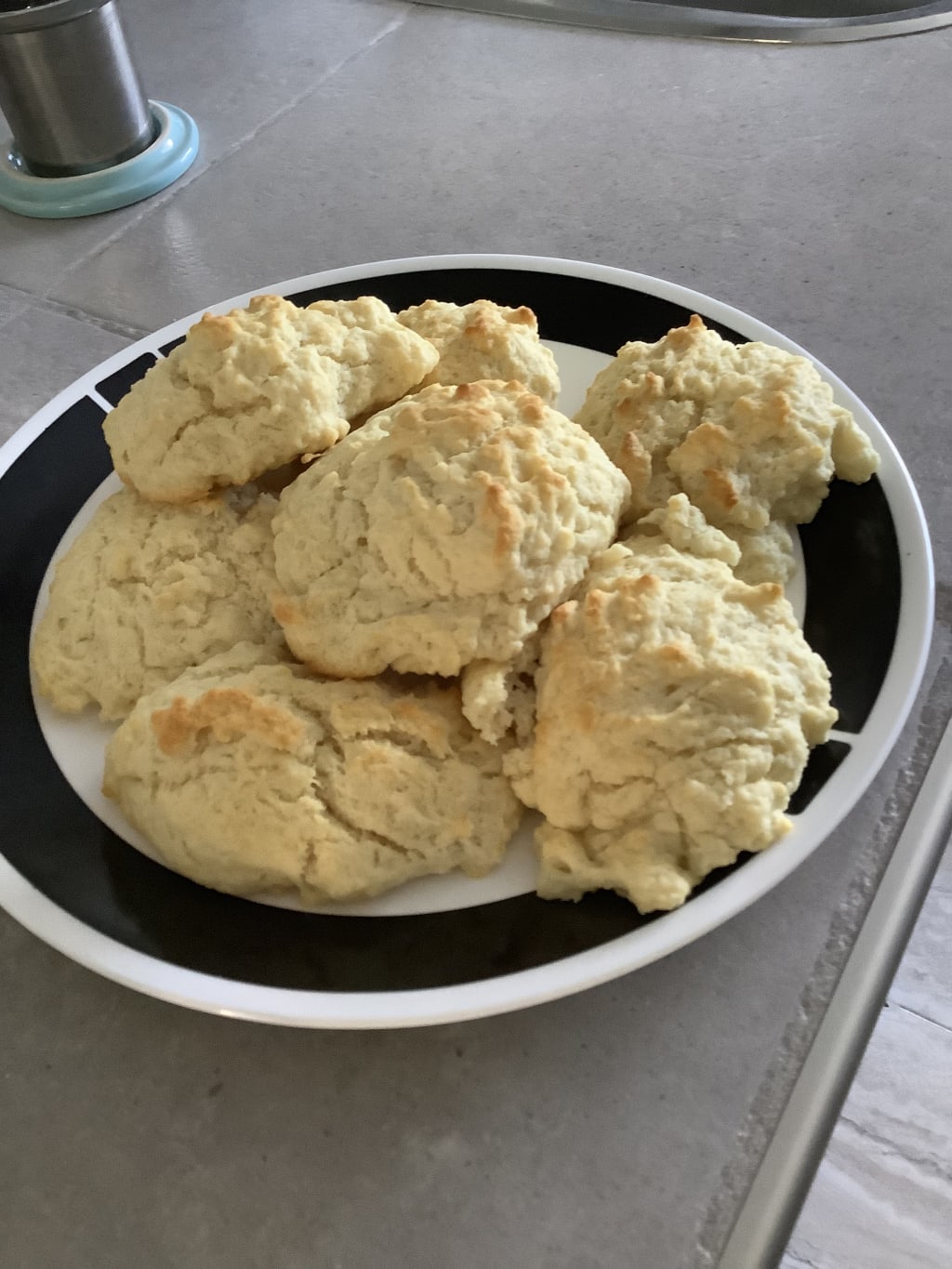 There's something about a homemade drop biscuit, fresh from the oven that just makes my day complete. Biscuits are delicious and extremely easy to make. The ingredients are staples that I always seem to have lying around in my pantry, which makes this recipe all the more perfect. Whenever I'm not sure what to make for supper, you can bet that these delicious biscuits come to mind. Maybe paired with some delicious soup. You can't go wrong with having these biscuits as part of your meal.
I once read an article that said that only the South makes good homemade drop biscuits. Well now I don't believe this to be true at all. In fact, my boyfriend says that my homemade drop biscuits are the best he's ever tasted and being from Canada it's safe to say I don't fit into the Southern equation. In fact, it's so often joked that these biscuits are so good that they are a reason that my boyfriend is dating me. Perhaps this article was written by someone from the South that was bragging about their biscuits, but either way they are not the only place that makes good biscuits. Everyone has their own preferences.
I like to use water for the key liquid component in my biscuit recipe but that can easily be substituted for the same amount of milk if preferred. I find that dough easier to manage with the water rather than the milk. Different types of milk can be used as well such as almond milk or skim milk.
Another secret I like to implement for this recipe is that I will often give the final mix with my hands to make sure that everything is mixed properly. This may have stemmed from when I make bread, but I find it a good way to assess if the dough is done. If you are going to mix it with your hands please don't forget to wash your hands first.
The reason for preheating the oven before starting mixing the recipe is so the dough isn't sitting around waiting. This dough preforms best if used right away. In fact I preheat my oven for most recipes for the same reason.
This recipe is a breeze to make and I find it doesn't take that many dishes, which everyone knows I am a fan of not having to wash dishes. The deliciousness of these biscuits make up for the fact that there are any dishes to do. I actually find that I can wash all of the dishes from this recipe well before they are done baking.
Remember, when these biscuits come out of the oven they are extremely hot. Please let them cool a bit before consuming them otherwise you may burn yourself.
Everything aside, these biscuits are a breeze to make and taste delicious. If you don't believe me try them yourself.
Ingredients
2 cups of flour
1 tablespoon of baking powder
1 tablespoon of sugar
1/8 teaspoon salt
½ cup melted butter
1 cup water
Instructions
1. Preheat oven to 450 degrees.
2. Line a baking sheet with foil or parchment paper, if you do not have these greasing the baking sheet will also work.
3. Pour flour into mixing bowl
4. Stir baking powder into mixing bowl
5. Stir sugar into mixing bowl
6. Stir salt into mixing bowl
7. Stir water into mixing bowl
8. Stir melted butter into mixing bowl
9. Drop by spoonful on to the baking sheet
10. Bake for 10 minutes or until they turn golden brown
11. Remove from oven and let cool as they will be very hot
12. Enjoy!