Don't Joke With Artichokes!
The Vegetable That Keeps On Giving...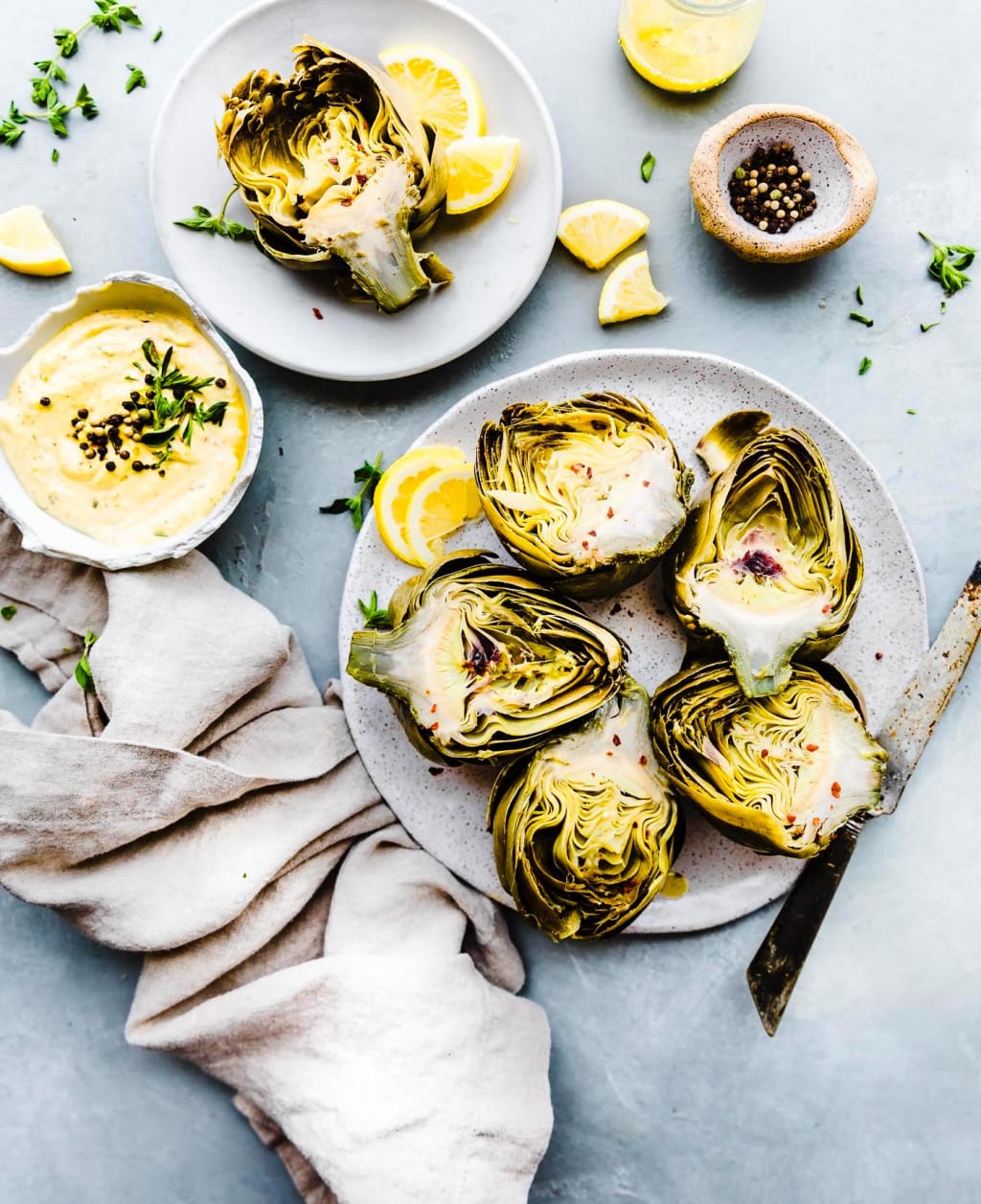 Photo credit: Cotter Crunch
My eyes and curious taste buds were introduced to artichokes during an episode of MTV's Real World San Diego. Camilla and Frankie were in the hot tub and the cameras caught a scene when Camilla was demonstrating how to properly eat an artichoke.
In 2016, my taste buds were reunited with artichokes when I tried artichoke dip. An alternative to my preferred spinach dip, but equally delicious and intriguing to explore.
I was surprised to learn artichokes originated in parts of southern Europe and northern Africa!
Today, artichokes are mostly grown in the California sun during the warmer seasons, March to May.
Artichokes, also known as Cynara cardunculus var Scolymus, is a thistle plant.
Artichokes are related to thistles, daisies, dandelions, and sunflowers.
There are close to 150 different varieties of artichokes! About forty variations of artichokes are grown to be sold as food. Artichokes grow to be different hues ranging from dark green to purple.
Globe artichokes and French [green] artichokes are most often eaten.
The low-calorie food can grow upwards to six feet in diameter and four feet in height.
Here are a few reasons why I feel artichokes are serious about helping you live a tasty full life!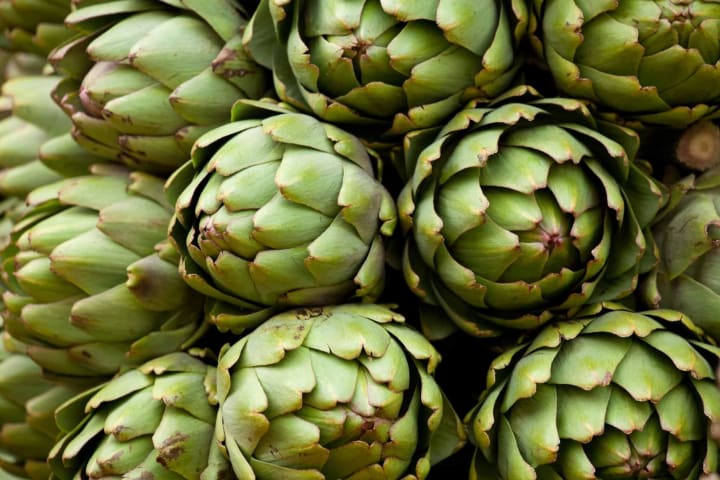 Artichokes are full of antioxidants!
I've always known vegetables help enrich our health with antioxidants, phytonutrients, vitamins, and minerals needed to ward off cell damage and free radicals.
Cynarin, a natural antioxidant compound found in artichokes, helps produce frequent bile production and increase gut health, and aid digestion.
Artichokes contain fiber, known as inulin, which is to be considered a prebiotic.
A research study showed inulin found in artichokes was responsible for lipidic and glycemic reduction which helps reduce the risk of heart disease.
According to Healthline, artichoke extract can protect against liver damage. The extract found in artichokes can aid in new tissue growth, help promote bile movements and relieve harmful toxins in the liver. Artichoke extract can lessen bloating, indigestion, heartburn, and nausea.
Silymarin, an antioxidant found in artichokes, helps cynarin reduce liver inflammation and aid fat deposition.
One 12-adult study showed healthier gut activity upon consuming artichoke extract for 12 weeks.
A study of participants suffering from irritable bowel syndrome, or IBS, who consumed artichoke extract for six weeks seen improvements. Nearly every participant said artichoke extract is just as effective as laxatives.
Artichokes contain anticancer properties!
Yep, I didn't believe it myself, but as the old saying goes, "The truth comes to light."
Duo-acting antioxidants, such as rutin, quercetin, silymarin, and gallic acid as act as anticancer effects.
Silymarin acts as a liver protectant. This antioxidant helps treat and reduce skin cancer as well as help fat deposition.
Artichoke leaf extract contains choline, Omegas 3 and 6 as well as betaine, duo-acting vitamins, and minerals filled with anti-carcinogenic, antiviral, and antibacterial properties.
Artichokes aids in a healthy cardiovascular system.
Consuming artichokes can increase good cholesterol, improve heart and liver health in adults. Artichoke extract can improve cholesterol levels.
According to Dr. Axe, artichokes are one of the best natural remedies for lowering cholesterol.
The tasty thistle contains antispasmodic properties that help ease muscle spasms and reduce inflammation.
Artichoke extract aids healthy cholesterol processing as well as lower cholesterol levels.
The low-fat vegetable contains various duo-acting antioxidants, like luteolin, which prevents cholesterol buildup.
Artichokes are a good source of potassium which aids in lowering blood pressure.
According to Healthline, a study of 700 participants consumed artichoke extract for six weeks. Participants were able to reduce bad "LDL" cholesterol by 18.5%.
In another study with nearly 100 participants who consumed artichoke extract for twelve weeks seen a reduction in diastolic and systolic blood pressure.
There are numerous ways to introduce artichokes to the dinner table.
I'm a Southern girl at heart, so I love frying my vegetables with extra virgin olive oil, a hint of granulated sugar, and Stella Bistro Foods Everything Green Sultry Spice and Universalt Sultry Spice. The balance of sweetness to saltiness allows me to appreciate artichoke's earthly flavor.
The leaves and hearts of the artichoke are safe to eat. You can enjoy an artichoke by eating the flesh simply by pulling the leaves through your teeth.
Try steaming, boiling, grilling, or saute artichokes with herbs like minced garlic or serve with a side of hummus.
How do you enjoy artichokes?