Delicious Stuffed Bread Recipes
Beat the blahs and spice up your next event with some delicious stuffed bread recipes.
I suppose, like every male, the dishes I have prepared in my kitchen workshop are more often really planned for sly attacks on the stronghold of her virtue than her digestive system. I recall last year, when visiting France, an acquaintance told me that the only aphrodisiac recipe more effective than Damiana from Mexico is a dish prepared with breasts of young chicken served with champagne sauce, and a lively bottle of Moet & Chandon from a fine year. The bottle of champagne always seemed to guarantee that the object of his affections would be cosily desired because champagne was included in all of his culinary blandishments, inside or outside of the maison.
While much has been written and planned about dining and seduction in some guy's or woman's apartment and restaurants, few of us have see fit to comment about the approach it intimate eating in a really public place.
I do not mean drive-ins, or roadside restaurants, because they are in a category by themselves, and the kind of food they serve to the tense, tired, and troubled traveler is gastronomical boring and abusive. And it really isn't too different at the many athletic parks stadiums and arenas that dot every city in America, giving us all a chance of being menaced by that dreadful burning sensation called the "blahs." Is it any wonder that many would almost categorically refuse to go to a game where between the halves a headlong race for the hotdog line is the feeding prospect, leading to confusion, undignified participation, watered-down mustard, and a fast direction to you seat?
I for one am about to espouse immortality for those who take my road to recognition. Whether you bring these recipes with you to the big game or choose to utilize them in the comfort of your own home as a host, you undoubtedly will beat the game-day "blahs."
I choose for my inspiration John Montagu, the fourth Earl of Sandwich. This English naval figure achieved immortality with dubious contribution to gastronomy, because he was so absorbed by the action on the gaming tables that he would never stop for a proper meal. Thus, while naval affairs were sadly neglected, the poker-playing earl tucked his sliced meat into bread, which had been baked in a deep pan to come out with a crusty top. England thus gave birth to the "Sandwich loaf" and Kings George II and George III were blessed with a First Lord of the Admiralty who was more content to be a naval loafer than loaf around a navel. I for one continue to delight in the latter.
Stuffed Breads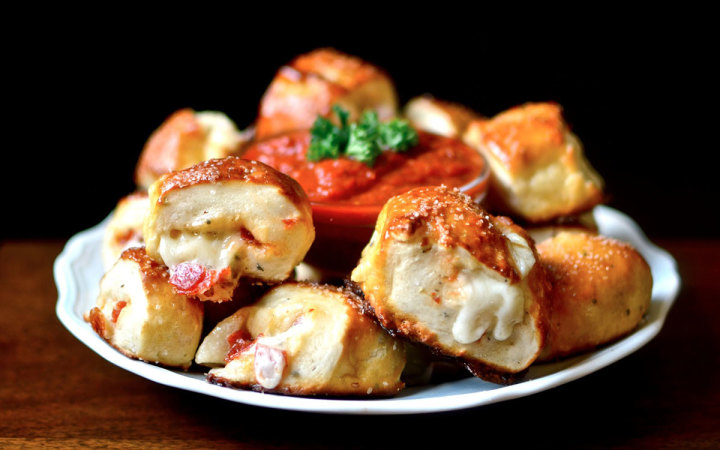 You may find yourself and γοur favorite lady at a night baseball game in San Francisco, when the fog moves in across the bay, at a hockey game in Boston or at the Army-Navy game. Whatever the circumstances, food is in order. Before I concoct for you in a moment or two some sandwiches and fillings that may jolt, surprise, and shock you and your partner into excitement and subsequent delight, be assured that my menu will serve two masters: those of you who will attend any chilly afternoon presentations, and those of you who might enjoy the evening crowds with bright lights. When nibbling between the halves at night games most of us will have already eaten earlier, so the sandwiches should be filling, but since you be going to bed sometime soon the sandwiches should be light.
Anyway, all the old patterns of bread fillings and sausage are going to be redistributed to break up the ignominy of the "wide end run" to the hotdog stand—the slow poison in every mouthful, the antagonism and annual resentment that is sneaked into a soggy bun or pasty slice of bread. One or two of my recommendations will warm any spectator, but certainly stimulate and refresh those athletes among us who never have had any problems in getting of a pass.
I find a great part of the enjoyment that comes out of a sandwich has to do with the type of bread. It's fun to try molasses bread, Irish soda bread, French bread, rye, Swedish beer bread, corn bread, and you can go on ad infinitum. But for ease and efficiency the ready prepared (canned biscuits, refrigerated) or hot-roll mixes will work pretty well in preparing our filled breads.
Using Packaged Roll Mix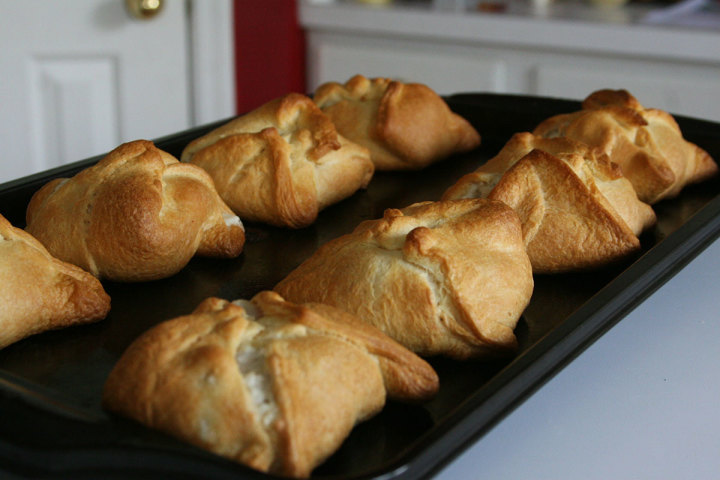 Everyone at some time or another has had an experience with savory pasties. The Russians call it Piroshki, in Poland it's Pierogi, in Morocco Sfeeha, or Puerto Rico and other Spanish-speaking countries they eat Empanadas. All of these fried breads can be made with a hot roll mix and with several filings you will be rescued from the usual pedestrian affairs. You can serve these fried sandwiches and stuffed breads with a salad or antipasta, and wine or beer is a perfect accompaniment.
Packaged roll mix is handy and when preparing a packaged hot roll mix, I like to add two eggs instead of one. The dough rises to about double its size and should be gently kneaded on a floured board. Break pieces of dough about the size of a small egg and flatten into 4" rounds, and spoon some filling onto each round. Make a sack out of the dough by pinching the edges together and sealing. Flip the buns so the seamed side is down on a sheet of foil. Now brown in an oven at about 450 degrees for 15 minutes. If you prefer this pizza style, you may leave the dough as 4" rounds and top with the filling.
Moroccan Sfeeha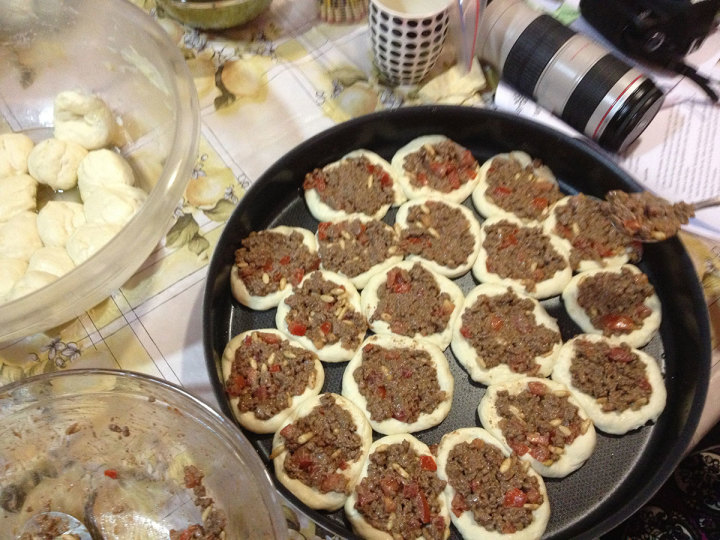 2 lb lean ground lamb
2 large onions diced
¼ cup pistachio nuts
Brown this mixture quickly in a little peanut oil. After you remove the mixture from the fire, stir in 2 tbsps of fresh lemon juice, ½ tsp salt, and ¼ tsp each of white pepper coves and nutmeg.
This North African meat pastry is good either hot or cold, and reheats beautifully if you place it in a moistened bag or cover with foil, and heat slowly in an oven at 375 degrees.
Pair of Pizzas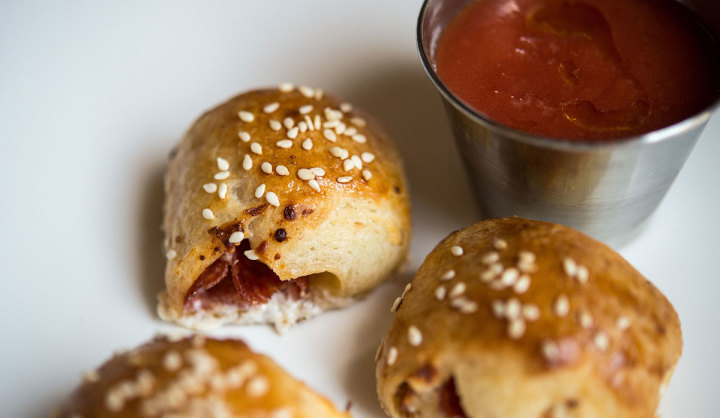 Another specialty is a pizza roll done with a ready-made hot roll mix. This time, brush the rounds with olive oil while they are resting on foil or an oiled cookie sheet. Top each of the rounds with a thin slice of tomato, a couple of onion rings, some grated parmesan and mozzarella. Top with a diced olive and sprinkle with grated Romano and olive oil. Let the mixture and round rise for about 15 to 18 minutes and bake at 425 degrees or until browned.
The last specialty is an onion pizza. Slice very thinly some onions (three medium size) and sauté in olive oil until soft or translucent (not brown). Cool the onion mixture and spread over dough. Sometimes I will cover the onions with a light sprinkling of Parmesan. Place the mixture on your 4" rounds and cover with another round. Be sure to pinch the edge to seal in mixture. Bake in oven for about 35 minutes at 400 degrees.
Beefsteak au Poivre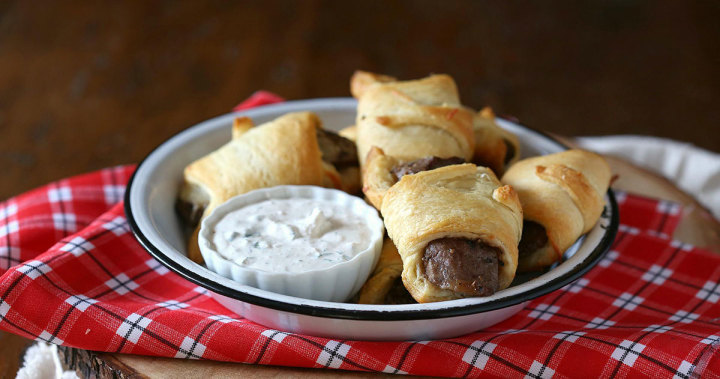 For one small Delmonico steak, trim off most of the fat. Brush one side with melted butter. Put to set in the refrigerator. While setting crush with pestle and mortar 1 tbs of black peppercorns and 1 tbs of white peppercorns (crush very coarsely, put cloth over bowl).
Press the crushed pepper on the buttered side of the steak. Completely cover the steak with the pepper. Turn the steak over. Butter the other side. Use a very heavy salute pain. Sauté the buttered side of the steak first, then sauté the peppered side of the steak. After steak has been sautéed, you may flame the steak quickly with a good Cognac. Serve on toasted slices of round French bread, with your own choice of condiments. Note: Hamburgers can be prepared the same way for a change of pace.
As an alternative to beer, I might suggest you pack a thermos bottle of vegetable soup (Minestrone) or take along a bottle of a good Italian chanti-nozzole is about the best. You'll find this chianti classico has been aged and will afford you a softness and mellowness that makes this an uncommon chianti.