Delicious Pork Dishes
Dishes prepared with pork from around the world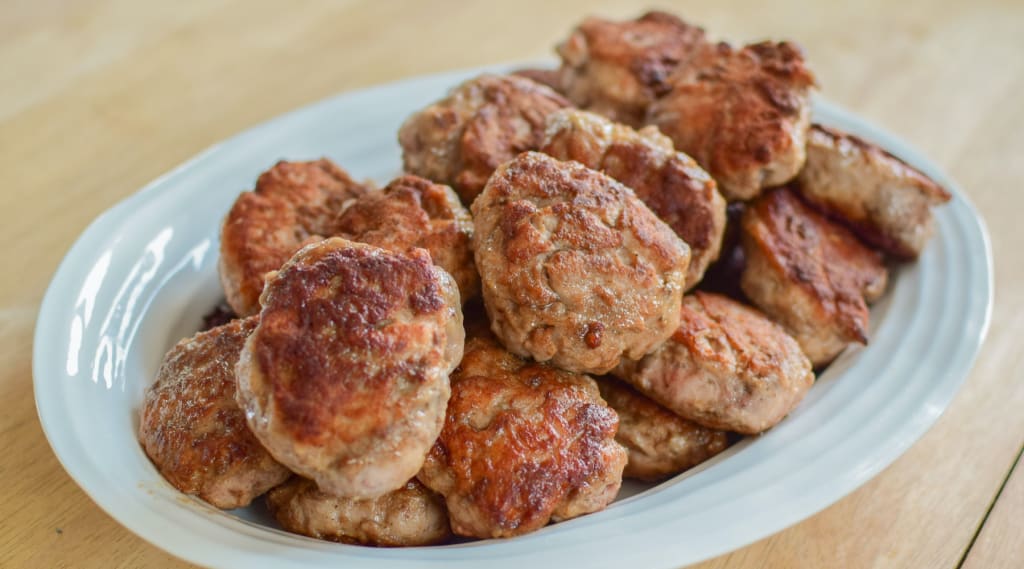 Medisterkaker
Europe
Norway
Medisterkaker is a traditional dish made of pork meatballs. The meatballs are made with ground pork, flour, eggs, salt, nutmeg, ginger, milk, black pepper, and oil The meat is combined with salt and eggs and mixed until sticky then the flour and spices are added. The milk is added a little at a time and the entire mixture shouldn't be too firm, Then shaped into balls and browned on both sides.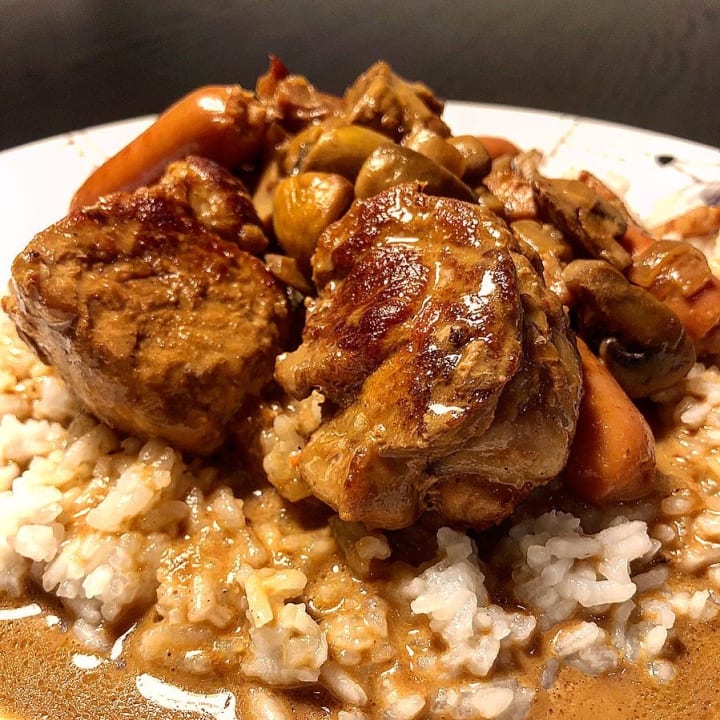 Denmark
Pork tenderloins combined with plenty of onions and doused in a creamy sauce. This dish is usually baked as a casserole also with mushrooms or crispy bacon bits. When served it is accompanied by potatoes or rice and pickles.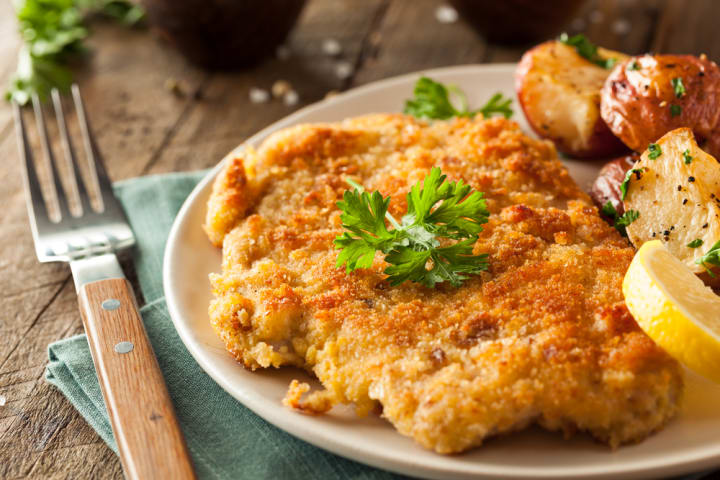 Latvia
Karbonade is prepared with a thinly pounded pork cutlet that has been coated in flour, beaten eggs and sometimes breadcrumbs then fried until ready and browned. Karbonade has mushroom sauce spooned over it and served with boiled potatoes with dill, cabbage salad, pickled vegetables and slices of rye bread.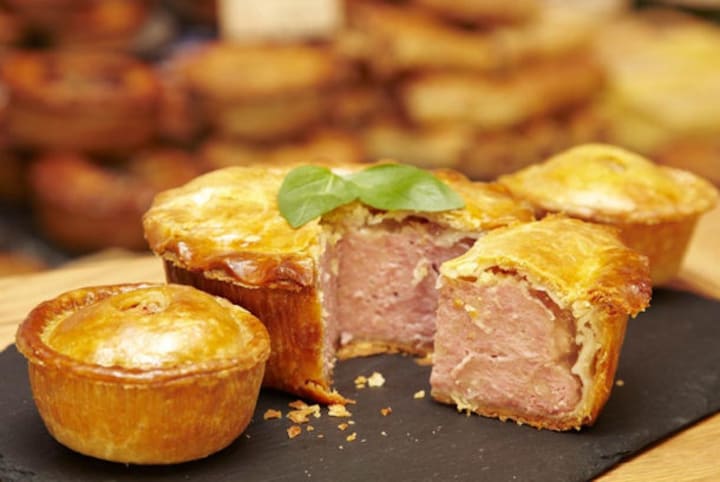 England
Melton Mowbray pork pie is filled with fresh pork meat that is chopped and seasoned with salt and pepper. The pastry covering it is always golden brown.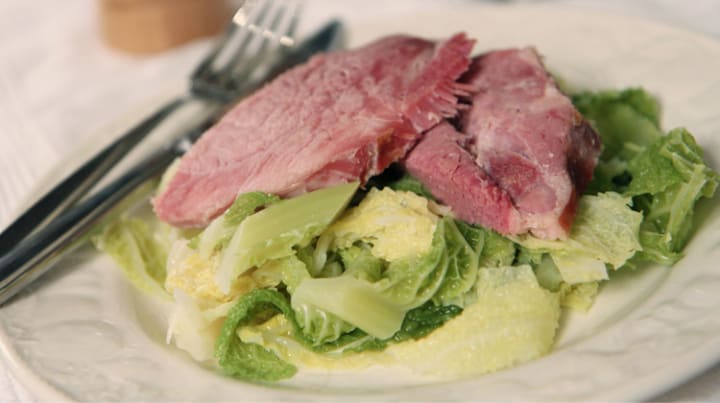 Ireland
Bacon and cabbage is a dish usually prepared on St. Patrick's Day. The bacon in the dish refers to a cured pork joint from the shoulder, with cabbage and at times potatoes, onions, carrots, or turnips. It is accompanied by a white sauce made with butter, flour, milk, and fresh herbs like parsley.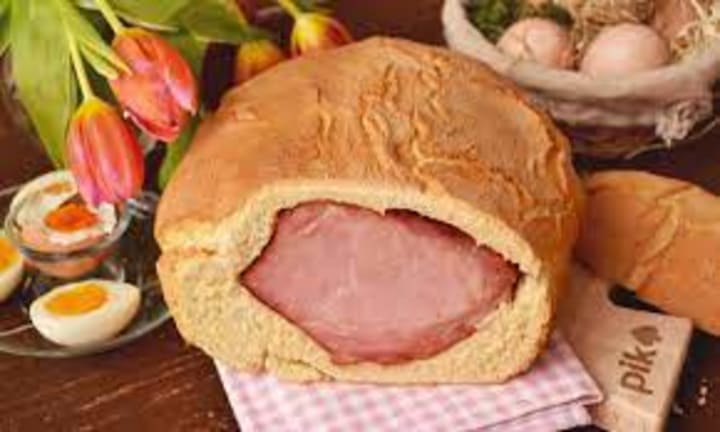 Croatia
Šunka u kruhu is a dish made with whole smoked and cooked ham encased in dough consisting of flour, yeast, lukewarm water, lard, and salt, The ham is traditionally flavored with bay leaves, garlic, and ground pepper. It is baked in the oven and should be left to cool before servings, Usually, it is prepared for Easter.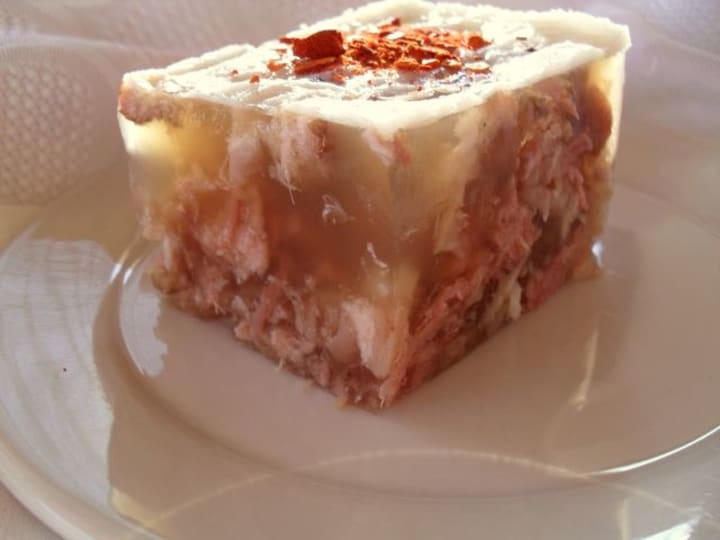 Serbia
Pihtije is a dish prepared with cheaper parts of pork such as the head, shank, or hock. The meat is cooked along with pepper, onion, carrots, and bay leaves until tender and falling from the bone. The stock is poured over the meat in bowls and left to congeal. It is served as an appetizer accompanied by pickled vegetables.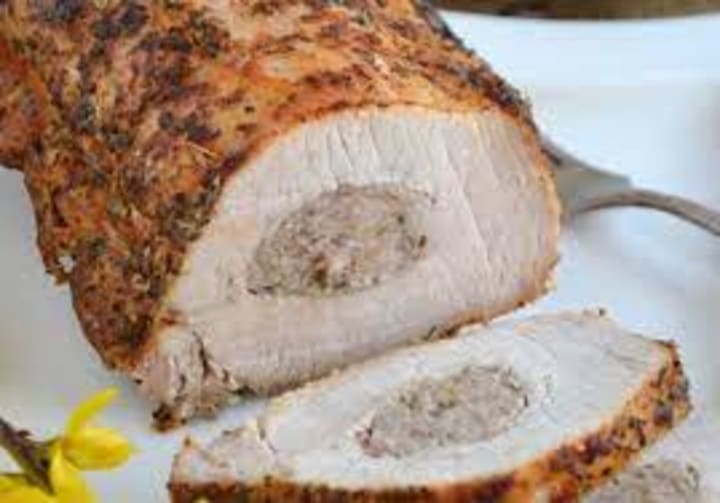 Poland
Schab faszerowany is made with lean, uncured pork loin that is stuffed with ground pork or sausage and either prunes or dried apricots. The loin is rolled up and rubbed with a blend of herbs and roasted until golden brown, It is often accompanied by salads and boiled potatoes with dill.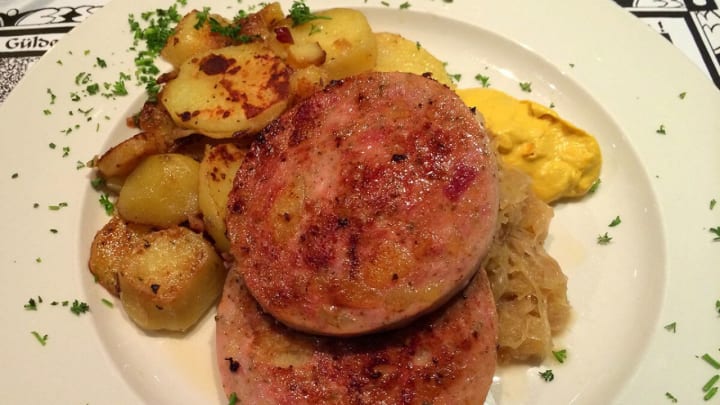 Germany
Saumagen is a dish that translates as sow's stomach. The dish is prepared with potatoes, carrots, onions, and pork that have been seasoned and stuffed in a pig's stomach. Spices used for flavoring include marjoram, nutmeg, and white pepper. It is served with mashed potatoes and sauerkraut.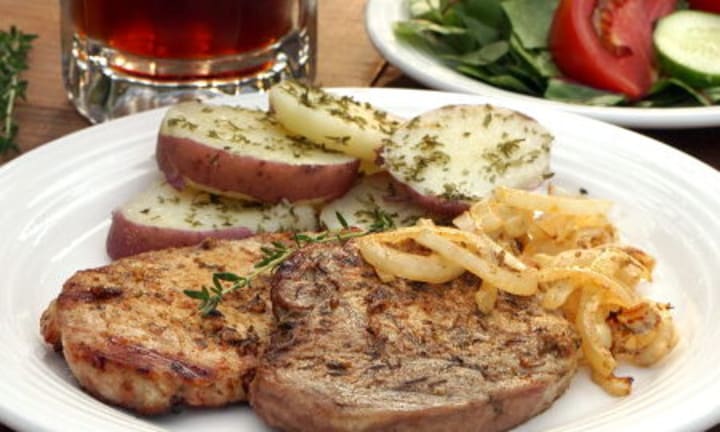 Schwenkbraten is made with marinated pork steaks that are grilled. The pork steaks are first marinated overnight or for three days in a mix consisting of dried thyme, dried oregano, onions, salt, black pepper, garlic, juniper berries, oil, and (optionally) German Riesling wine.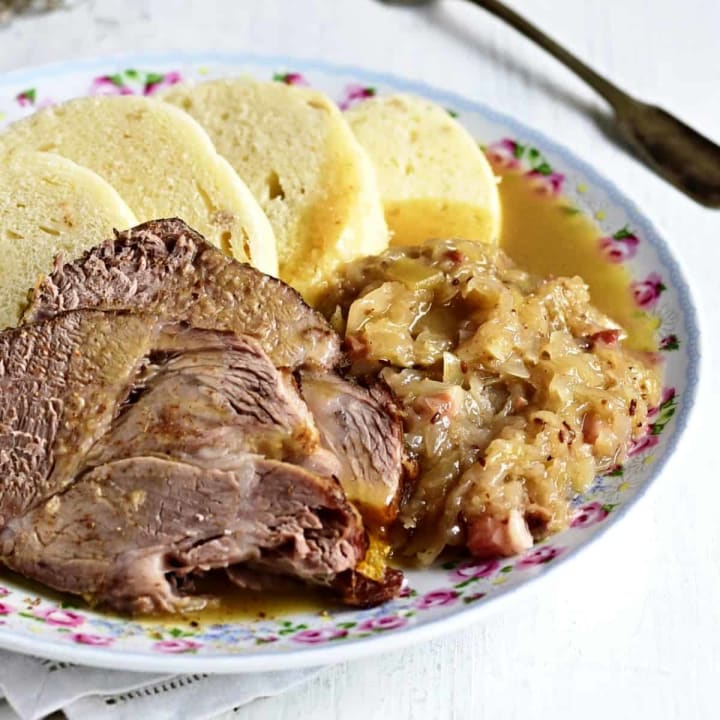 Czech Republic
Vepřo knedlo zelo is a national dish that is a pork roast with bread dumplings and sauerkraut, The pork is roasted in the oven with chopped onions and the pan drippings are made into a sauce, The sauerkraut is stewed or served plain.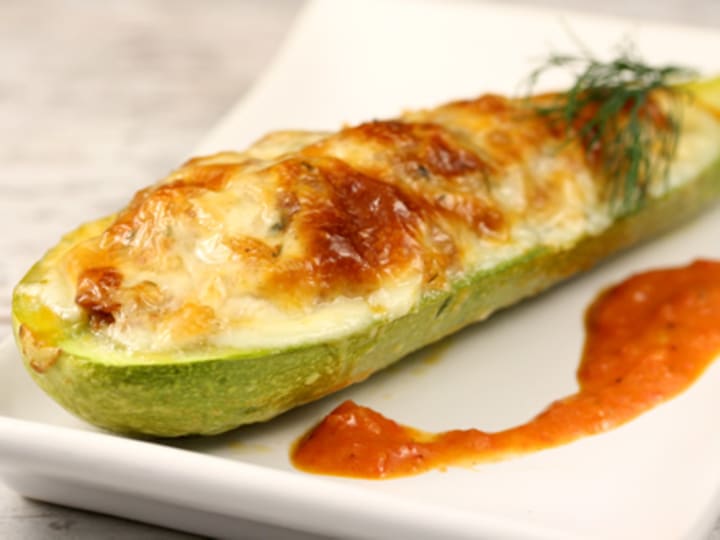 Romania
Dovlecei umpluţi is a dish consisting of green zucchinis filled with pork, rice, tomatoes, and onions. Other stuffings such as cabbage, rice, or mushrooms can also be used. The stuffed zucchinis are usually boiled in tomato juice and seasoned with bay leaves, salt, and pepper, but they can also be baked in the oven. The dish is accompanied by sour cream or yogurt.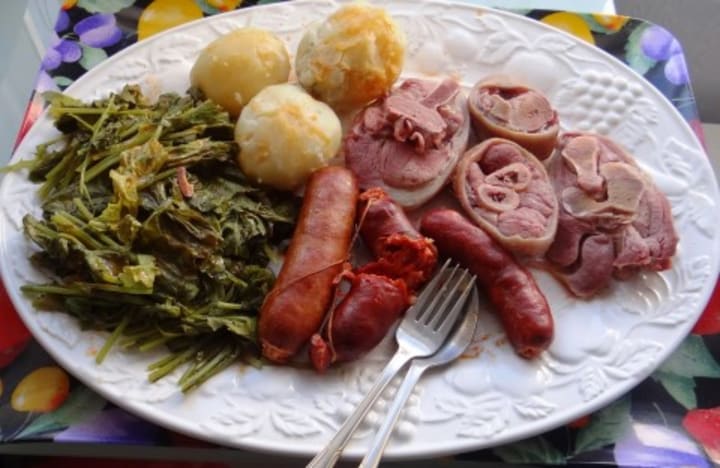 Spain
Lacón con grelos is one of the most famous Galician meat dishes, made with turnip greens and ham hock. The ham hock is boiled with the turnip greens and served with potatoes and sausages.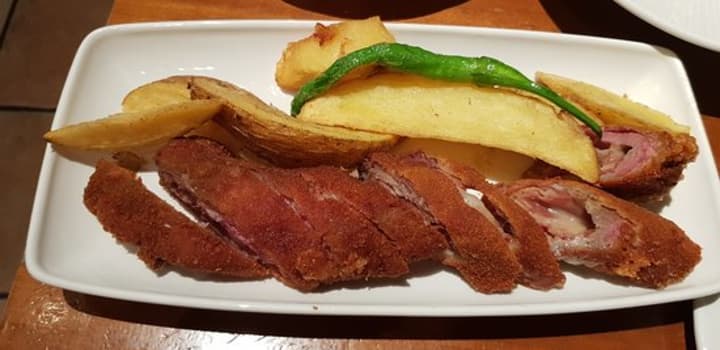 Flamenquin is a dish that is prepared with jamon serrano slices wrapped in pork loin cutlets then dipped in eggs, coated in breadcrumbs and deep-fried. It is usually served with French fries and mayonnaise.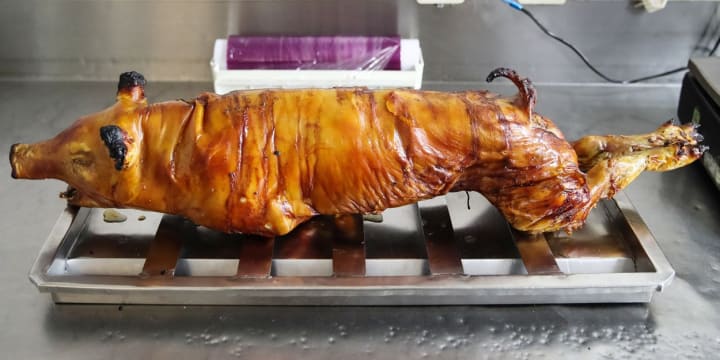 Portugal
Leitão a Bairrada is a dish made with roasted suckling pig that's basted until the flesh becomes creamy and the skin develops its typical crunchiness. It is traditionally served with batatas fritas, orange slices, and fresh salad.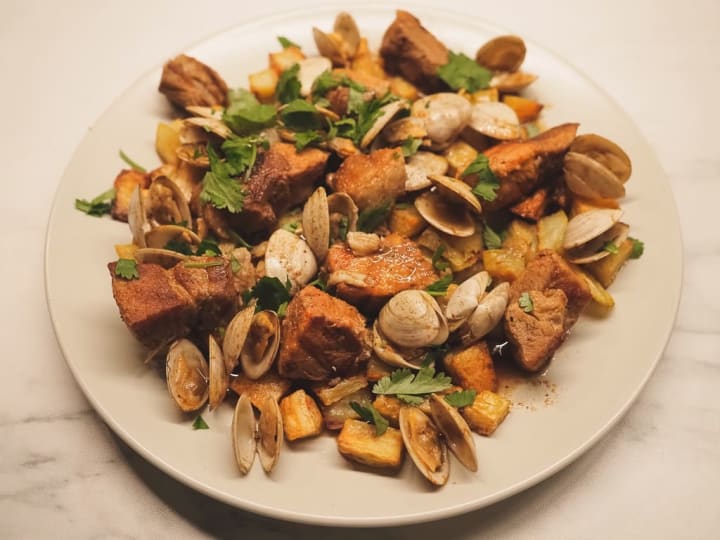 Carne de porco à Alentejana is a dish made with marinated pork pieces with clams in a lightly, spicy, wine-infused sauce. It is garnished with fresh cilantro and served with lemon wedges, pan-fried potatoes, and country-style bread.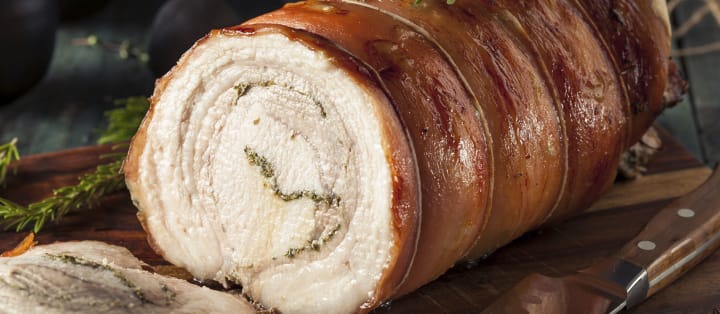 Italy
Porchetta di Ariccia is a savory, moist, boneless pork roast which is stuffed with seasonings like fennel, rosemary, and garlic. Usually, the roast is cooked on a spit over a wood fire.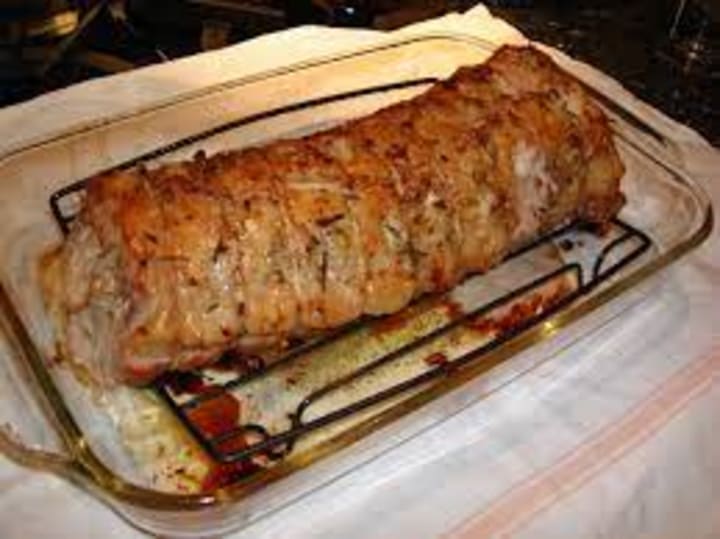 Arista is prepared with lean pork loin, finely chopped rosemary, extra-virgin olive oil, garlic, salt and pepper that is rubbed into the meat and then tied tightly with twine. It is placed into a baking pan and turned often. Once roasted it is sliced and can be served hot or cold with gravy.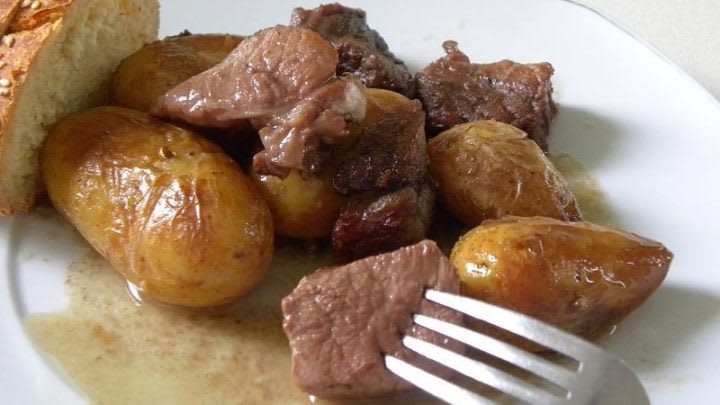 Cyprus
Afelia is a dish that is traditionally prepared in an earthenware vessel called tava and placed in a clay oven, The dish is made with cubed pork shoulder or short rib, dry red wine, and crushed coriander seeds.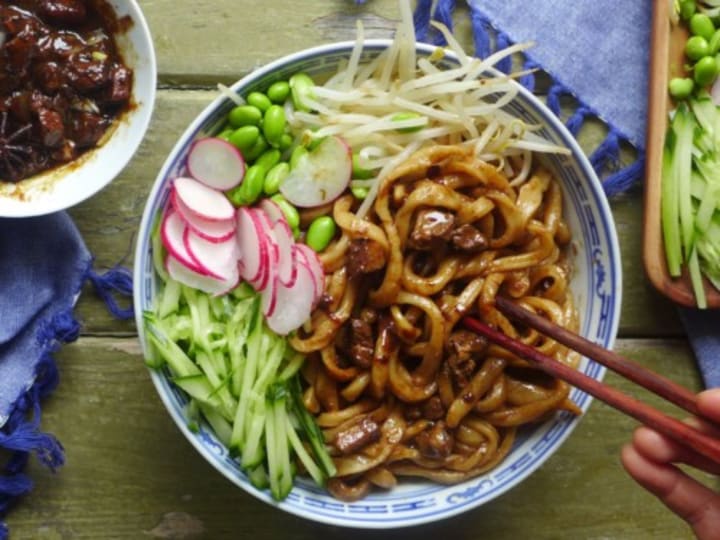 Asia
China
Jing jiang sou is prepared with sliced pork meat cooked in a sauce based on sweet beans. The pork is rolled in soya bean wraps or pancakes can be used, It is garnished with chopped green onions or shredded leeks, It can be served with sha cha sauce or hoisin instead of the sweet bean sauce.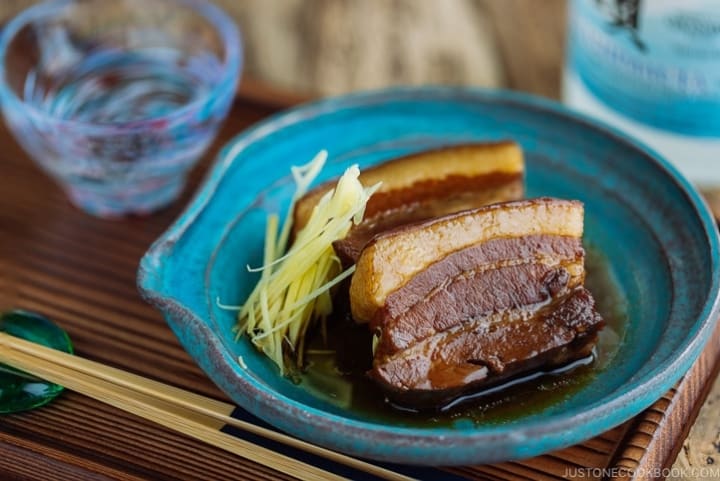 Japan
Rafute is a dish made with braised pork belly that has been slow-cooked in black sugar, soy sauce, and awamon, a Okinawan distllled liquor. It is served with steamed white rice or noodles.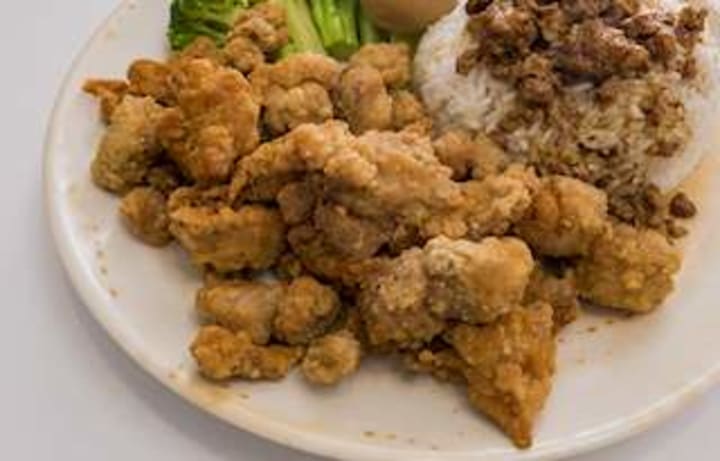 Taiwan
Koe-á bah is a dish made with ground pork and pickled cucumbers. The dish is prepared with a mix of ground pork, pickled cucumbers, and garlic steamed with browned shallots, Seasoning includes rice wine, soy sauce, paste, ginger, white pepper, star anise and sugar. The dish is accompanied by stir-fried vegetables and steamed rice, rice porridge, or noodles. The pork and pickles are usually topped with chopped green onions and a drizzle of sesame oil.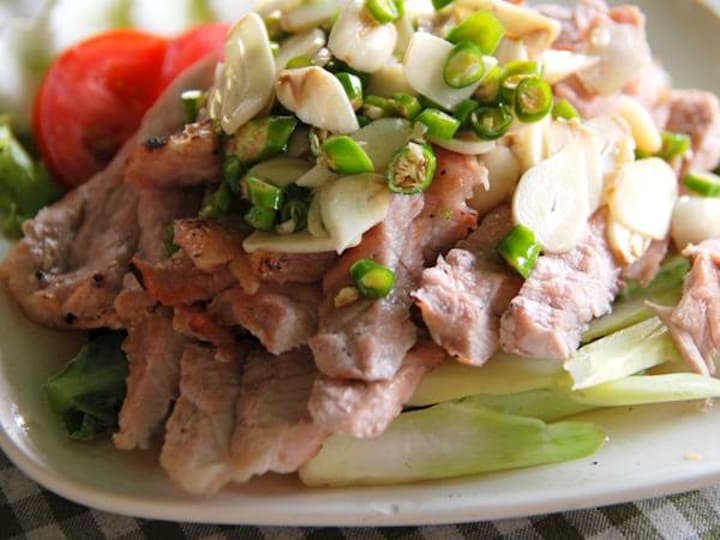 Thailand
Mu manao or moo manao is a dish that is made with pork, soaked in a spicy dressing based on lime juice and garlic garnished with fresh mint leaves, and lime slices, It is served with crispy, iced Chinese broccoli stems.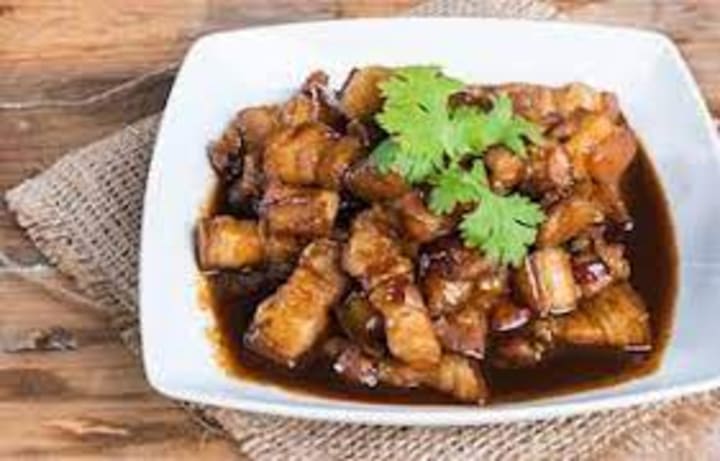 Mu Daet Dio is a dish prepared with sliced pork meat that has been soaked overnight or a few hours in a marinade of salt and fish sauce. Then dried in the sun. For added flavor to the marinade ingredients added are chopped garlic, pepper, coriander seeds, light soy sauce, oyster sauce, and sugar. The pork slices are deep-fried and served with sticky rice, tomato slices, green lettuce leaves and hot chilli sauce.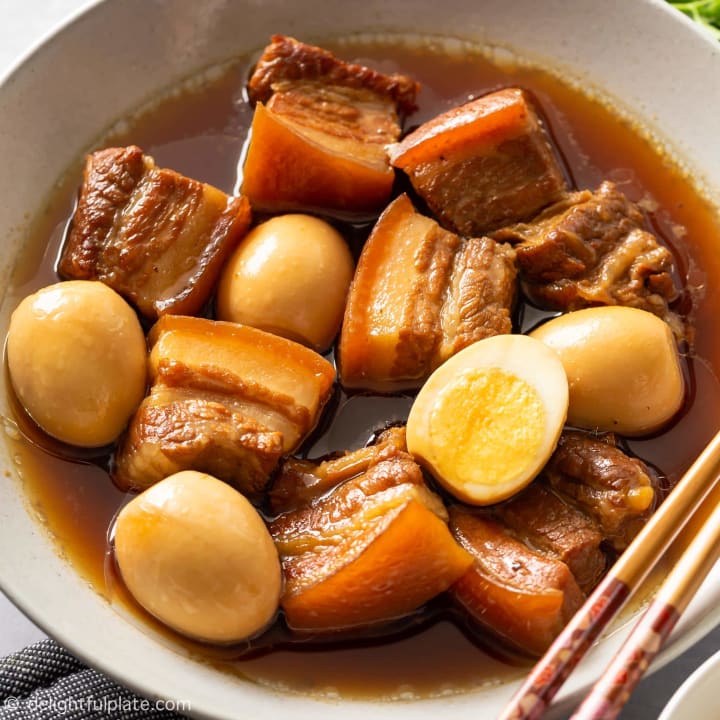 Vietnam
Thịt kho tàu is a traditional dish of braised and caramelized pork belly with eggs. It is prepared with pork belly, garlic, shallots, soy sauce, sugar, fish sauce, and hard-boiled eggs. The braising liquid usually consists of oil, garlic, shallots, and coconut water. The meat gets sliced and parboiled and marinated in fish sauce, sugar, onions, and soy sauce. Then simmered with aromatic herbs, the braising liquid and eggs until tender. It is served with rice or dua chua (pickled mustard greens).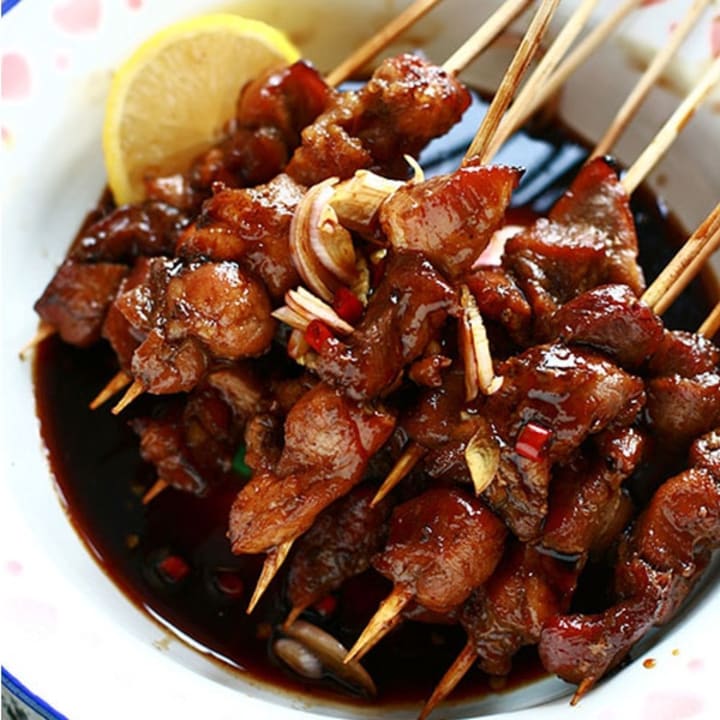 Indonesia
Sate babi is a dish that is a type of satay prepared with pork cut into cubes and marinated in a mix of garlic, lemon juice, sweet soy sauce, salt, and pepper. The meat is placed on skewers and grilled until done.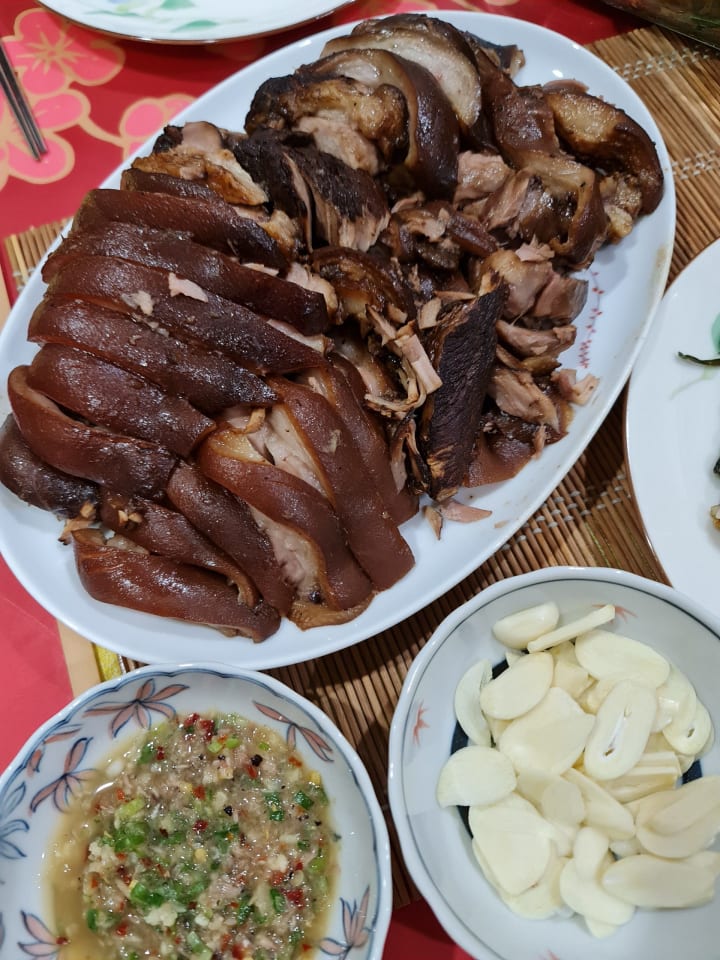 South Korea
Jokbai is a dish made with boneless seasoned and steamed pig legs. The meat is seasoned with soy sauce, ginger, and black taffy. It is usually served with kimchi, buchu, and shredded radish. Jokbai can be wrapped in lettuce leaves.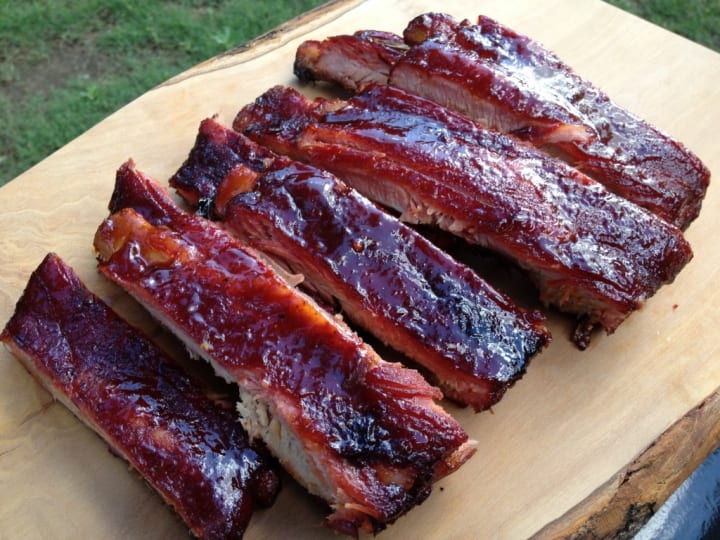 North America
The USA
Missouri
St Louis-style pork spare ribs are grilled and seasoned with salt and rubbed with spices then brushed with barbecue sauce.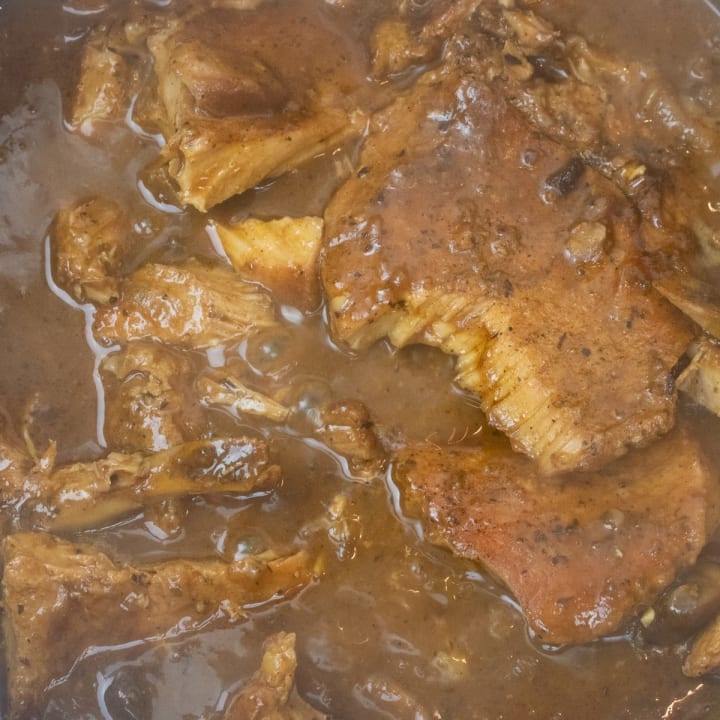 Louisiana
Smothered pork chops consist of pork chops smothered in rich gravy. Although there are many versions of this dish it is usually made with pork chops, onions, celery, bell peppers, garlic, flour, water, and Creole seasoning. The pork chops are fried then smothered in gravy and accompanied by rice, field peas, or smothered potatoes.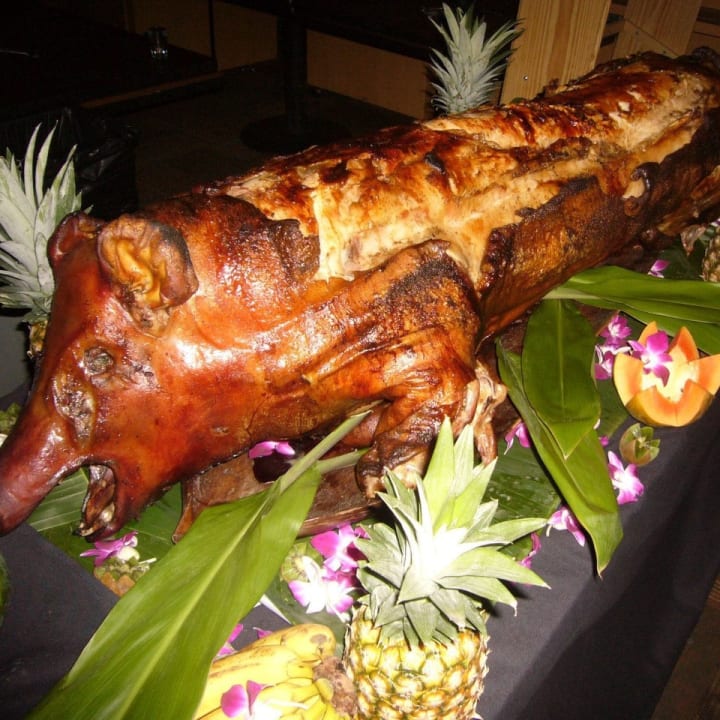 Hawaii
Kalua pig is a traditional Hawaiian dish where a whole pig, seasoned only with Hawaiian sea salt, is placed inside a large pit that has been dug in the ground. Heated lava rocks are placed in the pit, with the insulation cover made from banana or ti leaves. The pig slowly roasts for a whole day and is served at special events, parties, and gatherings accompanied by steamed rice and taro root paste.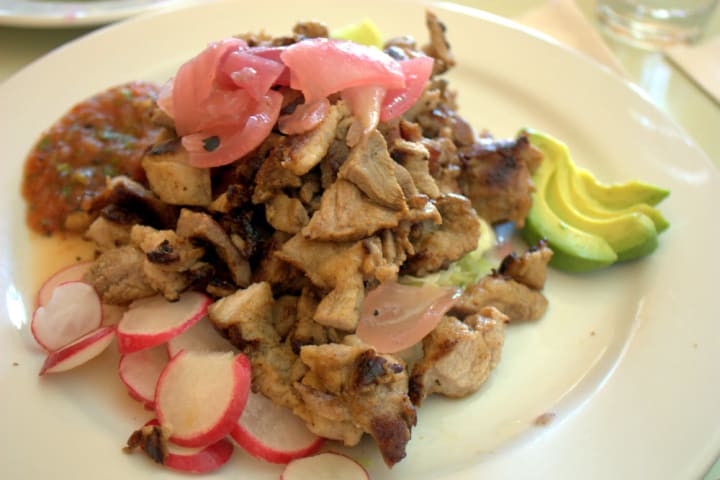 Mexico
Poc chuc consists of thin pork cutlets marinated in orange juice, The meat is grilled and served with pickled onions and freshly prepared corn tortillas.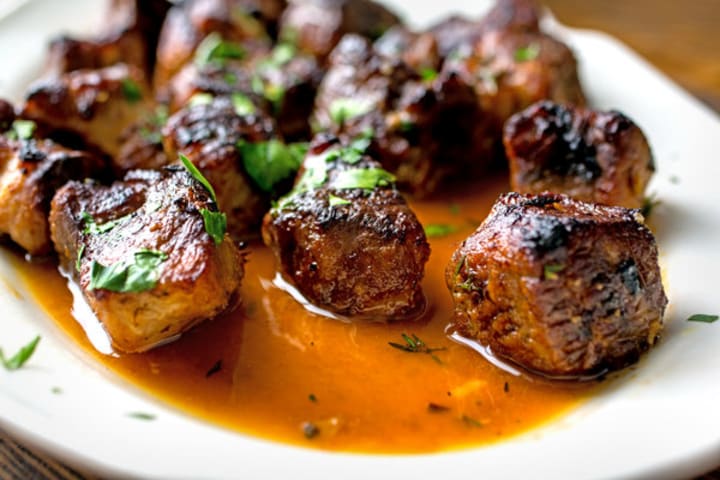 The Caribbean
Haiti
Grilot consists of pork meat that has been slowly simmered in a sweet, spicy, and tangy marinade of chile peppers, onions, and orange, lime, or lemon juice until tender, then fried ins a skillet.
cuisine
About the author
My passions are writing and creating poetry. I write for several sites online and have four themed blogs.
Reader insights
Be the first to share your insights about this piece.
Add your insights