Delicious Classic Ice Cream Shops
Indulge in some sweet nostalgia at the most delicious classic ice cream shops in the US.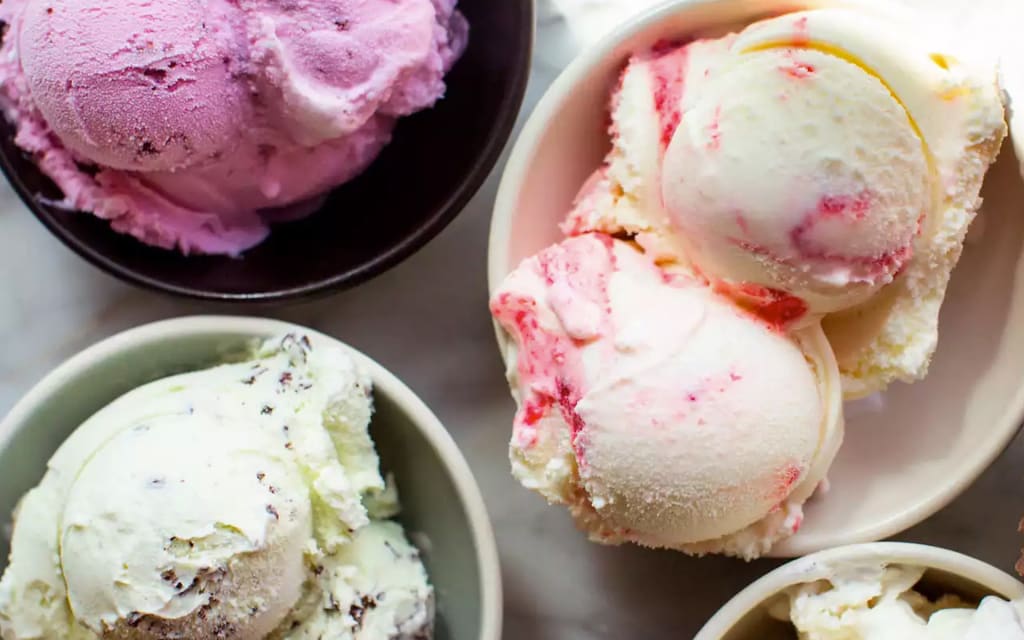 There's really nothing better than digging into a bowl of creamy, blissful rocky road, or crunching down on the last bite of a vanilla bean filled waffle cone, and what better way to feed that sweet tooth than making your way through the best classic ice cream shops in the US?
The days of parlors, diners, and feel-good mom and pop shops might be slipping away, but some ice cream is here to stay. We're not talking fro-yo taps in the wall or your average chain store, either. These shops are the real deal. Prepare for some out of this world ice cream and a heavy helping of nostalgia at these classic ice cream shops that will leave your taste buds screaming for more.
Margie's Candies - Chicago, Illinois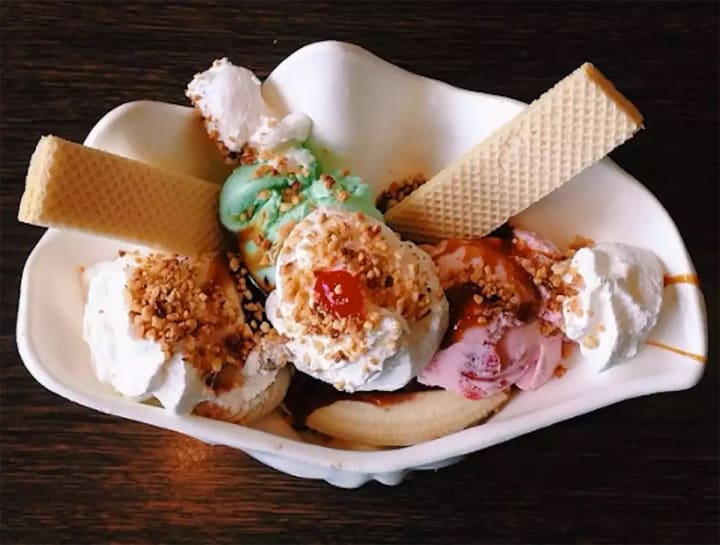 Established in 1921, Margie's is the kind of place that takes you back in time when you step inside. Complete with a Jukebox and serving up classic sundaes (and many more with their own twist), this shop has become a Chicago mainstay with two locations luring in locals and tourists alike.
Named after the original owner's sweetheart, Margie's dishes out things like hot butterscotch banana splits, fudge atomic sundaes, and turtle splits. And this place isn't just about eating, either. Sundaes and scoops are served with sides of nuts and rich, hot fudge, for an all encompassing sundae experience. Even the likes of the Beatles, Rolling Stones, and Al Capone have stopped in to see what all the fuss is about. Come hungry—you won't be disappointed.
Lagomarcino's Confectionery - Moline, Illinois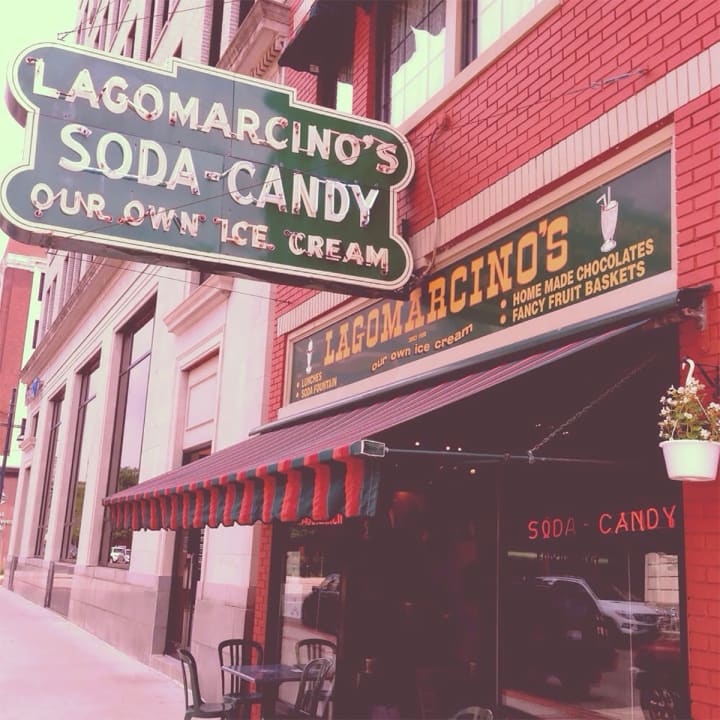 This family owned shop dates back to 1908. Calling Moline, Illinois home, Lagomarcino's is your classic soda shop that's earned its fame for churning out some amazingly good ice cream. The bright yellow exterior invites visitors into this classic shop, and the quirky, old school interior keeps them coming back for more.
Lagomarcino's is a no frills experience, but they don't need to do anything over the top; the ice cream speaks for itself. Order a sundae from the wooden bar or take a seat at the pew-like booths before deciding which small-batch ice cream flavor to try first. The mint chip comes loaded with chocolate and the sundaes are served dripping with a warm layer of hot fudge or caramel. When it comes to classic ice cream shops, Lagomarcino's is hard to beat.
McConnell's Fine Ice Creams - Santa Barbara, California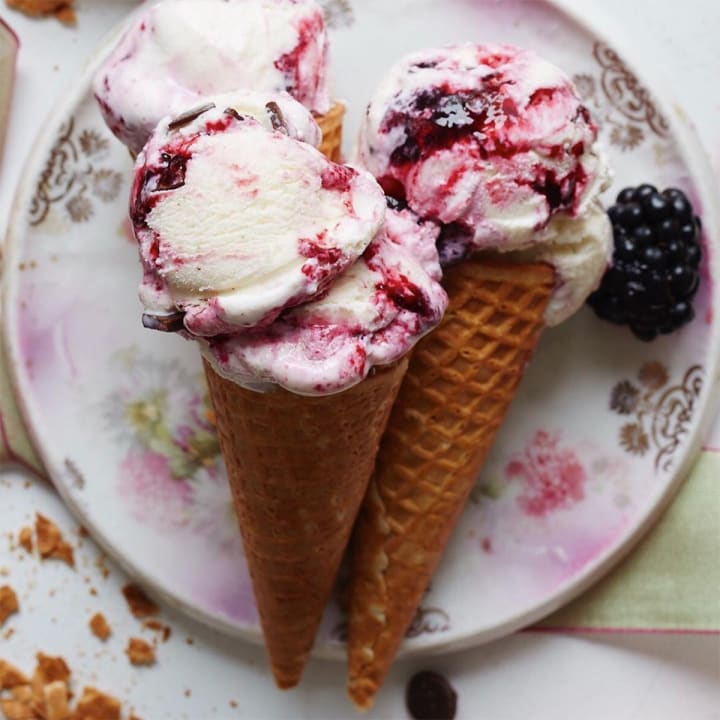 For somewhere around 70 years, McConnell's has been making small batch ice cream from scratch. Their milk comes from dairy cows on the east coast, they pasteurize their own cream, and they source all fresh ingredients from local, partner farms. If you're looking for classic ice cream that not only tastes good but is good, McConnell's is it. No preservatives, nothing fake, no nonsense.
This place does it right and offers up unique flavors for those that like a little flair in life. Churros con leche, eureka lemon and marionberries, and whiskey and pecan pralines are only a few of the noteworthy flavors just begging to be ordered. And if chilling out with a couple scoops of homemade ice cream isn't enough to make you feel great, McConnell's just one-upped the competition again. A percentage of sales goes right back out the door to support nonprofit work in helping our planet and promoting childhood education and literacy.
Sundae School - Cap Cod, Massachusetts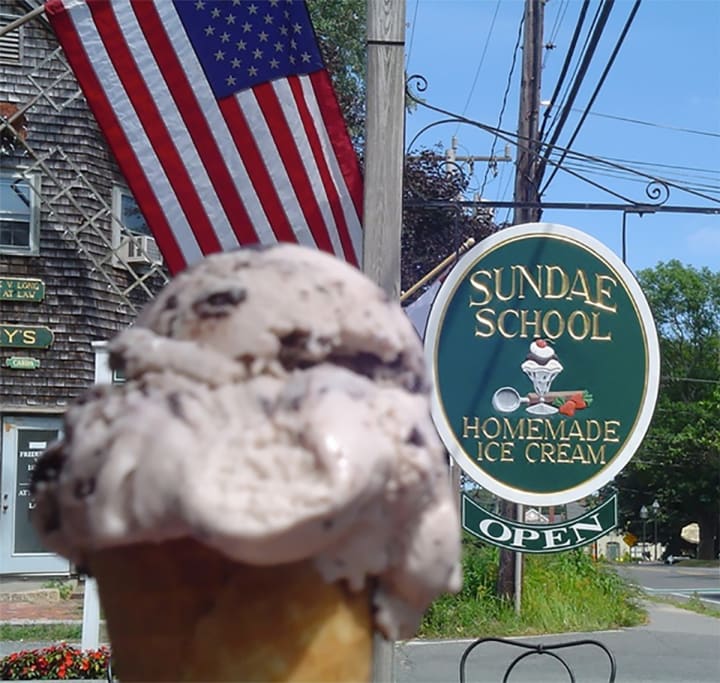 Cap Cod isn't just for north easterners escaping their hectic lives during the summer. It also exists so that Sundae School can have a place to call home. When it comes to classic ice cream shops, Sundae School truly does school the rest.
The owners originally opened their doors in 1976 with the goal of finding a way to spend summers on Cape Cod. Immediately, though, the shop became so much more than a pastime. Friends and strangers alike banded together in support of this local shop to help make it the go-to ice cream place that it's known as today. You'll know you're at the right place when you pull up to a huge gravel parking lot with a classic ice cream truck parked outside. Stand in line if you have to (it's worth it) and try a scoop of burgundy cherry, fresh peach, or maple walnut.
Aglamesis Brothers - Cincinnati, Ohio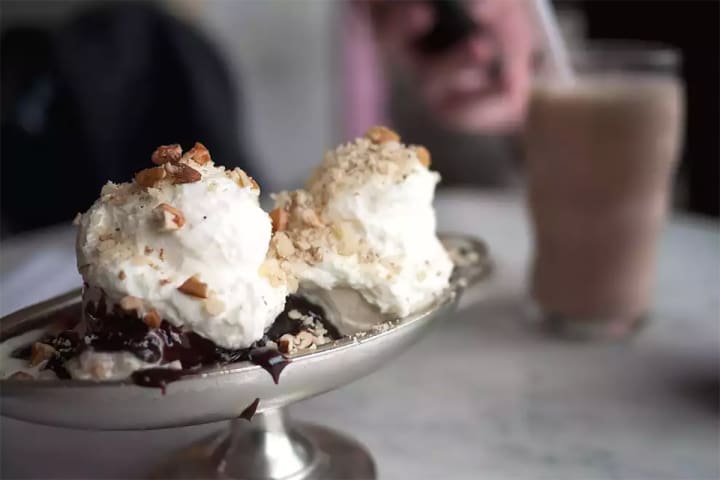 Thomas and Nicholas Aglamesis opened this ice cream parlor in Cincinnati, Ohio back in 1908, and by popular demand, added a second location just five years later. After immigrating to the US from Greece in search of the American dream, these guys went to work. Hand churning cream in metal cylinders, using rock salt to freeze it, and delivering the finished product in horse drawn carriage led to widespread popularity of these brother's start up shop.
With that kind of history, it's no wonder they're still around today. The shop's tin ceilings and marble bar will have you thinking back to the good old days as you soak in amazing ice cream flavors like Dutch Holland chocolate, mocha chip, or rum raisin.
Cliff's Homemade Ice Cream - Ledgewood, New Jersey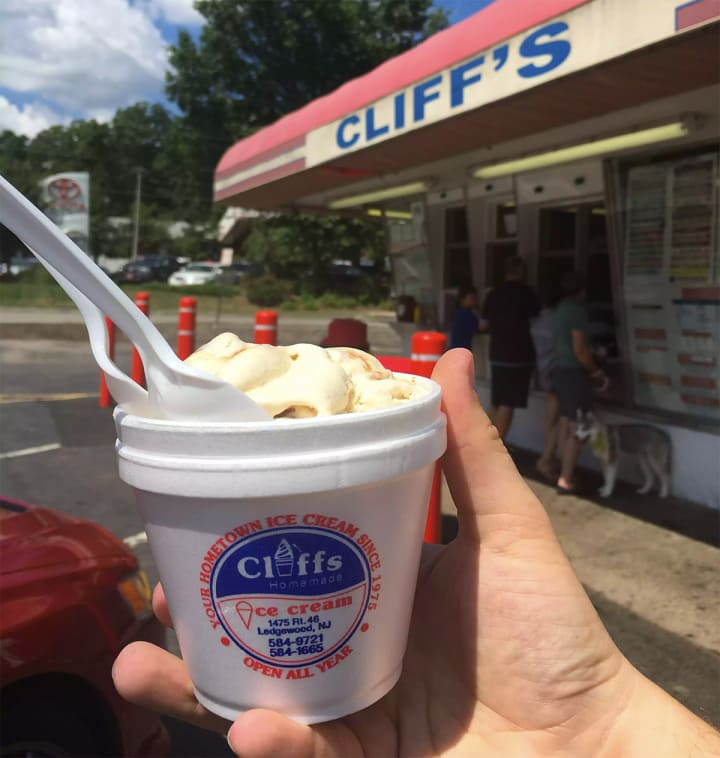 Cliff's Homemade Ice Cream has been around since the 70s, which the storefront and decor don't leave to question. This ice cream shop can be found in Ledgewood, New Jersey, probably with a line out the window. That's right—this creamery serves their goods right out of a classic walk-up window and leaves customers to dive into their bowls and cones together instead of separated by booths and tables like other classic ice cream shops.
Cliff's isn't fancy and certainly not over the top. What they are is genuine and driven to serve up some of the best homemade ice cream in the country. One trip to this shop likely isn't enough. With over 70 flavors, ranging from Bailey's chocolate chip to chocolate gusher to Morris County mud (and everything in between), Cliff's is more of a multi-stop shop.
Fenton's Creamery - Oakland, California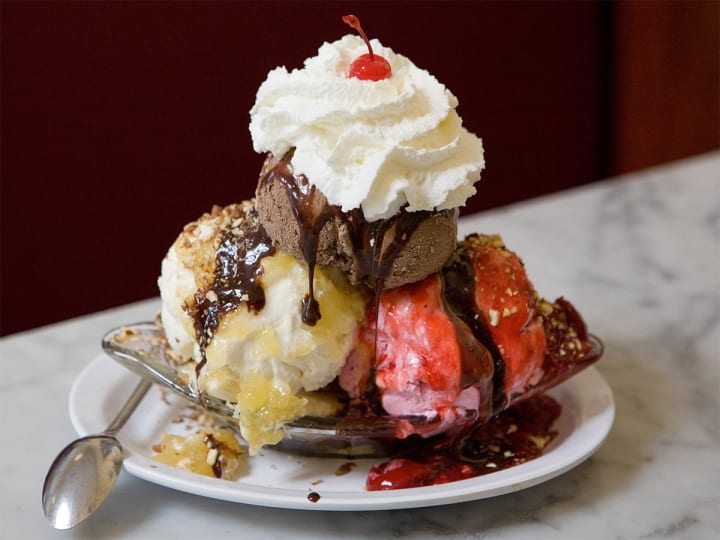 A list of classic ice cream shops would not be complete without mention of Fenton's. This place dates back 122 years to its opening in 1894. It's safe to say this shop gives definition to the word "classic."
Fenton's ice cream is served in glass dishes, which are filled to the point of overflowing, and thus have to reside on another plate to catch the drippings that you will inevitably be licking up after the rest is gone. Oakland, California is lucky enough to call Fenton's its own, and this creamery boasts two other locations, including one at the airport for travelers who just can't seem to leave without having another scoop. Some crowd favorites include the much sought after seasonal flavors of cherry vanilla, egg nog, and pumpkin. For a taste of history, Fenton's is certainly one of a kind.
Leopold's Ice Cream - Savannah, Georgia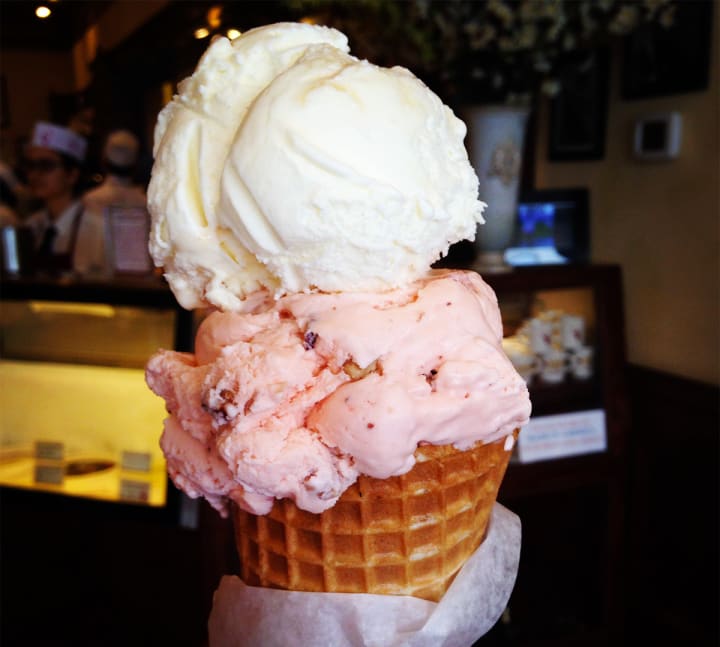 Savannah, Georgia was fortunate enough to be introduced to Leopold's all the way back in 1919. Since then, this ice cream shop has been serving up a healthy assortment of classic flavors like butter pecan accompanied by some newer varieties like rum bisque and chocolate chewies and cream.
Leopold's takes customers back to the days of soda fountains and marble top tables. A visit to this mecca of an ice cream shop warrants a free schedule because of the mainstay line that wraps from the register, around the counter, and out the door. Expect to wait for the opportunity to taste what Leopold's is known for, and then expect not to care that you had to wait. It's worth it. The good news is, Leopold's is one of those classic ice cream shops that's so customer focused, you'll have staff bringing you water while you wait (and inevitably, refills).
Eddie's Sweet Shop - Queens, New York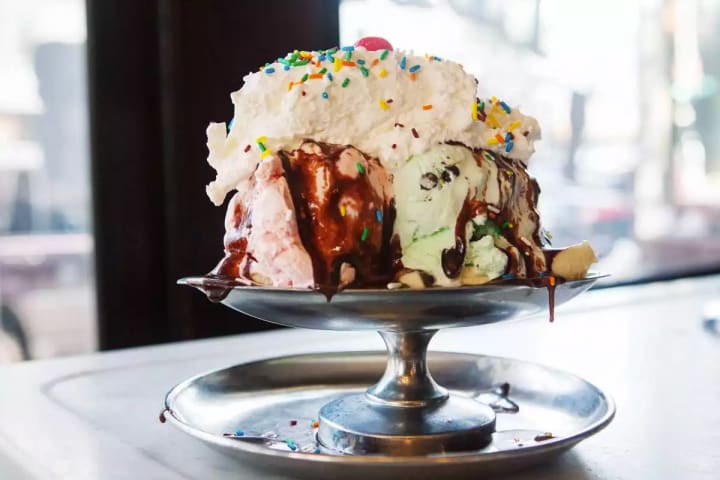 Queens residents in New York City flock to Eddie's, an old school ice cream shop that's been around for over an entire century. And the description of "old school" stands true; Eddie's hasn't changed much since it opened back in 1909.
This parlor knows what they do best and limits their flavors to about twenty different kinds. While they might not offer the same variety as some of the other classic ice cream shops on the list, the scoops they do serve up are seriously hard to beat. Massive sundaes spill over their dishes into mouthwatering puddles underneath, and perfectly pink strawberry ice cream comes packed into take-home pints for customers who just can't be without the deliciousness that is Eddie's. Step inside, grab a seat at the bar, and dig into a slice of homemade ice cream pie or a banana split.
Mary Coyle Ol' Fashion Ice Cream - Phoenix, Arizona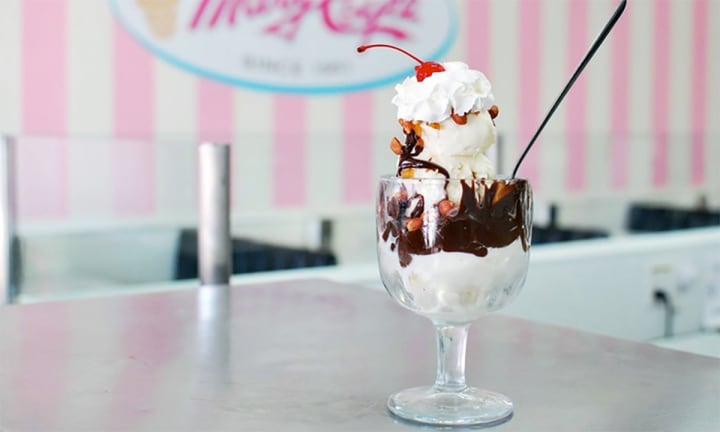 Every single day since 1951, Mary Coyle's has been making its own ice cream by hand. This Phoenix staple has that classic, 50s vibe with a pink exterior, black and white checkered floor, and a store owned ice cream truck to top it all off. Mary Coyle's menu, though, is something from a whole other world.
Not sure what to order? Ice cream flights can help with that. Feeling extra hungry? Try the "Grand Canyon." This monster of a dish comes with a choice of 11-13 different flavors of ice cream, six different toppings, peanuts, whipped cream, and even a cherry on top. This 11 lb. dessert has "eating contest" written all over it. Of course, if your appetite's not up to par, you can always opt for a classic vanilla bowl that certainly won't disappoint.
Each one of these shops has spent decades serving up some of the most delicious ice cream around, and their devoted fan base shows it. For the ice cream connoisseur, this list of the top classic ice cream shops in the US is a must follow cheat sheet for the next time that craving hits.