Death by Chocolate O'Cake!
The origin and recipe of the greatest pastry ever made by humanity.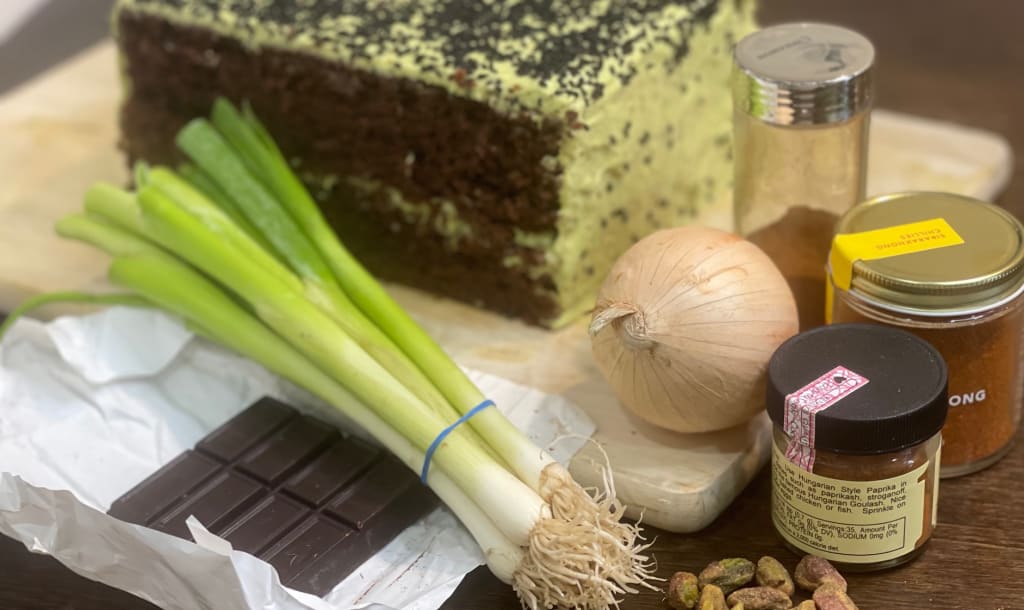 Finally a way to eat all those onions for dessert!
When the aliens arrived, it wasn't scary. It was confusing.
People were already dealing with the pandemic resurgence. Covid-19 had evolved into the "Omikron" variant, which some called the "Croki Variant" due to the unfortunate death of Tom Hiddleston. In a reversal of earlier variants, covid now gave those infected superhero-level smelling. Unfortunately, this overwhelmed the human olfactory and respiratory systems. It was now twice as fatal.
During the filming of season two of the show "Loki," an infected Hiddleston smelled an alligator fart, and his head exploded. That was sad but soon forgotten because that was the same week the Messiah arrived. Her name was Karen.
That turned a bunch of people off. To boot, she was a pretty typical white lady. When Oprah asked her why she came back in this avatar, she replied, "Well, I've never taken anything like this form before." Unfortunately, Karen had missed the trend towards heteronormative whitewashing since her last visit.
It also appeared that, for the most part, everyone got it wrong. "God" (aka Karen) had actually intended us to follow a cross between Zoroastrianism and Hindu Shaktism. With our inability to follow instructions, and our rampant destruction of the natural world, Karen was debating scrapping us.
She acted like she wanted to talk it out, but she never seemed to listen. She often talked over others with tangential thoughts. She was very hung up on why so many of us thought we weren't supposed to eat pork.
That's when the aliens arrived.
They were kind of surprised by it all. They had decided it was time to make an official "hello" after years of doing the whole Jane Goodall thing. All the Karen stuff happened while they were on the ride over. Then, when they got here, no one seemed to care about them. It's not that they needed to be the center of attention, but they planned on it being a big ego boost. They had a whole list of things to do, but the scheduling kind of got nixed with all the stuff already happening.
At one point, the aliens met with Karen and offered to help.
She was like, "I got this."
It was evident that Karen did not have control of the situation.
The aliens wanted to be helpful while respecting everyone's boundaries. Mostly they walked around quietly, introducing themselves. They were big on waiting for folks to ask for their input before offering it unsolicited. People liked this.
Soon, many wanted to know if the aliens could take over for Karen. Karen didn't think that was appropriate. People complained about the pandemic. Karen pointed out that she had created Covid too, and every living being had a right to be here.
The aliens tended to side with the humans. They said they wanted to help but didn't want to get in the middle of a whole "family thing."
Someone (Karen most likely) started the rumor that the Aliens were actually in the "Pets or Meat" mindset for humanity. Karen glommed onto that. She began holding rallies that felt a lot like old-fashioned tent revivals. Yet, instead of offering salvation, she tried to sell people on her apocalypse versus life with the aliens.
She promised reincarnation. She promised lizard bodies. She promised better communication and infinitely customizable genitalia.
Most of the aliens left after that. A few hung around because they enjoyed Florida. They are respectful and generally have been pouring in a fair amount of tourism dollars. Although someone convinced them that Dogecoin was how we do business. That's annoying.
Since last spring, I've been taking care of my parents at their place here in Tallahassee. As with so many political things these days, my parents are divided. My Dad is sold on the Karen plan, whereas my mother was considering asking if she could head out with the aliens.
I love them both. So my goal has been to find a way to bring them both to the table.
Luckily, I've been learning to cook!
If there's one thing my Dad loves, it's chocolate cake. When Karen first arrived, that was all he ate for days. As he said, "Well, it's not like my heart medicine has to do all that heavy liftin' for much longer." Mama, on the other hand, is into the savory stuff. She makes a French Onion Dip that is legendary at that place where we used to go to pray to Karen.
This recipe has been a true labor of love for me. Not only have the constant lockdowns shown me how much fun baking is, finding a use for all the sweet onions we hoarded has been a blessing.
This cake is savory and spicy but still rich and decadent. It's also not too sweet. You can taste the onion, but that's not a bad thing!
As for the name? O'Cake was my wife's maiden name!
(RIP Patty. Love of my life.)
Chef's kiss!
Death by Chocolate O'Cake
INGREDIENTS (Cake)
6 ounces unsweetened chocolate
1 cup sweet onion, finely diced (not yet caramelized)
1 splash of Dark Rum
1 cup vegetable oil, divided
1 3/4 cups sugar
2 large eggs + 2 egg yolks
1 teaspoon chili powder
1/2 teaspoon cinnamon
1/2 teaspoon smoked paprika
2 cups cake flour
1 teaspoon baking soda
1/2 teaspoon salt
1 cup buttermilk
INGREDIENTS (Frosting)
8 oz. cream cheese, softened
1/4 cup butter, softened
2 tsp. Buttermilk
1/2 tsp matcha powder
Handful of Green Onion tops
Handful Thai basil
1/4 cup shelled salt & pepper pistachios
1 packet of crystallized lime
1/2 cup powdered sugar
Black Sesame Seeds to sprinkle on top
CAKE DIRECTIONS
Preheat the oven to 350 degrees F. Preheat a pan on medium heat.
Fine dice the onion and add 2 tablespoons of the oil to the pan. Then, over medium-low heat, cook the onions, stirring frequently. Add a pinch of salt. Go until dark, but avoid burning (if they do burn, it's not the end of the world!). They should be fully caramelized in about 12-15 minutes. Deglaze pan with a splash of dark rum, and set aside.
Grease and flour two cake pans.
Break up and melt the chocolate in a microwave-safe bowl. Stir every 15 seconds until melted.
In your mixer, combine the rest of the oil, sugar, eggs, and yolks. Beat at a medium speed for three or so minutes.
Add the caramelized onions to the chocolate. Add this chocolate/onion mixture to what is already in your mixer and beat on low for one minute.
Sift and combine the flour, baking soda, spices, and salt in another bowl. Mix well. With the mixer running, slowly add in the flour mixture. Alternate additions with the buttermilk.
Once fully incorporated, divide the batter between the two prepared cake pans. Place in the oven and bake at 350 degrees F for 25-35 minutes or until a knife inserted into the center comes out clean.
Remove the cakes from the oven. Let them cool in the pan for 10 minutes. Remove the cakes from the pans and let cool completely on wire racks. Cakes must be fully cool before putting on the frosting.
FROSTING DIRECTIONS
Using a food processor or small spice grinder, put in onion tops, Thai basil, pistachios, matcha, lime, and buttermilk. Blend until smooth.
Then, in a mixer, beat softened cream cheese, softened butter, and the green herb/pistachio/buttermilk mixture. Add powdered sugar, 1/4 cup at a time, beating until smooth after each addition.
Frost cake. Top with a sprinkle of black sesame seeds.
See you all in the onion patch - or the next life!
recipe
About the author
Obsessively thinking about the intersections of food, entertainment, commerce, human nature, and the end of the world.
Reader insights
Be the first to share your insights about this piece.
Add your insights