CRISPY PARMESAN PORK CHOPS
Crispy, double-breaded, juicy pork cutlets the whole family will love!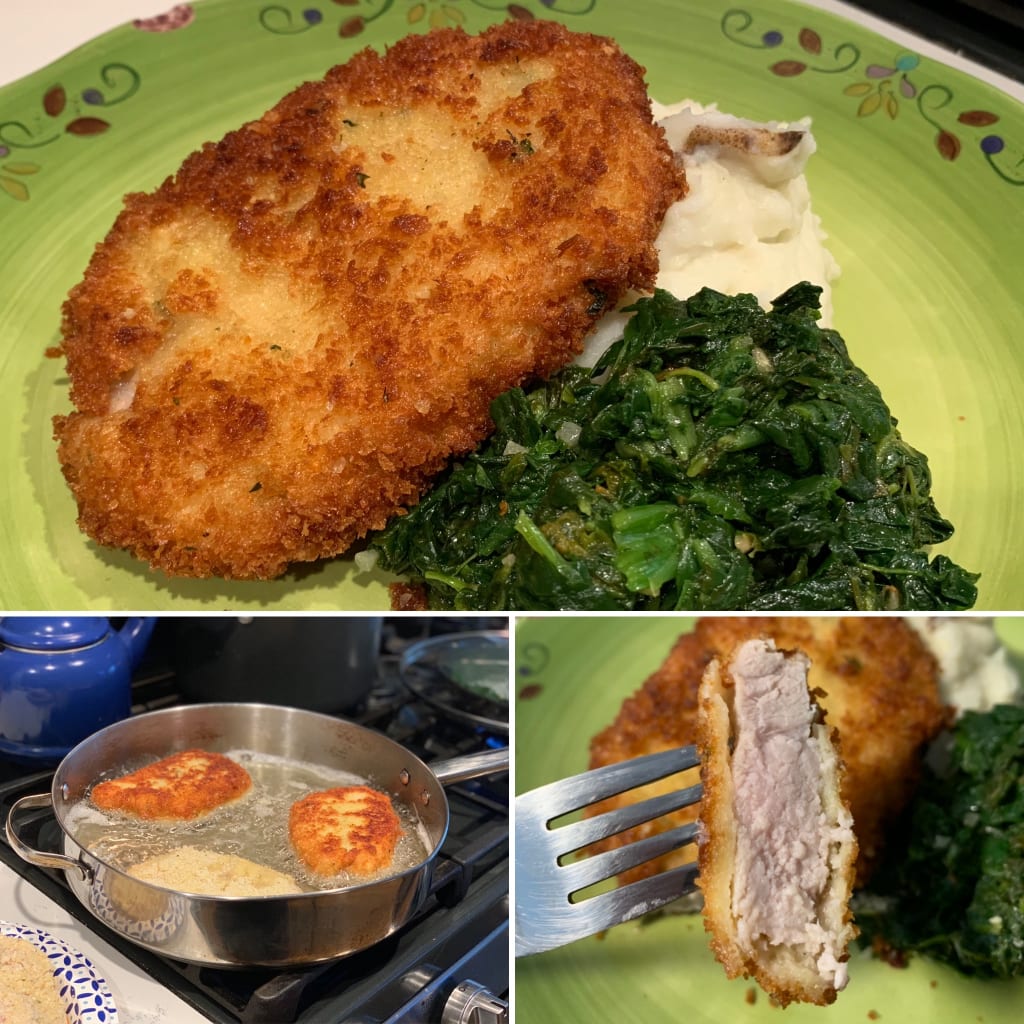 Other than my RESTAURANT-QUALITY BBQ RIBS (recipe for which can also be found on my Vocal posts), I have to admit - pork is one protein I never had much confidence cooking.
My whole life growing up, my only real experience with eating pork chops or tenderloin was always dried out and over-cooked, so I think I made the assumption that that's just how boneless pork is.
However, once I became a professional pastry chef and started spending time observing the hot line cooks, I started to learn that pork is actually supposed to be a touch pink in the center when cooked, and if done properly, it can be just as juicy and flavorful as a big fat steak.
But I've got to admit, I've always been a touch intimidated to try cooking it myself at home - the fear was a combination of overcooking and drying it out, or undercooking and risk serving raw pork, so I always went with my safe staples of chicken, shrimp, steak, ground beef etc instead.
But recently, Rob and I picked up some boneless porkchops to add some variety to our dinner table, and inspiration suddenly hit me - what if I cooked them similarly to my chicken cutlets Milanese? Crisp Panko breading infused with grated Parmesan or Pecorino Romano, that can be served with any countless number of garnishes and side dishes.
So I improvised a porkchop version, and what resulted is the recipe below - our new favorite dinnertime staple! Give these chops a try and your whole family will be singing your praises. Crunchy and succulently juicy each and every time, they are a crowd pleasure, for sure!
PARMESAN-PANKO PORK CHOPS
- 6-9 boneless pork chops (1/4"-1/2" thick each)
- 1 C all purpose flour
- 4 large eggs
- 1/4 C water
- 2 1/2 C Panko breadcrumbs
- 1/2 C grated Parmesan or Romano cheese
- 1 TBSP dried parsley flakes
- 1 tsp sweet paprika
- plenty of salt and pepper, to taste
1) Set up a breading station by placing the flour in a shallow dish, seasoned with salt and pepper.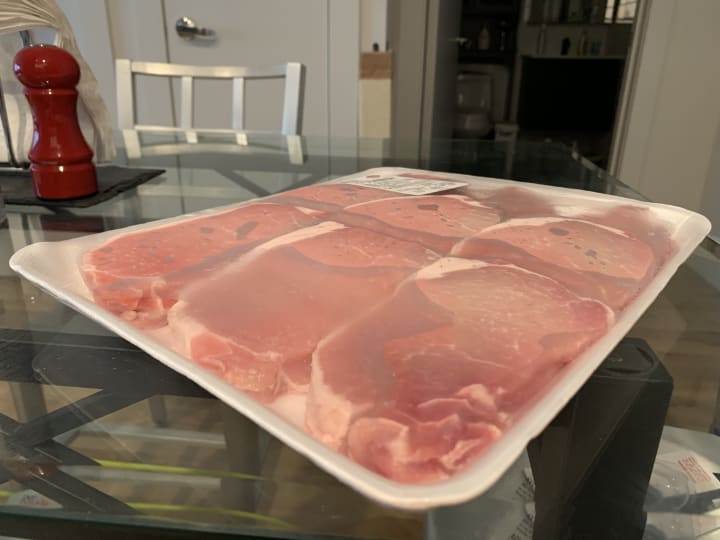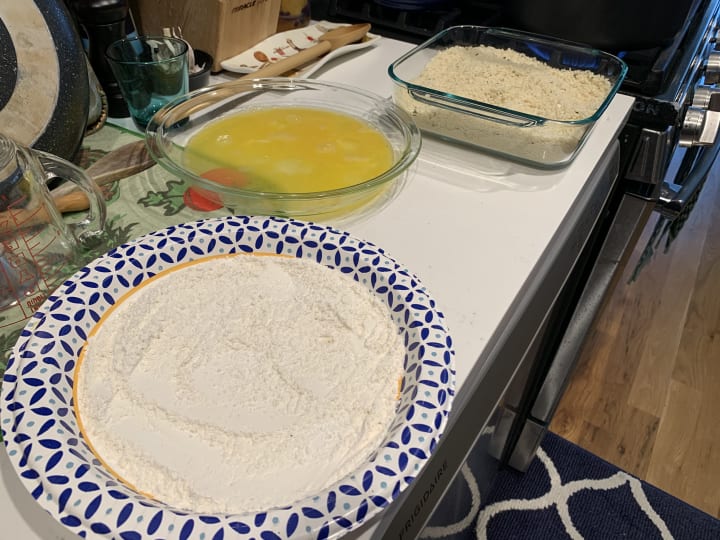 2) In a separate dish, whisk together an eggwash with the eggs, water, and more salt and pepper. In a third dish, mix together the Panko, cheese, parsley, paprika, and a good amount of salt and pepper until well combined.
3) Coat each pork chop in the seasoned flour, then dip in the egg wash on all sides, shaking off the excess. Then place the chops in the breadcrumb mixture, patting it on to ensure it sticks on all sides.
4) Repeat the process once more, double-coating each piece, transferring the well-breaded chops onto a tray or platter. Continue double-breading the remaining portions (The double-breading technique really helps to seal in the juices of these boneless chops). Discard any remainder of the breading station.
5) Once all chops are complete, heat 1/2" of vegetable oil in a large skillet over medium heat. To test that the oil is ready for frying, sprinkle a pinch of the breading into the pan. If it begins to sizzle immediately, you're ready to get started! Otherwise, wait another minute or so before testing the oil again.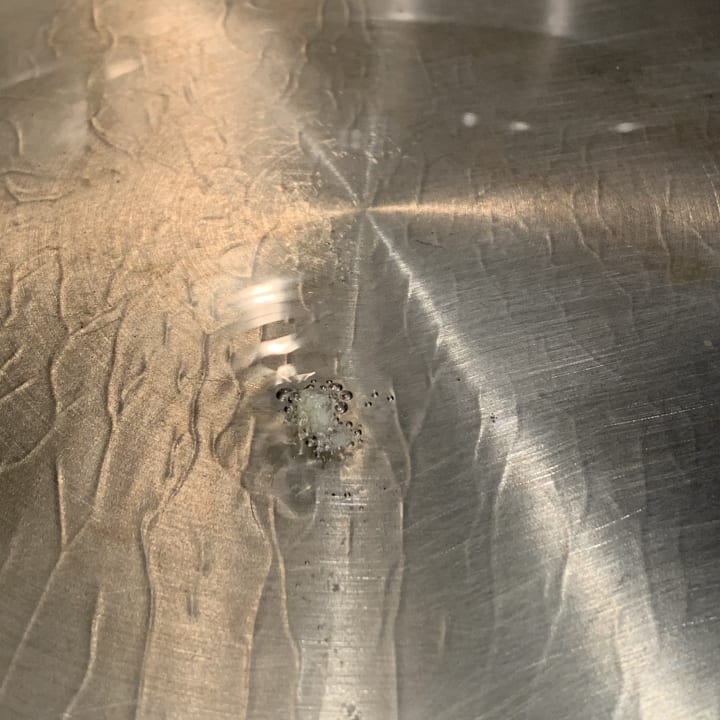 6) Place 3-4 chops into the hot oil at a time and fry for 2-4 minutes (depending on the thickness of your chops), until deeply golden brown. Flip the chops and cook an additional 2-4 minutes on the second side.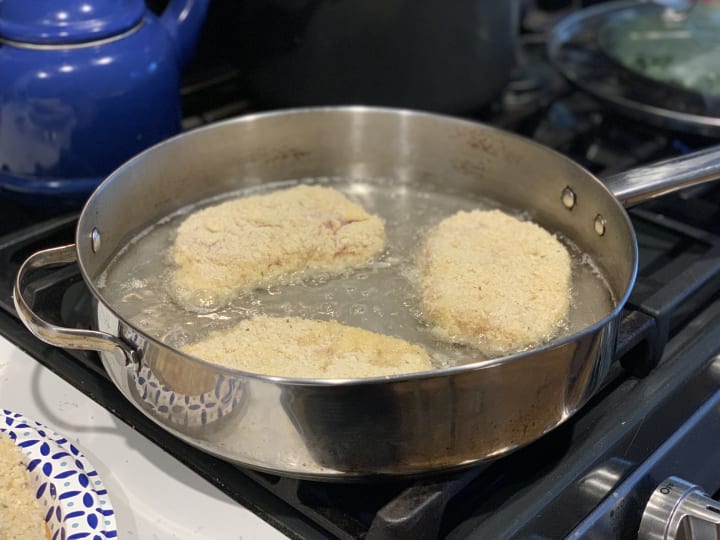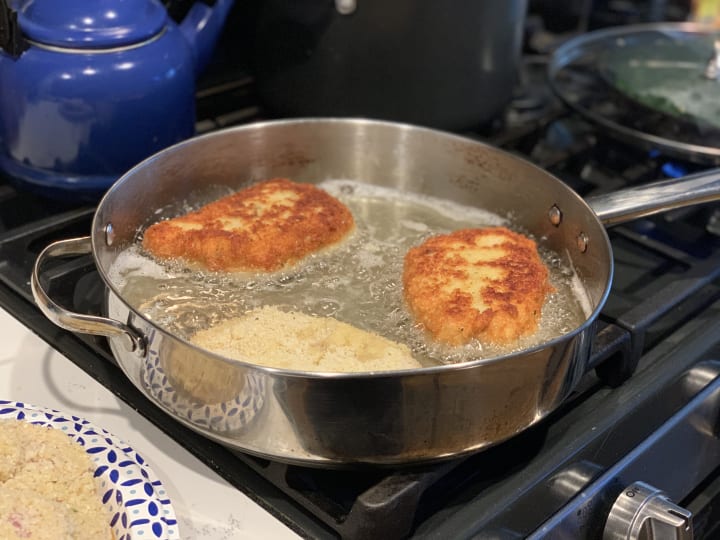 7) To ensure the chops are cooked through, poke the center of the fattest one with a sharp knife to check that the juices run clear. If still pink, cook an additional 1-2 minutes.
8) Transfer the finished chops to a clean serving platter and sprinkle with a pinch of sea salt. Cover the tray to keep warm, or hold in a low-temp oven while you finish frying the remaining chops.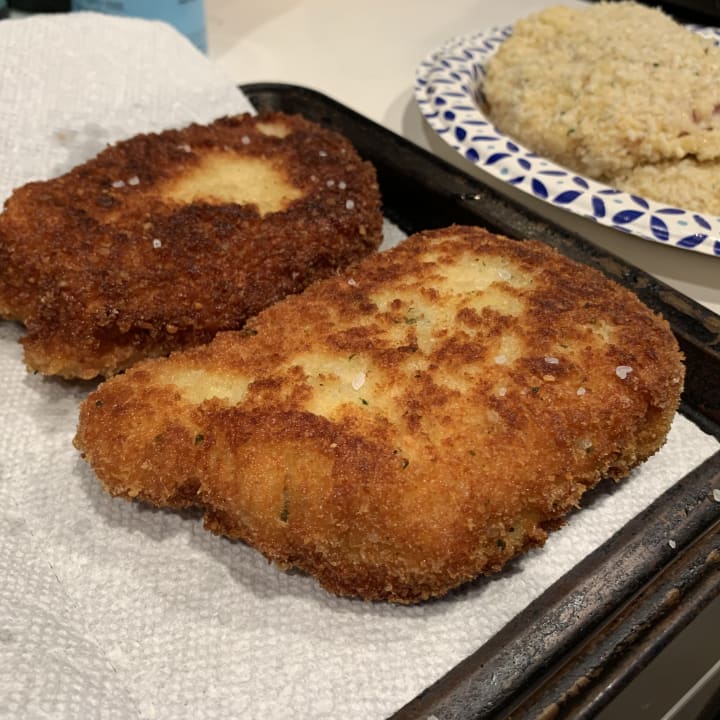 9) Serve these crisp, juicy pork chops with any of your favorite sides such as buttered egg noodles, creamy mashed potatoes, sautéed spinach, arugula salad with Parmesan and lemon vinegrette - whatever your heart desires!
They also reheat great the next day for leftovers or cutlet sandwiches 👍🏻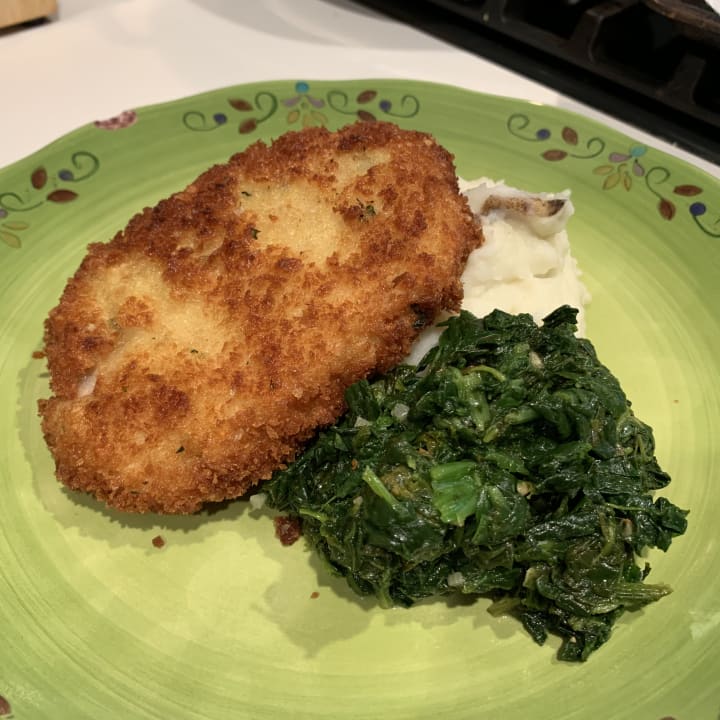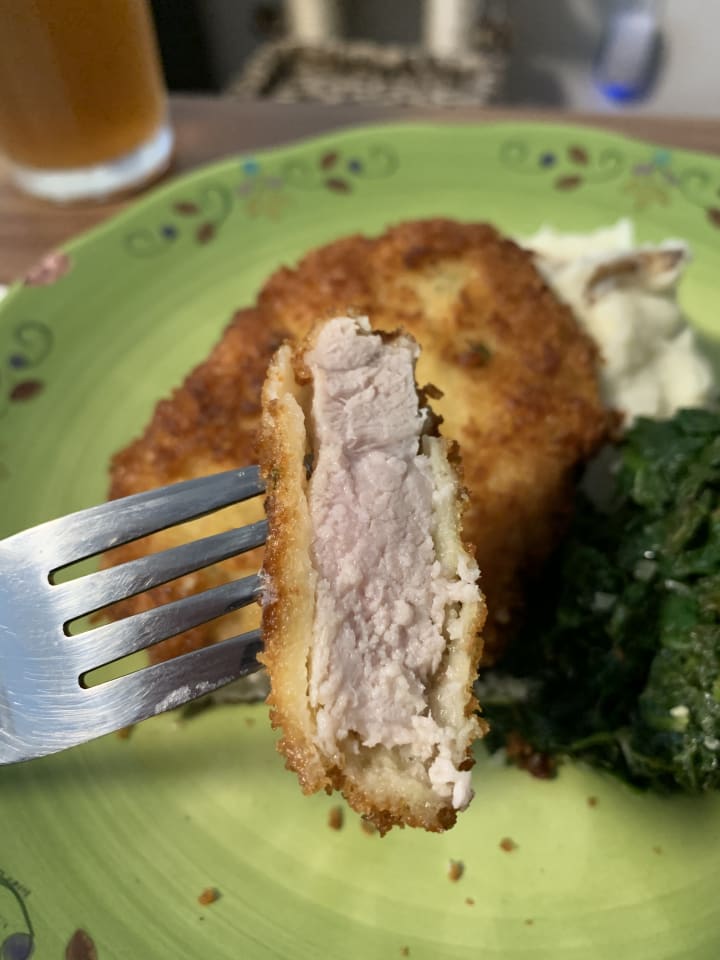 If you enjoyed this recipe, please check out my other Vocal recipes by searching for THE BEST HOMEMADE MAC N CHEESE, THE ULTIMATE FUDGE BROWNIES, BAKING MILLIONAIRE'S SHORTBREAD, RESTAURANT-QUALITY BBQ RIBS AT HOME and my COPYCAT CHIPOTLE CHICKEN BURRITO BOWLS right here on Vocal!
@crescendoughcakes