CRISPY OVEN FRIED CHICKEN
Crunchy breading, juices running down your chin, and no deep frying!!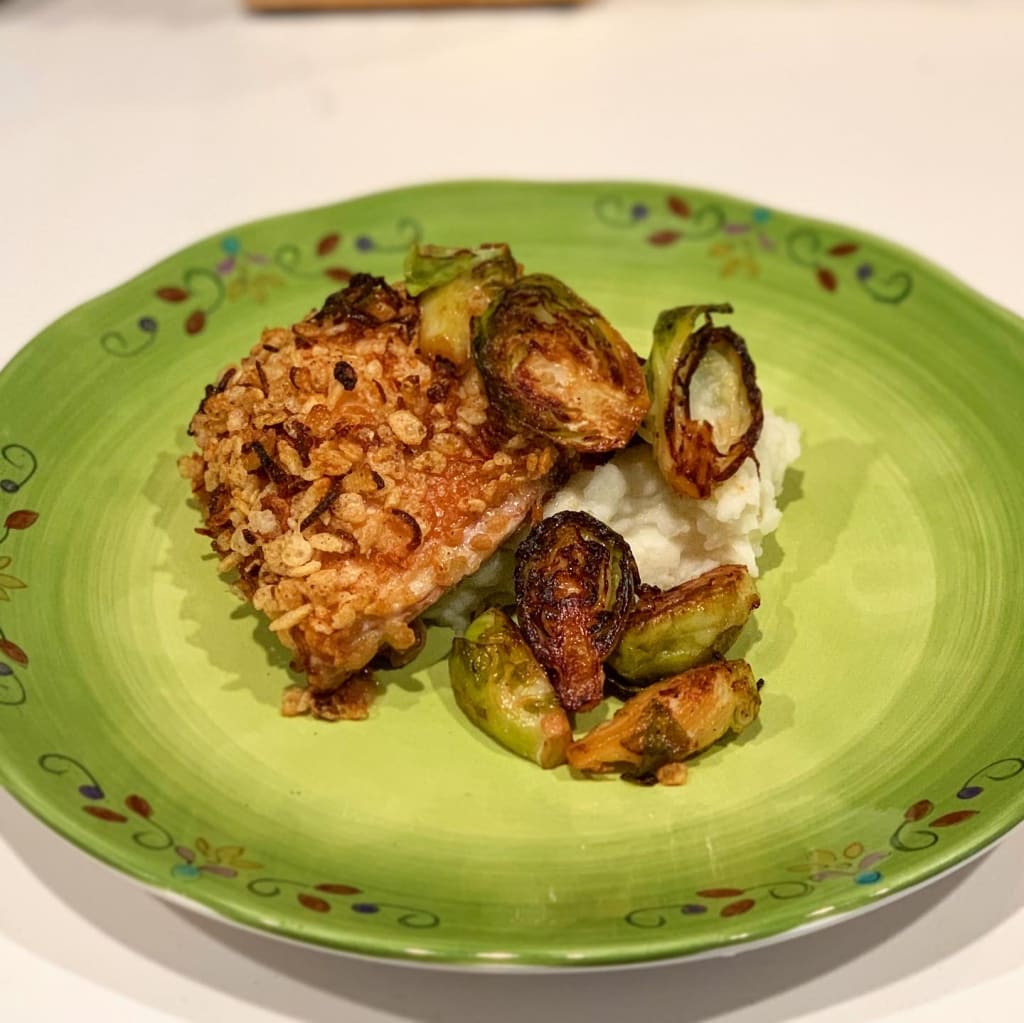 This recipe is the very first of many of my now signature creations, and it is still my favorite to this day.
I can remember clear as crystal, nearly ten years later, the moment the inspiration hit me. I was flipping through a magazine while sitting in a waiting room, and came across a chicken recipe using Rice Krispies as the breading.
It immediately reminded me of this amazing Corn Flake chicken my maternal grandmother used to make all the time while I was growing up, and I began to salivate just thinking about it.
I rushed home and gathered my ingredients and got to work. Taking inspiration from the flavors of traditional fried chicken, I soaked the pieces in a buttermilk marinade to tenderize the meat, and combined the cereal with the crunchy onions and classic fried chicken spices.
I warn you... The first five minutes this chicken hits the oven are absolute torture - the aroma of the chicken sizzling away as the breading crisps up to golden perfection just fills your home with the most unbelievably savory, comforting smell.
While it's difficult to wait the full 45 minute cook time to finally dive in, the wait is absolutely worth it - crunchy aromatic breading, juices dripping your chin with every bite... what's not to love?!
I guarantee you that this recipe will become a new family favorite dinner in your home as it has mine, without all the hassle and mess of traditional deep frying. Serve with any of your favorite chicken dinner sides such as squash casserole, mashed potatoes, roasted veggies, mac n cheese - you name it? It goes!
Crispy Oven-Fried Chicken
FOR THE MARINADE
- 1 qt buttermilk
- 1 TBSP hot sauce
- large pinch salt and pepper
- 8 pieces, bone-in chicken thighs (I like dark meat for this recipe, but this works pretty well with bone-in white meat, too)
FOR THE BREADING
- 1 (6oz) can, French's Fried Onions
- 1 (12oz) box Rice Krispie cereal
- 2 TBSP dried parsley flakes
- 2 TBSP sea salt
- 1 TBSP onion powder
- 1 TBSP paprika
- 2 tsp garlic powder
- 1/4 tsp black pepper
- 1/8 tsp cayenne
FOR THE MARINADE: combine the buttermilk, hot sauce and spices together in a large mixing bowl and whisk together till homogenous. Completely submerge all chicken pieces in the marinade, cover the bowl with plastic wrap and let rest in the fridge until ready to cook (for best results, marinate for a minimum of 1 hour, up to overnight).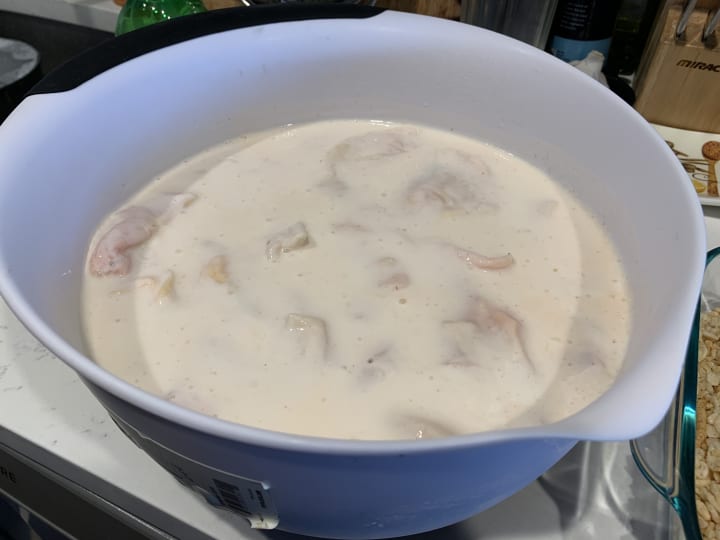 FOR THE BREADING: while chicken marinates, combine all breading ingredients in a large ziplock bag. Seal bag and toss to evenly distribute ingredients, slightly crushing the Fried Onions with your fingers. Set aside until ready to use.
WHEN YOU ARE READY TO BAKE: pre-heat your oven to 425. Pour half of the breading mixture into a pie dish or baking dish. Shake excess buttermilk marinade off of the chicken pieces one at a time and press all sides firmly into breading mixture until well coated. Place on a baking sheet at least 1-2" apart. Repeat with remaining chicken pieces and refill breading dish as needed, reserving any extra/uncontaminated breading mix for future use.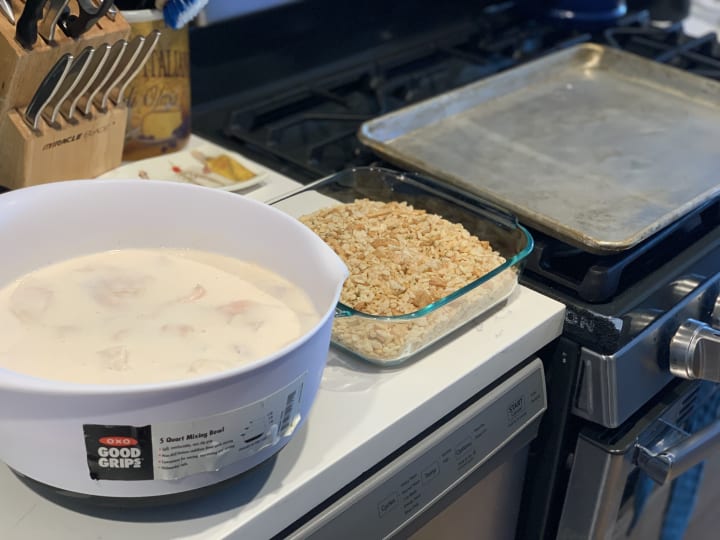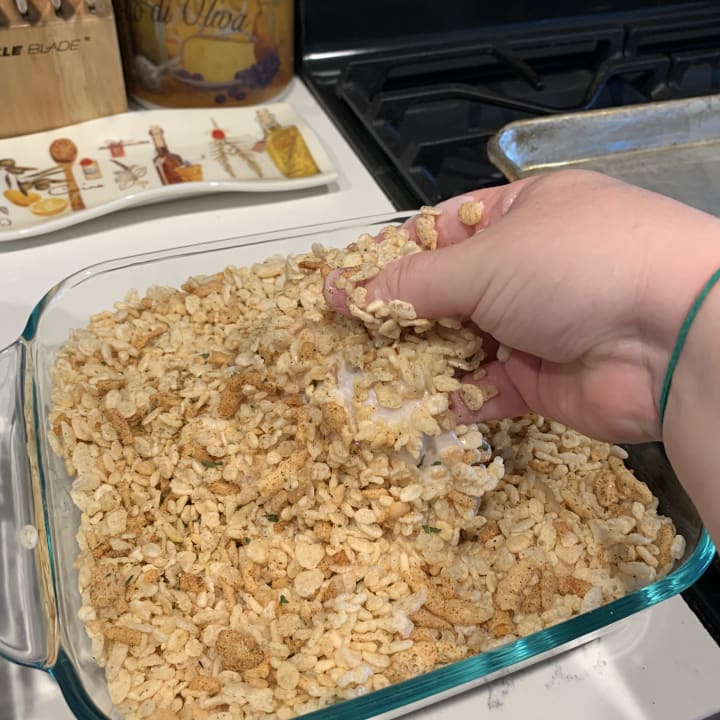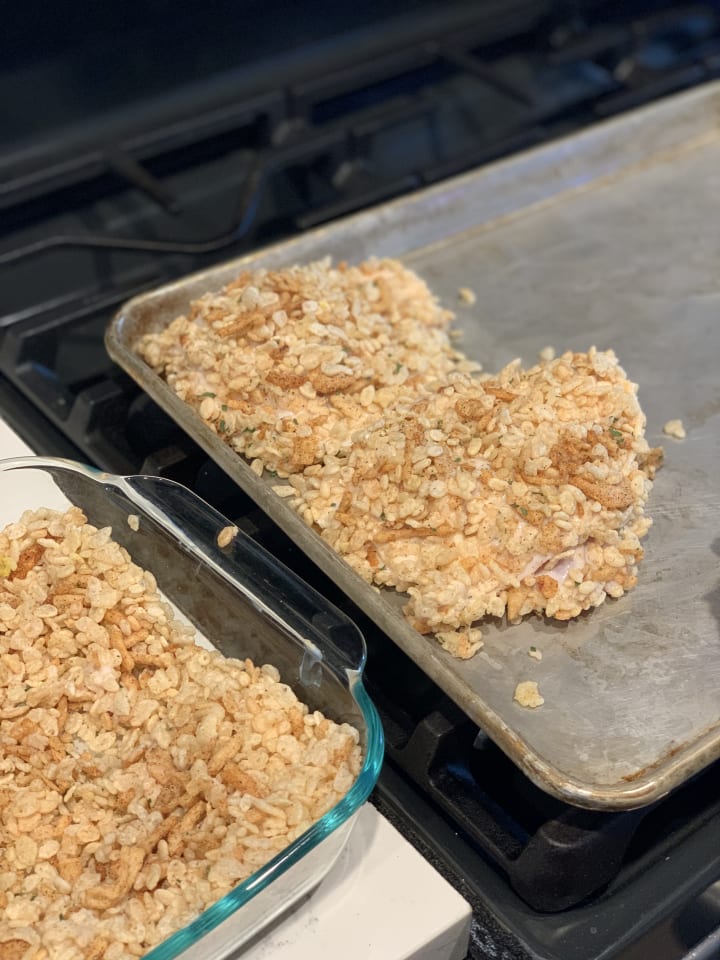 Bake chicken for about 45 mins, or until juices run clear when the thickest piece is poked in the center with a sharp knife.
Then, enjoy the juiciest, crunchiest, most addictive oven-fried chicken you've ever had! ;)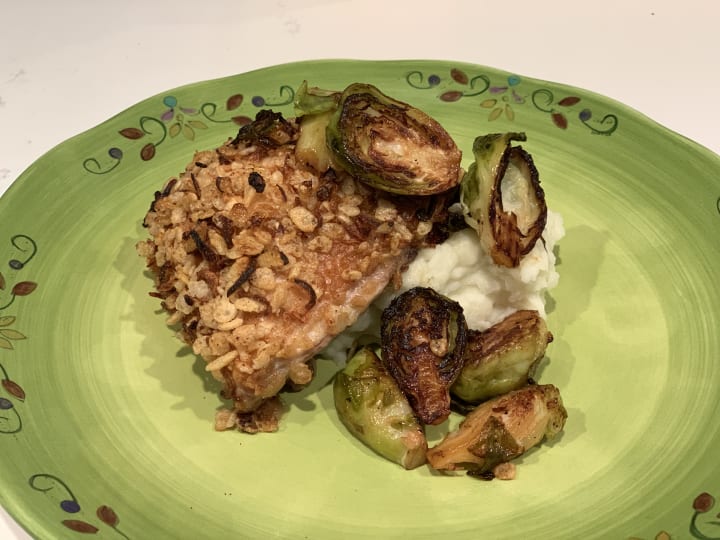 *meat cooked on the bone is always juicier, so use bone-in chicken with this recipe for best results
If you prefer boneless, cook time will be reduced and chicken may not be quite as juicy
IF YOU ENJOYED THIS RECIPE, PLEASE ALSO SEE MY RECIPES FOR COPYCAT CHIPOTLE BURRITO BOWLS, ULTIMATE FUDGE BROWNIES, THE BEST MAC N CHEESE, BAKING MILLIONAIRE'S SHORTBREAD, CRISPY PARMESAN PORKCHOPS, RESTAURANT-QUALITY BBQ RIBS AT HOME, CREAMY CLASSIC QUICHE and AMAZING PALEO QUICHE! 🥰

Ellen S
Former opera singer turned executive pastry chef in NYC. Always happy to talk all-things baking, cooking, music and ghost stories 🙃 If you like what you see, a 💜 or a tip would be greatly appreciated!
See all posts by Ellen S →