Crispy Crepes Recipes
Healthy Twist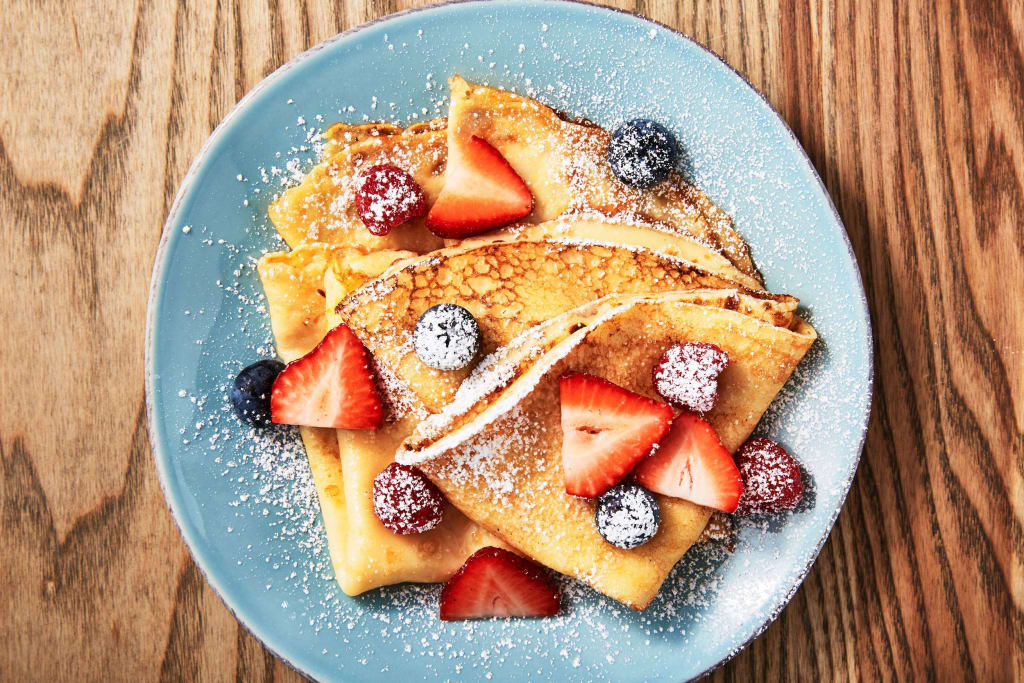 Enjoy a crispy fresh batch of warm crepes with a healthy twist! 🥞 This oats crepes recipe is here to make your mornings or snack times sweeter than ever!
Crepe, also spelled crêpe, is a French pancake made of a thin batter made of flour, eggs, melted butter, salt, milk, water, and sugar if served with a sweet sauce or garnish. Crepes can be filled with a wide range of sweet and savory fillings. Crepes suzette are folded in four and soaked in an orange liqueur-flavored syrup before being flamed at the table.
Here is what you need for Oat Crepes -
• 1/2 cup of ground oats or oats flour
• 1/2 cup of milk
• 01 egg
• 01 tbsp of kithul treacle or liquid sweetener
• 01 tsp of vanilla extract
• Salt to taste
• 01 pod of crushed cardamom – optional
• 1/4 tsp of nutmeg powder – optional
• 01 tbsp of coconut butter / oil for cooking
Method -
1. First, mix all the wet ingredients together. In a medium-sized bowl combine milk, egg, vanilla, kithul treacle and whisk well.
2. Mix all the dry ingredients in a separate bowl, add this to the wet ingredients bowl and give it a good mix. The batter should be in pouring consistency.
3. If you want to make the batter faster, add all the ingredients into a blender and pulse a few times till the batter becomes smooth.
4. Let the batter rest for a minute and then heat up a non-stick pan on medium heat.
5. Apply some butter on the pan and pour 1/4 cup of batter, move the pan in a circular motion to spread the batter and make a round crepe.
6. Cook for 03-04 mins till you have tiny air bubbles appearing and the edges get a little crispy. Flip and cook for another 02 – 03 minutes. That's it!
7. Serve with some fresh fruits or honey and enjoy.
A crêpe is a very thin flat cake, similar to a pancake, that is used as a base for a variety of sweet toppings or as a food wrap to be filled with rich and savory ingredients that are rolled inside the crêpe. A typical crêpe batter recipe will include flour, egg yolks or whole eggs, and milk or cream. Depending on the ingredients in the recipe, a crêpe can be sweet or savory. Sweet crepes contain sugar and other flavorings that give the crêpe batter a sweet taste. Because savory crêpes do not contain sweeteners, they have a milder flavor that does not overpower the added meats and cheeses rolled or folded into the crêpe when served. Crêpes that will be rolled and filled with ingredients should only be cooked on one side. However, if prepared properly, it is generally a matter of personal preference, as a Crêpe cooked on one or both sides can still be rolled. Cooking the Crêpe on only one side results in a more moist and tender surface on one side and a crisper and golden brown colored surface on the other.
Crêpes are made in special pans with flat or rounded bottoms, but a small heavy skillet can also be used if the surface is clean, very smooth, and well seasoned. The pan is heated to a high temperature before being allowed to cool to a medium temperature before adding the batter. If using a flat-bottomed pan, add the batter and quickly move it around the pan to evenly distribute it. Within 30 seconds, the crepe has browned and is most likely ready to be flipped over and heated for a few seconds on the other side. The key to making good crêpes is to practice evenly pouring, swirling, or coating the batter onto the surface of a hot pan. Using about an ounce and a half (1-1/2 oz.) of batter yields a crêpe that is about 1/10th of an inch (2.5 mm) thick.
Reader insights
Be the first to share your insights about this piece.
Add your insights