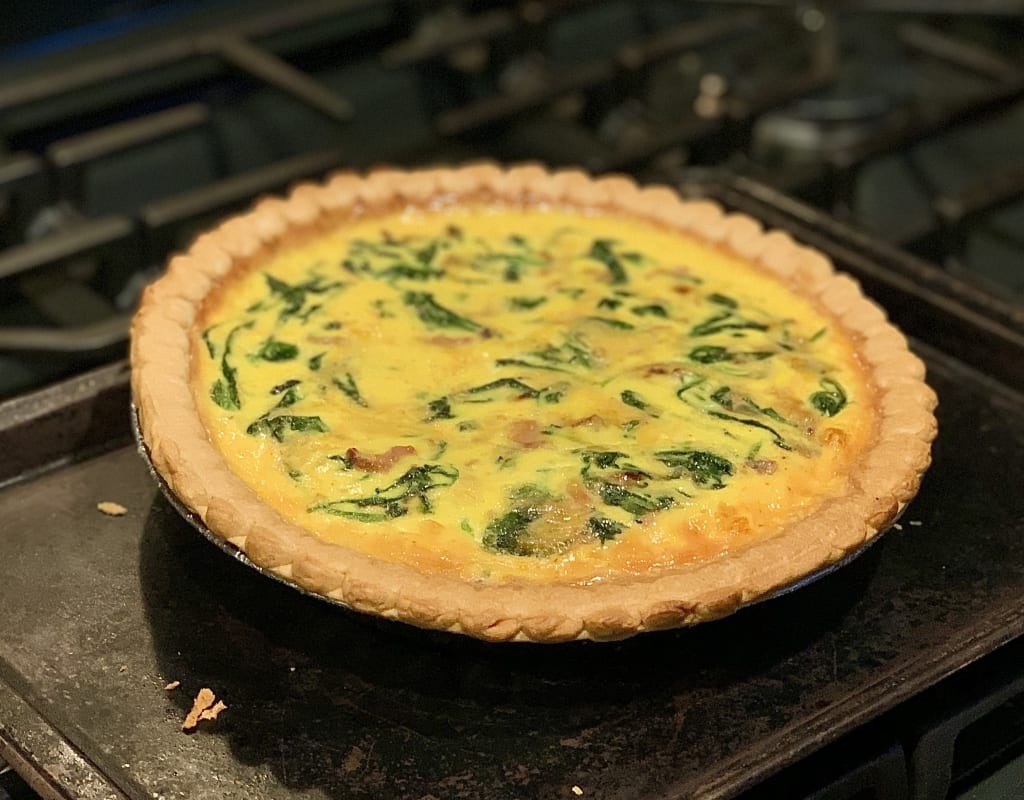 Quiche is one of those comfort foods that has a way of always "hitting the spot".
Whether it's over Sunday brunch with the girls or a weeknight family dinner - hell, I'll even eat a slice for breakfast! - there's really no wrong time to get your quiche on!
To an untrained eye, quiche may appear intimidating or quite tricky to make, but in actuality it can be broken down into fairly simple steps that even a beginner cook can master in no time!
With a buttery, flaky crust and an impressively silky, savory custard center, quiche has just got that "it factor," that always looks impressive on any table scape.
While this recipe includes bacon, spinach, shallots and cheese, quiche is wonderfully versatile when it comes to creating your own signature fillings.
The Italians even have a version called "pizza rustica" that's often made for holidays such as Easter that utilizes salami or other cured meats and mozzarella - let your imagination run wild and sauté some Swiss chard or mushrooms, or follow this recipe to the tee. Either way, it's going to be delicious, I can guarantee you that!
While this recipe is for a classic quiche, if all that cream and cheese scares you, I will also be posting my healthier Paleo version here on Vocal as well! It is gluten-free, dairy-free and refined sugar free but equally amazing in flavor and texture! In fact, you wouldn't even know it if I didn't tell you ;) don't believe me? You'll just have to check back for the recipe to try it for yourself!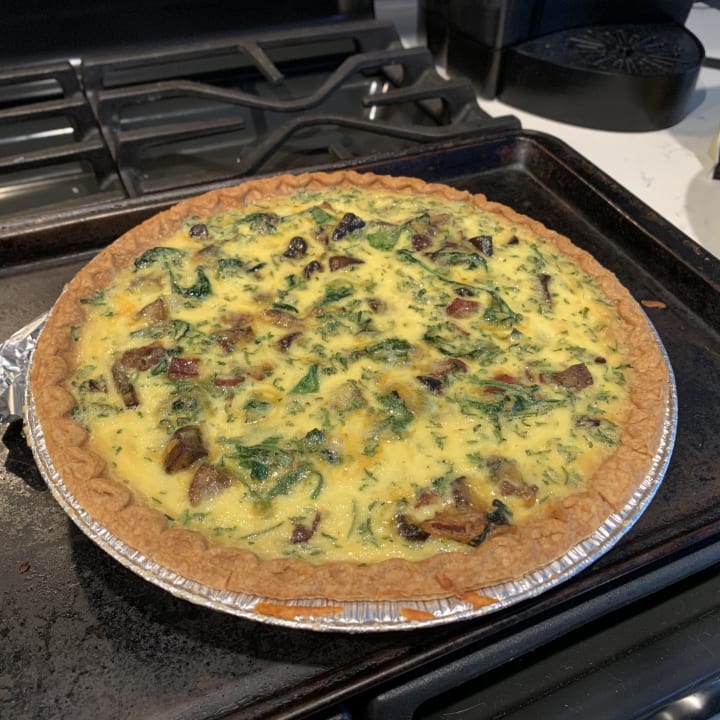 CLASSIC QUICHE
- 1 frozen raw pie crust (or favorite homemade flaky crust)
- 4 strips, bacon
- 2 medium shallots
- 5 large garlic cloves
- 1 (5oz) bag, fresh spinach
- 1/2 C shredded cheddar cheese
- 6 eggs
- 1+2/3 C (400g) half&half
- 1/2 tsp sweet paprika
- good amount salt & pepper, to taste
FOR THE CRUST
1) pre-heat oven to 350.
2) place the frozen pie shell on a sheet tray. poke several holes in the bottom and sides of the dough with a fork to dock it, to help release air.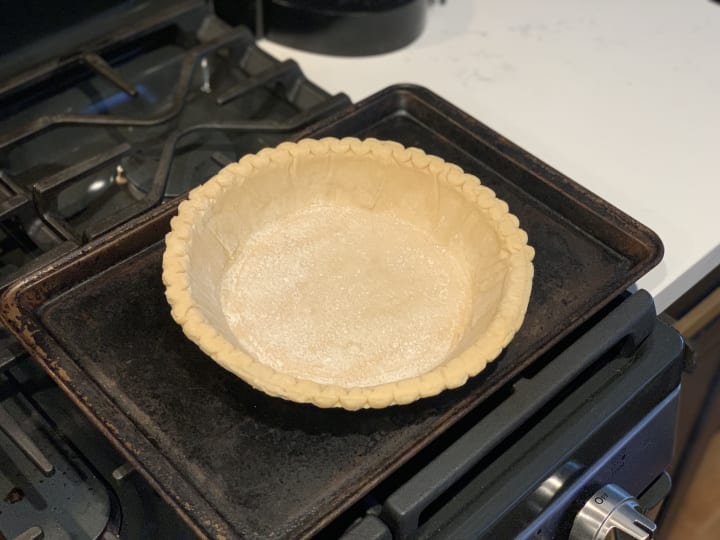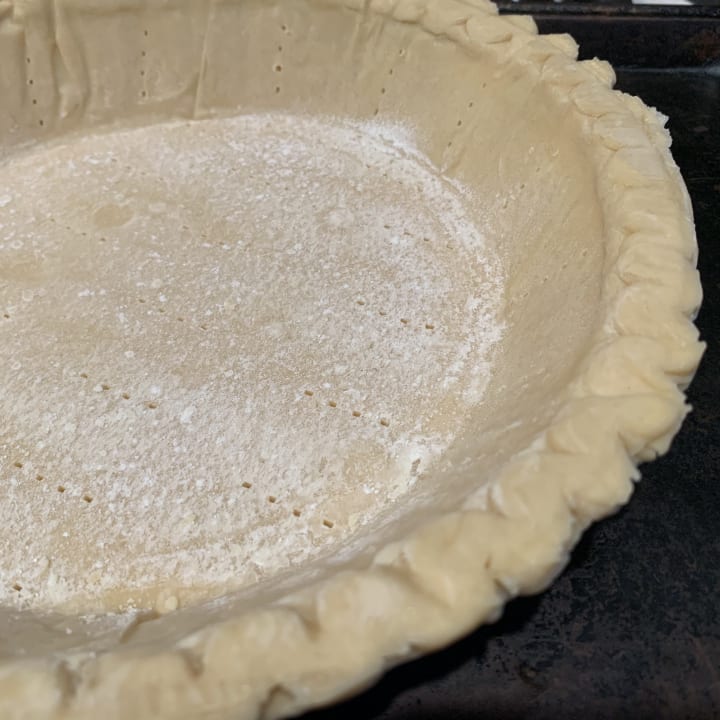 3) par-bake in pre-heated oven for 15-20 mins or until dough is setting and has just a hint of golden color.
Meanwhile..
FOR THE FILLING
1) while the crust is par-baking, dice the bacon and add to a large sauté pan. Over low heat, gently render the bacon, stirring regularly.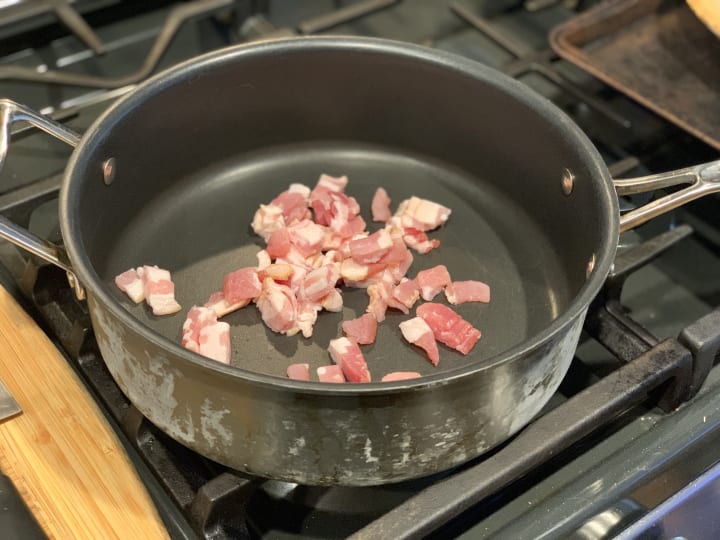 2) while bacon is cooking, thinly slice the peeled shallots and rough chop the garlic.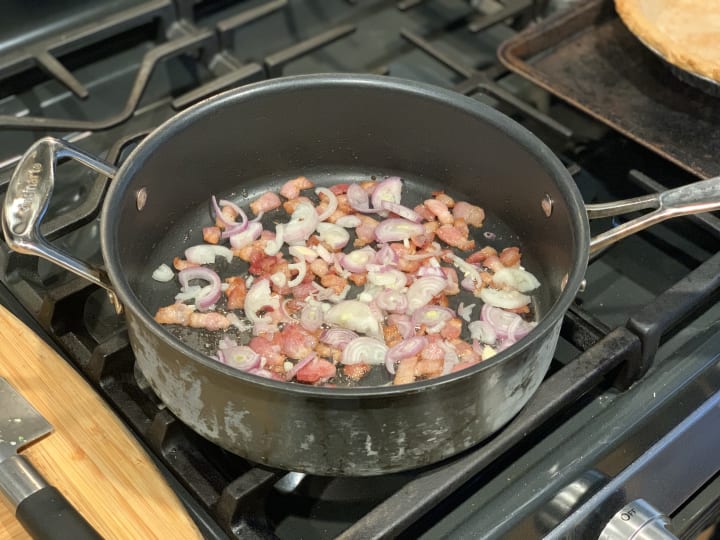 3) once bacon is about 3/4-cooked, add in the shallot and garlic, and stir frequently as not to brown. Once the shallots and garlic are softened and translucent, add the bag of spinach and cook down until wilted but still green. Add salt and pepper, to taste. Turn off the heat.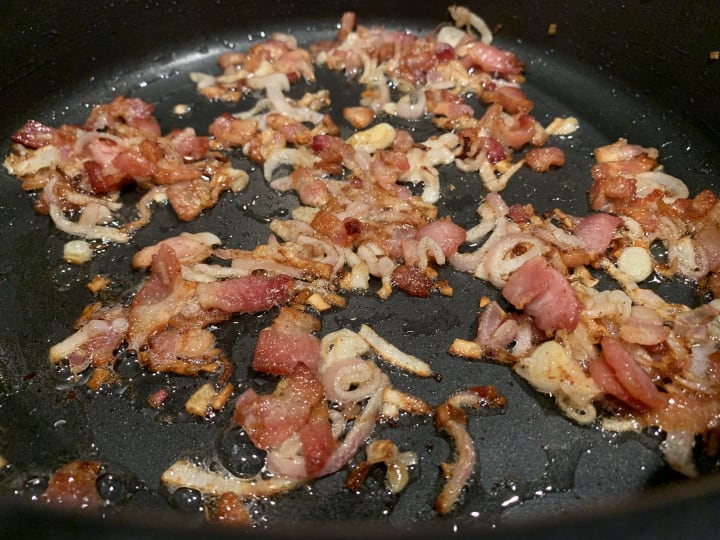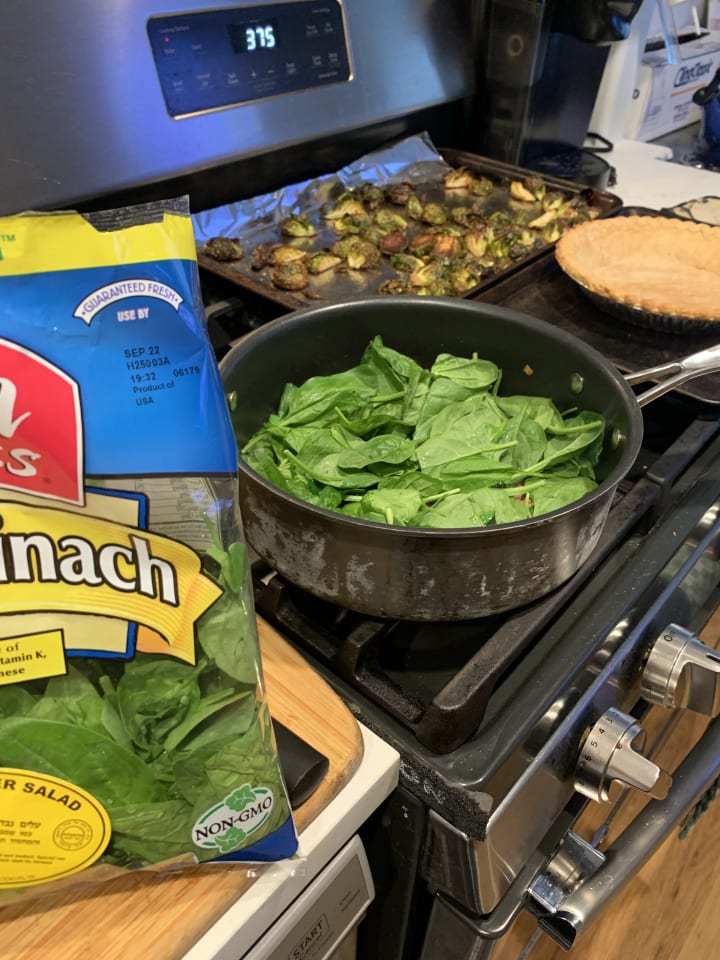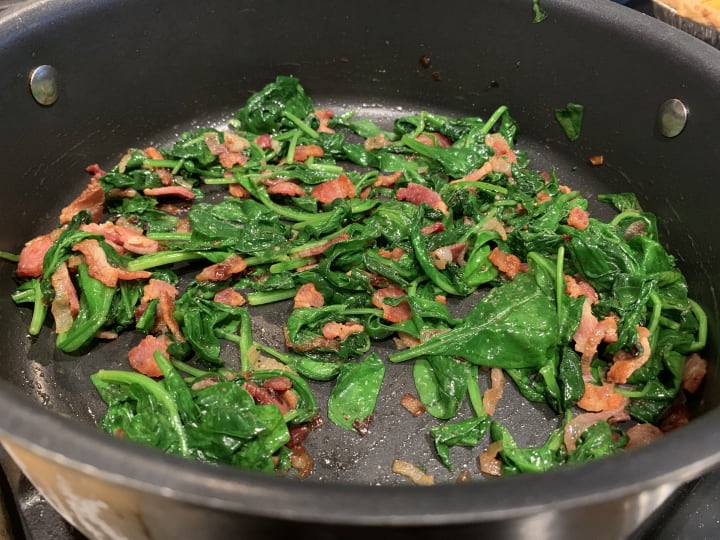 4) when the crust is done par-baking, remove from the oven and set aside, and turn the oven down to 325. Meanwhile in a medium mixing bowl, whisk together your eggs, half&half, paprika and more salt and pepper.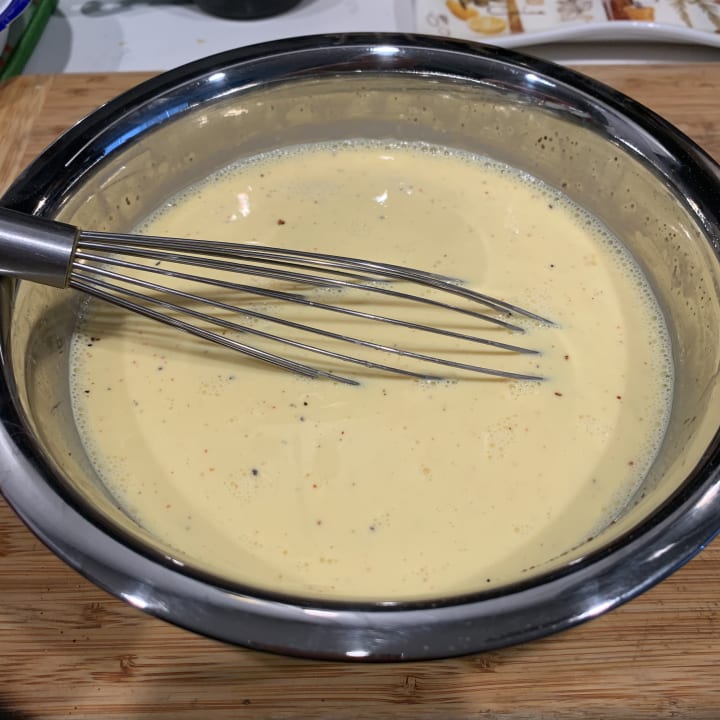 5) spread half your cheese in the bottom of the par-baked pie shell, then add your veggie mixture evenly over the top. Sprinkle with the remaining cheese.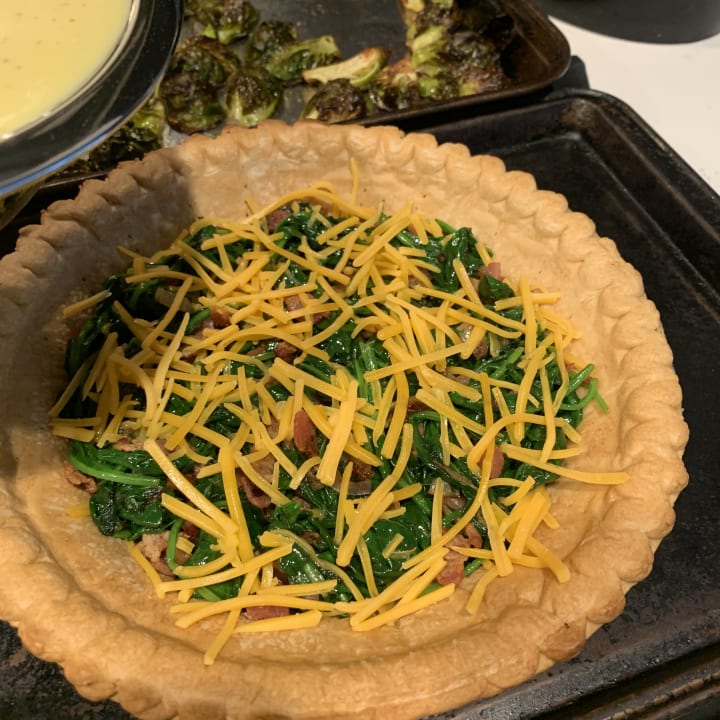 Slowly pour the custard over the veggies* as high up on the rim of the crust as possible.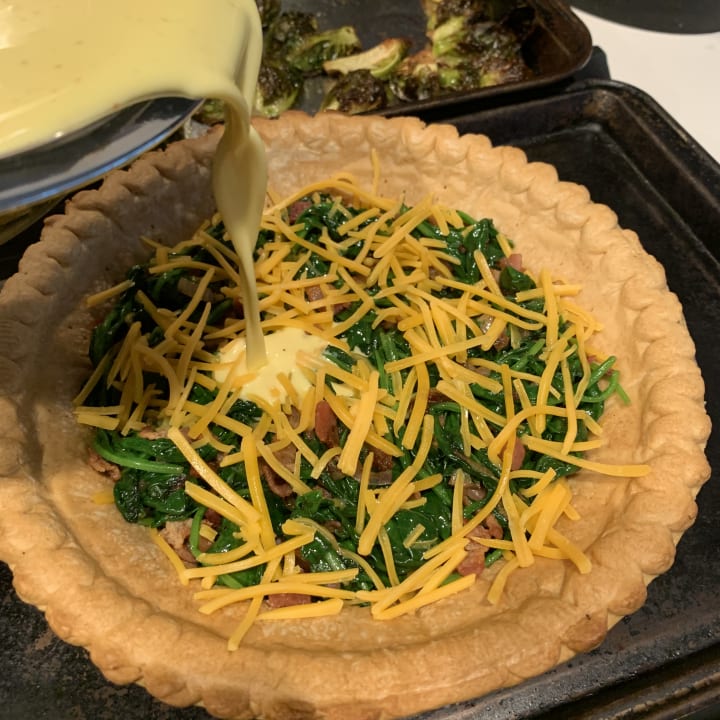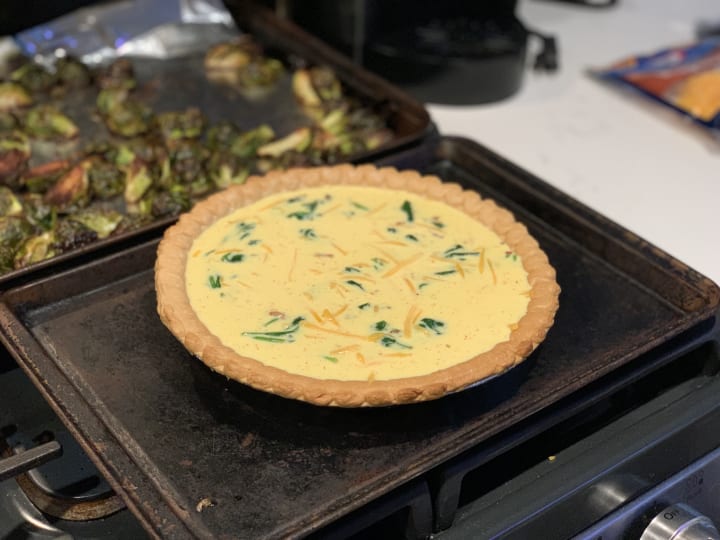 6) bake quiche at 325° for 30-45 minutes, rotating occasionally, until custard is no longer loose or runny and appears set (a "set jiggle", like cheesecake or a stiffer jello).
7) allow to stand for a minimum of 5-10 mins before attempting to slice to allow time for the custard to fully set.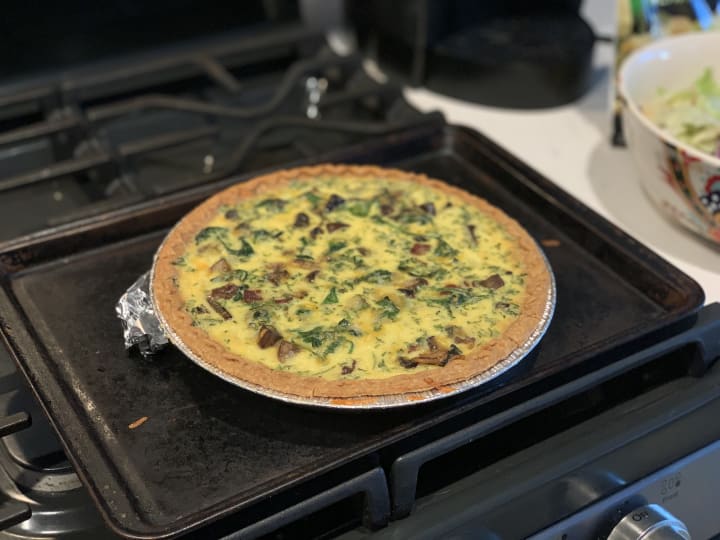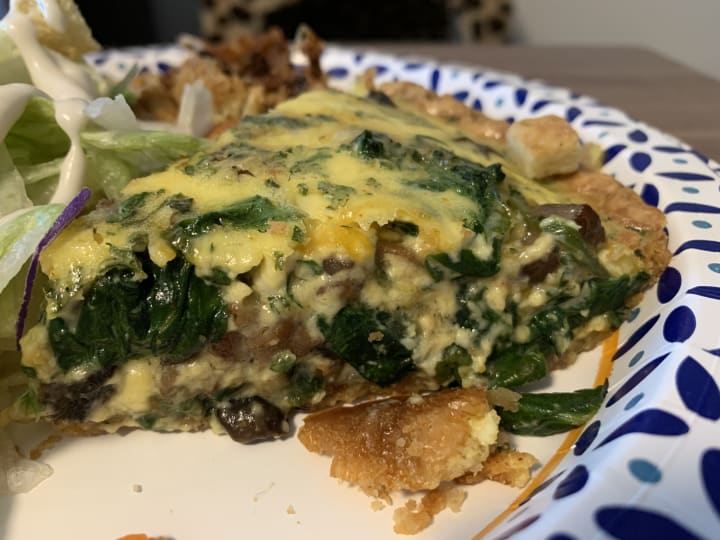 Enjoy!!!
* depending on the size of your veggies, if you have any custard left over that won't fit in the pie shell, refrigerate it and make scrambled eggs for breakfast the next morning!
IF YOU ENJOYED THIS RECIPE, PLEASE ALSO SEE MY RECIPES FOR COPYCAT CHIPOTLE BURRITO BOWLS, ULTIMATE FUDGE BROWNIES, THE BEST MAC N CHEESE, BAKING MILLIONAIRE'S SHORTBREAD, CRISPY PARMESAN PORKCHOPS, RESTAURANT-QUALITY BBQ RIBS AT HOME, and coming soon, AMAZING PALEO QUICHE! 🥰