Crantastic Cranberry Sauce
Fresh, Sweet and Tart With Many Twists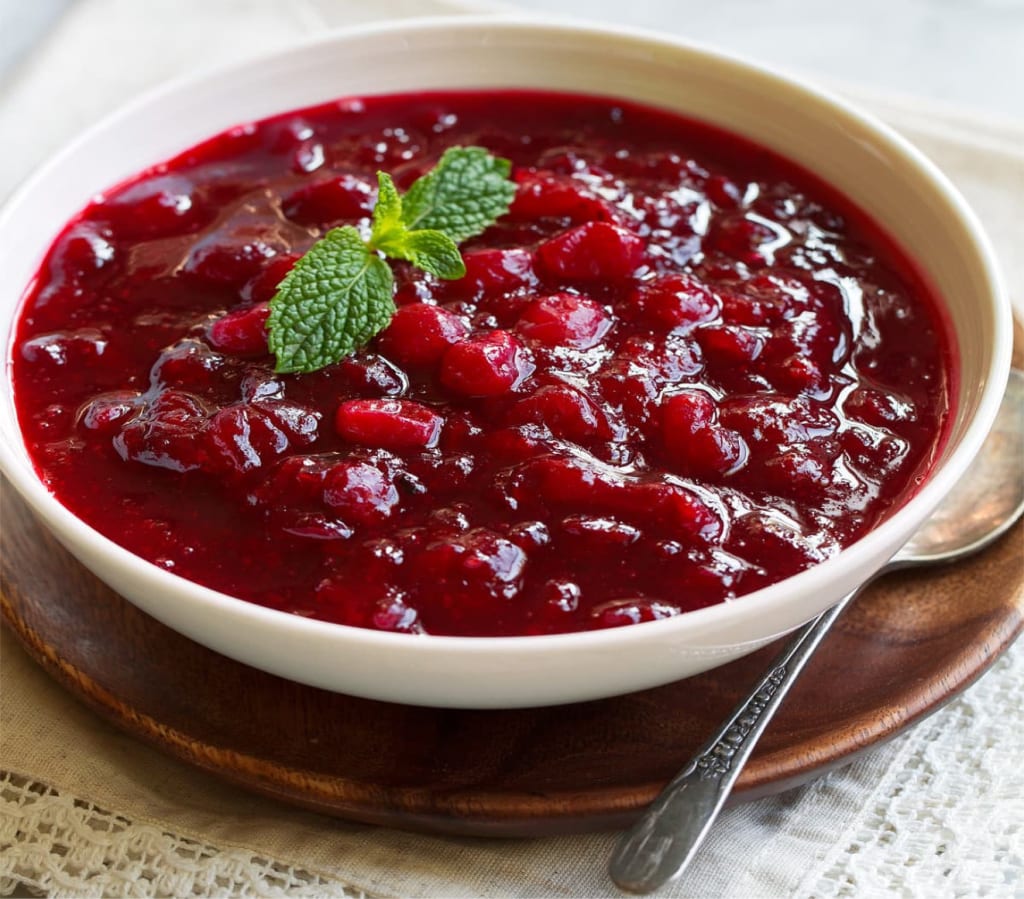 Source: Cooking Classy
There is no need to scour the internet for the best cranberry recipes. Right here will serve as a quick refuge from the onslaught of varied spins on the holiday classic, cranberry sauce. Long gone are my personal days of watching hours of cooking shows sporting their best and newest twists on traditional favorites.
Thanksgiving is about one of the only times we think about making cranberry sauce. And even then, most people—unless a culinary die hard—do not really ponder making cranberry sauce from scratch.
While it is easy to go to the store and buy whole berry or jellied cranberry sauce, it is much more satisfying to know you made it yourself and controlled what went in it. Below is a basic recipe for cranberry sauce along with some slight variations.
I find that a lot of people try to override the tart nature of cranberries by adding a load of sugar and spices. Personally, keeping it basic allows you to highlight the flavor profile of cranberries and hopefully retain some of the natural benefits they provide.
However, I am not going to lie. The best new recipe I came across and experimented with included butter. Now for those who know about my health journey, I mostly eat based on my blood type and focus on being as gluten-free, dairy free and chicken egg free as possible. So when I saw a truly appetizing and tantalizing recipe for cranberry sauce in a recent holiday issue of Bon Appetite (or was it Food & Wine?), I had to try it. Instead of the regular (cow milk) butter it called for, I used goat butter instead. Yes, goat butter is pricier, but the health benefits are worth it.
Now, it's time to get cooking. We will start with the most basic recipe to make a cranberry sauce with the fewest and most simple ingredients. From there we will put a twist here and there. Let me know in the comments which of these recipes you have tried, want to try, or like. Allez cuisine. And bon appetite!
Preparation Time: 3-5 minutes
Cook Time: 15-20 minutes
Basic Recipe for Cranberry Sauce
Ingredients:
1 12 oz. package of cranberries or fresh cranberries
1 ¼ cup sugar
1 cup water
Directions:
If you are using fresh cranberries, be sure to wash them first.
Add cranberries, sugar, and water to a pot.
Bring to a boil.
Reduce to a simmer and cook for 15-20 minutes.
Let cool slightly before transferring to serving dish.
Some Cooking Tips
Pick a pot that will comfortably hold all the liquid, cranberries and leave plenty of room for displacement of liquid and bubbling up once the berries start to burst and mingle with the simple syrup.
Be careful that the pot does not boil over. At times you will need to stir frequently or even remove the pot from the heat.
If you hear a strange sound and think about dropping to the floor, it is not firecrackers. It is the berries bursting open.
Do not overcook or burn the berries. Keep stirring and scraping the bottom and sides of the pot. Add more liquid if your water is evaporating too fast.
Feel free to remove some of the froth that forms during cooking.
I am not a huge fan of sugar substitutes (meaning the chemically made ones or those touted as "healthy" alternatives). To date I have tried honey, agave, and raw sugar for my cranberry sauce recipes. But I find sugar in the raw works best for me. If you are going to try something different, like stevia, monk fruit, maple syrup, et cetera, check your ratios because some of these are hundreds of times sweeter than sugar.
Whole Berry or Jellied Cranberry Sauce?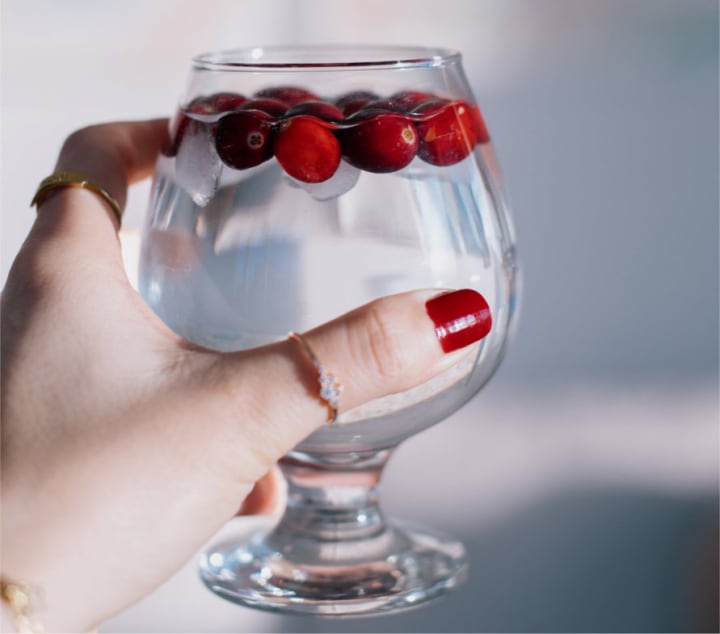 To blend or not to blend? To strain or not to strain? These are the questions.
If you want the truly homemade feel with a pop of eye appeal, go for keeping your sauce whole berry. That means once you are done cooking the sauce and let it cool, you transfer it to the container of choice.
However, if you like your sauce smooth and free of seeds and skin, you can go for jellied sauce. The main method is putting a strainer over a big bowl and using the back of a spoon to strain through the mesh. You can also use an immersion blender to pulverize the skin and seeds, but often there are remnants. This would be a blend between whole berry and jellied sauce.
Since there are a few people with gastrointestinal issues in the extended family now, I always use an immersion blender. If there are individuals at your gathering with ulcerative colitis, Crohn's disease, et cetera, be sure to strain out the seeds.
If you like a really fresh twist to your cranberry sauce, try one or a combination of the following variations
Cranberry Sauce Variation #1
Add the following to the basic recipe above.
Ingredients:
1 orange, zest and juice
1 lemon, zest and juice
Directions:
Add the zest and juice after the first five minutes of cooking.
Then cook for an additional 15 minutes.
Some Cooking Tips
Reserve some whole slices for garnish and presentation.
To get complex layers of taste, add a portion of the zest and juice 5 minutes before the end of cooking.
I like using a microplane to zest citrus fruit. It makes the job very easy. Just make sure you are not serving shreds of your skin to guests. Microplane's are very sharp!
Cranberry Sauce Variation #2
Add the following to the basic recipe above.
Ingredients:
1 large apple (chopped)
Pinch of cinnamon
Directions:
Add the apple and cinnamon after the first 10 minutes of cooking.
Then cook for an additional 10 minutes.
Some Cooking Tips
Like the citrus zest and juice variation, you can develop different flavor notes by adding your apples at different stages of the cooking process.
Choose an apple that is firm. I recommend McIntosh because it is firm and is both sweet, a little tart, and crisp. A variety like Golden Delicious is way too soft and will basically disintegrate by the end of cooking. Over the years, some new varieties of apples hit the market that are a great addition to cranberry sauce, depending on your taste. One of my new favorites is Honeycrisp. It is sweet, not too much tartness and has good bite.
Cranberry Sauce Variation #3
Add and/or substitute the following to the basic recipe above.
Ingredients:
Substitute half of the water for Ginger ale or Sprite
1 medium apple (chopped)
Directions:
Add the apple after the first 10 minutes of cooking.
Cook for an additional 10 minutes.
Cook for 20 minutes (if only adding soda)
Some Cooking Tips
Be careful as you add the soda, as it will fizz and bubble up.
If you are using soda, I recommend reducing the amount of sugar from the basic recipe.
Cranberry Sauce Variation #4
Add and/or substitute the following to the basic recipe above.
Ingredients:
1-2 Tablespoons of butter
1 medium apple (chopped)
Pinch of cardamom and/or cinnamon
Directions:
After 15 minutes of cooking, add the butter and spices.
Cook another 5 minutes to make sure it is melted and well incorporated.
Some Cooking Tips
I use goat milk butter for health and diet reasons.
If you use regular butter, be sure to check if it is salted or unsalted. A little salt can help accentuate the sweet notes. However, too much salted butter can make your cranberry sauce taste more like a salt lick.
To add even more complexity to your cranberry sauce, you can sauté the apples and butter before making the basic recipe. Maybe you can create a caramel apple cranberry sauce!
Here's hoping you try a new variation to your cranberry sauce. And try not to wait until the holidays to make and eat cranberry sauce. Cranberries are packed full of nutritional goodness.
If you want to flex your culinary muscles with another favorite during the holidays, check out my recipe for chocolate chip cookies.
The best part is the recipe is easily adapted to make cranberry orange cookies. Yum!!!
About the Creator
I have a passion for literature and anime. And I love everything involving academia, health, metaphysics and entrepreneurship. During my free time I enjoy nature, crocheting, reading, my kiddos, and writing.
Visit me @ stephaniebradberry.com
Reader insights
Outstanding
Excellent work. Looking forward to reading more!
Top insights
Expert insights and opinions

Arguments were carefully researched and presented

Eye opening

Niche topic & fresh perspectives

Heartfelt and relatable

The story invoked strong personal emotions
Add your insights