Crab Stuffed Shrimp
If you love seafood this will make you say yum!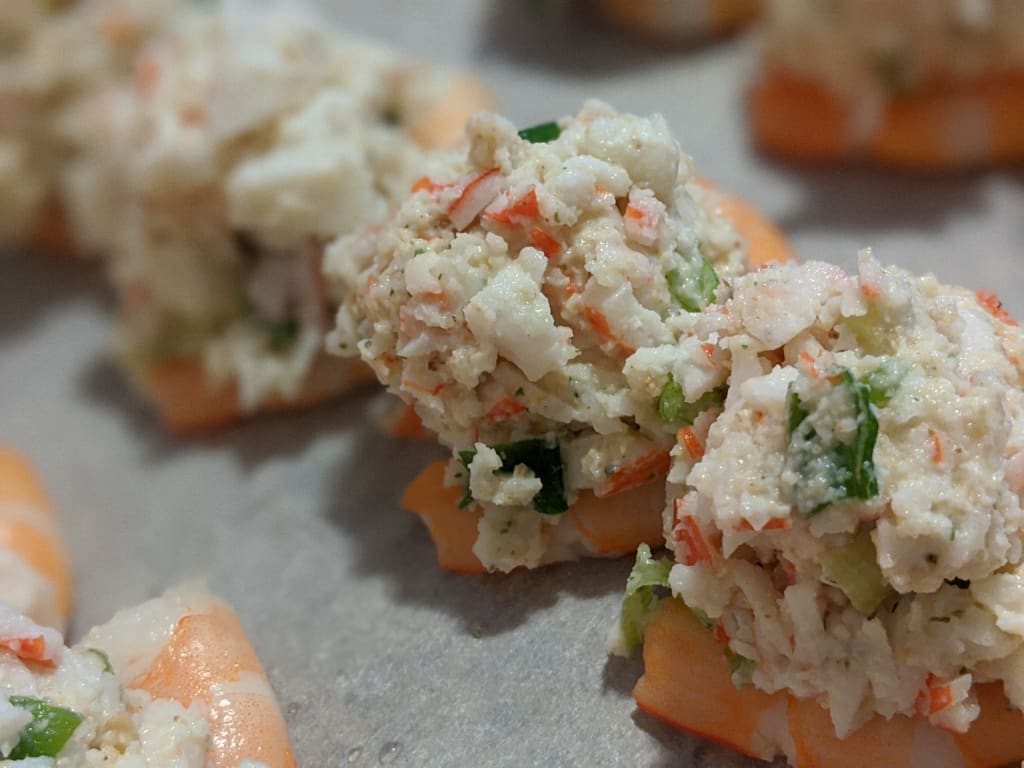 If this is your first visit to my recipes, welcome! If you are a returner, thank you!
I am a true believer that the world of food should be open to a person and moderation in all things is a great way to live life, that's why I specialize in creating macro-friendly recipes that are much easier to "fit" in moderation.
As you get to know me, you will find that all my recipes use a moderate to few amount of ingredients because I also believe that cooking should be stress free and not break the budget. I encourage that for all of my recipes you look into buying frozen rather than fresh to promote longevity of each food item if you do not use it again right away.
I would also love to hear your personal spin on any of my recipes! Have fun and please enjoy!
This recipe looks hard but it's super simply and incredibly delicious! I first had something like these when I went to NYC and fell in love! It was so good I had to make my own version! Seafood is a delicious lean protein source and these are protein packed, bite size delights! I encourage you to pair them with a side dish of sauted vegetables, a stir fry or use them on top of a salad you won't regret it!
For a fun modification, for those who like fried texture, put them into the air frier rather than baking them for a more crisp texture!
This recipe is suitable for bariatric patients, body builders, anyone who is practicing moderation or just someone looking for a delicious protein to serve as an appetizer or to accompany dinner!
For more macro-friendly recipes, lifestyle posts and bodybuilding posts feel free to follow my Instagram @boho_nutrition!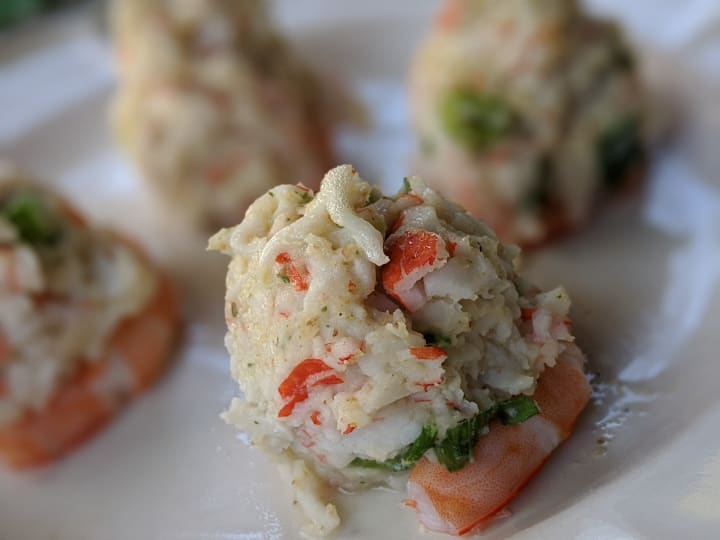 Servings
Makes 12 Serving
Cookware required
Baking pan/cookie sheet (I like to use a cookie sheet with wax paper because it is easier clean up and they never stick)
Prep Time
Approx. 15 min
Cooking Time
Approx. 5-10 min
Total Time
Approx. 25 min
Difficulty Level
Easy
Ingredients
24 (1lb) jumbo shrimp (I buy precooked to make it easier)
1 pound lump crab meat (Imitation used to make macros)
1/2 cup (60g) italian style breadcrumbs
½ Tsp garlic powder
½ Tsp onion powder
4 (50g) scallions, all parts thinly sliced (I don't believe in wasting ingredients)
1 cup plain fat free yogurt
2 Light laughing cow cheese wedges
Olive oil spray
Directions
Preheat oven to 350 degrees Fahrenheit or air fryer for 320 degrees Fahrenheit
Defrost pre-cooked shrimp under cold water. (unless you want to devein and cook yourself)
Remove the tails from the shrimp and lay on their side on a wax papered baking sheet
Take crab meat out of the pack and use a chopper to chop it up finely.
Combine breadcrumbs, garlic, scallions, yogurt, spices and laughing cow cheese mix well. Add salt and pepper to taste.
Add breadcrumb mixture to crab meat and combine until well mixed
Form 1 inch balls with crab meat, place on top shrimp (I use a medium cookie scoop to standardize)
Spray with olive oil spray
Place directly into Air Fryer for 10 min or bake for 15-18 minutes on a baking sheet
Enjoy these delightful little protein bombs with your meal! Pairs well with cauliflower rice, salads or air fried potato wedges!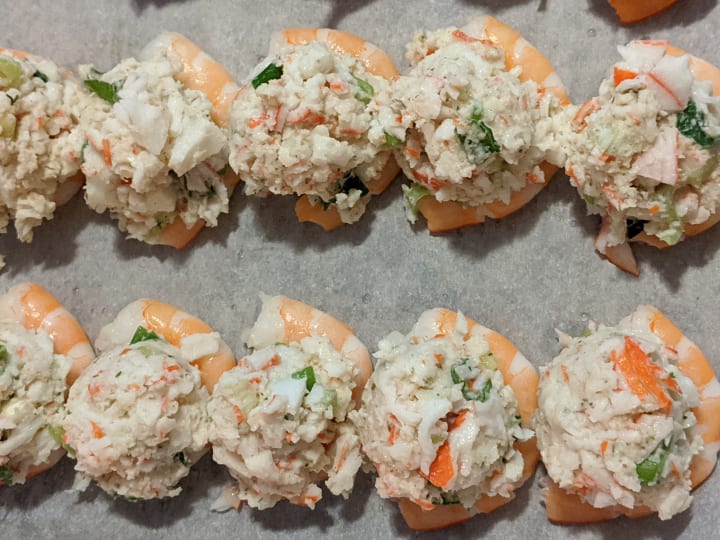 Nutrition Facts
Two Crab Stuffed Shrimp
Calories 85cal
Fats 1g
Carbs 11g
Protein 8g
Feel free to tell your friends all about my recipes, I'd appreciate it!
Tag me in any recipes you try!! @boho_nutrition
(I would love to hear your honest reviews positive or negative!)
Just a reminder: for more macro-friendly recipes, lifestyle posts and bodybuilding posts feel free to follow my Instagram @boho_nutrition!
Rhianon Condello RDN, BSN, RN