Copper Cow Coffee Review
Vietnamese coffee isn't new, but what makes Copper Cow interesting is the ability to make a smooth coffee that is travel friendly and doesn't skimp on quality.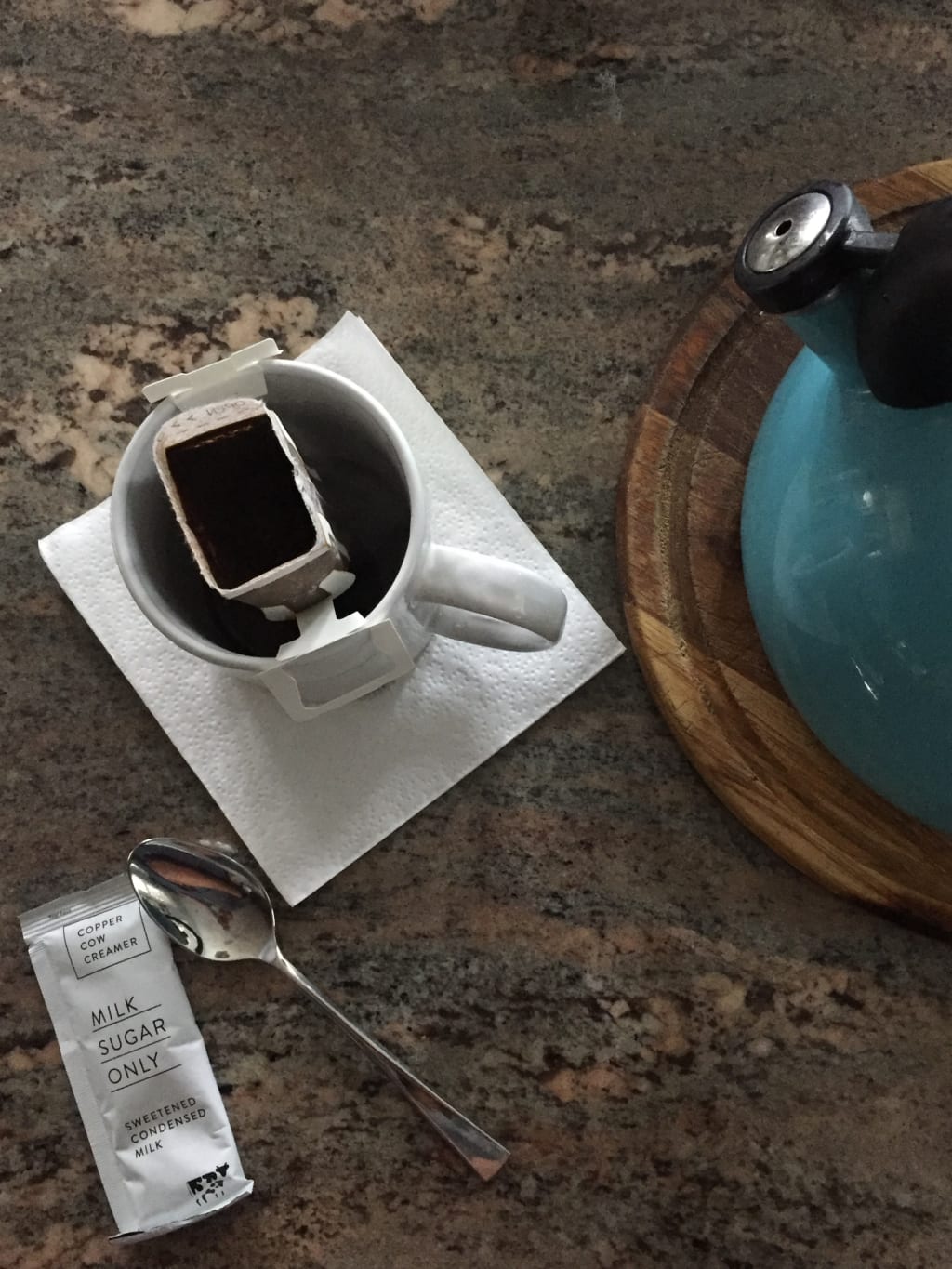 New forms of coffee seem to crop up nearly every day, boasting convenience or better caffeine or a smoother taste. Vietnamese coffee isn't new, but what makes Copper Cow interesting is the ability to make a smooth coffee that is travel friendly and doesn't skimp on quality. I love Vietnamese coffee. I have to be careful with my dairy consumption, but I will always--I mean ALWAYS drink a Vietnamese coffee when I have the chance. As I've embarked on my coffee journey, I've tried any variety I could get my hands on. I can taste differences among different brewing methods, and I can sort of discern what is supposed to be "bad" coffee. This doesn't stop me from drinking it, because I am indiscriminate when it comes to certain things, but I like being able to tell the difference. It shows I'm learning something about it.
I normally get my Vietnamese coffee from local shops, and I rotate my food order around my mood. I always get grilled chicken and basil rolls, which I think about at least once every day of my life, because they're a perfect food. I only ever order two at a time, because I fear that if I ordered the amount I really wanted (4-6), I would burn through my love for the rolls, which I don't want to do. This is the best way for me to manage my love for different foods or drinks--I can't eat them all the time. I have to pace myself, and wait until the urge is so uncontrollable that my willpower has crumbled and I can't fucking stand it anymore. I don't know why I'm talking about these damn rolls. Probably because I haven't had them in a week and a half, and I'm starving for them.
When I saw an ad for Copper Cow Coffee on Instagram, I instantly wanted the rolls. I didn't order any food, though, and instead started looking at the Copper Cow website to learn more about the brand. I like to do a little research before diving into trying something, and since the coffee comes in packs, I wanted to be sure of my decision before I made it. The brand is founded by Debbie Wei, who studied sustainability in college and wanted to make a pour-over Vietnamese coffee that didn't compromise quality or add waste to the planet. The beans are grown in Vietnam, consisting of 70% Robusta and 30% Arabica beans. The pour over method was chosen because of its efficiency--pour over coffee ensures a consistent, silkier brew every time, as the grounds are doused with the hot water. The coffee comes in individual packets perfect for traveling with, and every part of the Copper Cow packaging is biodegradable. There's also a wide variety of flavor options. I chose the Classic pack, but there's also Churro Latte, Cardamom, Rose Latte, Decaf, Lavender Latte, Mint Latte, the list goes on. There's a bundle option and vegan/dairy-free creamer options as well. The website has a quiz you can take to decide what flavor will suit you best to try.
The process for how to make the coffee is straightforward as hell. It may sound intimidating, but all you have to do is fit the little filter in your mug and pour over with hot water, following the instructions. It tastes amazing. The flavor is smooth, and it doesn't remind me of any travel-friendly or portable coffee I've ever had before. It's not like those shitty packets of coffee in hotel rooms that taste like it's from a gas station no matter how you slice or dice it. This is clearly a quality coffee created with intention and care. The accompanying creamer is perfect as well. It is very sweet, which is to be expected, but it's only made of milk and sugar. There are no unidentifiable ingredients or sweeteners added to it, and it's a perfect mix-in as is.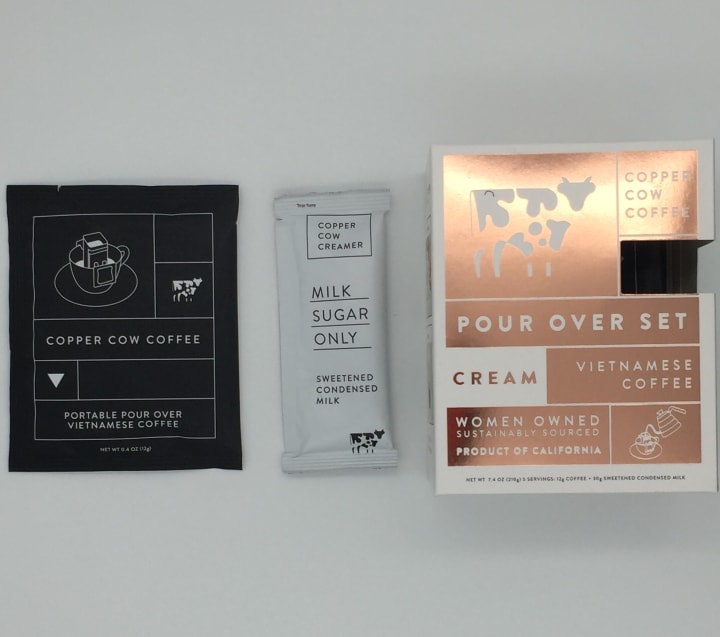 Aside from using the traditional pour over method, there are other ways to enjoy Copper Cow Coffee. I want to try using the coffee to make cold brew or an iced coffee (instructions for how to do this are included on the box!!). I'm extremely impressed with everything Copper Cow has to offer and look forward to trying more flavors. I'm rating this coffee a 10/10, and strongly encourage trying it.