Cookies Make Everything Better
Have some sugar, Sugar!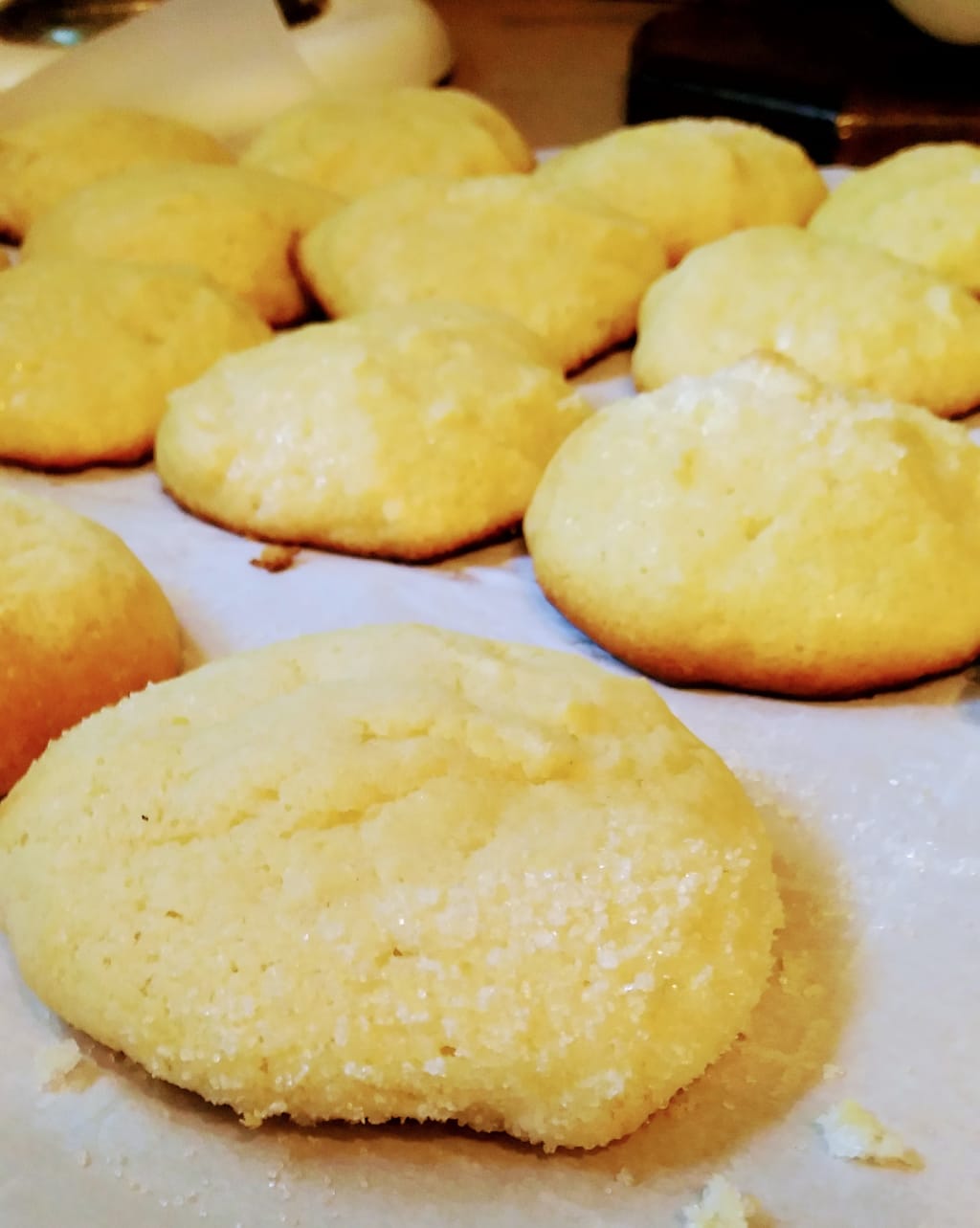 Photo by author. Cookies also by author.
This post is part of the Vocal Cooks Collaborative.
Click here for an index of all story-recipes.
The previous posts in this series were:
The Scotch Egg by the multi-talented Tom Brad :
And A Northern Cooking Experience by the mystical Oneg In the Arctic:
My Great Grandma Irene's cooking was legendary.
Legendarily terrible.
Some people are blessed with sweet little grandmas who patiently spend hours over a hot stove in a stuffy kitchen that smells like warm hugs. I did not get one of those. Instead, my great-grandma prepared large, inedible quantities of Pennsylvania Dutch delicacies like chicken pot pie with enough salt to dry up an army of slugs, corn chowder flavored with old bay seasoning and a few of those plastic tabs that they tie loaves of bread with, mashed potatoes made with Creamora powdered coffee creamer (because she ran out of milk), and potato salad sans potatoes or mayonnaise (because she forgot them altogether).
We're not Pennsylvania Dutch, though. Maybe that was the problem.
Honestly, Irene was a bit of a mystery. She lived in a single-wide trailer on the edge of a farm that was once hers but now belonged to her stepson, and she spent her days in a rocking chair, chain-smoking and watching General Hospital on a tiny black-and-white TV. According to lore and family gossip, Irene-and by extension, all of her children and grandchildren-were not welcome inside the main farmhouse because of a decades-long grudge that dated back to the 1920s. It's a complicated story that I never fully understood and always sounded suspicious, but you're here for a cookie recipe, so I'll skip it.
Irene was only ever able to master one recipe-cookies she called "Sugar Cakes"-and they made up for every single one of her kitchen disasters. I have no idea how she was able to bake such absolutely heavenly little treats when literally everything else she made was so, so bad. But these weren't cookies-they were experiences. They were just about as big as your head, and a perfect, sugary crust covered the light, fluffy, perfectly sweet cakey crumbles that practically melted in your mouth. They went great with fresh milk and even better with hot cocoa. Every time my parents schlepped us to the corner of the farm to visit Great Grandma, I hoped and prayed we'd find those beautiful, beautiful cookies waiting for us.
Sadly when Irene died, she didn't leave a recipe behind, so the Sugar Cakes became a delicious memory in our family's history.
I got really into baking as a teenager; it was one of the few things I was good at. I'm not sure exactly when nostalgia hit me, but at some point during my sophomore or junior year of high school, I started experimenting with various sugar cookie recipes to see if I could somehow replicate Great Grandma Irene's magical sugar cakes.
After about 10,000 tries (and about 20 added pounds), I succeeded.
Well, sort of. Despite my father's insistence that my Sugar Cakes are "better than Grandma's!" (thanks, Dad), I don't think they're quite as good as the originals, but they definitely fill that void. As it turns out, there's a secret trick that Irene must have kept under her hat for all those years. Most sugar cookie recipes like this one utilize buttermilk, which works well, but if you want more flavor, mix white vinegar into plain whole milk and use that as a substitute. I know, it sounds...icky...but trust me.
These Sugar Cakes are a go-to for any situation. Seriously. Forgot to buy someone a gift? Make a bunch of these babies. Super sad because E! didn't renew Keeping Up With the Kardashians? Whip 'em up and pair 'em with red wine. Need to bribe your boss into letting you take a half day for no good reason? These bad boys will do nicely for ya.
I've included a handy recipe card below, but there's honestly no shame in experimenting on your own. Just be careful; they are highly addictive, and they'll be in high demand.
Happy baking, Sugar!