Chocolate Covered Log Cake Anyone?
For the bakers at heart...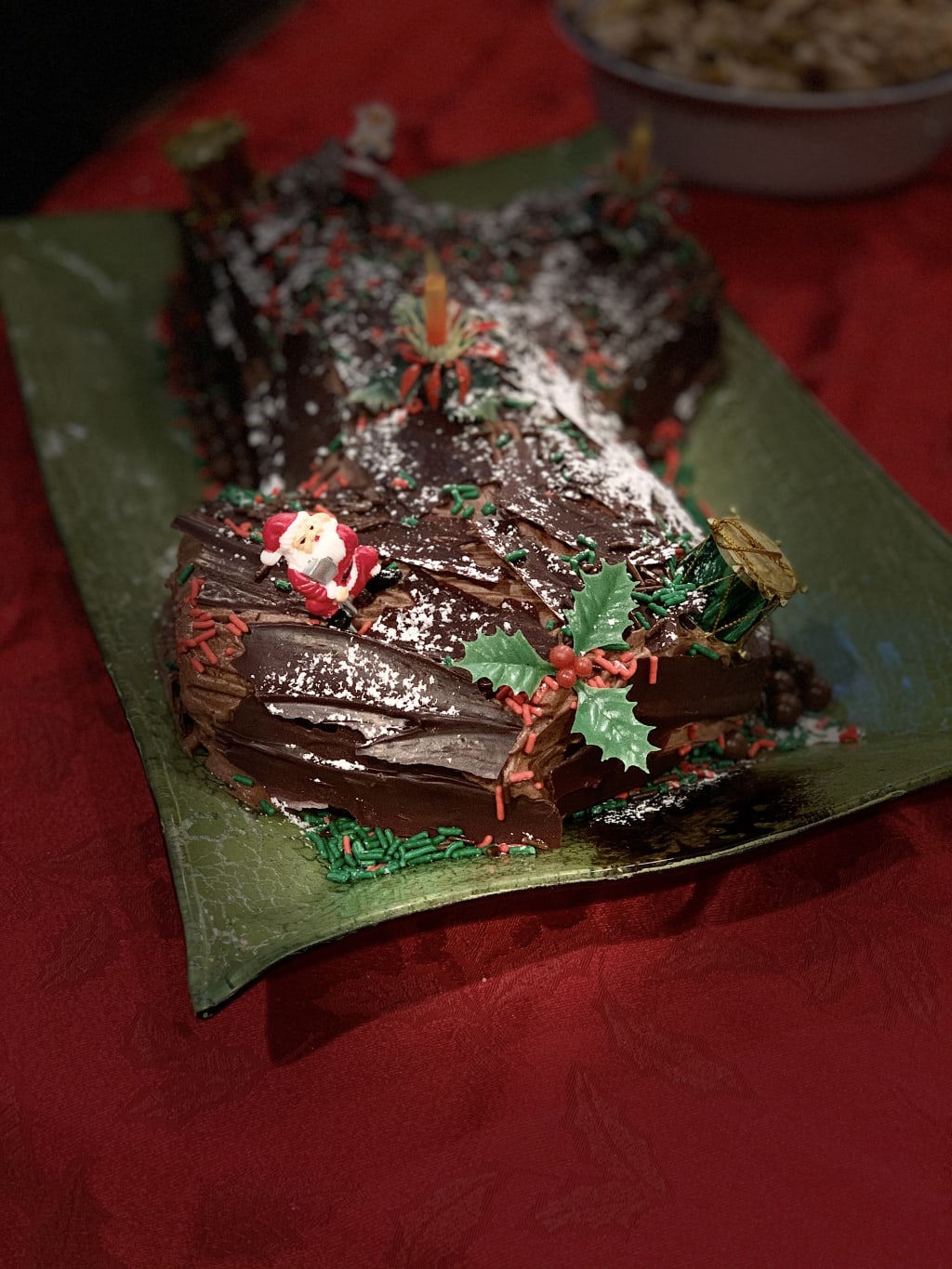 Mom's Buche De Noel
Hard to believe the Holiday season is already over and we're in a brand new year.
Crazy part, how are we already nearing mid-January? Has anyone even started on their New Years resolutions? Cause I know I sure haven't; I never really do honestly. I'm such a slacker when it comes to certain things. I promise myself every time I'll give up soda for good, but the minute I walk into my work doors, I've got a bottle all ready and cold, walking in with me.
Anyways, to avoid all that random side-tracking, back to the main story. Holiday cravings yo, what more is there? You've got all sorts of ways to celebrate it. Especially when it comes to all these holidays and New Years being so close in days.
But, what can I say? You know you always have your favorite recipes that you pull out and make each year. For all we know, some of us don't even stop baking (or cooking) when the seasons pass.
Anyone notice though, that it didn't have a Christmas feeling? I don't know about all the states, but what I know, I didn't have my "White Christmas" this year. I was always used to snow, kids building snowmen, making snow angels, hot chocolate while watching movies, school and work being closed down for days at a time. But this year, it was different...
We had Perfect weather - not too hot, not too cold. It wasn't rainy. It wasn't snowy. No icy roads. It was perfect.
Christmas didn't feel like it without that winter wonderland vibe. Houses weren't as decorated as previous years, ice skating outside felt rare, sales and holiday shopping weren't up high. It was all off; well in my opinion at least.
Growing up in the Midwest and being around blizzards and snow days was what made winter that much more different. Out here, though, when it's 68 degrees in January, Christmas music didn't even feel right.
Although the weather wasn't a holiday feeling, the kitchen sure was giving that vibe. You could just smell different recipes cooking and desserts baking. You could feel the warmth hitting you, while you're in your pajamas all day, just preparing when family comes to visit. I love baking more than cooking really. Something about the smell of cookies and cakes to brownies and banana bread. I've got a sweet tooth least to say; you will never find me cooking food in the kitchen (glad my man can cook instead haha).
My mom hates baking, ironically, she makes a really great Yule log cake every year (although I don't ever eat it because I'm not a fan of what she puts in it). Everyone always says she does really well and it was better than the $80 small version of the log cake we bought from some French bakery that they drove an hour for to get. I used portrait mode on my phone to get this picture I posted of the cake she made. It was a white cake, handmade recipe, with an apricot jam spread, and stuffed with all kinds of cocktail fruits (you know, those cans from your grocery store?). Then covered in a chocolate buttercream, and melted chocolate pieces that we broke to give that log look. She then sprinkled it with powder sugar and decorated with little figurines, red and green sprinkles, and Godiva mini chocolate candy things.
Like I said, I personally never tried it mainly cause I don't like the taste of apricot and I'm picky with fruits but no doubt, this looked really awesome to NOT get a photo of before the family all devoured it. And by devour, I mean it, it barely lasted in the fridge while the $80 cake was sitting there not being touched.
Do you have your favorite holiday recipes? Family traditions? Fun memories? If so, take it all and make it count. Enjoy the time you share with your loved ones; not a single day goes by without something happening. You never know....
Happy Holidays and A Happy New Year!
Bring on 2020 with loads of new baking ideas!
recipe
About the author
Just a girl who enjoys concerts, reading, writing, and all things mythical & magical
Ignore the small errors please, typing on an iPhone late night without realizing the corrections will do that lol!
Reader insights
Be the first to share your insights about this piece.
Add your insights