Chicken Fajita Lettuce Wraps
You gotta try these!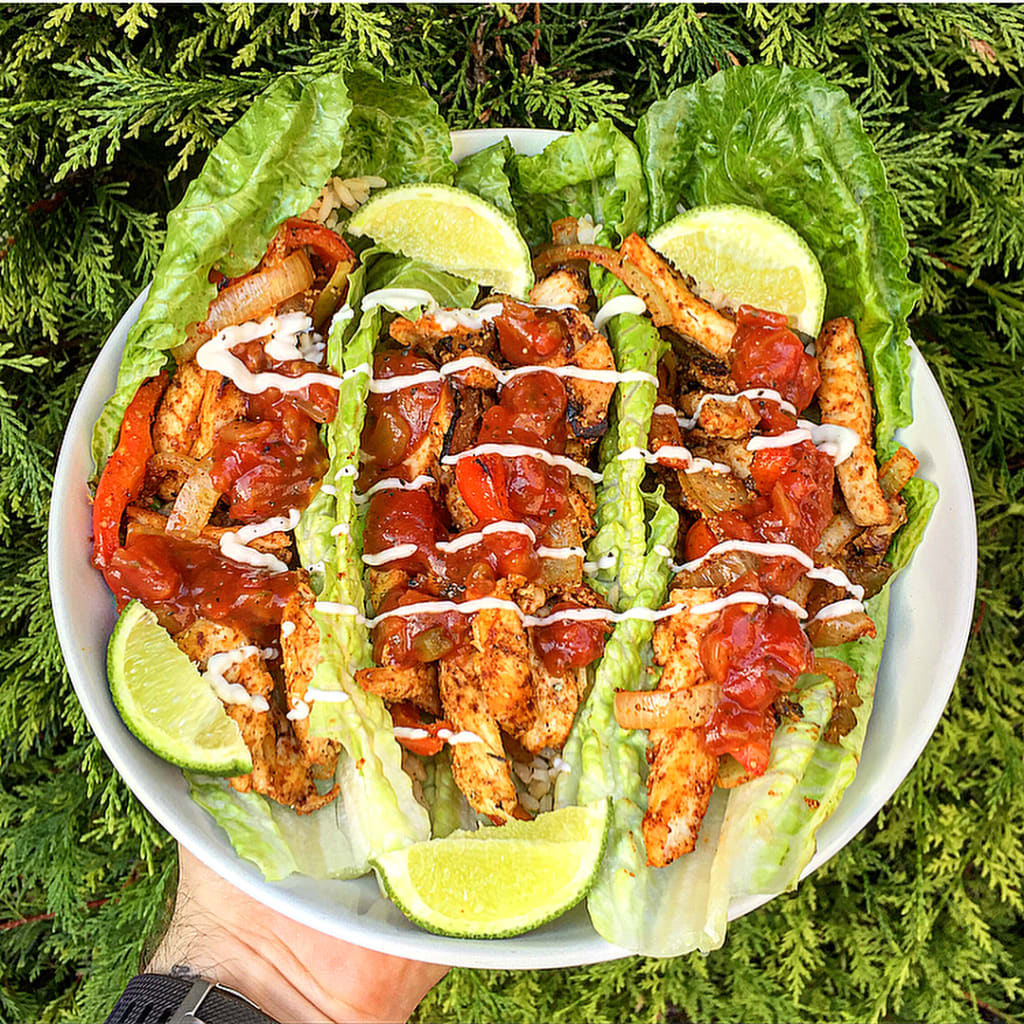 Chicken Fajita Lettuce Wraps
Fajitas are a favourite of mine and many other people too and these chicken fajita lettuce wraps are a low carb version of this much-loved meal. Me personally, I love myself some carbs, so in this recipe I added some brown rice to each lettuce wrap but to keep it super low carb, if that's what you're aiming for, then just leave it out.
I have quite possibly the best fajita spice mix (in my opinion) on the planet and I don't just use it for fajitas. I use it on chicken, vegetables, burgers and much more and it hits all the right spots. It's a mix of paprika, garlic, cumin, Cajun seasoning, salt, and pepper, and it's so addictive! Be careful with the cumin though, otherwise it's overpowering.
These chicken fajita lettuce wraps are easy to prep, easy to make, and even easier to eat, and most importantly, they cook in next to no time! A while ago when I started to see people switching to lettuce cups as an alternative to tortillas my initial response was, "Have a day off, will you?" But when I tried it I soon found out what the fuss was all about. You don't feel as bloated, there's dramatically less calories, and you lose none of the satisfaction. Perfect if you're watching your kcal or macro-nutrient intake, and did I mention they are easy on the wallet too?
Let's get into the recipe:
Ingredients:
3 Romaine lettuce cups
1/2 Bag brown microwavable rice
1 Chicken breast
1/2 Bell pepper
1/2 White onion
1 Tsp paprika
1/2 Tsp dried garlic
1/2 Tsp Cajun seasoning
1/4 Tsp cumin
1/4 Tsp Salt
1/4 Tsp black pepper
Tomato salsa
Sour cream
Lime
Olive oil
Method:
Chop the chicken breast, bell pepper, and white onion into similar sized strips.
In a large wok heat a tbsp of olive oil on a medium heat.
Add the chicken, bell pepper, and onion and cook until the chicken has cooked through fully and you have some brown crispy bits.
In a bowl mix together the paprika, garlic, Cajun seasoning, cumin, salt, and pepper.
When the chicken is cooked through, add the spice mix and cook for a further 2-3 minutes.
Optional: Microwave the brown rice for 2 minutes.
Now it's time to build. Snap off 3 lettuce cups from the romaine lettuce.
Add a spoon full of brown rice to each and then add some of the chicken fajita mixture.
Add a spoon full of the tomato salsa and then assemble them onto the plate.
Drizzle over some of the cool sour cream and then add some fresh lime wedges.
Tip: Squeeze a lime wedge over each lettuce wrap before you eat it!
ENJOY!
These guys are insanely fast to make and are insanely satisfying. I'm currently working on a slow roasted vegetable fajita wrap recipe so as soon as its perfected it will be up on here and Instagram for you guys!
Fajitas for me are a total comfort food no matter what time of the year it is. It's currently the middle of winter in the UK and these things are just what I need to warm me up!
Admittedly, I am weak with spice and anything remotely spicy burns me like it just ate a spoon full of lava… dramatic but true. So feel free to add some extra chili or other spices but that spice mix I've created is 100 percent a winner!
Coming soon is my fajita spiced burgers, fajita spiced roasted vegetables, and much more from my Instagram page. I get asked for the recipes for the food I post on there all the time so on this site is where I'll be posting them all for everyone to read, make, and enjoy!