Chicken and Gnocchi Warm Salad
Pan fried chicken breast with crispy gnocchi, grilled sprouts, caramelised carrots, spinach, fresh tomatoes and homemade black pepper hummus.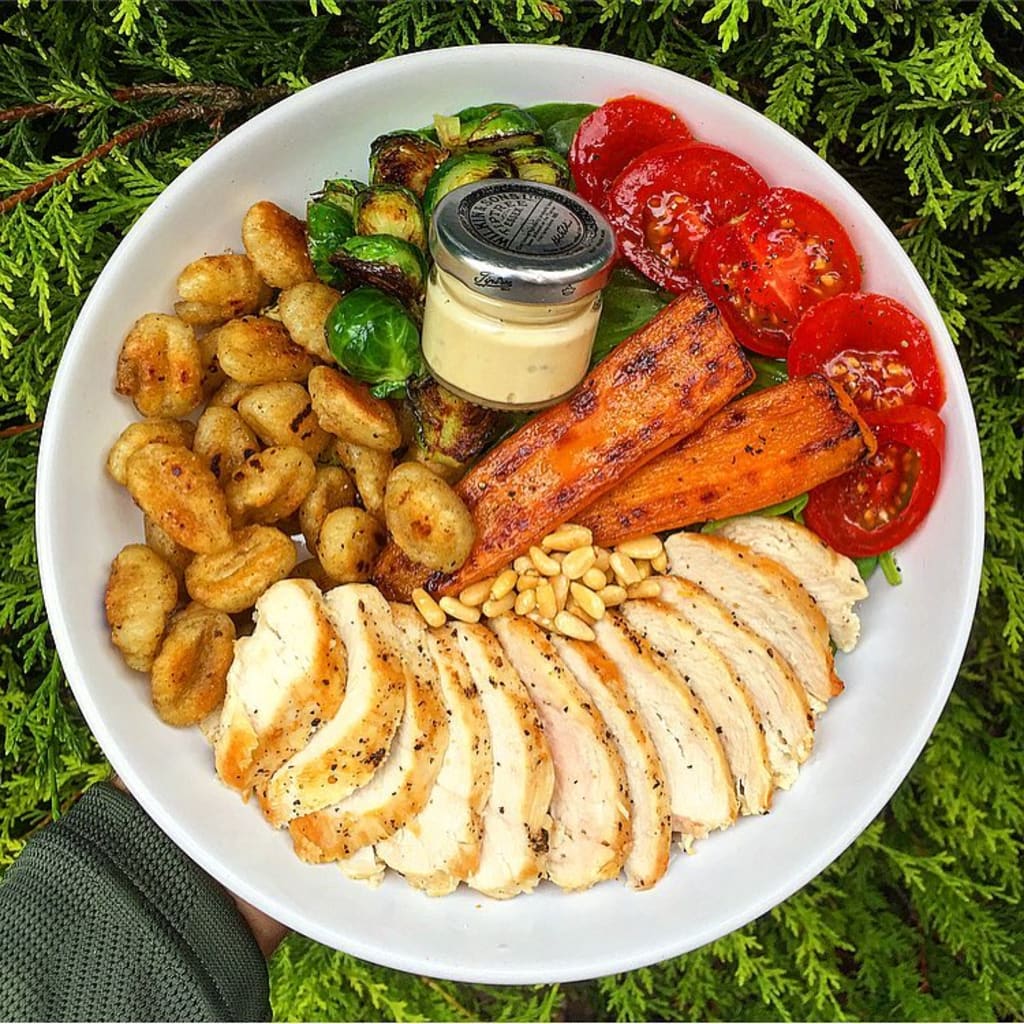 Chicken and Gnocchi Warm Salad
Chicken and Gnocchi Warm Salad
Pan fried chicken breast with crispy gnocchi, grilled Brussels sprouts, caramelised carrots, spinach, fresh tomatoes and homemade black pepper hummus.
This recipe started out by me looking in the fridge to see what was left in as it was the day before shop day, and as we all know, the day before shop day is the worst day of the week. So i look around the fridge and the cupboards and its bloody sparse! I hate having no food in the house! But I still managed to pull a few things together to make this warm cracking salad.
Juicy and crisp pan fried chicken is in my opinion one of the best ways to cook a chicken breast and this paired with grilled and charred Brussels sprouts, sweet and buttery caramelised carrot halves, fresh tomato and spinach, spicy black pepper hummus and of course the insane crispy gnocchi WOW, what a combination.
Enough blabbering...let get started...
Ingredients:
1 chicken breast
1 carrot
1 small tomato
1 handful of gnocchi
6 Brussels sprouts
1/4 tin chickpeas
Olive oil
Salt
Black pepper
Method:
Place the chicken breast between two layers of grease proof paper and use a rolling pin to flatten it to around 1.5cm.
Heat a tablespoon of olive oil in a frying pan and pan fry the chicken until each side is golden and crisp, but not cooked all the way through.
Heat the oven to 200.
When the chicken is seared and crisp, transfer it to a baking tray and roast it for around 20minutes. This makes sure it's juicy and crispy at the same time.
Meanwhile, in separate microwave safe bowls prepare the carrot and sprouts. Cut the end off of the carrot and slice it in half. Cut all of the sprouts in half. Place the carrot into one bowl and the sprouts into another and add a tiny splash of water.
Microwave these on full power until each are just tender, the carrot may take longer than the sprouts so make sure you check regularly.
In the same pan that the chicken was seared in. Add the gnocchi. Fry these until they are crisp and golden and then set aside.
In the same pan again, place each sprout half face down and cook until that side has browned. Then set aside.
Now add a small knob of butter into the pan and let it melt. Then add the carrot halves face down and let them cook until they have browned and caramelised, then set aside.
Place the chickpeas into the same pan and cook for 1-2 minutes, then transfer them to a blender or food processor.
Blend them and drizzle in olive oil slowly until you get to your preferred hummus consistency, I like mine just before it hits smooth. Then remove it and place it into a bowl and add some black pepper, enough so you really know it's there, and feel free to add any other flavourings you want!
Add this into a small jar and set aside.
Slice up the tomato.
Unbag the spinach and get ready to assemble.
In a wide set bowl or plate add some spinach to the base and top it with the tomato. Then add the sprouts, gnocchi, carrots, chicken and for some extra added texture, a small handful of pine nuts.
Tip: I also added some tomato and chilli sauce/relish afterwards which was amazing with everything!
ENJOY!
And there you have super simple warm salad, make from what was left over in the house before shop day.
A salad is the perfect way to use up food and ingredients that are lying around because when they are put together they are giving your body a range of nutrients, plenty of fuel and preventing you from throwing them out when they go bad, which is a waste of money!
Get creative with it and try out new combos, you won't know what you like until you try it!
HAVE A GREAT DAY!
recipe
I spent 5 years working as an engineer before following my passion for food, nutrition and fitness. I now work as a fitness class instructor, personal trainer and study food science and nutrition at university.